From pancakes to chia puddings, here are my favourite 18 Easy Summer Breakfast Recipes!
My summer breakfast recipes need to be as quick as possible – sweating in the kitchen is not a pleasant start to the day. They also need to keep changing. To prevent discord between team sweet and team savoury, I try to balance out the type of breakfasts made.
Some are sweet like pancakes, best with lots of maple syrup/honey. Some are savoury, like sabudana khichdi! What's often repeated in my home are the more versatile recipes, like Dutch Baby or crepes.
Here are 18 of my favourite summer breakfast recipes – fuss-free, quick, guaranteed to please all!
Best served piping hot, this Dutch Baby is like a pancake pudding – perfect for any occasion! It's an easy & quick bake, guaranteed fluffy & golden goodness! Serve it with fruit or make it with cheese and bacon, this recipe is good for all.
So delicious and healthy! Soft and delicate, they make for a wonderfully satisfying breakfast. Serve them simply with honey or with any filling of your choice. These are an absolute winner!
These sneaky vegan Glutenfree Beetroot Waffles are a breeze to make and you'll LOVE their crisp, light as air texture! So full of veggie & millet goodness!
Smeared with butter and maybe some jam, they are the BEST toasts you would've eaten! The best part? You don't even need an oven to make them!
The sureshot way to make your weekend breakfast special! These fluffy pancakes always turn out wonderful.
Crunchy on the outside & soft on the inside, these Easy Cheese Waffles are incredibly simple to make and fabulous to taste, perfect for any meal of the day!
Fresh, warm, crispy and fluffy. In other words, perfection!
Extremely simple to make, nutritious & so very flavorful. This vegan & gluten-free dish is popular across India.
The ideal savoury breakfast, this ragi dosa recipe is super easy to make and absolutely delicious.
A quick, delicious, healthy breakfast. So good, so simple and absolutely wonderful for our hot summer days!
Fluffy little Glutenfree Banana Pancakes for your eating pleasure! Made with ragi (finger millet) flour, sweetened with jaggery, these are perfect for a healthy delicious breakfast or snack!
My eggless strawberry crepes are sweet, cooked to perfection with a pinch of sugar and a dash of vanilla. The strawberry chia jam filling lends a sharp textural contrast with an intensely luscious underbite. 
The Matcha chia pudding is a light, creamy, and a quick, healthy breakfast!
Basic ingredients whisked together to make fluffy spherical pancakes that are super cute and delicious!
These are waffle perfection – crispy crust, tender interior, and airy texture!
Call them mini pancakes, call them baby pancakes, or call them pancake cereal. All I know is that they are cute as a button and the softest, fluffiest, and most delightful breakfast to grace our tables.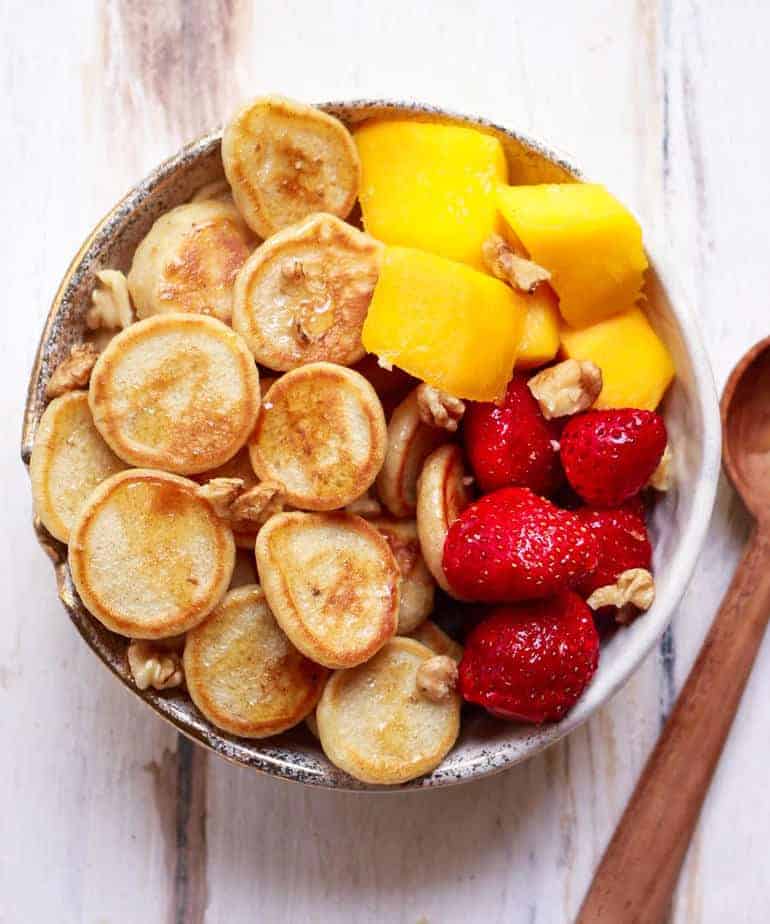 These Granola Breakfast Tarts (ready to be grabbed and devoured) are crunchy, creamy and healthy deliciousness.
It's easy. It's vegan. It's soft, fluffy and tangy banana cinnamon pancakes. Perfect for breakfast, brunch or a snack, the blender recipe makes excellent use of your sourdough discard!
I'd love to hear from you! Please tag me on Instagram @tashasartisanfoods, using the hashtag #tashasartisanfoods. You can also FOLLOW ME on INSTAGRAM, PINTEREST for more fabulous recipes!