If there is one thing I can guarantee, it's that the best way to show love is with desserts! Valentine's Day is the perfect occasion to give your loved ones something sweet and heartfelt. Whether it's for your best friend, parent, partner, or yourself - here you'll find 30+ Valentine's Day Dessert Recipes that are easy to make and will be adored by all!
This cheesecake is a total show-off, that will guarantee love at first bite. And it's wonderfully easy to make!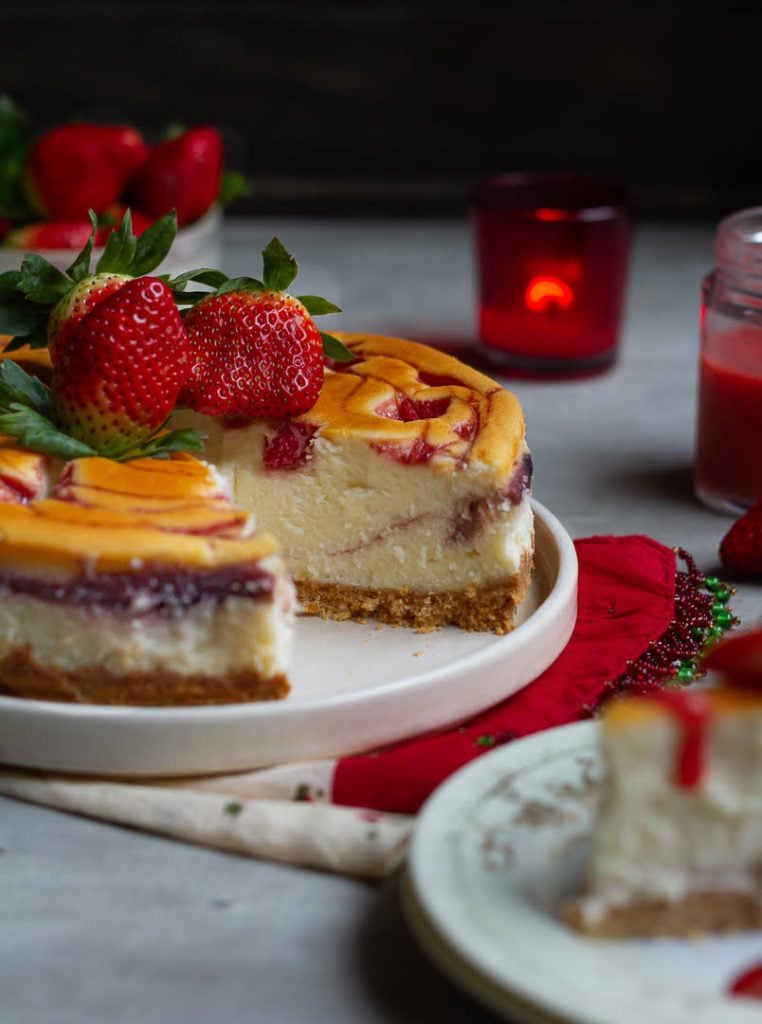 Love in a glass! This easy dessert is balanced to perfection, with notes of vanilla melding with the velvety mascarpone and the tartness of strawberries. SO good!
There is a reason why chocolate lava cake is a global sensation and the perfect treat for a special occasion like Valentine's Day. Cracking the outside to reveal the cake's innermost delicious secret is a swoon-worthy moment!
The chili chocolate pudding is a decadent love affair between subtle spice and dark, rich chocolate. Irresistible!
It wouldn't be Valentine's Day without truffles! These boozy, chocolatey, creamy Baileys Truffles are a dream come true. Good luck not gobbling them up all on your own!
Mocha Cupcakes with Chocolate Cream Cheese Frosting
These soft, fluffy cupcakes are truly a luscious treat. For an extra kick - this frosting is spiked with Baileys! The perfect Valentine's Day dessert. You will not be able to stop with just one!
Strawberry Cream Cheese Pound Cake
The strawberry cream cheese pound cake is total hedonism in a bite!
Chocolate Chip Coffee Blondies
Imagine toffee, chocolate and coffee all rolled up into one – that's just what these Chocolate Chip Coffee Blondies will bring you. Buttery, caramel bars with puddles of chocolate, and a splash of coffee – pure joy!
Valentine's Day & donuts - you can't go wrong with that combo! These pillowy jam donuts are a tad crisp on the outside and light and airy inside. Their golden crispy crust shatters in your mouth, oozing out sweet jam filling and melting away with the very first bite!
You can not go wrong with a basket full of these gorgeous Nutella Banana Muffins. They fall somewhere between gooey delight and incredible decadence!
2-Ingredient Chocolate Pudding
This ridiculously easy 2-Ingredient Chocolate Pudding is like a pillowy cloud of dark and rich chocolate. It has a luscious texture that melts in your mouth, like chocolate silk! If you're looking for the simplest Valentine's Day dessert - this is your answer.
These little fluffs have an airy melt–in–your–mouth texture, are crisp outside, and are chewy when you bite into them. An elegant and lovely addition to your Valentine's Day table!
This Chocolate Orange Tart is hands down the easiest tart I have ever made! A no-bake treat, so rich, creamy, and decadent that you won't even notice it's refined sugar-free, and vegan.
An alluring, elegant, and healthy sweet treat! Fresh strawberries, greek yogurt, and subtle flavors of rose come together in perfect harmony.
You can never go wrong with decadent, simple homemade fudge! This vegan chocolate fudge is perfect!
Looking for the perfect Valentine's Day breakfast? Nothing beats soft, buttery, wafer-thin strawberry crepes. sweet, cooked to perfection with a pinch of sugar and a dash of vanilla. So good!
If you're short on time, this quick and easy Brownie Mug Cake is the way to go! Fudgey, chocolatey goodness in minutes. Top with a scoop of vanilla ice cream and you've got an unforgettable dessert!
These elegant, beautiful little French tea cakes will steal your heart! Soft, buttery, not overly sweet, and with a deep chocolate flavor, dipped in white chocolate. These are super easy to make too!
Cute as a button, these baked donuts are soft, fluffy and so much fin to make! Perfect for any dessert table.
Healthy Chocolate Peanut Butter Balls
Is there a dreamier combination than chocolate + peanut butter? Always a hit. And if you're looking for a slightly healthier dessert this Valentine's Day, these Chocolate Peanut Butter Balls are the way to go.
French Heart Cookies (Palmiers)
With just 3 ingredients (one of which is optional), the cookies make something extraordinary and delectable. A flaky, crispy pastry whose sticky layers hide the most intriguing flavors of caramelized sugar and aromatic cinnamon!
The classic pairing of chocolate and cherries come together in this sublime Chocolate Cherry Cake. Fudgy, moist with juicy chunks of the fruit in every bite!
I promise this Avocado Chocolate Mousse is going to surprise you. It's incredibly rich, creamy, so luxuriously smooth, and actually healthy.
A good-for-you, decadent dessert that needs just 4 ingredients to whip up!
Flourless Swedish Chocolate Cake
This cake is a fan favorite on my blog for good reason - it's a chocolate lover's dream come true. It's a soft, sticky, gooey, and dense delicacy that is just right for Valentine's Day dessert.
Sweet, pink and so fun! These easy homemade pop tarts will make for a wonderful Valentine's Day breakfast table treat.
We can't forget caramel on this day of goodness! With these vegan Caramel Peanut Clusters, think Snickers bites (but healthier). A slight crunch, a tab bit creamy, and a whole lot addictive.
Everyone goes NUTS when I make these fudgy little Brownie Bliss Balls! So simple, yet flavourful and delicious. They're the best way to get a quick, healthy chocolate fix.
Just 3 ingredients and a little bit of your time… that's all you need to make the most exquisite vegan Lavender Chocolate Truffles!
Hershey's Kisses are a quintessential Valentine's Day chocolate. Why not incorporate them into the best soft cookies, where the chocolate pairs beautifully with peanut butter!
The oreo lover in your life will thank you! This amazing oreo cheesecake is supremely simple to make and gives you creamy, crunchy delicious goodness in every bite.
The perfect dessert for two! This skillet cookie is a big warm dessert, with a soft, gooey center and a slightly crisp crust. So comforting and scrumptious.
These indulgent, mini-sized Dark Chocolate Caramel Tarts are easy to make and SO delicious! Simply gorgeous, velvety bites of buttery chocolate crust filled with the golden salted caramel, luscious dark chocolate and finished off with sea salt.
Chai Spiced Chocolate Truffles
These Chai-spiced chocolate truffles are the perfect mix between fudge and soft caramel! Made in a breeze, guaranteed to please.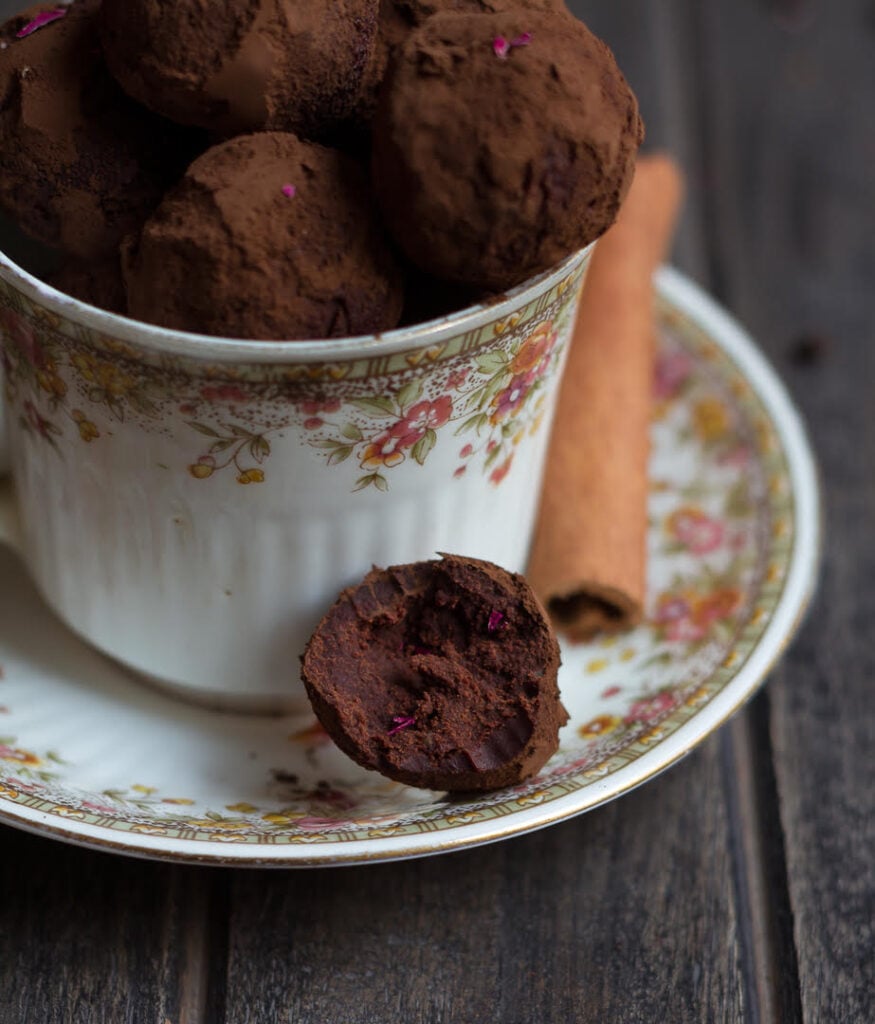 The juicy, vibrant burst of flavor of the strawberries nestled in the creamy filling makes this Strawberry Puff Pastry tart so worth the bake. You just need 5 ingredients to whip this up for Valentine's Day!
Coffee + chocolate = instant love. This Espresso Cheesecake is decadent, and luscious with a fabulous kick from coffee and chocolate cookie crust!
Which of these Valentine's Day dessert recipes are you trying first? Let me know in the comments below!
I'd love to hear from you! Please tag me on Instagram @tashasartisanfoods, using the hashtag #tashasartisanfoods. You can also FOLLOW ME on INSTAGRAM, PINTEREST for more fabulous recipes!