My collection of 8 Easy Fresh Plum Dessert Recipes for you to try. They are fun and simple to make and truly bring out the flavours of this gorgeous fruit. I'll be honest with you, I adore baking with them more than I enjoy eating them! 
8 Easy Fresh Plum Dessert Recipes
Galettes are the easiest pies to make! Here I added a wonderful homemade chai masala to the buckwheat pie crust. It complimented the juicy plum filling so beautifully.
I love how the fruit cooks in this cake, creating little jammy puddles! The delectable tart flavour of plums cuts through the sweetness of the batter. The soft baked fruit balances perfectly with the delicate crunch of poppyseeds & almond flakes and the tender crumb of this cake.
Our crazy heat inspires me to make a variety of ice creams and popsicles throughout the season. These cardamom-spiced plum & granola popsicles are a delight. So refreshingly delicious, ridiculously simple to make and healthy enough for breakfast!
These easy glutenfree, vegan crumb bars are a scrumptious treat, sweet-tart with a soft buttery crust and a crunchy crumb topping! Great for all-day snacking or you could even serve a warmed up bar with a scoop of vanilla ice cream to make an indulgent dessert!
Soft, moist and fluffy, this glutenfree Plum & Apricot Cake is a gorgeous sweet treat you can enjoy any time of the day!
Soft tender cake-like crumb,  perfumed with cardamom, juicy tart plum bits, and a crunchy crust, these bright and fresh muffins are charming little treats. Made healthy with whole-grain flours and low sugar, I happily serve these for breakfast as well
Warm, cinnamon-scented sweet-tart fruits with juices bubbling over the buttery crisp oats topping - this Plum  Apricot Crumble is irresistible!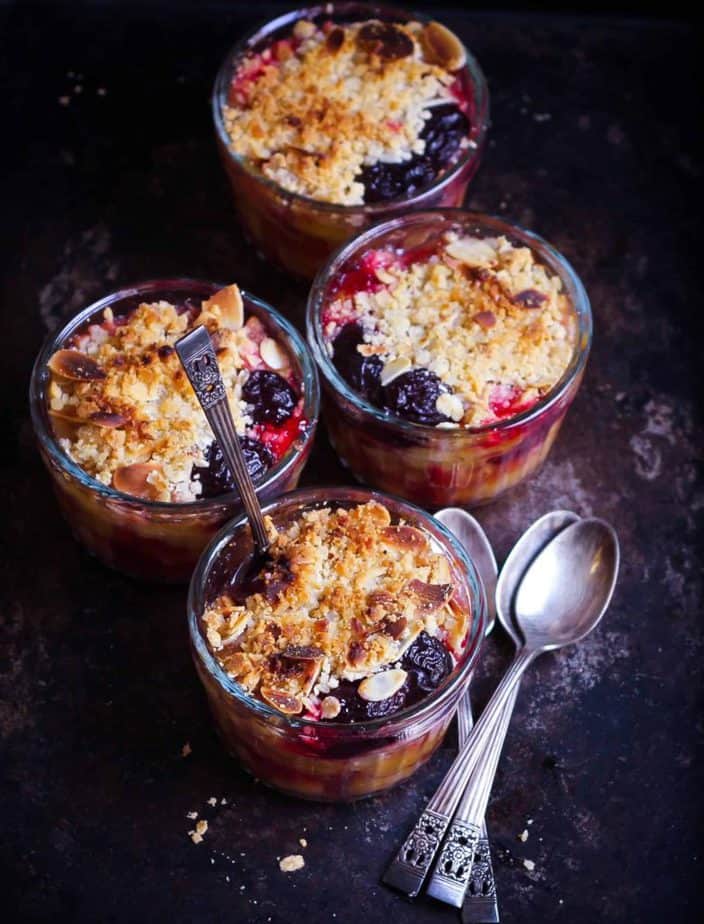 Beautifully rich from the colours of baked plums and apricots, all tango-ing with the best pie crust ever! This easy galette is one of my go-to fruit bakes.
If you try any of these 8 Easy Fresh Plum Dessert Recipes, do let me know.  Happy summer baking!
Please do tag me on Instagram @tashasartisanfoods, using the hashtag #tashasartisanfoods. You can also FOLLOW ME on INSTAGRAM, PINTEREST for more fabulous recipes!