If you love pasta and are too lazy to make it from scratch, you're in the right place! Whilst a lot of pasta is conveniently available in dried form, but not ravioli. And we always want whats not easily available, right? Now that's when I came up with this cheat's version - presenting the Easy Pumpkin Cheese Ravioli!
Whilst it may not be a new concept for many of you, it's a life altering eureka moment for me! Now whenever you want a good quality, fresh ravioli, reach out into your freezer and get that pack of wonton/gyoza wrappers out and make a quick filling, cook the pasta for 4-5 minutes and eat up! Yes that's how fast my Easy Pumpkin Cheese Ravioli came about..not taking into account the pumpkin roasting time.
Once you've thawed your wonton/gyoza wrappers, you can pretty much fill them up with anything you'd like. The options are many - spinach & feta, ground chicken, sautéed mushrooms,ricotta & basil, arugula & sundried tomatoes - and all super delicious. I used roasted pumpkin and MOTHERDAIRY cheese spread as a part of a wonderful recipe collaboration with them.
This is a rather delicate pasta that doesn't need much sauce. A little bit of tomato sauce or bechamel sauce go a long way. I've used a cheesy tomato sauce in this recipe. But really my favourite way is to simply toss them in warm butter or olive oil with some herbs and a little bit of grated cheese. This a wonderfully posh yet simple dinner to serve on weeknights...to be eaten greedily straight off the stove!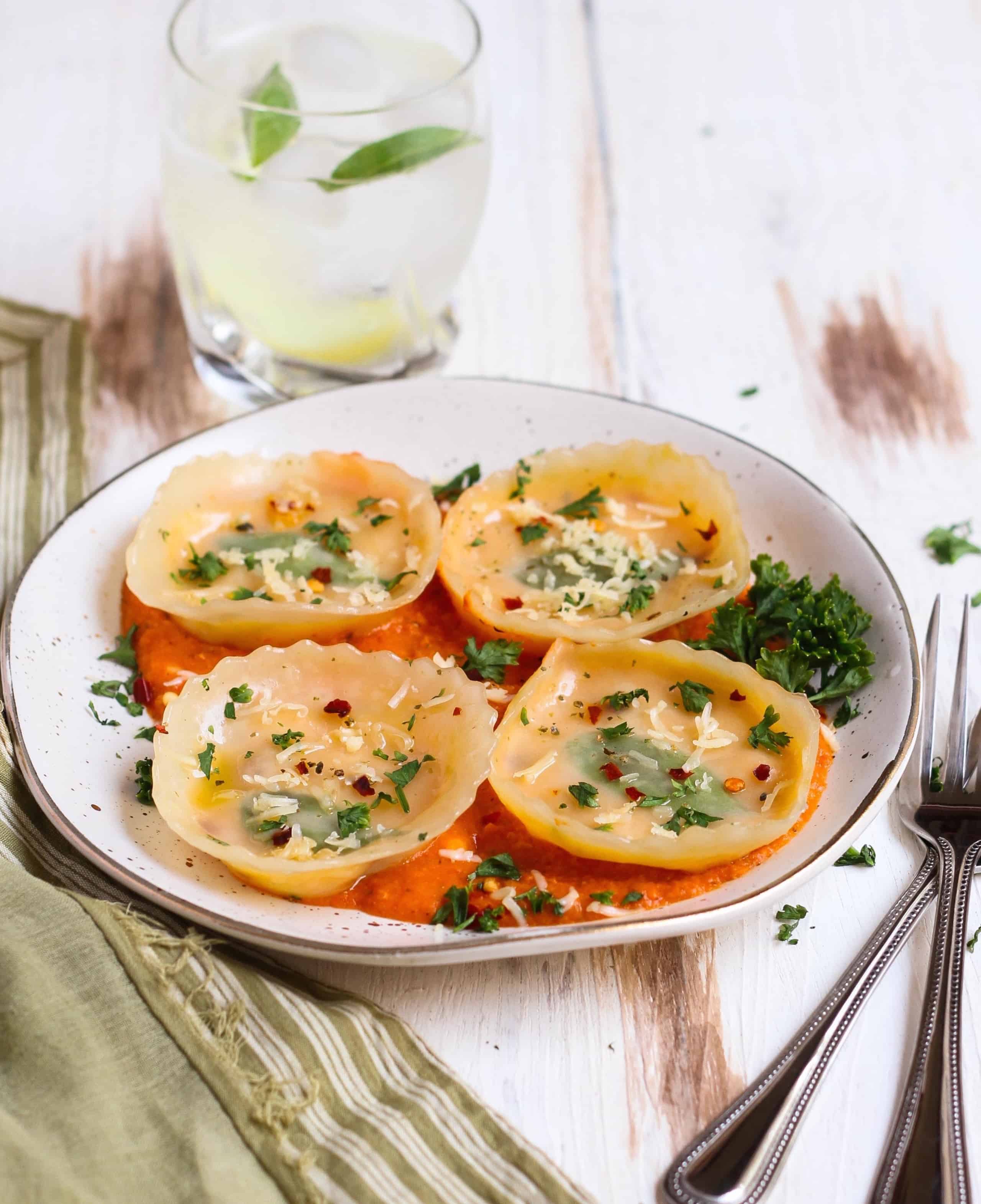 I hope this Easy Pumpkin Cheese Ravioli makes it to your dinner table too and makes you all as happy as it does us ! I'd love to hear from you. Please do rate and comment below! You can also FOLLOW ME on INSTAGRAM , PINTEREST and FACEBOOK for more fabulous recipes!
Print Recipe
Easy Pumpkin Cheese Ravioli
Presenting to you my cheat's version of Easy Pumpkin Cheese Ravioli! Simple to put together and yet so impressive! You can play with the fillings, sauces or just simply toss in butter and enjoy!
Ingredients
RAVIOLI
200

gms

Pumpkin, cut in cubes

1.5 + 1

tbsp

Extra virgin Olive oil

1

pack

Wonton/gyoza wrappers

Easily available in any big supermarket now.

2-3

tbsp

Cheese spread

30-35

Fresh Basil Leaves

1

tsp

Red Chilli Flakes

1

tsp

Dried oregano

Salt & Coarsely Ground Pepper to taste

1

Egg, well beaten
CHEESY TOMATO SAUCE
1.5

cup

Tomato sauce

2-3

tbsp

Cheese spread
TOPPINGS
1-2

Tbsp

Grated cheese

Parsley, finely chopped

1

tsp

Red Chilli Flakes
Instructions
RAVIOLI
Preheat your oven to 180C. Toss cubed pumpkin with 1.5 tbsp of olive oil, salt, chilli flakes, pepper and dried oregano.

Spread it out evenly on a baking tray and roast for 20-25mins or until completely cooked through. Let it cool completely.

Place the roasted pumpkin in a bowl and mash with a fork. Mix in the Cheese Spread. Taste and adjust for seasoning.

Now bring a large pot of water to boil.

Lay out the gyoza wrappers. Brush lightly with the beaten egg.

Place a small teaspoon of the pumpkin filling in the center. Place a basil leaf on top of the filling. Place another wrapper on top, sealing tightly at the edges. Make sure you press around the edges of the filling first, working towards the edges of the wrappers. You don't want any air bubbles in there.

You can use a cookie cutter to cut out fun shapes if you like.

Gently place the raviolis in batches of 4 in boiling water.

They will be done in 3-4 minutes or as they start floating up to the surface. Toss with the remaining olive oil to prevent sticking.
CHEESY TOMATO SAUCE
Heat the tomato sauce in saucepan. Add the Cheese Spread. Stir until well combined. Taste and adjust for seasoning.
ASSEMBLY
Spoon the cheesy tomato sauce on a plate. Place raviolis on top. Sprinkle with grated cheese, parsley and chilli flakes. Serve hot!
Notes
* Find the recipe for simple tomato sauce HERE.