Delicious Italian flatbread topped with luscious ripe figs, bits of onion, and rosemary. This glorious Figs & Rosemary Focaccia is perfect for snacking or for any meal!
For beginner bakers and all those who get intimidated by bread baking, I strongly suggest starting with focaccia. It's a very forgiving and easy recipe that requires proofing just once! Given our warm weather these days, the rise happens really fast. So in about 2.5- 3 hours, you can have a fresh, warm loaf of bread ready to be torn into thick chunks, dipped into olive oil and some balsamic vinegar perhaps enjoyed with a glass of vino!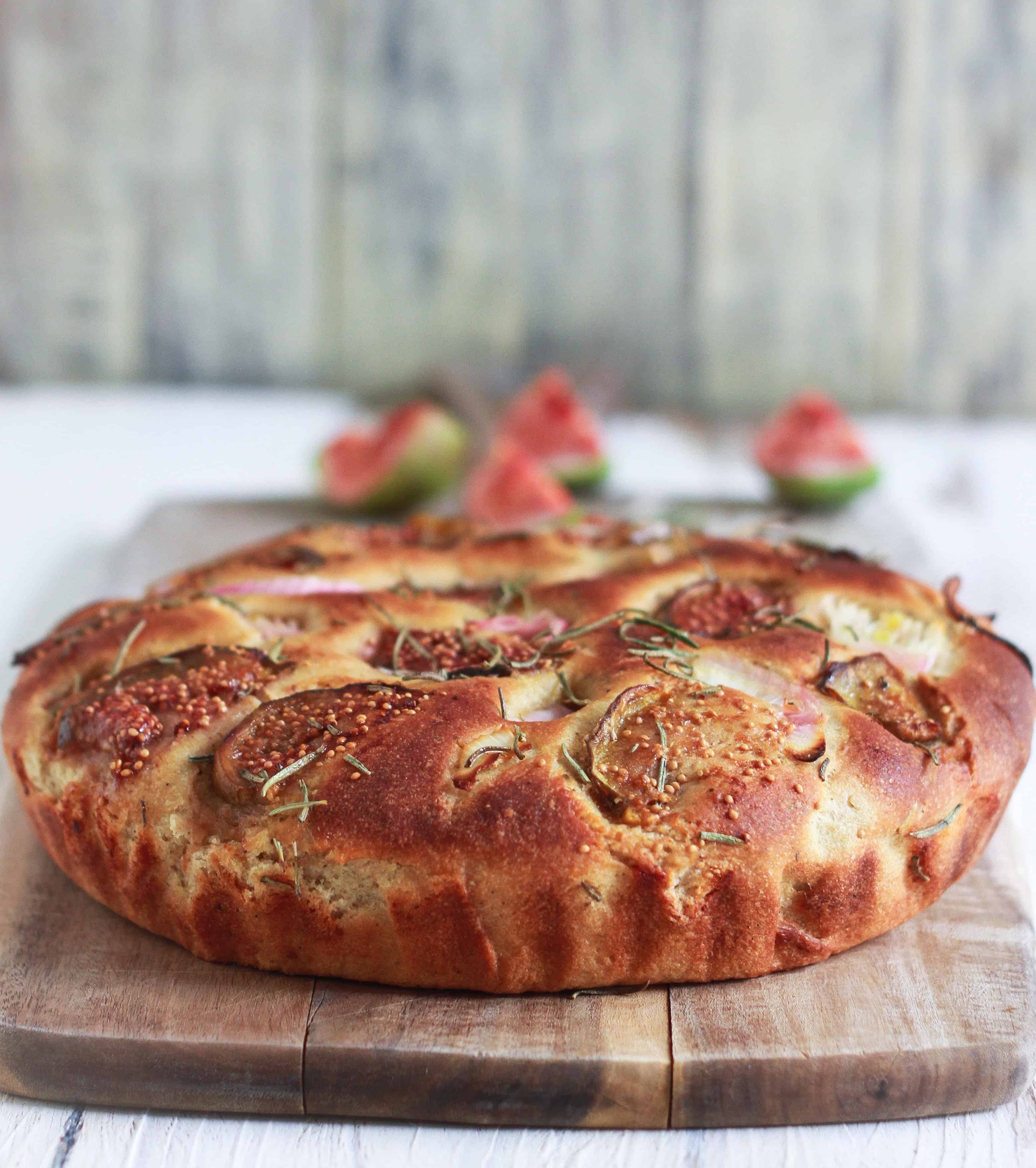 This Figs & Rosemary Focaccia recipe got a double dose of rosemary! I kneaded some right into the dough and also topped the bread with some. It imparts a beautiful woody, distinctive depth of flavour to any dish. Just one sprig of rosemary can add pizzazz to the simplest of the dishes. And it really works wonders here with soft jammy figs and caramelized  onions, making this bread so aromatic and flavourful. Honestly, it drove all of us a bit crazy while it was in the oven. That smell  made my kitchen seem so cozy  and warm!
Typically focaccia is made with all-purpose flour, but I prefer using wholewheat flour like I did in this HERB & GARLIC FOCACCIA.  As long as the dough is well hydrated, you will get a soft, slightly chewy bread..which is what we want.
The figs get caramelized in the oven to  give that lovely sweetness that's compliments the savoury rosemary and fruity olive oil perfectly. It's a wonderful bread to serve on its own, for making sandwiches and as a side to a juicy roast. We couldn't keep our hands of it and as soon I was done shooting it, everyone just pounced on it. It got wrapped up in a record half hour!
If you try this recipe, do let me know. I'd love to hear from you! Please  tag me on Instagram @tashasartisanfoods, using the hashtag #tashasartisanfoods. You can also FOLLOW ME on INSTAGRAM, PINTEREST for more fabulous recipes!
Print Recipe
Figs & Rosemary Focaccia
This glorious Figs & Rosemary Focaccia is topped with ripe luscious figs, rosemary and bits of caramelized onions! Perfect for snacking or with any meal.
Ingredients
2

tsp

Dry active Yeast

1

tsp

sugar

200

ml

warm water

Plus extra if needed

200

gms

Wholewheat flour

1

tsp

salt

1

tsp

Dried rosemary, slightly crushed

3

Tbsp

Extra virgin Olive oil

Plus 1 tablespoon for drizzling on top

4-5

Figs, sliced thickly

1/2

Onion, sliced thinly

1-2

sprig

Fresh rosemary
Instructions
Mix warm water, yeast and sugar in a small bowl. Keep it in a draft free place for about 5 minutes, or until the mixture is frothy.

Combine the flour, salt, and rosemary in a large bowl.

Make a well in the center and pour in yeast mixture and olive oil. Form a dough and turn out on a well floured surface.

Knead the dough using the heels of your hands pushing the dough away from you and fold the top half of the dough back towards you, and press down. Then press out again, stretching and folding back. If the mixture feels too dry, add water, 1 Tbsp at a time. Knead the dough for about 8-10 minutes. You should get a slightly sticky, soft, smooth dough.

Transfer this dough to a greased bowl. Cover with a kitchen towel and place it in a draft free place for about 1 1/2 hours or until the dough has doubled in size.

Pre heat the oven to 200 C. Line a 7"/8" cake tin with parchment or butter paper.

Take out the proven dough on a floured surface. Gently deflate the dough and flatten the dough a bit. Place it in the prepared pan, patting it gently it so it covers the pan.

Drizzle over 1 Tbsp of olive oil. Scatter the sliced figs and onions and rosemary, pushing them into the dough slightly. Let this rest for 10-15 minutes and bake for 30-35 minutes, until golden brown.

Transfer to a cooling rack. Let cool for 15 -20 minutes before serving. Enjoy!