Every Indian household has its own pulao recipe! One that is made on busy days and packs a bunch of flavor and nutrition with just a few steps. This Fresh Green Chickpea Pulao recipe is healthy, delicious and incredibly simple to make, inspired by my mom's everyday pulao!
The everyday traditional simple meals still continue in this house.  However,  over the years I've developed a penchant for rice and now it makes a regular occurrence on our table.  Pulaos make a quick, healthy weeknight meal.  I enjoy mixing it up with various ingredients, eggs, soya nuggets, chicken, and the best of all seasonal vegetables. And that's how the Fresh Green Chickpea  (Chholiya) Pulao came about.
Nowadays every vegetable vendor is selling beautiful, vibrant - green chickpeas.  Do make the most of these little gems while they are abundantly available. They add a light, refreshing flavor, much like peas and can be used in plenty of recipes.... salads, soups, curries.  These nutritionally dense nuggets are excellent sources of fiber, protein, B- vitamins, iron and phosphorous.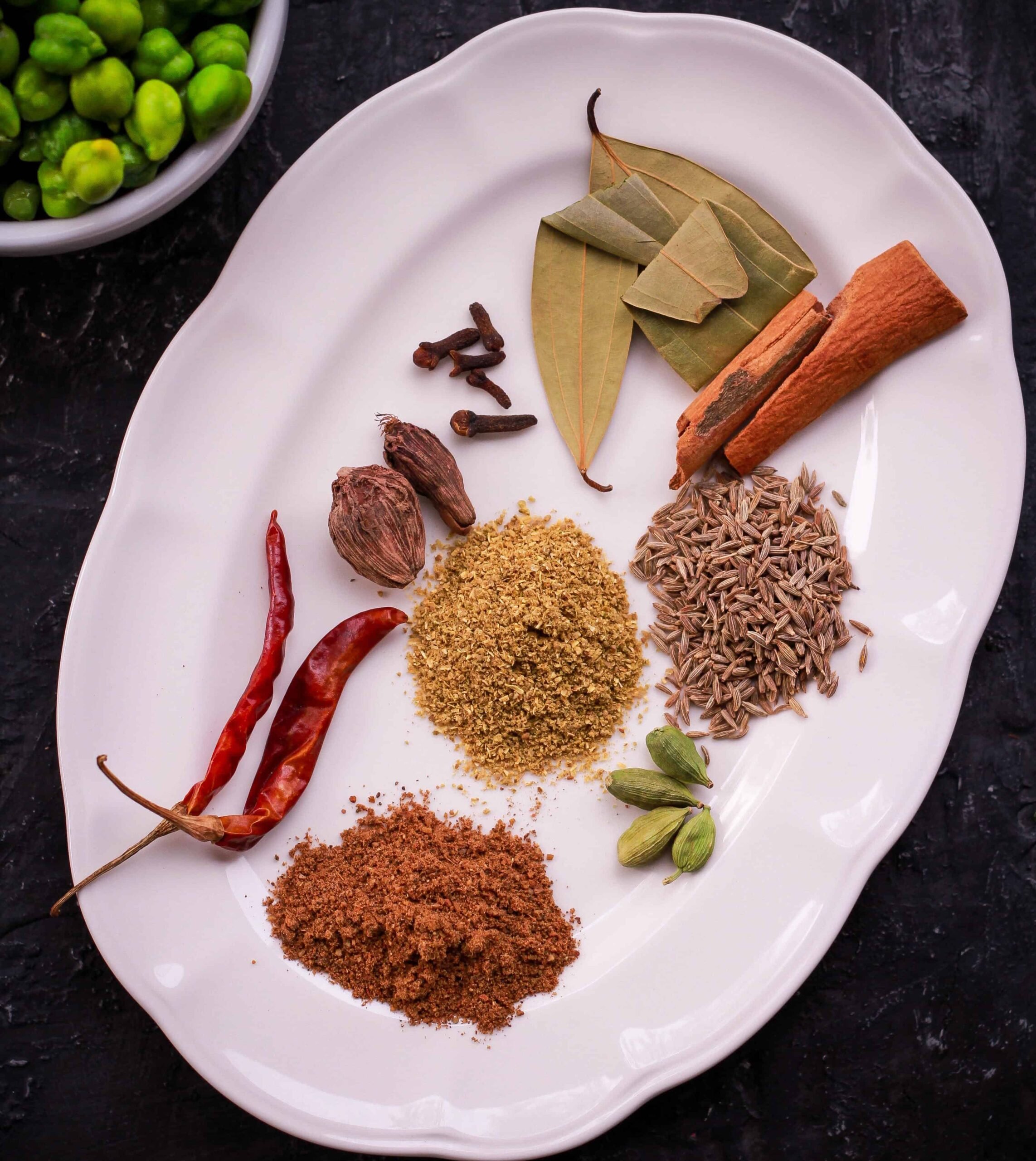 Since I'm on a clean eating 30-day plan, I have cut out on all refined flour and white rice too. Ergo, this Fresh Green Chickpea (Chholiya) Pulao was made with brown rice.  While we love the chewy, nutty complexity that it brings,  there may some who have reservations about using brown rice in pulao.  But please remember, there is nothing that a well-cooked mixture of caramelized onions and tomatoes combined with aromatic whole spices and heady garam masala can't lift up to delectable heights!!
How Can I Make This Fresh Green Chickpea (Chholiya) Pulao
This Pulao can be served with any raita of your choice or any kind of vegetable or curry too. It looks wonderfully festive and is really simple to make.
Once you've heated oil in a pan, the whole spices are added. As soon as they splutter, throw in the onions. Cook until lightly browned. This gives so much flavor to the dish!
Then the chopped tomatoes go in with the salt, coriander powder, and garam masala. Then go in the green chickpeas and carrots. These need to be cooked for just a minute or so.
Now the rice gets added in. It should be gently stirred so it's well coated with all the spices. Add the water and let the pulao cook for 40-50 minutes...or as long as it will take for your brown rice to cook well.
A mandatory squeeze of lemon juice to the rice gives a lovely zing to the dish.
And that's it! I love garnishing my pulao with pomegranates and roasted cashews. A light sprinkle of cilantro or coriander adds a touch of freshness and bright color.
I hope you will enjoy this wonderful wholesome Fresh Green Chickpea (Chholiya) Pulao as much as we do. Eating seasonal, healthy meals does not have to be boring at all!
I'd love to hear from you! Please tag me on Instagram @tashasartisanfoods, using the hashtag #tashasartisanfoods. You can also FOLLOW ME on INSTAGRAM, PINTEREST for more fabulous recipes! Do subscribe to Tasha's Artisan Foods so you'll never miss a recipe!
📖 Recipe
Print Recipe
Fresh Green Chickpea ( Chholiya) Pulao
Ingredients
1

cup

Brown rice

Rinsed and soaked for minimum 30 minutes

2

medium

Onions

Sliced thinly

4

small

Tomatoes

Diced finely

2

medium

Carrots

Diced

200

gms

Green Chickpeas

Rinsed well

1

stick

Cinnamon

2

pcs

Bay leaves

4-5

pcs

Green cardamom

4

pcs

Black cardamom

2

pcs

Dried red chilli

4

pcs

Cloves

1.5

tsp

Garam Masala

1

tsp

Coriander powder

1.5

tsp

Cumin

2

Tbsp

Vegetable oil

2.5

cups

Water

2

tsp

Lemon juice

Salt to taste

Coriander, Roasted Cashews, Pomegranate

for garnishing ( Optional)

Cucumber Raita

for serving
Instructions
Heat oil in a thick bottomed pan on medium heat. Add cumin. As soon as it starts spluttering, add the whole spices: cinnamon stick, red chilli, bay leaves, cardamoms and cloves. Stir for about 30 seconds before adding the garam masala and coriander. Stir for another 30 secs before adding the onions.

Cook the onions until lightly browned, about 5-6 minutes. Add salt and tip in the tomatoes.

Cook the tomatoes till softened, approximately 6-8 minutes. Add the carrots and green chickpeas. Cook for a couple minutes before adding the rice. Stir the rice with the masala to coat the grains.

Pour in the water. Cover the pan and let the water come to a boil. Turn the heat down to low and let the rice cook for 40-50 minutes.

Once the rice is cooked, gently stir in lemon juice. Garnish with cashews, pomegranates, fresh coriander leaves and serve hot with a cool cucumber raita. Enjoy!!