This recipe for Mac and Cheese is so fun to make and a delicious crowd-pleaser! Perfect for snacking, entertaining, and lunch boxes.
These muffins were a staple at all my children's birthday parties and continue to be a regular at our dinner table.
Everyone loves a luscious, delicious bite, especially with a crunchy crispy breadcrumb topping.
They are also a wonderful hold-all for vegetables! Finely chopped veggies add a sublime crunch and color.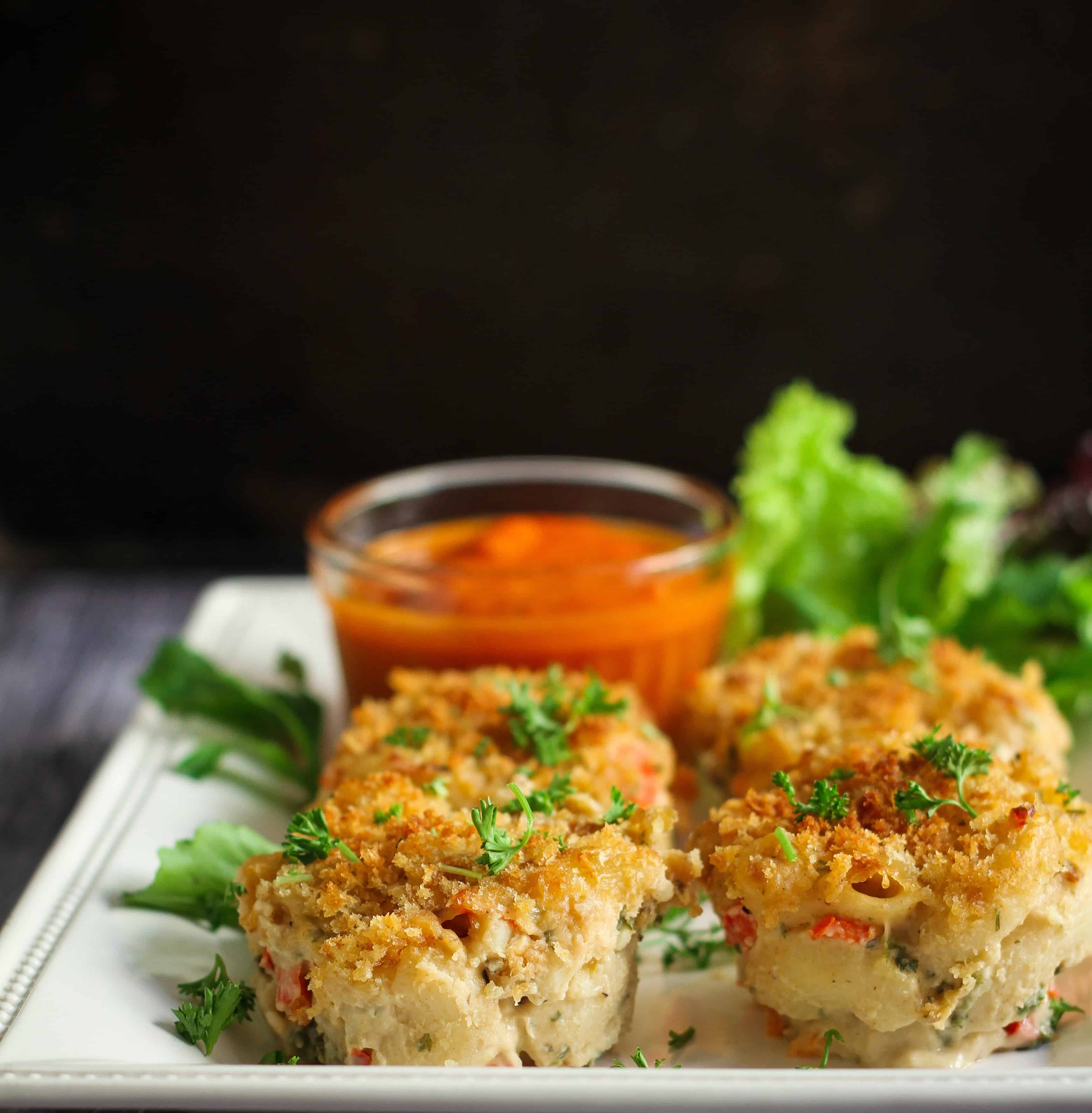 These Mac and Cheese muffins may look small, but they are certainly quite hearty! Did I mention, they are GREAT for school/office lunches too? Pack along some cucumber and carrot sticks, and a piece of fruit, and you got yourself a delightful lunchbox!
I like to serve these muffins at home with a bunch of salad greens and my simple tomato sauce .
Make Ahead
These mac and cheese muffins can be easily made ahead and stored in the refrigerator. Just take them out a few minutes before serving and reheat in the microwave or your oven.
You can keep them ready in the muffin tray to bake at a later time too. Do keep in mind, they need to be cooled for at least 15-20 minutes before taking them out of the pan, to avoid breaking them up...this is experience talking!
NOTES:
Whole-wheat pasta works very well in this recipe.
I have used olive oil and whole-wheat flour in the cheese sauce base instead of butter and all-purpose flour. You can certainly use those if you wish.
This recipe can be made all VEGAN by using, vegan cheese and non-dairy milk if you'd like to.
You can add any vegetable or maybe even some bacon/ roasted chicken/fish to the mac'n cheese mixture before baking.
More Delicious Snack Recipes
I  hope you'll give these wonderful, happy little mac and cheese muffins a try. I'd love to hear from you!  Please leave a comment below and share a picture of your creation on INSTAGRAM using the hashtag #tashasartisanfoods.
Print Recipe
Mac'n Cheese Muffins
Ingredients
250

gms

Macaroni

3

tbsp

Extra virgin Olive oil

4

tbsp

Wholewheat flour

500

ml

Milk (skimmed)

200

gms

MOTHERDAIRY Cheese Spread

1

Red bell pepper

Finely chopped

Parsley, small handful

Finely chopped

1

tsp

Red Chilli Flakes

Add more if you prefer

2

tsp

Italian seasoning

Salt & Pepper to taste
For the topping:
3/4

cup

Fresh breadcrumbs

2

Tbsp

Extra virgin Olive oil
Instructions
Cook the pasta in plenty of water. Drain and keep aside.

Heat olive oil in a pan. Add the chilli flakes and wholewheat flour.

Cook the flour for 2-3 minutes, stirring constantly.

Add in the warm milk. Keep stirring, until it comes to a boil. Cook for a further 5-8 minutes until it is thickened.

Once its thickened, turn off the heat and add Mother Dairy Cheese Spread. Stir well.

Add the Italian seasoning and salt & pepper to taste.

Now combine the pasta, bell peppers and parsley well. Taste and adjust for seasoning.

Preheat your oven to 180C. Grease the cavities well of a 12- cup standard muffin tray.

Spoon in this creamy pasta mixture, leaving about ½" from the top.

Sprinkle the breadcrumb mixture liberally over each cup.

Bake for 20-25 minutes, until the the sauce is all bubbling and the breadcrumbs are browned on top.

Let the muffins cool in the pan for about 30 minutes before taking them out carefully. You will need to loosen them from the edges with a butter knife. Enjoy!

You can leave the tray to cool completely in the refrigerator overnight and take the muffins out as desired in the morning for the school tiffin.
For making the topping:
Take 3/ 4 slices of any bread of your choice, break it up and put it your mixie/food processor or coffee grinder. Pulse till its ground into crumbs. Take it out in a bowl and mix in the olive oil.