Hello to all!
The past month has been particularly challenging, filled with plenty of stressful days and frequent bouts of exhaustive work. I am so excited to start a fresh new week, ushering in September!
There's still a little while to go before Autumn arrives here, but I am already energized by just the thought of it! Cosy nights with a big mug of hot chocolate. Flavours of pumpkin, apples, pears and figs in my kitchen...their aromas wafting through the house.
I can't wait to bid farewell to humid days and bring out my fuzzy socks! These are the thoughts that are keeping me motivated and dreaming of all the new recipes I can make. 
Amidst the hundreds of things always going on at home, work and everything that comes with a global pandemic, creating little moments of joy is my tether to staying afloat. 
Moments of joy mean time or space for me to find solitude, calm, or engage in a meaningful activity that will bring me happiness. 
This can be a short yoga session, reading a book, taking a walk, listening to a podcast, journaling. 
My Moments of Joy.......
1. My Favorite Books from August
"Action on behalf of life transforms. Because the relationship between self and the world is reciprocal, it is not a question of first getting enlightened or saved and then acting. As we work to heal the earth, the earth heals us."
This book is easily my favorite read in 2020 so far. You just sink into Robin Wall Kimmer's words of plants and life. It is an ode to nature, to humanity and so artfully explores how deeply linked we are to the world around us. Reading this book was an educational and meaningful experience. If I could give everyone one book, it would be this!
"...see what it is to still live, to profoundly influence the lives of others after you are gone, by your words. In a world of asynchronous communication, where we are so often buried in our screens, our gaze rooted to the rectangular objects buzzing in our hands, our attention consumed by ephemera, stop and experience this dialogue with my young departed colleague, now ageless and extant in memory. Listen to Paul."
I have had this book on my shelf for ages now, I wish I had not put it off for so long. Paul Kalanithi's memoir was written in his final months, living with terminal cancer. It is a deeply moving tribute to life, death and facing the most painful aspects of our existence. Paul was not only a gifted neurosurgeon but a remarkable writer. He explores facing mortality as a doctor, and later as a patient with such empathy and intelligence. Truly one of the best memoirs I have ever read.
I also loved The Forest of Enchantments by Chitra Banerjee Divakaruni. A retelling of the Ramayana from the point of view of Sita, this book was so gripping and evocative.
A special mention to a book I read almost everyday - My Family & Other Animals. Gerald Durell is a masterful writer, so descriptive and hilarious. Even a chapter of reading about his life in Corfu with the most entertaining family will lift my spirits!
2. In Podcasts
Listening to podcasts is new to me. I started just a few months ago when my son downloaded Spotify on my phone. Now, I am hooked to on so many different kinds of Podcasts and adore taking out time to listen to them.
My favourites this month have been -
Shared Plates: How Eating Together Makes Us Human
3. Recipes I Love
My list of bookmarked recipes is at this point is a magnificent beast that I keep feeding every day. I have enough items on my list to last many lifetimes. But it's so fun! One of my favourite pastimes is sitting down to scour cookbooks, Pinterest boards and watch cooking shows for inspiration and to appreciate food.
This month, I loved: 
4. Everything Sourdough 
Like so many others, I too started my sourdough journey during the lockdown. What began with a little starter named Tiloo (who is basically a new family member) has become a daily obsession of mine. I am still in awe of what magic can be created from just flour, water and salt. 
If I'm not making sourdough bread or using up my sourdough discard, I am studying and learning more every day.
Now, I am by no means an expert. I can make a kickass sourdough focaccia and some respectable boules, but I have a long way to go and much technical know-how to acquire. Here are some of my favourite resources from the past month. If you have any recommendations, do share! I am eager to take all I can get from the sourdough community. 
For anyone new to sourdough, here is an excellent guide for making your first starter, by my friend Anita. I attended her workshop to learn about starters a few months ago and have been running to her for sourdough tech support ever since!
Those of you who have a starter would also have sourdough discard - here are my favorite August creations using this wonderful ingredient:
Sourdough Peanut Butter Brownies - fudgy, divine, addictive!
Plum Apricot Sourdough Galette - if you don't have these fruits, use any in season. This galette has the best crust I have ever made and is a must-try.
5. My Favorite Dinners
We must have eaten Pita Pockets at least 4 times this month!
I have fallen in love with making pita at home and it goes SO well with our favorite condiments. Whip up some hummus or tzatziki, throw in a few veggies and you have the most scrumptious dinner.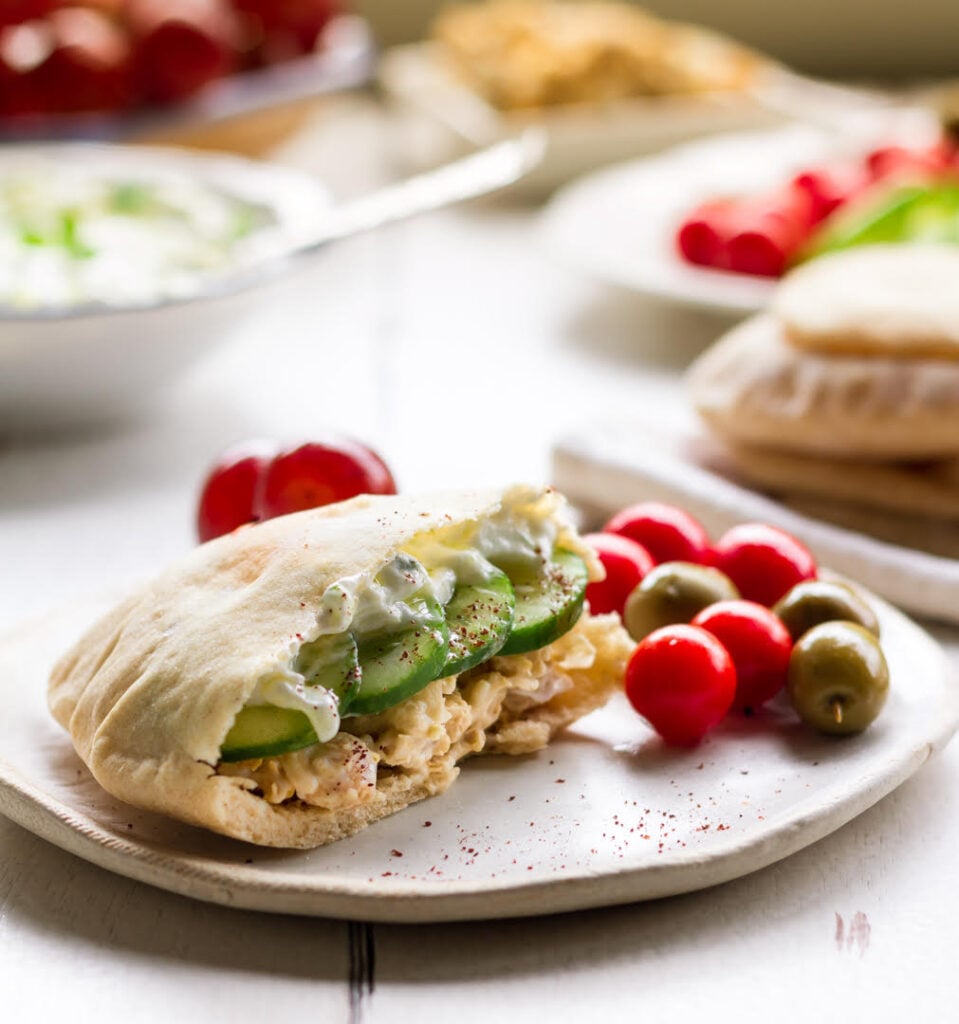 This recipe was my savior on a night when I had zero motivation to cook or clean. Adapted from Martha Stewert's one-pot cooking collection, this pasta dish came together in 20 minutes with a few basic ingredients. It was so hearty and delicious, I am now very keen on expanding my one-pot recipe repertoire!
In the coming weeks, you can expect an abundance of apple recipes, warm simple dinners and rainy day inspiration!
Have a great new week everyone, lots of love.