As we enter the final month of the year (how?!) there is so much I want to slow down and appreciate. Given that Christmas season is my favorite time, that's harder than it sounds! I'm absolutely bursting with energy and excitement to work and check off the countless goals I have in mind for the coming weeks. My poor oven in particular is in for a long workout!
That being said, I also want to acknowledge how much I have to be grateful for and enjoy it as we bid farewell to this messy, painful year. For me that means lots of cosy evenings with the family, listening to Christmas music on a loop, eating boxes of cookies and lighting lots of candles. Also, watching Polar Express every weekend with a mug of hot chocolate - of course!
I am looking forward to happier and healthier days for our world and spending the end of this strange year holding on to my moments of joy.
My Favorite Books
"I shan't be lonely now. I was lonely, I was afraid. But the emptiness and the darkness are gone; when I turn back into myself now I'm like a child going at night into a room where there's always a light."
This book is beautifully written and astoundingly clever. It is full of insightful observations and complex characters which are so relevant today. It follows the lives of people in New York High society in the 1800s, unmasking the hypocrisy and norms of the elite. The love story we see is so special - not only because of it's tragedy, but how interestingly the characters evolve. It's impossible to not get invested in their lives and feel the highs and lows of their journey. Such a fascinating and witty read!
This book is an informative and slightly terrifying guide to how much of our everyday home products are packed with toxins. It's a great starter for people who are interested to understand more about the goods we use (from shampoo to kids toys) and above all, make more informed, healthy decisions.
It was gifted to me years ago by friends who were years into making sustainable, healthy shopping decisions and I've finally revisited it. I've slowly been learning more about toxins in food, beauty, and home products myself. This sparked that journey! Looking forward to making small, healthy changes in whatever way I can.
This marks my millionth reading of Pride and Prejudice. Each time I am equally sucked in to the romance, drama and spirit of it all! It's just a joy to read and always makes me laugh. Lots of fun observations, witty banter and beautiful writing. I often just pick this up and open it to any random page for a quick break. Don't be surprised if you see it in another monthly book round up soon!
Christmas Cookie Inspiration
Tis the season of the cookie diet! I've already whipped up an alarming amount of cookies and have no plans on slowing down till we cross the Xmas finish line. Here is a round up of some recipes I've fallen in love with and can't wait to try:
Slice n Bake Chocolate Covered Peanut Butter Cookies by Half Baked Harvest always excited for a good peanut butter chocolate combo! These are adorable and so tempting.
Apricot Walnut Rugelach by Simply Home Cooked filled with delicious jam, these little flaky pastry bites are divine. Definitely a great baking project!
Swedish Butterscotch Gingerbread Cookies by Callmecupcake chewy, spiced perfection! There are a couple of ways to make these, I'll definitely be trying both.
Glutenfree Spritz Cookies by Flippin Delicious these buttery crispy little cookies are the best kind of holiday bake. Fun with the cookie press!
Snowflower Christmas Cookies by Little Swiss Baker the recipe is wonderfully simple and makes some gorgeous melt in your mouth cookies!
Spiced Ginger Cookies by Butter With A Slice of Bread these are packed with the best holiday spices. Soft and chewy goodness!
Gingerbread Biscotti by Amy Johnson is there anything as good as crispy biscotti with some tea? And these are filled with warm, yummy spices - I am in love.
Double Chocolate Christmas Cookies by Sarah J Hauser this has two ways to make delectable chocolatey cookies! One with mint and the other with sea salt, both gorgeous.
November Recipe Highlights
Tiger Bread aka Dutch Crunch Bread
Chai Spiced Chocolate Truffles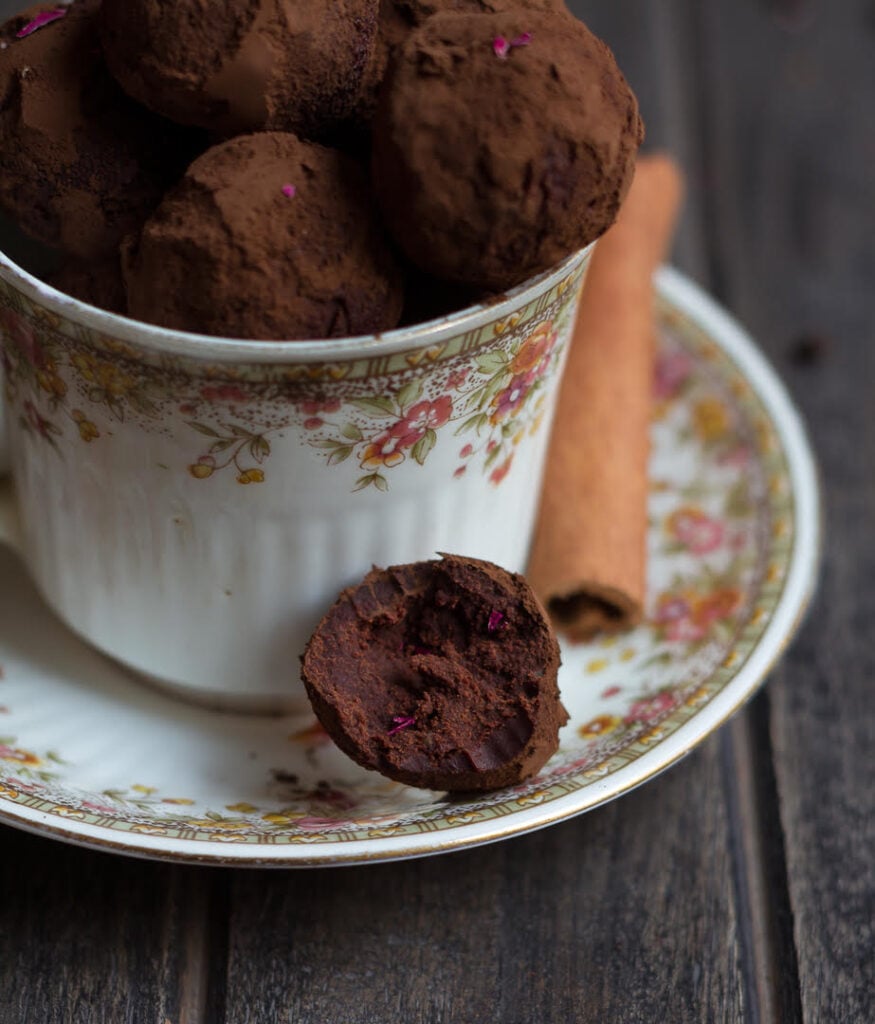 Worth the Read
It's been a turbulent time for all, and everyone seeks comfort in the way they know how. For me, reading has always helped me feel present and grounded. While I've talked about books that I enjoyed this past month, I can't miss out on some spectacular articles which were equally great reads.
Pinch of irony: As Indian restaurants embrace home food, home cooks are recreating restaurant dishes written by the talented Anoothi Vishal, this is an interesting overview of how the pandemic has shaped food within and beyond our homes.
Feminist illustrators who draw of the times a look at some powerful thought-provoking artists.
How Close is Humanity to the Edge by Corinne Purtill, exploring the potential dangers and hopes of our future, in context of the global pandemic response.
Poet Cleo Wade Knows How To Discover Your Purpose: Stop Looking after falling in love with her writing, I am reading anything and everything Cleo Wade has to say! Here are some snippets from an interview of hers. Always insightful and full of light..
Despairing? A list of places we can turn to for hope by Rega Jha. Always a delight to read her work. This piece in particular is a strong lifeline for hope in days that it seems the world is unbearably dark. Simple, important things to think about and recognize the good around us!
Life Lessons Learned in My 40's That I Wish I Could Tell My 20-Year Old Self by George J. Ziogas. This perfectly encapsulates so many of the lessons I hope to share with my kids and remind myself of as I keep learning and growing. For instance, you can't get back the time you spend worrying.
Cosy Home Decor
There are certain timeless pieces which bring so much comfort to your home. I love filings my rooms with little touches that bring warmth even on the gloomiest of winter days! So here are a few items I adore.
Wicker Lamp Shade from Daisy Life
Geometric Candle Holder from The Fig Tree
Brass Candle Stands from Rose Buck
Jar Candles from Nicobar
Kamalbaddi Table Cover from Suvasa
Quick Chocolate Delight
No winter goes by without me making my absolute favourite quick treat - chocolate bark! Made with the most basic ingredients, you can have a beautiful festive dessert in no time. What I love most is that once you have the basic base in place, you can keep changing it up. Dress it up and make an extra decked up version or enjoy it with a few toppings. Either way, you're bound to have a hit, ready in a jiffy. My last chocolate bark was this gorgeous Matcha White Chocolate one.
If you're looking for a few other chocolate bark options, I've also got Dark Chocolate Bark and Rose White Chocolate Bark.
So, there you have it - a few of the monthly favourites that brought me joy! See you next month with more Christmas goodness and warm, winter inspiration.