I made these rose pistachio cookies with Diwali in mind. So, they just had to have all the festive flavors – rose, saffron, and pistachios. They are eggless, making a great addition to the mithai spread all our homes invariably have during this time.
The cookies have that unique texture that melts in your mouth but still gives you a distinctive crispness with every bite. And the floral notes of the rose water, the subtle aroma of saffron, and the nutty crunch of pistachio wed with the buttery texture like a dream.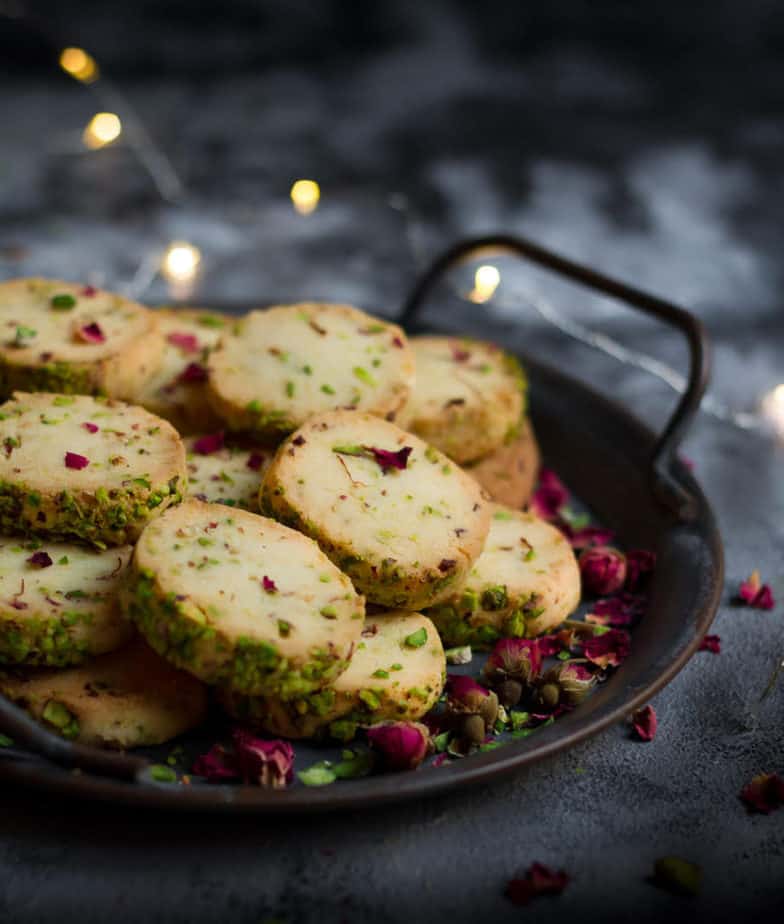 How to make eggless rose pistachio cookies?
The dough comes together in 10 minutes and the baking time is barely 15 mins. The rose pistachio cookies are that quick to put together. But yes, like all good things in life, they require you to wait (but more on that later).
Start by beating butter and icing sugar until it's light and fluffy. Take a look at the picture to get an idea of the consistency you should have.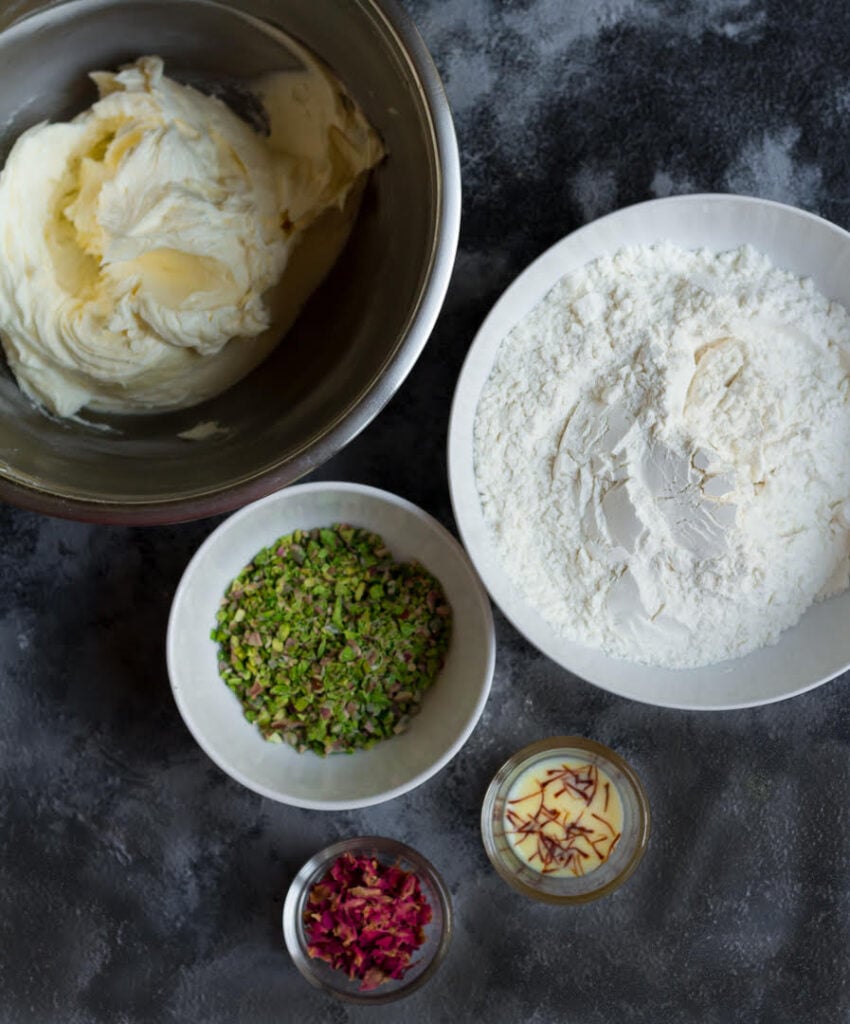 Then with your spatula, mix in rose water and all-purpose flour. To bring in a touch more of a joyful feel, I threw in some saffron-infused milk too. To make it, stir a few strands of saffron in 2 tablespoons of milk.
The last two ingredients to go in are rose petals and chopped pistachio. At this point, your dough should come together fairly easily. It'll be pliable, silken to touch, and soft but not so soft that it falls apart. If you think the cookie batter is dry-ish, go ahead and add another tablespoon of milk.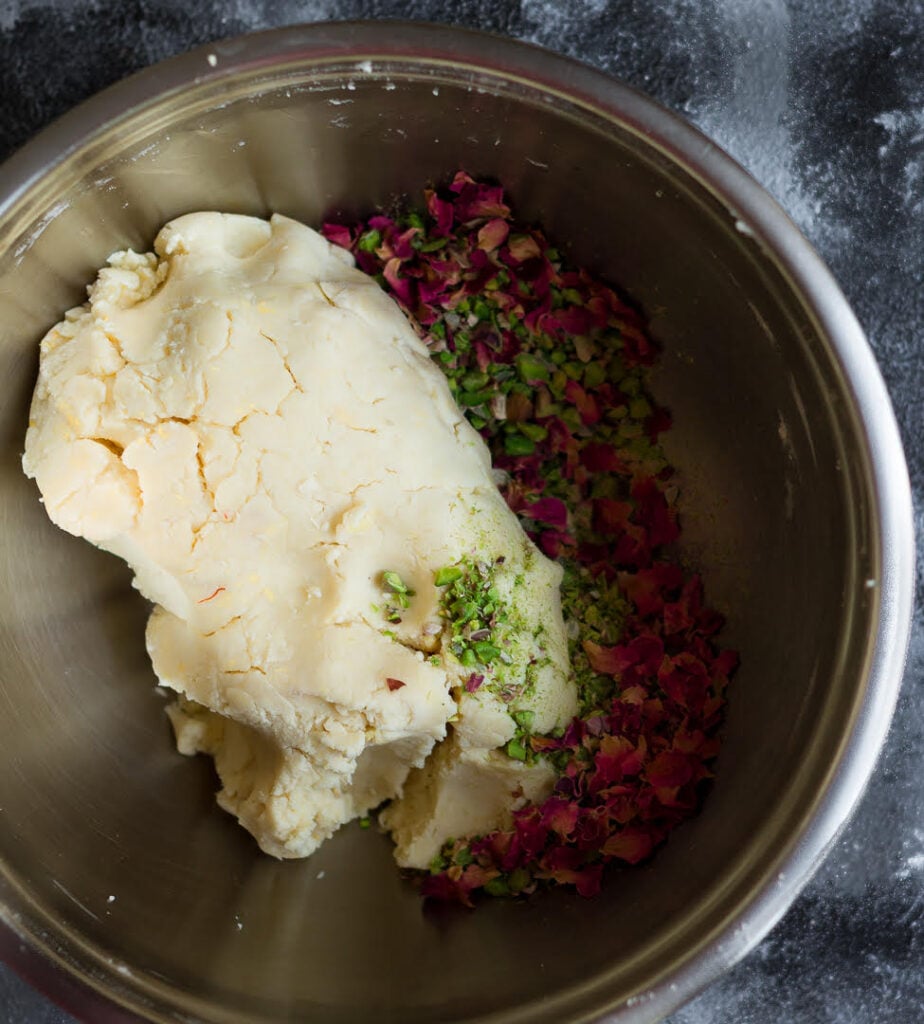 Refrigerating the rose pistachio cookie dough
Remember the wait time I mentioned? It comes in here. The trick to making these delicate and crunchy cookies is refrigerating the dough.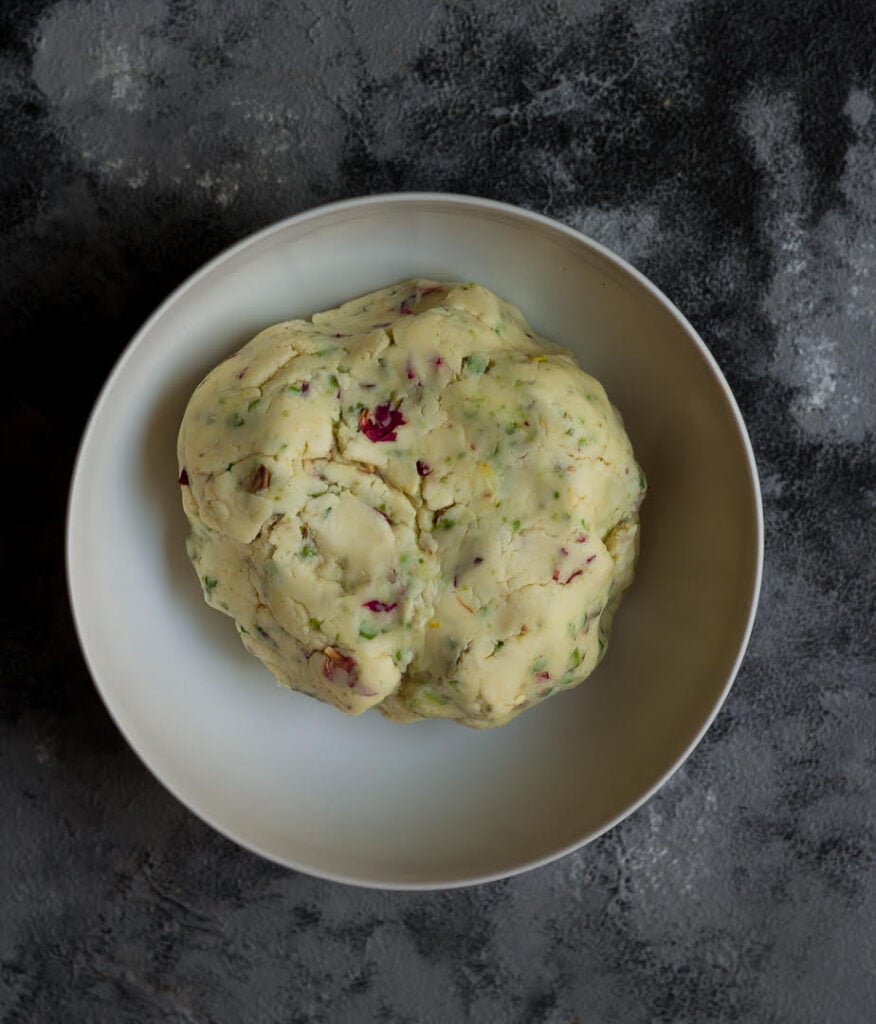 You divide the dough in half. Then roll it into 2 compact logs. We like an extra crunch to these almost butter cookies. So, the logs were rolled onto chopped pistachios.
Place these logs on a tray, and then plop them in the fridge. In about half an hour, the dough firms up enough to slice.
The rose pistachio cookie dough can be wrapped and refrigerated for 2-3 days or frozen for 2-3 weeks. Just remember to double layer it – once in cling wrap and then in foil to prevent freezer burns.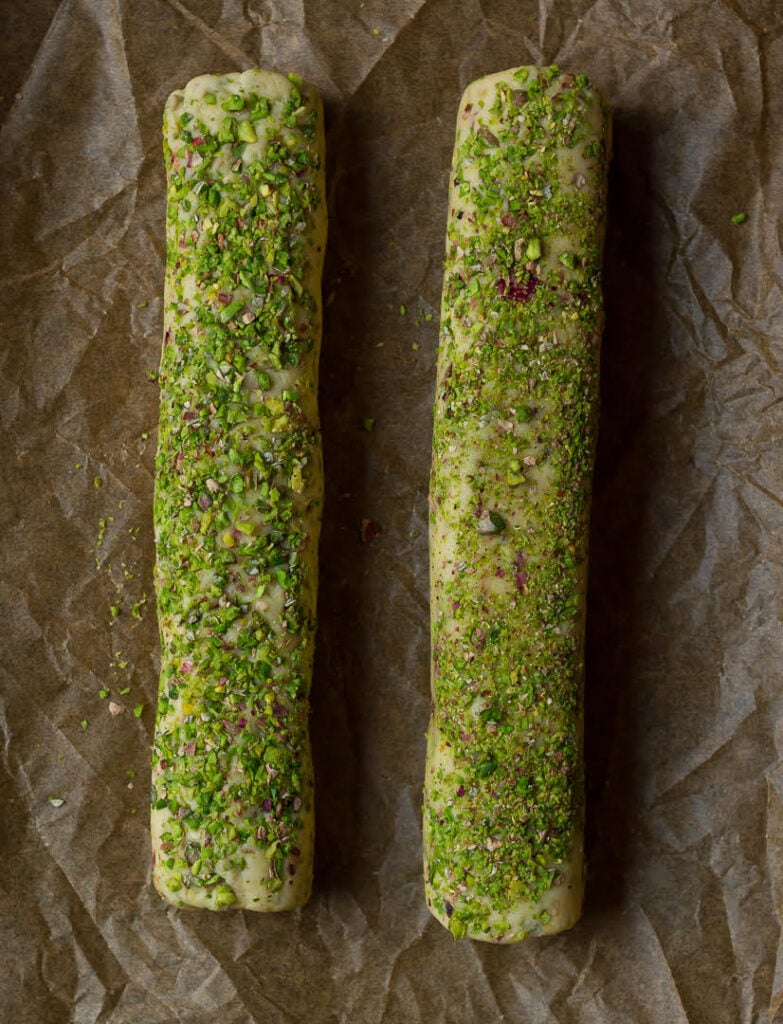 Baking the rose pistachio cookies
Because the dough is chilled, slicing it with a sharp knife is quick work. Each round slice is 1/8 of an inch and slightly thick. When you place them on the baking tray, leave gaps in between. Why? Because the cookies do spread a bit as they bake.
The bake time is 12 to 15 minutes. Please, please stick around once the clock crosses the 12-minute mark. I didn't, and my first batch came out a tad too brown instead of the sunny golden. So, for the next one, I kept my eyes peeled.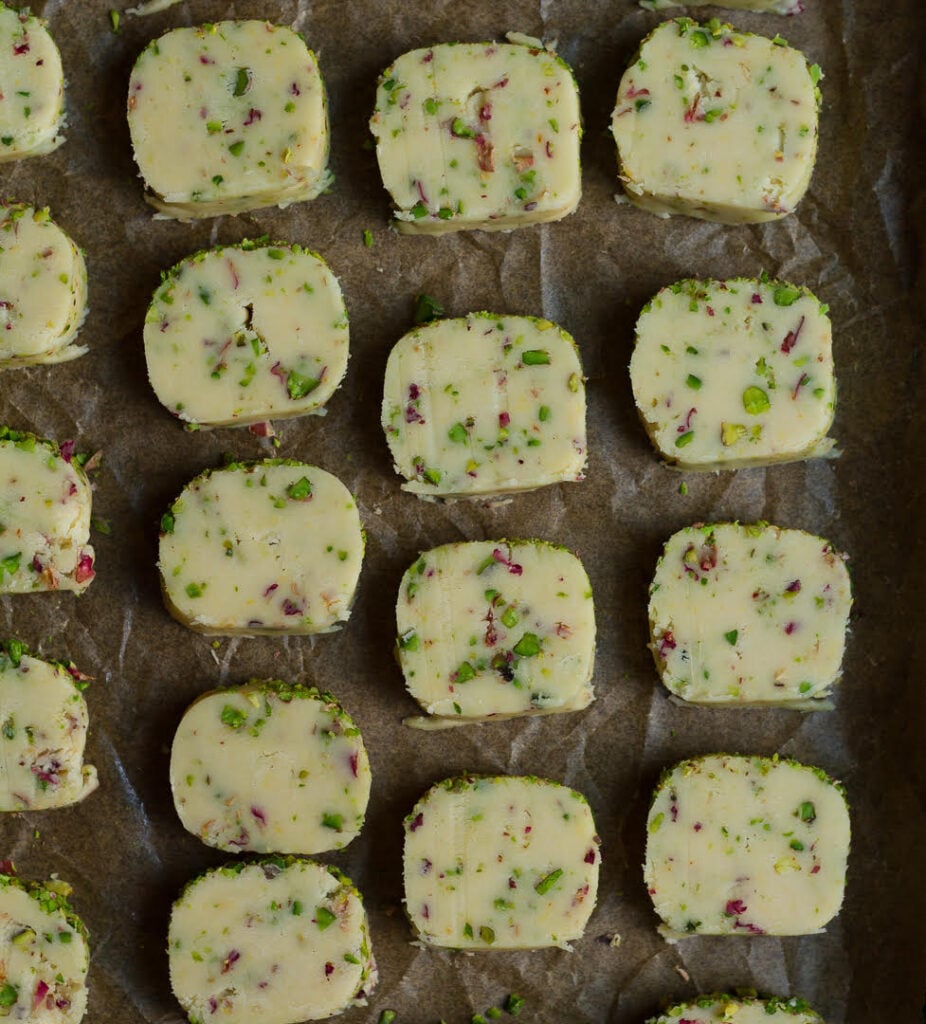 While overbaking does change the hue and texture of the cookies, the flavor is still a dream. Anyone who loves crispier cookies can increase the baking time slightly.
I was gunning for the old bakery-style cookies, like the kesar-pista cookies I use to have eons back. So, the short bake time was essential. Bear in mind that these do firm up further as they cool. Factor it in when baking.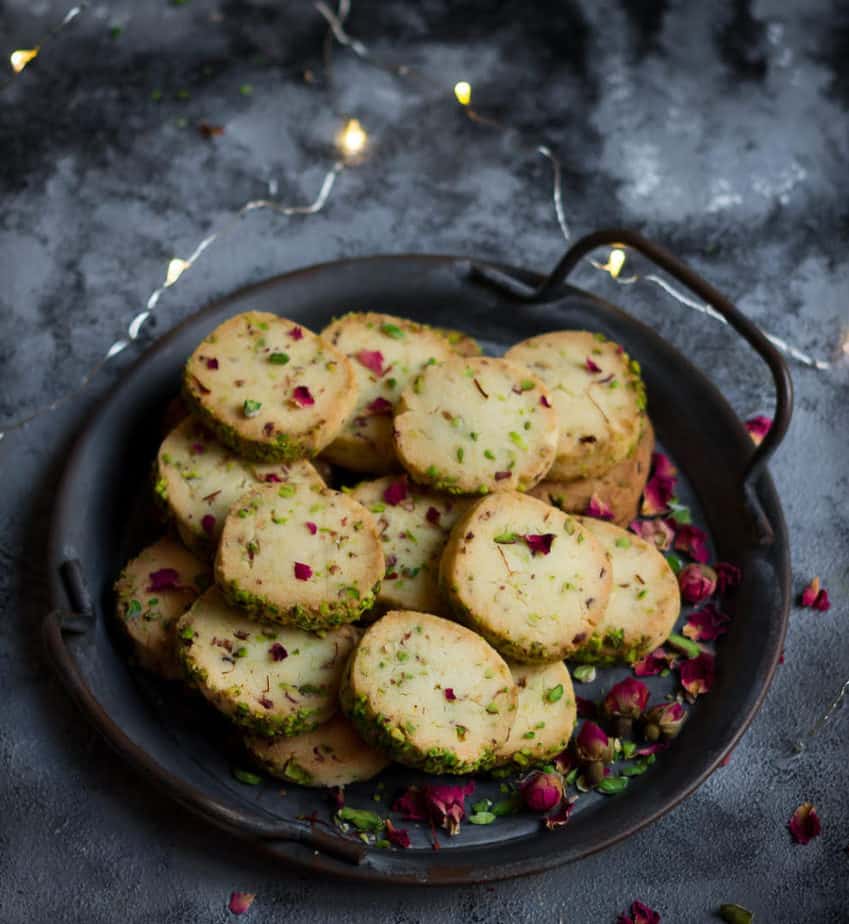 Quick notes
For the dough, use room temperature butter.
You don't want frozen butter. You definitely don't want melted butter. And you certainly don't want melting butter. All of it will curdle. The key to buttery, soft cookies and correct consistency is just softened butter.
Please slide the slices in the oven immediately after cutting them. If you have to wait for any reason, I advise putting the slices back in the fridge until you can bake them.
Variations of rose pistachio cookies
You can easily make these cookies gluten-free. I've baked gluten-free shortbread cookies with amaranth flour before, and they were scrumptious.
The milk can be substituted with cream.
If you don't have saffron or dried rose petals, simply leave them out. Instead of pistachio, you can use any nuts. Almonds and cashews both will be perfect. The trick is to chop them fine, so they impart a crunch to the cookies and not chunkiness.
The rose pistachio cookies are not your soft-baked ones. They lean more towards shortbread cookies. Think a less crumbly and gorgeously golden nankhatai. Or better yet, as a batch of cookies made just for Diwali to bring in a nice change from the usual festive spread.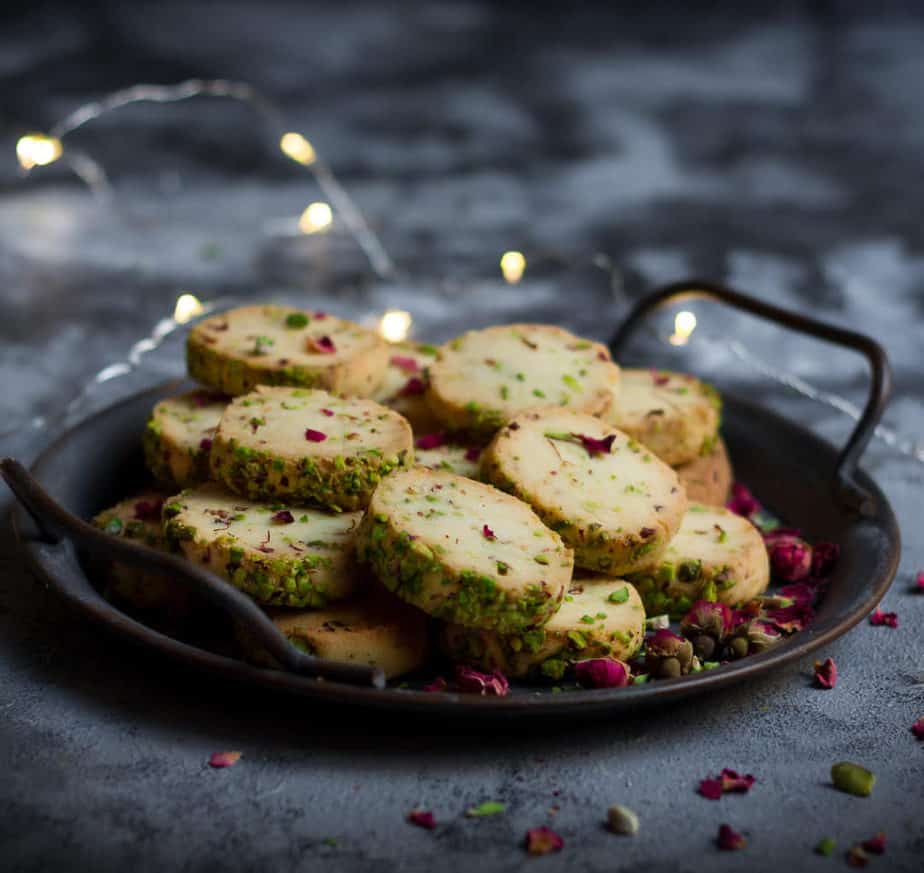 I'd love to hear from you! Please tag me on Instagram @tashasartisanfoods, using the hashtag #tashasartisanfoods. You can also FOLLOW ME on INSTAGRAM, PINTEREST for more fabulous recipes! Do subscribe to Tasha's Artisan Foods so you'll never miss a recipe!
📖 Recipe
Print Recipe
Eggless Rose Pistachio Cookies
These eggless rose pistachio cookies have that unique texture that melts in your mouth but still gives you a distinctive crispness with every bite. And the floral notes of the rose water, the subtle aroma of saffron, and the nutty crunch of pistachio wed with the buttery texture like a dream.
Ingredients
1

tsp

Saffron strands

2

tbsp

Warm milk/cream

You may need more

3/4

cup ( 150 gms)

Butter softened

1

cup ( 100 gms)

Icing sugar

2

cups ( 260 gms)

All-purpose flour

1

tsp

Rosewater

Optional

2-3

tbsp

Pistachio, finely chopped

You may need extra for rolling

1.5

tbsp

Dried rose petals
Instructions
Combine the saffron and warm milk in a small bowl. Keep aside.

In a large bowl, beat the softened butter and icing sugar until light and fluffy.

Add the saffron milk mixture and rosewater.

Stir in the flour. Use your hands to bring it together into a dough.

Add in the chopped pistachio and rose petals.

You may need to add a tablespoon or two of milk or cream, if the dough is dry-ish.

Your dough should be soft, silky to touch, and pliable.

Divide the dough into half. Roll each half into a 12" log.

Roll each log in finely chopped pistachio, if you wish.

Place the logs carefully on a parchment-lined baking tray.

Refrigerate for 20-30 minutes.

You can also wrap the logs well in plastic wrap or butter paper and refrigerate them for 2-3 days or freeze for 2-3 weeks.

When you're ready to bake, preheat the oven to 180C. Line your baking tray with parchment paper or Silpat.

Cut each log into slices, about 1/8" in thickness.

Place the slices on the prepared trays. Make sure there is a little gap between them as they will spread a bit during baking.

Bake for 12-14 minutes or until light golden in color. Bake for extra 1-2 minutes if you want crispier cookies.

Let the cookies cool for a few minutes before transferring them to a cooling rack. They will firm up as they cool.

Store the cooled cookies in an air-tight jar. Enjoy!