On the heels of my love letter to strawberry recipes of the past, I bring you a new ode to the succulent and fragrant queen of fruits. The strawberry puff pastry tart.
I enjoy cooking in the spring the most because everything is fresh and new. Biting into any fruit tastes of blue skies, sunshine, and the end of winter's grip.
And the strawberries did not disappoint! Spread on a bed of cream, they are baked into a flaky base that has yummy ribbons of juices running through.
The juicy, vibrant burst of flavor of the strawberries nestled in the creamy filling make the puff pastry tart so worth the bake.
How to make strawberry puff pastry tart?
Among everything that's been happening to make February a blur, the husband is now in quarantine. Needless to say, if ever a day needed shortcuts to making a treat, it was today.
This recipe offers just that - a perfect example of simplicity and ease at its best. A fabulous masterpiece that takes all of 20 mins of prep. The rest of the effort is by the oven.
The pastry is like digging into a cheesecake tart without the fuss of making a cheesecake! It's definitely a decadent treat - addictive, gorgeous deliciousness through and through.
Start by rolling a puff pastry sheet in a rough rectangle on a well-floured surface. Think about 8 by 12 inches. FYI, you can easily get ready-made puff pastry sheets at any of the big supermarkets and online too.
Pick up your favorite cream cheese brand and whisk it with icing sugar.
Spread it over the puff pastry sheet evenly, leaving half an inch perimeter naked.
Arrange the chopped strawberries on top of the cream cheese layer in any pattern that catches your fancy.
Sprinkle about a teaspoon of sugar on top and fold over the empty edges slightly.
Slide the pastry in the oven and let it do its magic.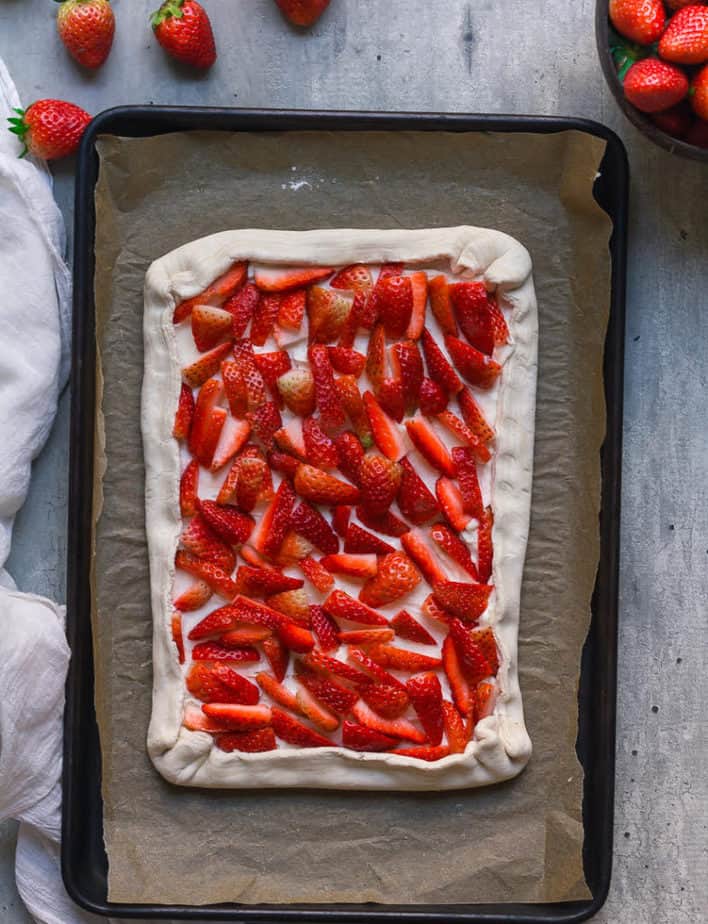 In less than half an hour, you'll have a deep golden puff pastry with a luscious, crumbly dimension.
Variations of puff pastry recipe
From the puff pastry sheet to the cream cheese, everything I used was store-bought in my endeavor to save time. You can, of course, stick to homemade.
In case cream cheese is not your cup of Oolong, leave it out. Spread a thin layer of strawberry jam and then arrange the fruit.
Or toss your strawberries with sugar and then spread them right on the puff pastry sheet.
How much sugar should you add?
That depends upon your strawberries. If they are more tart than sweet, up the amount of sugar. In case your strawberries are like mine, bursting with natural sweetness, use a light hand on the sugar.
What other fruits can you use for the pastry?
Any fruit will make the puff pastry an edible journey worth taking. Peaches, plums, and apricots are excellent choices.
Apples are another option. Merely remember to add cinnamon to provide the pastry a bracing punch. Cherries are what I am thinking next.
How to make savory puff pastry?
To give the puff pastry a savory turn, leave the sugar out. Instead of fruits, try mushrooms, caramelized onions, and some thyme.
The quintessential pair – cherry tomatoes and basil (or rosemary) is another fantastic choice.
Serving the strawberry puff pastry tart
The strawberry puff pastry tart is best served warm, but wait for the juices to settle and embed deep into the cream cheese, giving it a pinkish hue.
The crispy, flaky, and utterly airy base juxtaposed with the creamy layer ensure that the pastry needs no accompaniment. I garnished with a sprig or two of homegrown mint merely for the pop of color.
For those, who forgo the cream cheese layer, I recommend serving with a scoop of ice cream. Otherwise, a mug of hot coffee or steaming cup of tea is all you need with the strawberry puff pastry tart.
I'd love to hear from you! Please tag me on Instagram @tashasartisanfoods, using the hashtag #tashasartisanfoods. You can also FOLLOW ME on INSTAGRAM, PINTEREST for more fabulous recipes! Do subscribe to Tasha's Artisan Foods so you'll never miss a recipe!
📖 Recipe
Print Recipe
Strawberry Puff Pastry Tart
Strawberry Puff Pastry Tart -The juicy, vibrant burst of flavor of the strawberries nestled in the creamy filling make the puff pastry tart so worth the bake.
Ingredients
1

sheet

Puff pastry

3/4

cup ( 90 gms)

Cream cheese, room temperature

3

Tbsp

Icing sugar

You can add more if your strawberries aren't sweet enough

1.5

cup

Strawberries, sliced

1-2

tsp

Sugar

You can add more if your strawberries aren't sweet enough
Instructions
Preheat your oven to 200 C. Line a baking tray with parchment paper.

Roll out the puff pastry on a lightly floured surface into a rectangle, roughly about 8"*12".

Place the pastry on the prepared tray.

Lightly whisk the cream cheese and icing sugar.

Spread on the rolled-out pastry, leaving 1/2" edge all around the pastry.

Place the sliced straberries on top of the cream cheese.

Sprinkle some sugar on top.

Fold the edges over, crimping them slightly.

Bake at 200 C for 25-30 minutes, until the strawberry juices are bubbling and the pastry, golden brown.

Let cool for 5-10 minutes before slicing and serving. Enjoy warm!