The strawberry chia jam is vegan, refined-sugar-free, and healthy to boot. It is the flavor of spring-summer captured in a jar.
It is so delicious that my batch is barely going to last 10 days. Most of it will be polished off straight spoon-to-mouth!
Why make jam at home?
Because it is so easy to make. I promise you no matter what you've assumed till now, making jam is a breeze, especially this recipe.
Also, I dial down the sugar considerably. So, you don't get the coma-inducing saccharinity of commercial jam.
But it's not just the sugar. Homemade jams have a fresh and bright flavor, quite unlike the bottled versions. The fruit is the star here, no additives or preservatives.
And finally, it is the perfect way to use fruits that are threatening to die on you!
Why add chia seeds to the jam?
Chia seeds are flavorless. While they don't do much for your tastebuds, they do a ton for the texture.
Once soaked in the strawberry juices, they expand almost ten times. This allows the jam to thicken naturally and become gel-like very quickly.
How does that help? You don't have to cook the jam for long hours to thicken, which is why the flavor is so rich and fresh.
One more reason to add chia seeds to jam is the mouthful of healthy goodness you gain - tons of fiber, oodles of calcium and iron, and an abundance of omega-3 fatty acids.
Add in a good sprinkling of quality proteins and antioxidants, and chia is a nutritional powerhouse, particularly for vegetarians.
How to make strawberry chia jam?
This recipe is nothing like store-bought jam. From the amount of sugar to the way it sets, homemade strawberry chia jam is completely different, but you'll fall in love with its deliciousness.
Start by chopping up your strawberries. I was feeling lazy, so I just quartered mine. You can go fine or rough. It doesn't matter, as it's all cooked through.
Add some raw sugar. The quantity will depend upon how sweet or tart your strawberries are.
Then in a heavy-bottom pan, cook the fruit and sugar on low heat with the lid covered.
I split half a vanilla pod lengthwise and plopped it in at this point to lend a lovely sweet note to the jam.
Quick note:
If you feel the fruit may get burnt because there isn't enough liquid, add a splash of water. Keep close to the pan and stir once in a while.
In about 10 to 15 minutes, the strawberries with soft, mushy with the juices released and bubbling.
At this stage, you have two options:

You can use a hand blender or a fork to puree the cooked strawberries a bit. It will give you jam with a chunky consistency. This is what I did.

You can also puree the strawberries completely if you relish jam with a smoother texture.
You can also just leave the mixture as is for full chunky consistency.
Now add in the chia seeds and give the mixture a good stir.
Cook for a couple of minutes and then take off the heat.
Do a taste test and then adjust for sweetness with honey or maple syrup.
If you'd like to add sugar instead, make sure you cook the mixture for another 5 minutes.
To bring a balancing tartness to the jam, I squirted some lemon juice right at the end. Let the jam cool. It will thicken as it does and then serve.
Variations of chia jam recipe
Making chia jam is really that simple, and you can pretty much use any fruit you fancy. From plums to peaches, from gooseberries to raspberries, from apples to mulberry – everything works.
You can even mix a few fruits. Also, both fresh and frozen versions work.
How to sweeten the jam without sugar?
Commercial jams are loaded with sugar because they use it to thicken the texture. Since chia does the work for us, you have full control over which and how much sugar you add.
I used raw sugar, but regular white sugar works too. You can even stick to cane sugar. Add as little or as much as you wish, keeping in mind the sweetness of your strawberries.
Or leave the sugar out totally. Instead, round out the flavor with a light dose of honey mixed right at the end. To keep the recipe vegan, try maple syrup.
Is the vanilla pod necessary?
No, of course not. It is an entirely optional step. Please feel free to skip it.
If you want the essence of it to come through, but don't have a pod, utilize good quality vanilla extract.
For all those who add a pod, you have the option to remove it once the jam is cooked. I don't. I store my jam with it.
A few more jam recipes:
Serving the strawberry chia jam
Oh, the possibilities are endless!
We love a healthy dollop of strawberry chia jam on toasted homemade bread. I haven't tried it with sourdough discard bread yet. But I just know the flavors will bring an explosion to the palate.
You can stir it in oatmeal, plonk it on pancakes or use it as scone topping. A PB&J sandwich is another option.
You can even blend it in plain vanilla cake batter and then bake for a touch of strawberry flavor. Something very similar to what I did with my Orange Marmalade Cake.
For me, personally, it isn't a jam. It's a dessert spread. I simply spoon it on my bowl of yogurt topped with granola and fresh fruit to satisfy the sweet-tooth craving.
Now you see why my batch is threatening not to last even two weeks? Too many ways to enjoy the strawberry chia jam.
But if you make a bigger batch or plan to store it for long, please sterilize your mason jars. I've given the step-by-step process in my DIY infused oils blog.
I'd love to hear from you! Please tag me on Instagram @tashasartisanfoods, using the hashtag #tashasartisanfoods. You can also FOLLOW ME on INSTAGRAM, PINTEREST for more fabulous recipes! Do subscribe to Tasha's Artisan Foods so you'll never miss a recipe!
📖 Recipe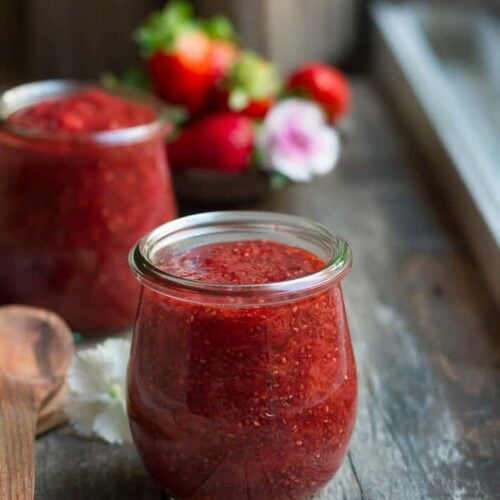 Print Recipe
Strawberry Chia Jam
This strawberry chia jam is vegan, gluten-free, refined-sugar-free, and healthy to boot. It is the flavor of spring-summer captured in a jar.
Ingredients
3

cups

Strawberries, quartered

1

Vanilla pod, split lengthways

Optional

1/4

cup

Raw sugar

You may need more depending on the sweetness of your fruit

1/4

cup

Chia seeds

1-2

tsp

Lemon juice

Maple syrup/ Honey

Optional
Instructions
Combine the quartered strawberries, vanilla pod, and raw sugar in a heavy-bottomed saucepan.

Cook these on low heat, covered. Stir occasionally, until the strawberries soften and release their juices - about 10-12 minutes.

Now you can -   use a hand blender ( or a fork) to blend the cooked strawberries a bit. It will give you jam with a chunky consistency. This is what I did.

Or you can also puree the strawberries completely if you relish jam with a smoother texture.

Or you can leave the mixture as is.

 Now add in the chia seeds and give the mixture a good stir. 

Cook for 2-3 minutes and take it off the heat.

Taste and adjust for sweetness, using honey or maple syrup. If you want to add more sugar, cook it for another 5 minutes on low heat.

Take it off the heat and add lemon juice to balance the flavors. Stir well and let the jam cool.

The jam will thicken as it cools. Store in an air-tight container in the refrigerator for upto 10 days. Enjoy!