The strawberry tiramisu is a big glass of love, more or less. Definitely more for someone like me who is irrevocably fond of strawberries. The dessert is balanced to perfection, with notes of vanilla melding with the delicate, velvety mascarpone and the tartness of strawberries falling in rhythm.
It's not cloyingly sweet or too rich. I know classic tiramisu calls for coffee, but with this recipe, I stay true to the Italian expression tirami sù, or as we'd say it in English, "pick me up."
It's reminiscent of the blooming spring. And with the cold still clinging to us, it's lovely to have something so light, bright, and upbeat. The feel-good factor is off the charts.
Jump to
Ingredient and serving substitutes
How to make strawberry tiramisu?
For me, tiramisu has a lot of latitude for interpretation. That's why I gave the rich dessert a fresher spin. Think of it as a light pudding with all the tiramisu feels.
Now, typically, tiramisu is made with raw eggs. I prefer to make them without. So, this strawberry version skips them. And, yes, before you say it, the recipe for a traditional tiramisu without eggs is in the offing. Till then, enjoy this one.
We're starting with the strawberry purée. Blend the fruit with sugar and water. The amount of sugar you use is between you and your strawberries. If they're tart, add more. If they're sweet, use less. We're not looking for a thick purée here. That's why we're adding water to thin it down.
Next, beat the mascarpone cheese with cream and icing sugar, along with vanilla bean paste. Whip till you have a thick cream with barely-there soft peaks. You don't want hard-set cream. Floppy peaks will do.
Putting together strawberry tiramisu in a glass
The final step is the fun part – assembling the delicious components.
Start by dunking the ladyfingers into the purée. Then arrange it on the bottom of the glass.
Because I made individual portions of the tiramisu in wine glasses, I had to break my ladyfingers into pieces. If you're using glasses too, divide each into 2 to 3 parts so they fit easily. 
Plop a spoonful of purée on top of the ladyfinger base and follow it with a dollop of the mascarpone mixture. 
Repeat the layers one more time, cover, and then refrigerate overnight. Good tiramisu needs to be chilled to give the flavors time to meld and develop.
Right before you serve, feel free to add fresh strawberries and chocolate shavings.
My tips for a flawless strawberry tiramisu dessert
The best ladyfingers for tiramisu are Savoiardi. These Italian cookies take their name from the 17th century Savoy Dynasty. They are harder, and crumblier compared to homemade ones.
With tiramisu, we want that harder texture because the dessert needs to sit to marry all the flavors. A soft cookie gets mushy, while Savoiardi soaks up all the juices and keeps its backbone beautifully. 
They're fairly easily available in supermarkets, or you can order them online. Yes, they are a little expensive, but not overly so. Either way, they make your job 10 times easier.
When you dip the ladyfinger pieces in the strawberry purée, one dunk is enough. It only takes a second for the cookie to absorb and coat itself in the purée. Don't let the ladyfinger sit in the purée. Why? Because remember, as the tiramisu chills, the cookies will automatically soak up more of the fruit juices. 
Tweaking the ingredients of strawberry tiramisu without eggs
Vanilla: I love the depth and dimension vanilla brings out in the tiramisu. You can use vanilla extract instead of bean paste. I prefer the latter because I find the tiny vanilla specks shining through the cream stunning.
Another substitute for vanilla is lemon or orange zest. Pairing strawberries with any citrus tang doesn't even require an explanation. The aromatics bring a wonderful lightness to the dessert.
More fruit: Make a bed of strawberries after the mascarpone cream, if you so wish. For us, the purée did the magic, offering a dreamy amount of strawberry essence.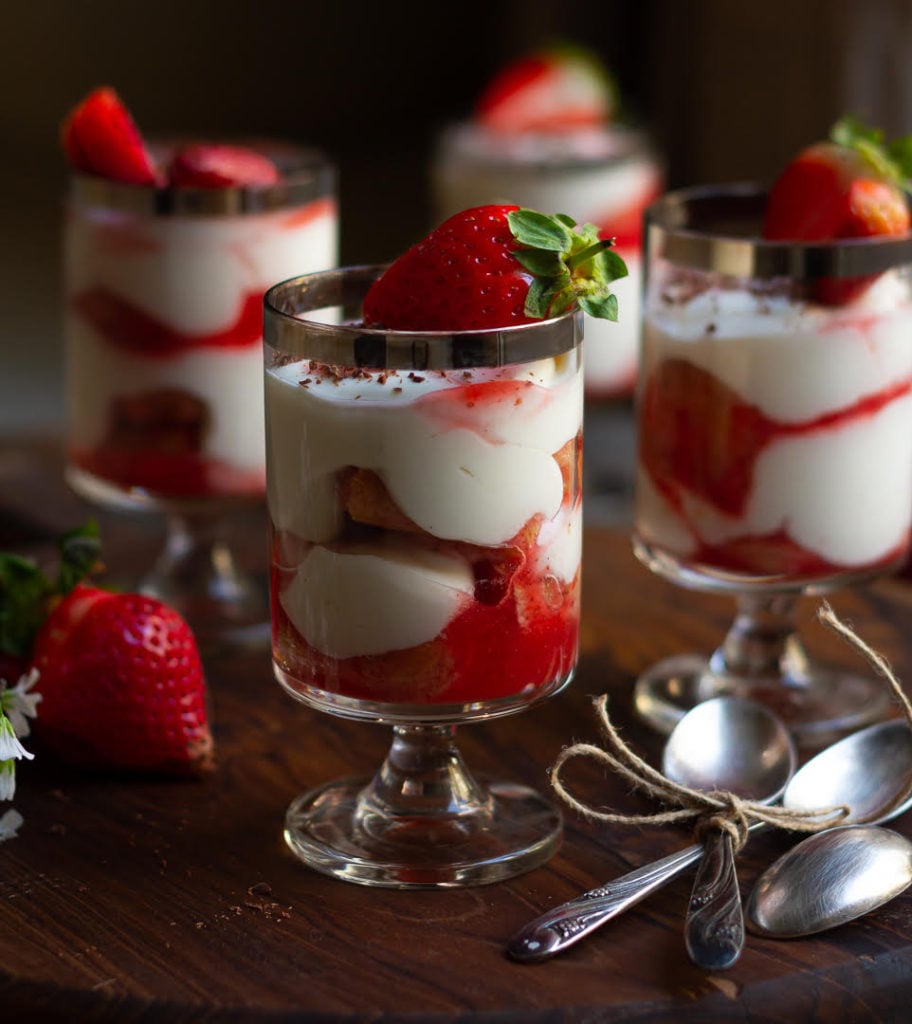 Can you make strawberry tiramisu with alcohol?
Some say the original tiramisu didn't have any alcohol. Others say it had a drop of Marsala wine. I say, pander to your own palate. Spike it with prosecco, rum, brandy, or even strawberry or orange liqueur.
Lace the strawberry purée with the alcohol of your choice and pour a spoonful in the mascarpone cheese. Or keep the tiramisu alcohol-free, as I did.
Does it have to be strawberry tiramisu in a glass?
Serving them in wine glasses was a completely personal choice for me. If you're feeling inspired, try any dessert glass or make it in a regular serving dish.
All the reasons to try the no-bake strawberry tiramisu
Easy to make
Great make-ahead dessert
No-baking, just whisking and layering
Sunnier, brighter take on the classic tiramisu
Just in case you need more Valentine's Day recipes
📖 Recipe
Print Recipe
Strawberry Tiramisu
Strawberry Tiramisu - This easy dessert is balanced to perfection, with notes of vanilla melding with the delicate, velvety mascarpone and the tartness of strawberries falling in rhythm.
Ingredients
Strawberry Puree
200

gms

Strawberries

2-3

tbsp

Sugar

100

ml

Water
Mascarpone Mixture
200

gms

Mascarpone cheese

150

gms

Cream

35

gms

Icing sugar

1/2

tsp

Vanilla bean paste

Fresh strawberries and Chocolate shavings for topping
Instructions
Keep 8 dessert glasses/bowls handy.
Strawberry Puree
Combine the strawberries, sugar, and water in a blender. Blend until you get a smooth puree. Taste and adjust for sweetness.
Mascarpone Mixture
Combine the mascarpone cheese, cream, icing sugar, and vanilla bean paste in a bowl.

Beat them together, using an electric beater, until thick and creamy.
Assembly
Dip a ladyfinger cookie in the strawberry puree. Place it at the bottom of the serving glass. you may need to break it into 2-3 pieces to make it fit.

Add 1-2 tsp of the puree on top.

Add a heaped tablespoon of the cheese mixture. You may need to add more, depending on the glass you are using.

Add one more layer of cookie, puree, and then cheese mixture. Add a little bit of the puree on top of the last cheese layer.

Repeat for all the dessert glasses.

Refrigerate for at least 4 hours.

Top with fresh strawberries and chocolate shavings before serving. Enjoy!