The frozen yogurt bark recipe is the perfect after-dinner sweet treat or a quick addition to a snack platter. Pretty to look at and delicious to eat. It's easy to make and can be customized to suit whatever ingredients are sitting nicely in your pantry!
Looking for Fourth of July healthy recipes that are delightful enough to wow guests and super quick? Look no further than this blueberry yogurt bark. Trust me. It's a frozen masterpiece that will have you asking for more!
Jump to:
WHAT IS FROZEN YOGURT BARK?
Frozen yogurt fruit barks are a tantalizing blend of yogurt, creativity, and frosty magic. As the name says, it's a frozen dessert made by spreading yogurt on a sheet, then adding toppings like fruits, nuts, and chocolate before chilling them.
You know the first bite of something chilled that sends a shiver down your spine? That's what frozen yogurt does.
It's summer's sweet embrace that entices your cravings with refreshing goodness. Picture a canvas of luscious, creamy yogurt with a tapestry of colorful, juicy fruits and satisfyingly textured nuts.
ARE FROZEN YOGURT BARS HEALTHY?
Light, lovely, and so lush from fresh fruit, Greek yogurt bark are definitely a healthier alternative to sugary treats or ice cream. Although, there is a caveat: the ingredients and toppings you use should be low in sugar and wholesome.
WHY TRY THIS FROZEN YOGURT BARK RECIPE?
It's a snack. It's a dessert. It's a midday munchie.
Fantastic kitchen project to involve kids for the summer.
You'll love the sheer versatility and adaptability of frozen bark.
You can bust out the red, white, and blue for the 4th of July dessert.
The taste is divine, and the frozen yogurt bark recipe is simple. With just a handful of ingredients and a dash of creativity, humble yogurt transforms into edible art.
HOW TO MAKE YOGURT BARK?
Step 1: In a bowl, stir honey with plain Greek yogurt.
Step 2: Taste and adjust with more honey if you like frozen yogurt desserts to be sweeter.
Step 3: Line a freezer-friendly tray with parchment paper and then spread the mixture on it. Keep it even and about a quarter-inch thick.
Step 4: Scatter the chopped fruits (I chose cherries and blueberries ).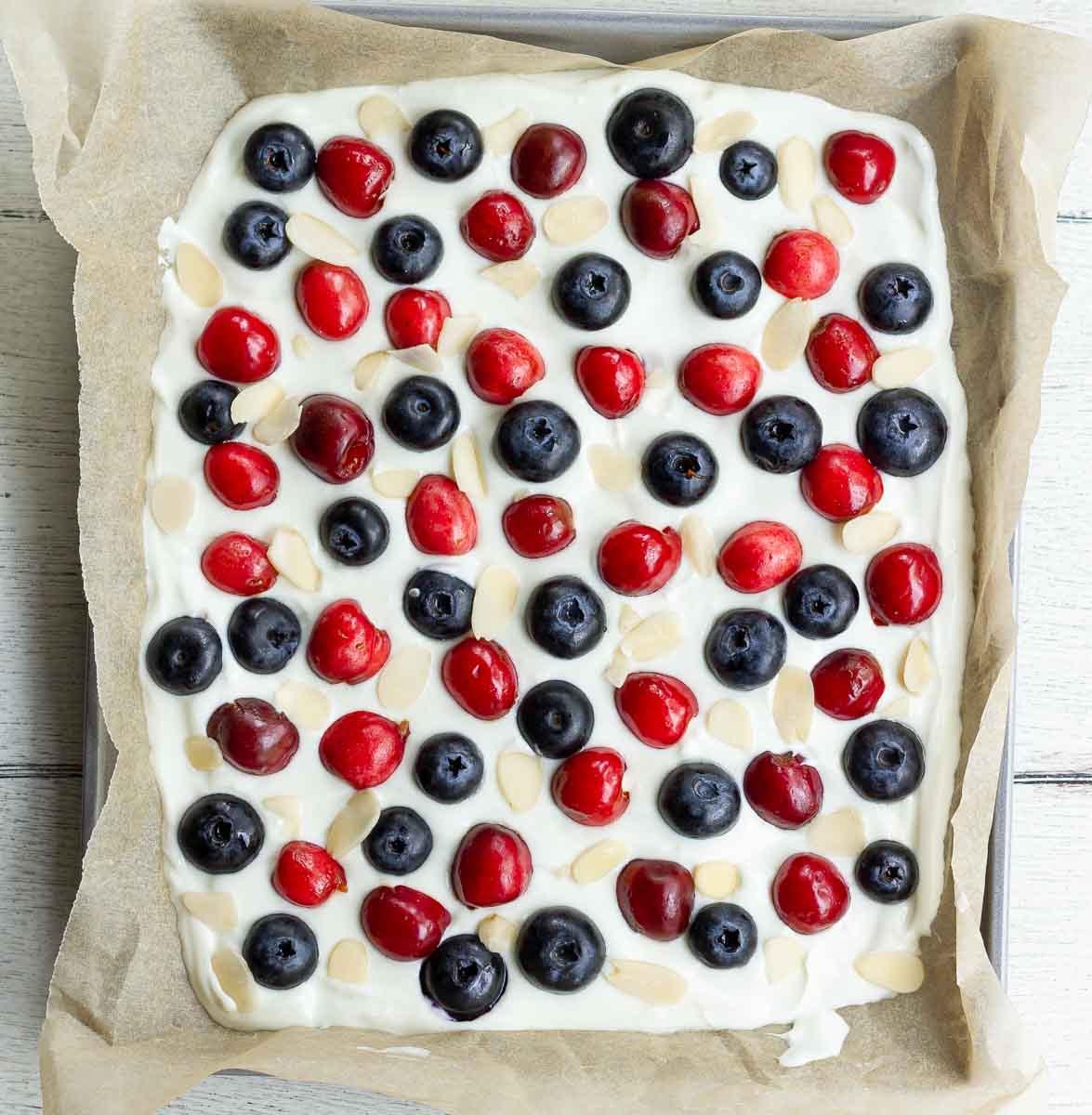 Step 5: Press down gently. Finish with almond flakes (they look pretty, and I love the crunch).
Step 6: Slide the tray into the freezer. Wait. Wait and wait some more. I like to freeze this overnight.
Step 7: Cut into pieces and enjoy!
QUICK NOTES ON FROZEN GREEK YOGURT BARK
Frozen yogurt bark recipes are ridiculously easy. There is nothing more to it than mixing, spreading, and freezing. But these few tips will help you along the way.
When yogurt freezes, it will stick to the tray. Adding parchment paper makes sure you can remove the Greek yogurt bark with ease. Wax paper or foil works too.
Be mindful when cutting your fruits. Bulky pieces are better for frozen yogurt bars. For bark, you need smaller ones, so it remains flat (or -ish).
HOW LONG TO FREEZE YOGURT BARK?
You really want to give this frozen yogurt snack a good 5 to 6 hours in the freezer. I left the bark overnight because the sun is at it again and having a laugh by roasting us.
My suggestion? Wait just long enough for the yogurt to firm up instead of remaining a sticky mess.
HOW TO STORE YOGURT BARK?
Always store yogurt bark in an airtight container in the freezer. It will stay well for a couple of weeks (that is, if, and it's a big if, it lasts that long).
VARIATIONS OF MY YOGURT BARK
My frozen yogurt bark recipe features a 4th of July combination of ingredients, but you can switch it up based on what's on hand. The recipe is very forgiving.
Yogurt: I prefer full-fat, plain Greek yogurt for the recipe. Why? Because it's lusciously thick, which makes the frozen yogurt treat creamier.
Substitute: homemade, hung yogurt. Give it plenty of time to drain, and I really mean plenty. You want it to be super thick, with all whey drained out.
Sweetener: Trust me, this recipe is very malleable, so let your taste be the guide on how sweet you want the frozen yogurt bark.
Substitute: maple syrup, agave syrup, or even powdered sugar.
Fruits: Fresh blueberries are exorbitantly expensive in India. Thankfully, I got my hands on a nice bunch that was not wallet-draining, bank account-depleting extravaganzas.
Completing the dessert was the first batch of cherries this season. Absolutely juicy and sweet, these just had to go into the frozen bark.
Substitutes: Go for any combination of fruits. Use succulent strawberries, bursting with natural sweetness, and mingle them with the vibrant tang of blueberries. Or bring the tropical allure of juicy mangoes. Or swap with your favorite fruit: peaches, raspberries, oranges, kiwis, apples, or grapes.
Nuts: You can leave out the almonds altogether. But if you itch for a little crunch, I recommend them.
Substitutes: walnuts, pistachios, cashews, pecans, hazelnuts, or peanuts: go nuts with your choice.
More toppings: Seeds are another option for this frozen yogurt bark recipe. Sunflower, chia, or pumpkin—any will work. You can also play around with:
A handful of chocolate chips
A shower of shredded coconut
A swirl of seed or nut butter like peanut
A hint of vanilla extract or vanilla bean paste
Some granola to make the yogurt bark heftier
A sprinkle of lemon zest for the tang to counterbalance the sweetness
A drizzle of rich, dark melted chocolate for that extra touch of decadence
Vegan frozen yogurt with berries: Use maple syrup and plant-based yogurt.
MORE DESSERTS FOR THE 4TH OF JULY
Cupcakes (make them fireworks-inspired)
Half the joy of cooking is sharing it with others, which is why I'm always eager to hear from you. So go right ahead and drop a comment or reach out on Instagram, Pinterest, YouTube, or Facebook. I hope you love this frozen yogurt bark recipe as much as we do!
📖 Recipe
Print Recipe
Frozen Yogurt Bark - Easy Summer Recipe
Ingredients
1.5

cups / 400 gms

Greek yogurt, plain

3-4

tbsp

Honey

You can add more as per your preference

1/2

cup / 130 gms

Blueberries

1/2

cup / 100 gms

Cherries, pitted and halved

2-3

tbsp

Almond flakes
Instructions
Line a freezer-friendly tray with parchment paper.

Combine the Greek yogurt and honey in a bowl. Taste and adjust for sweetness.

Pour the yogurt onto the prepared tray and spread it evenly.

Scatter the blueberries and cherries on top. Press them down slightly.

Sprinkle the almond flakes and place the tray in the freezer for 6-8 hours or until frozen solid. I like to freeze overnight.

Peel the parchment paper off the frozen bark carefully, cut it into pieces, and serve. Enjoy!