Deliciously crunchy, naturally sweetened, and a powerful punch of nutrients are not the reasons why I am sharing the Almond Date Granola recipe. It is the freedom to put in what you like an­d have that makes it perfect for these days!
We gave up on packaged breakfast cereals many moons ago for the simple reason that what is advertised as "healthy multigrain cereal" is sugar-laden, high in sodium and full of preservatives.
Next time you are shopping for packaged foods sold in the garb of "health food," take a minute. Read the labels. When you can't pronounce or recognize more than half the words in the ingredient list, that would be a good time to put that box back where it belongs. And that's not your cart!
All it took on my part was a little bit of research to realize what all goes in these cereals, which made eating them no longer an option. That left me with a conundrum. I had to figure out how to make some kick-ass, absolutely delicious breakfast cereal at home.
I did what any sane person does and took to Google. In 0.0005 secs flat I had some 986548 recipes for granola. There were many trials and errors, some burnt, some dry, some soggy, and some completely flavorless. But once I started making almond date granola, there was no looking back.
Over the years, I made many versions of it - Almond butter, gluten-free buckwheat, and only banana. I even moved on to granola tarts and granola bliss balls.
But the almond date granola is what we all love. And I'm finally sharing the recipe with you.
How to Make Almond Date Granola at Home?
For the sake of clarity, let me put it out there that my entire family is unabashedly in love with homemade granola. Our devotion to it is quite intense. We eat it ALL THE TIME! For breakfast, for afternoon or evening snack, for dessert…I swear somebody's hand is always in the granola jar.
But this almond date granola holds its own special place for two reasons – it is easy to make and I can replace any of the ingredients depending upon what I have in hand.
Begin by mixing all the dry ingredients - rolled oats, puffed rice, popped amaranth, pumpkin and sunflower seeds. Chop in a handful of chopped almonds and walnuts. And finish it off by sprinkling cinnamon for that lovely sweet earthy flavor.
Whisk these with coconut oil, honey, and vanilla extract mixture – you'll end up with wet sand sort of texture. Put it on a baking tray and then let the oven do all the work!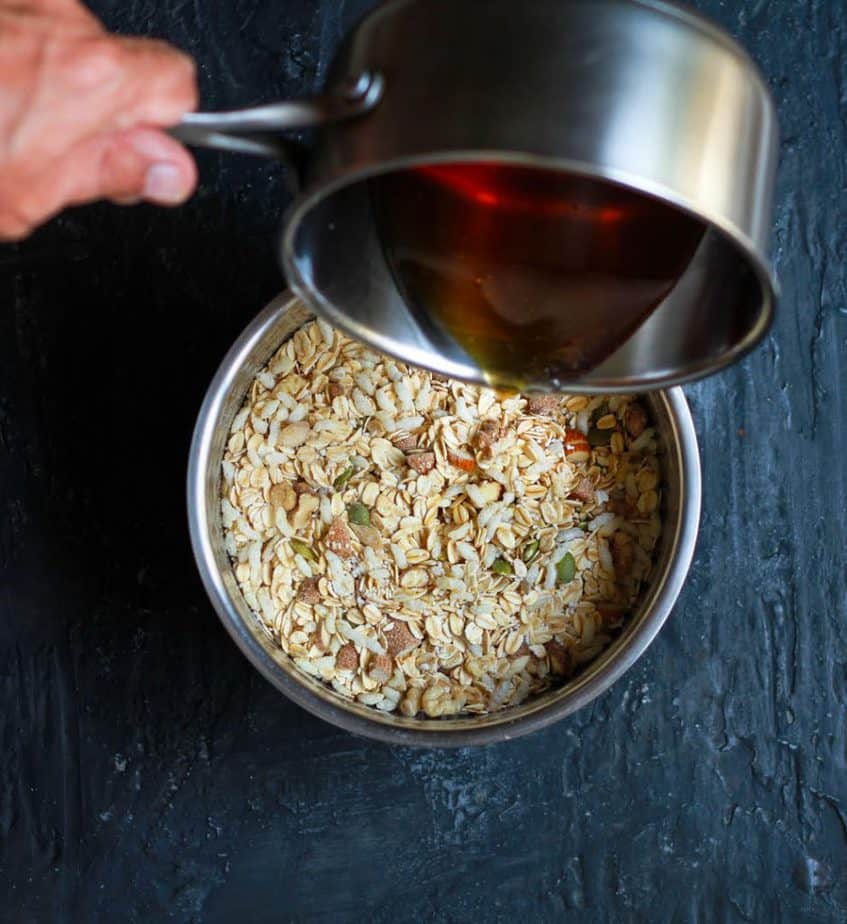 Serving almond date granola
The granola is healthy, crunchy, and just the right amount of sweet. The best part is you get to control the amount of sugar, salt, and fats that go in it.
As you slide the granola out of the oven, the fabulous aroma of cinnamon will hit you. Immediately stir in the chopped dates and cranberries into the hot granola mix and let cool.
Once cooled, enjoy with cold milk or cool creamy yogurt with some fresh fruits.
Add on top of chia pudding to make a wonderful breakfast or snack jar.
The lightly sweetened, toasted oats, roasted, crispy nuts, chewy soft bits of dates and cranberries along with the tad bit of nuttiness of coconut oil, and the nutrient quotient of the seeds hits all the right spots.
What Can I Use Instead?
Chances are that you may not have all the ingredients I used. Although, each of them will be readily available at a corner store or a mom & pop shop. But still, if you're scrambling to find a particular one, worry not.
The wonderful thing about granola is freedom of choice. Here's what you can substitute them for.
No cranberries? Then, by all means, use raisins, chopped apricots or any other dry fruit of your choice. No coconut oil? You can certainly swap it for butter or any neutral flavored, vegetable oil.
No rolled oats? Simply use the regular, instant oats, but remember to cut down on baking time because these cook lightning fast! All out of almonds? Throw in any nuts you have lying in the pantry.
Don't have any dates? Then raisins will do in a pinch! Can't find any pumpkin or sunflower seeds. Make use of those ever-present melon seeds or sesame seeds.
No cinnamon powder, use the lovely floral scented cardamom powder.
The almond date granola is not a fancy recipe. But I keep coming back to it because it gives me the satisfaction of knowing where my food is coming from and what everyone in my home is putting in their body.
It's a step towards mindful cooking and eating, without compromising on taste. These days I usually make a big batch of it. Between the four of us, we can have one serving each day and it still lasts a long time.
I really advise doubling (or halving) the recipe to fit your family size and then storing it in an air-tight container. The staying power of almond date granola is truly unmatched!
I'd love to hear from you! Please tag me on Instagram @tashasartisanfoods, using the hashtag #tashasartisanfoods. You can also FOLLOW ME on INSTAGRAM, PINTEREST for more fabulous recipes! Do subscribe to Tasha's Artisan Foods so you'll never miss a recipe!
Print Recipe
Almond Date Granola
Deliciously crunchy, naturally sweetened, and a powerful punch of nutrients are not the reasons why I am sharing the Almond Date Granola recipe. It is the freedom to put in what you like an­d have that makes it perfect for these days!
Ingredients
2

cups

Rolled oats

1/2

cup

Puffed Rice

1/4

cup

Popped Amranth

1/4

cup

Almonds, chopped

1/4

cup

Walnuts, chopped

2-3

tbsp

Pumpkin seeds

2 -3

tbsp

Sunflower seeds

1

tsp

cinnamon powder

1/2

cup

Honey/ maple syrup

1/3

cup

Coconut oil

You can use butter or any neutral flavoured oil

2

tsp

Vanilla extract

2-3

tbsp

Cranberries

8-10

Dates, pitted and chopped
Instructions
Preheat the oven to 170 C. Line a baking sheet with baking paper.

Mix all the dry ingredients - rolled oats, nuts, seeds, cinnamon powder, in a large bowl.

Lightly heat honey and coconut oil in a small saucepan. Take it off the heat and add the vanilla extract.

Pour this over your dry ingredients, mix well. The mixture should have the consistency of wet sand. Spread this mixture evenly onto the prepared baking sheet.

Bake, stirring every 10-15 mins, for about 40-45 mins. The granola should be fragrant, look all golden and toasty. Once you've taken the tray out of the oven, stir in the dates and cranberries. Let it cool completely.

Store in an airtight container. Serve with milk or yogurt. Enjoy!