For the next week or so, my posts will be sporadic. A twist of stars has left me perpetually short on time and with zero bandwidth to do even one more thing. And when time goes missing from my calendar, I look for quick and easy meal choices. That's how I ended up making a new batch of matcha granola.
We are a family of granola devotees. If a bowlful isn't grabbed for breakfast, then certainly you'll see a handful or two carried around the house all day long…I know from the trail on the floor!
This Matcha Granola was delightful not only to the eye but also to the palate. It's one of the prettiest granolas I have ever seen. The recipe is basic – mix Matcha, seeds, and nuts into granola but quite frankly, I was astounded by the hum that Matcha brought to it.
The soft green and khaki tinge, the subtle grassy and earthy taste balanced impeccably well with the nuttiness of roasted almonds and pistachios. Even the play of perfectly crunchy textures here was truly gratifying. The light sweetness of honey and dates brought a lovely counterpoint to the sourness of ruby-red goji berries.
What is matcha?
The very word matcha translates into ground tea. It's unique in green tea varieties because of how it is grown, harvested, and processed – creating a powder instead of dried leaves.
Using powder for tea was first introduced in China, although later, it became a popular Japanese practice. Today, Matcha is used in everything from sweet to savory recipes.
It's considered a superfood since it is extraordinarily rich in antioxidants. It also has high levels of the amino acid: L-theanine. Along with caffeine, it helps keep you calm without inducing drowsiness.
Matcha also increases focus and concentration. Something we sorely need when time seems to be running away from us. Don't we?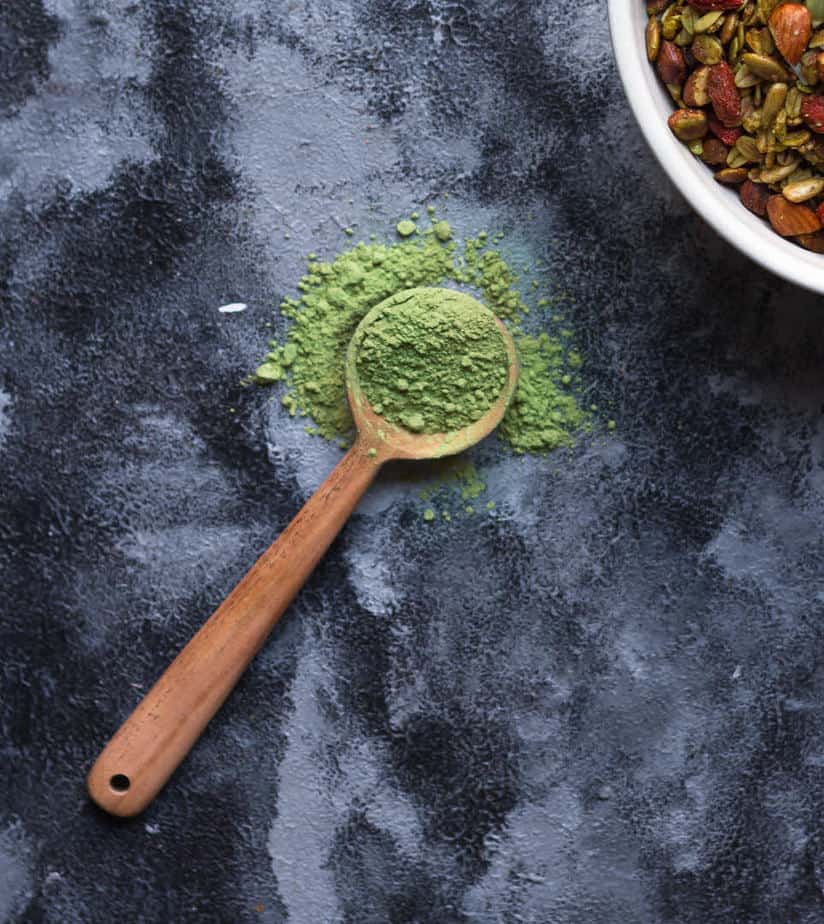 How to make matcha granola?
With spring officially in the air, it is time to eat healthier and lighter food. Matcha granola stands tall on both counts. The recipe itself is very simple, adaptable, and nutritious.
While your oven preheats, combine oats, puffed rice, nuts, seeds, and matcha in a bowl. Then move on to the wet ingredients.
Keeping the heat on low, mix coconut oil and honey.
When the two have melted, stir in a splash of freshly squeezed orange juice and a few teaspoons of vanilla.
Baking the matcha granola
Incorporate the wet and the dry ingredients, then roll them out on your lined baking tray.
Bake for a good 30 to 40 minutes. Keep in mind to stir the granola every 15 minutes for an even baking.
Once the granola is baked, add in shredded coconut, goji berries along with pitted and chopped dates.
Let the granola cool completely, and then serve!
Variations of matcha granola recipe
If your pantry is freshly stocked, then you've hit the gold mine of granola. The variations are endless because you can blend an assortment of seeds, nuts, or berries.
What nuts and berries can you use in granola?
I roasted almonds and pistachios, but feel free to incorporate any nuts your taste buds desire. Or none at all!
If you don't have dates and goji berries, try dried cranberries and raisins. Just remember to add them after the baking. Doing it before makes the dried fruits very, very chewy.
How to make gluten-free matcha granola?
Find certified gluten-free rolled oats, and you'll be set.
What oil is best for granola?
I prefer coconut oil but you can switch it with any vegetable oil. I've even seen recipes that use melted butter.
What mixes well with Matcha?
I like to experiment with a wide variety of flavors now and then. Some work, others are better left unmentioned. Here are some other matcha recipes that were hit in my home:
More granola recipes:
Don't have Matcha? Sprinkle in some wheatgrass powder or Moringa powder to give the granola that burst of superfood. Or you can try one of the following:
Serving the matcha granola
A jar of matcha granola at home will have your breakfast sorted out and provide you with wholesome, yummy snacking options throughout the day. Not bad for a weekly 40-minute investment of your time in the kitchen!
The kids love to snack on it as-is but my favorite way is serving the addictive granola with a bowl of yogurt and freshly chopped seasonal fruits. That's the best part about matcha granola – it allows you to pander to your own taste and preference.
I'd love to hear from you! Please tag me on Instagram @tashasartisanfoods, using the hashtag #tashasartisanfoods. You can also FOLLOW ME on INSTAGRAM, PINTEREST for more fabulous recipes! Do subscribe to Tasha's Artisan Foods so you'll never miss a recipe!
Matcha Granola
A jar of matcha granola at home will have your breakfast sorted out and provide you with wholesome, yummy snacking options throughout the day.
Ingredients
3

cups

rolled oats

1

cup

Puffed rice/ murmurra

1/2

cup

Almonds

roughly chopped

1/4

cup

Pistachios

1/4

cup

Sunflower seeds

2

Tbsp

Melon seeds

1/4

cup

Pumpkin seeds

2

tsp

Matcha Powder

1/4

cup

orange juice

freshly squeezed

3

Tbsp

Coconut oil

1/2

cup

Maple syrup

You can also use honey

2

tsp

vanilla extract

1/4

cup

Shredded coconut

1/4

cup

Goji berries

8-10

pcs

Dates

Pitted and chopped
Instructions
Preheat the oven to 170C. Line a baking tray with baking paper.

In a large bowl, combine oats, puffed rice, almonds, pistachios, all seeds, and matcha powder.

In a small saucepan, mix coconut oil and maple syrup, over low heat till melted and combined well. Stir in the vanilla and orange juice.

Mix the wet ingredients with the dry ingredients.

Spread out evenly on the prepared tray and bake for 30-40 minutes, stirring every 15 minutes.

Remove from oven and stir in the shredded coconut, goji berries, and dates. Allow the mixture to cool for about 30 minutes. Store in an air-tight container. Enjoy!