Homemade, healthy alternatives. That's been my mantra for years. Because now boosting immunity has become all but essential, I'm indulging in it even more.
I serve homemade bread. I switched to hummus made from scratch. I even made pop tarts at home. So, why leave granola behind?
Yes, we load up on cheesecakes now and then, but when it comes to snacks, healthy is our choice. And granola is our first preference.
That's why I ended up making the crunchiest, chewiest, and most satisfying homemade granola bars around. They are easy, and with such little effort, you do away with the boxed variety.
Deliciously wholesome, they are perfect for when you take a breather from work from home, or the kids have a snack break during online classes. Or just when you think you need a quiet moment to yourself.
How to Make Easy Homemade Granola Bars?
In a large bowl, mix rolled oats, rice puffs, almonds and chopped dates, and cranberries.
While the crispy oats and almonds pack a ton of nutrition, to lend the granola bars some extra nourishment and texture I threw in melon, flax, sunflower and pumpkin seeds.
Keep the dry ingredients aside, and in a pan, gently heat coconut oil and peanut butter. Sprinkle some cinnamon, vanilla extract, and honey into it and mix.
Remember to take the mixture off the heat before you pour the honey.
Combine the dry and wet ingredients until you have a sticky concoction. Spoon the mixture on a parchment-lined tray to bake. FYI, if you use foil for baking, please grease it well.
Once the granola is transferred, press hard, pack it tightly, and then let the oven do its thing!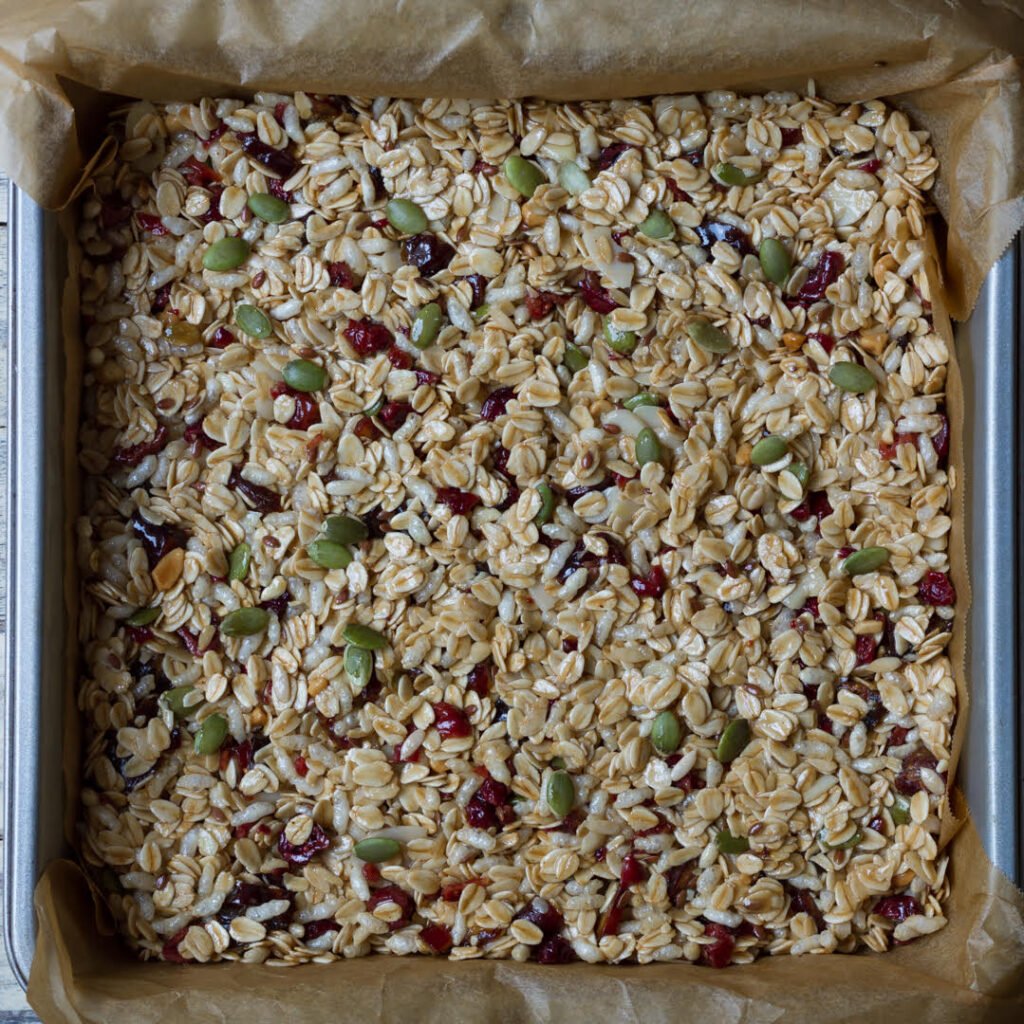 Quick notes:
I highly recommend grinding the rolled oats. It hardly takes a minute because we're looking for a coarsely ground texture, not oats flour-like consistency. I just used my handy dandy coffee grinder for the job. A couple of whizzes and that's it!
I did make a batch without grinding the oats and the result is a crumbly granola (as the photo below clearly shows!) If that rocks your boats, go ahead and carry on.
But if you're like me and need the bars to hold their shape, grind the oats. They'll adhere together better.
I favor mildly sweet granola and this one is already sweet because of the dates, but you can always up the volume by increasing the amount of honey.
Baking the granola bars
In about 30 minutes, the top will be golden, and you'll know that the granola is done. To check, touch the baked mixture. If it is firm with little or no give, you know it is ready.
Keep in mind that granola hardens as it cools. Because it is blazingly hot here, I slide the baked granola in the fridge for some time.
When it's cooled completely, you can slice the granola bars in any shape – squares, rectangles, or even triangles if you're in a fun mood!
What Can I Use Instead Of?
We are a family of granola devotees. Why? Because it offers freedom of choice when it comes to ingredients and flavors. So, if you don't have a particular ingredient for these homemade granola bars, you can easily substitute them.
Switch puffed rice with Krispies.
I used crunchy peanut butter, but the smooth version will work just as well. If you don't either, replace it with any nut-based butter.
Instead of honey, you can utilize date syrup, agave syrup, or maple syrup.
Don't have rolled oats? Pick regular, instant oats. These cook faster, so keep an eye on the baking time.
Any nuts (think cashews, walnuts, etc.) that you have in your kitchen will do, in case you are out of almonds.
Don't care for cranberries, throw in some raisins.
Serving the Easy Homemade Granola Bars
These granola bars are thick, chewy, and have a heft to them. When you take a bite, you groan with satisfaction because these granolas don't slide through you like air.
Laden with nuts, dates, seeds, and oats, every dense morsel is teeming with gooey goodness. That's why I serve them as breakfast too, as is or crumbled on top of yogurt and freshly, sliced fruits.
The deliciously crunchy and naturally sweetened bars are also great as breakfast or snack-on-the-go. You get a volley of energy to soldier through the rest of the day in a pinch.
Variations of granola recipe
If I can make a recipe healthier by any means, I do it. Always. Because I like to cook and eat mindfully, without compromising on taste.
In these current times, eating food with a high nutrient quotient has become all the more important. If you feel the same, here are some more granola recipes you can try:
For a little bit of twist to traditional granola, try:
If you're sticking to this recipe of granola bars and want to make it gluten-free, switch to certified gluten-free oats. You can even add a handful of chocolate chips or drizzle dark chocolate on top without reducing the health quotient!
It always pays to indulge in healthy, wholesome snacks. The toasted oats in these homemade granola bars are a solid source of iron.
They contain beta-glucan (a form of soluble fiber) that is excellent for the heart. Combine them with chewy dates, and the granola bars become treasure chests of fiber. The crispy nuts and seeds give the bars all the good fats you need.
All in all, you get a calorie-dense, well-balanced and healthy snack that satiates you without spiking blood sugar! And not to forget, the taste of these easy homemade granola bars hits all the right spots.
I'd love to hear from you! Please tag me on Instagram @tashasartisanfoods, using the hashtag #tashasartisanfoods. You can also FOLLOW ME on INSTAGRAM, PINTEREST for more fabulous recipes!
📖 Recipe
Print Recipe
Easy Homemade Granola Bars
Easy Homemade Granola Bars - These are the crunchiest, chewiest, and most satisfying homemade granola bars around.
Ingredients
2

cups

Rolled oats, coarsely ground

1/2

cup

Puffed rice/ Murmure/ Rice Krispies

1/3

cup

Almond flakes

12

Dates, pitted and chopped

1/4

cup

Dried cranberries, sliced

2

tbsp

Flax seeds

2

tbsp

Pumpkin seeds

2

tbsp

Sunflower seeds

1

tbsp

Melon seeds

1/3

cup + 1 tbsp

Coconut oil

1/4

cup

Peanut butter

1/2

cup

Honey

2

tsp

Vanilla extract

1

tsp

Cinnamon powder
Instructions
Preheat your oven to 170 C.

Line an 8" square pan with parchment paper or baking paper or aluminium foil.Grease the foil.

Mix all the dry ingredients - oats, puffed rice, almonds, cranberries, dates and all the seeds in a large bowl.

In a small saucepan, combine coconut oil and peanut butter, over low heat until the peanut butter melts.

Take it off the heat and whisk in the honey, vanilla extract, and cinnamon powder.

Pour this mixture into the dry ingredients. Mix well.

Spoon this mixture into the prepared pan and spread evenly, pressing it down firmly. This helps the pack the bars and hold their shape.

Bake for 25-30 minutes, until the the top is golden and slightly firm to touch.

Let the granola cool in the pan. Then refrigerate for 2-3 hours to chill them. This helps cutting them easier, especially in the hot weather.

Once cold, cut into 16 squares. Enjoy!

Store the leftovers in an airtight container in the refrigerator.