Juicy, luscious, and bursting with fruity flavors, this mango mousse recipe combines mango purée with whipped cream to make an amazingly delicious mango dessert!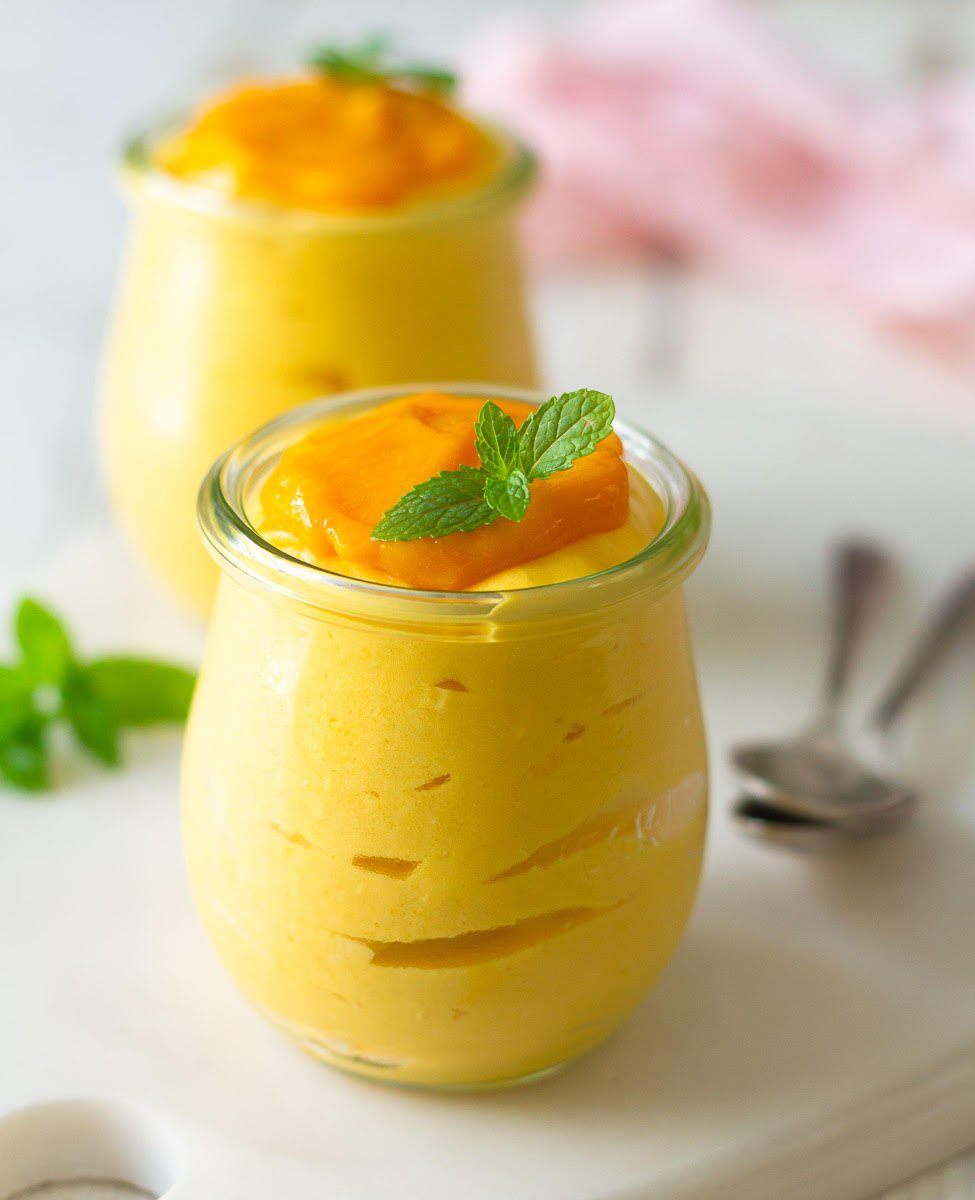 Here we go again! Another day. Another mango dessert recipe. Another way to fall in love with the king of summer fruits once again!
This easy mango mousse needs 5 minutes of prep, 3 ingredients, and 0 effort. It's super soft, just like a creamy cloud packed with fruity sweetness, and it sits well, looking fancier than a fascinator.
Jump to: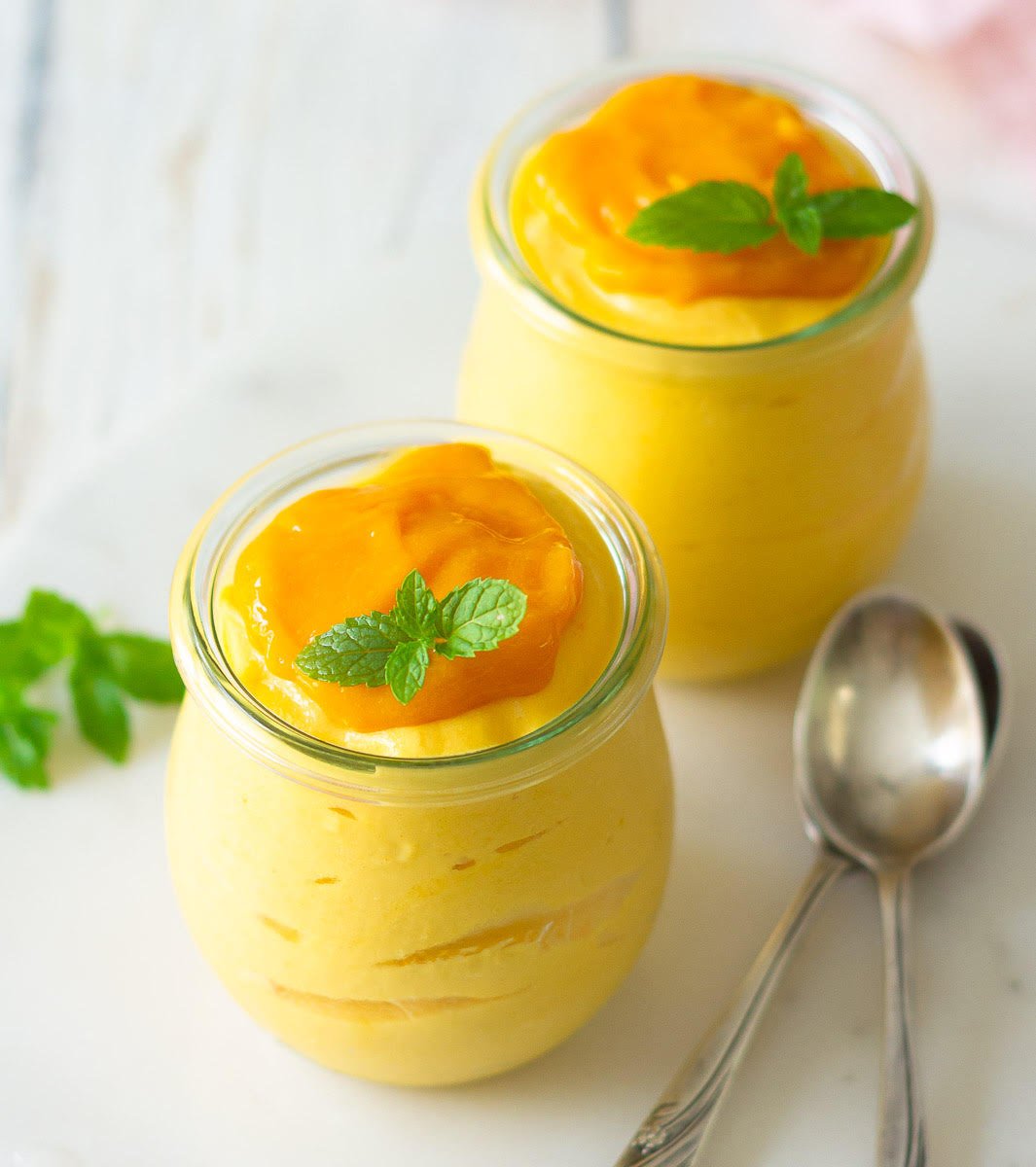 WHY TRY THIS MANGO MOUSSE RECIPE
It's SO easy to make!
Ultra-light, smooth, and delicious.
Infinitely adaptable—everything you could ever hope for in a fruit dessert.
The perfect balance of sweet and tart, it's the ideal finish to a heavy meal.
It's the mango dessert recipe you need when guests suddenly land on your doorstep!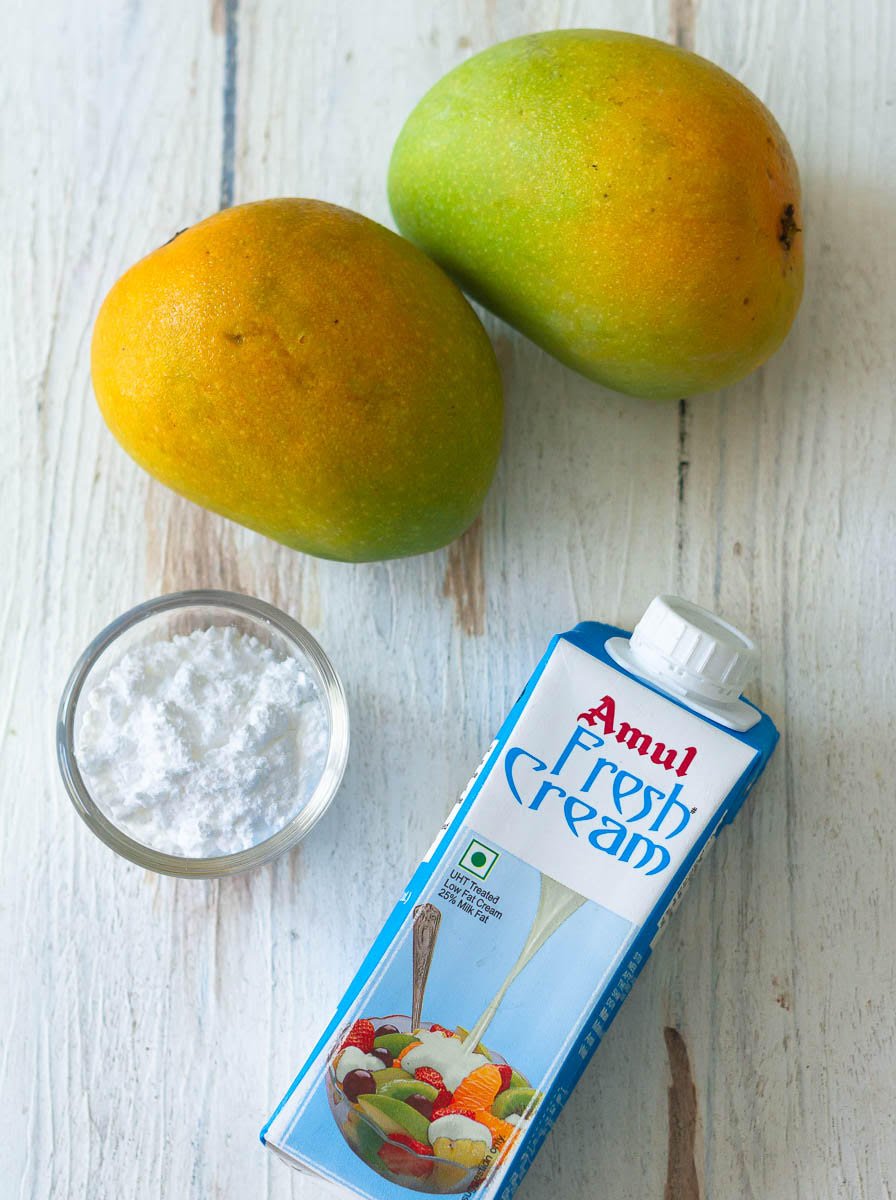 HOW TO MAKE MANGO MOUSSE?
Step 1: Whip chilled cream with icing sugar till you have soft, stiff peaks.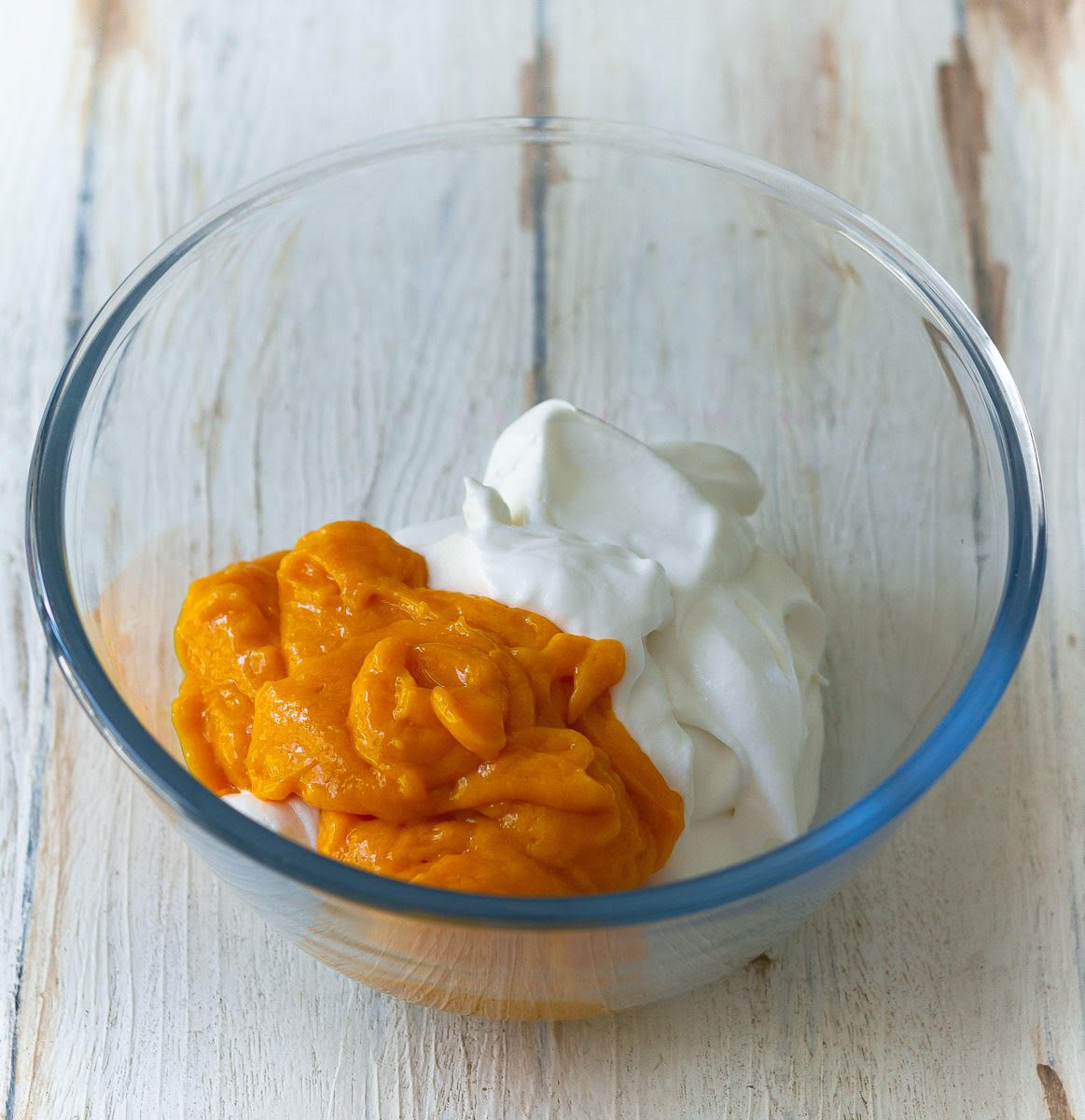 Step 2: Fold the mango purée into the whipped cream. Do it gently and carefully, so the cream doesn't lose its airiness.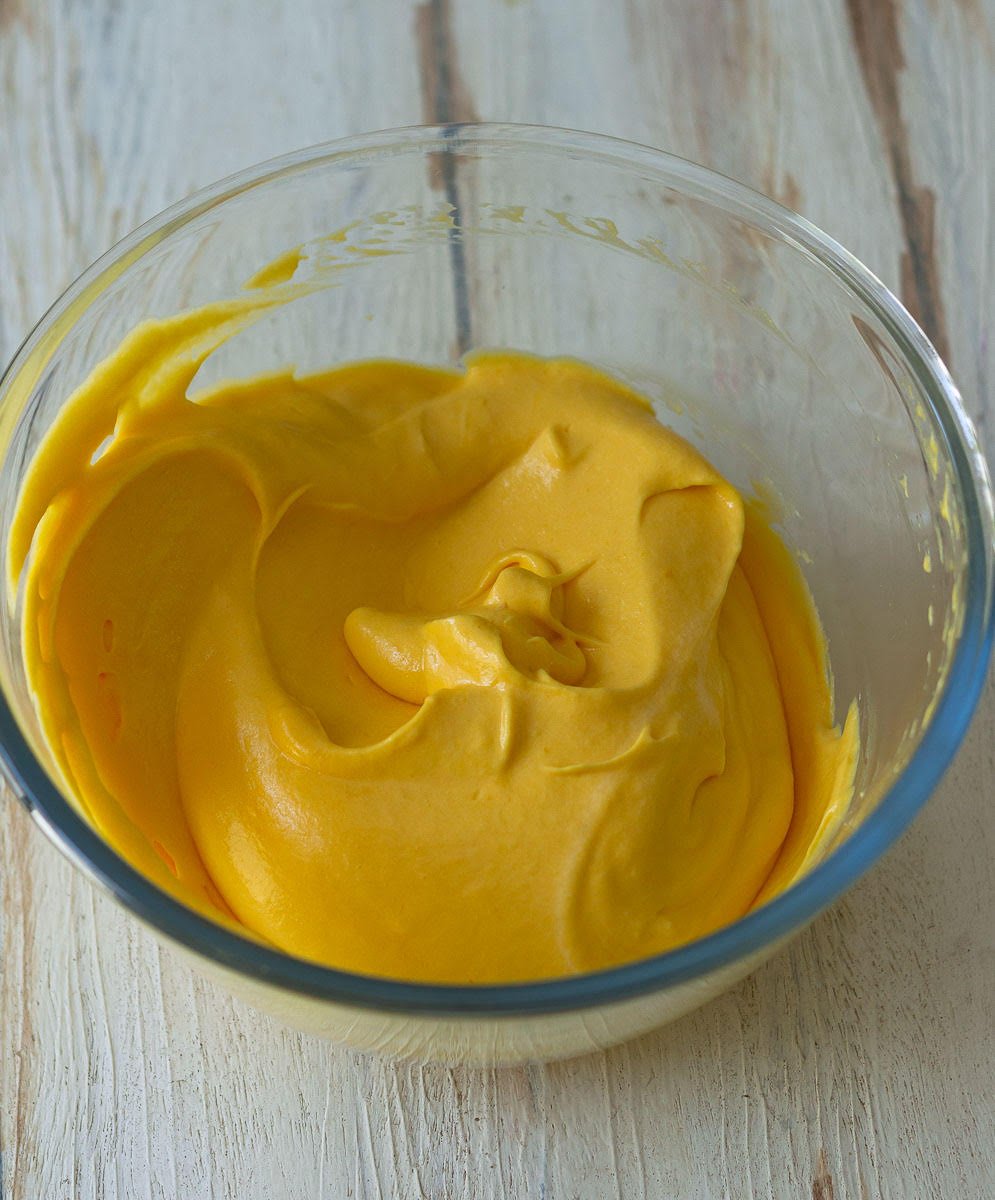 Step 3: Spoon the eggless mango mousse into your serving dish and then refrigerate for 3 to 4 hours.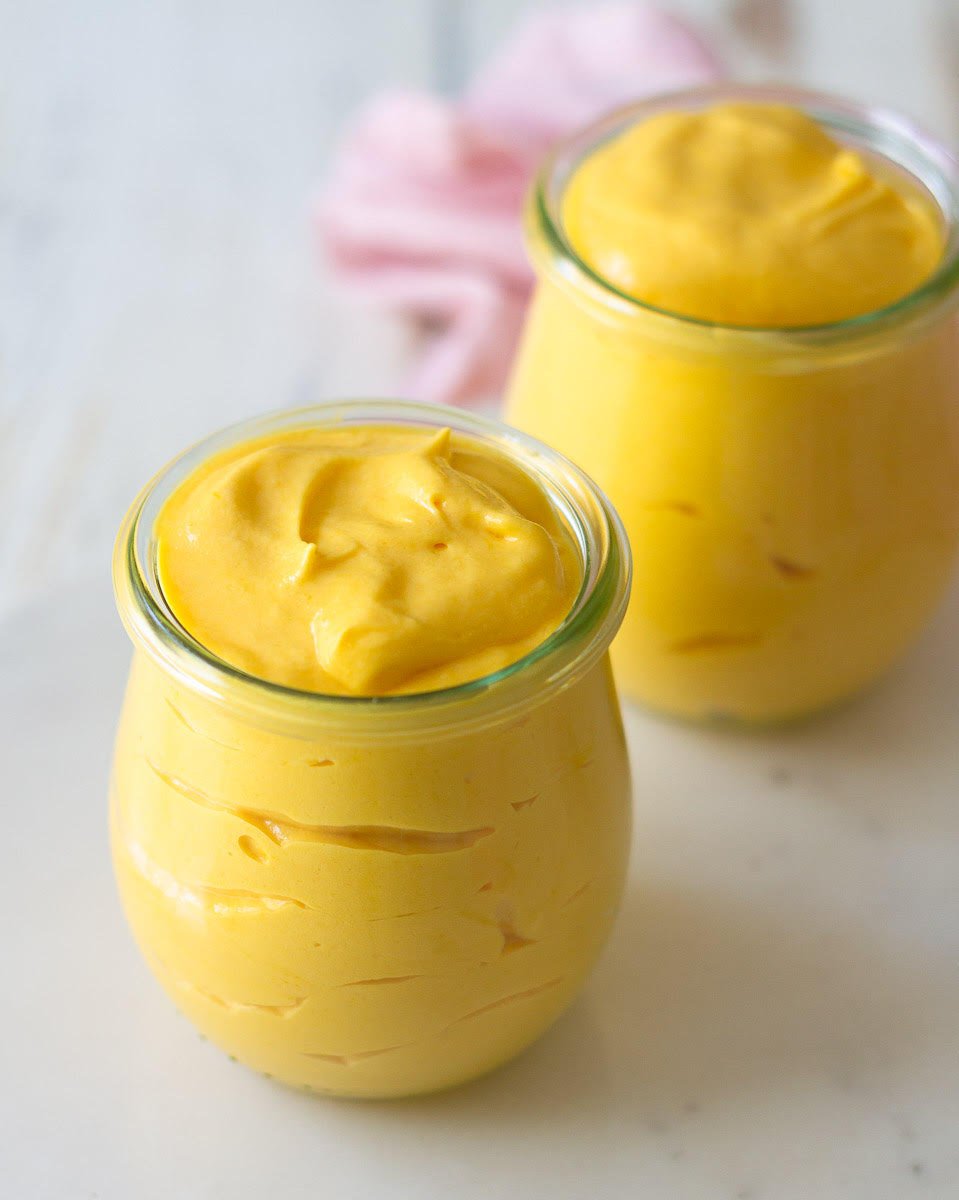 Final step: Serve!
SERVING MANGO MOUSSE
For the first try, I recommend trying the mango dessert as-is. No embellishments. You love the light, fresh, and a whole lot of mango flavor.
If you've got guests coming over, then top with more mango purée and a sprig of mint leaves for that lovely green pop.
Or you can layer mango purée and mousse while setting it in the dish.
Crown it with a dollop of whipped cream, mango bits, and a light sprinkle of chopped pistachios.
MANGO MOUSSE (EGGLESS) INGREDIENTS
Cream: Since it is so easily available, I used Amul cream. It has about 25% fat, so it's not as easy to whip. A trick that I've learned works like a magic spell is to chill the cream, the bowl you're going to use, and the beater. Place them in the freezer for about 30 minutes.
The more fat the cream has, the easier it is to whip it. So you can easily use double-whipping cream also.
If you're making mango mousse with cream that has 30 to 35% fat, be careful not to over-whip, or it'll turn into butter.
Sugar: The reason I want you to make this mango dessert with icing sugar is that the cornstarch in it is stabilizing, which helps form the peaks. So, if you're using low-fat cream, stick to icing sugar.
For those using a cream with a higher fat content, both honey and caster sugar are good substitutes.
HOW TO MAKE MANGO PURÉE?
You can make mango purée from scratch at home with any variety of mango that is readily available to you. Just make sure they're not fibrous. I used Alphonso because their juicy, smooth flesh lends itself to an almost cloud-soft purée. But Safeda or Dasheri are fantastic choices too. You can even mix a few varieties.
With mousse, you need a satiny finish to the purée. If you feel that blitzing the fruit is not giving you that smooth texture, strain the purée, so there is no chance of any tiny fibers sneaking through.
In case your corner of the world doesn't have fresh mangos, Indian grocery stores stock good-quality canned mango puree. You can easily use that.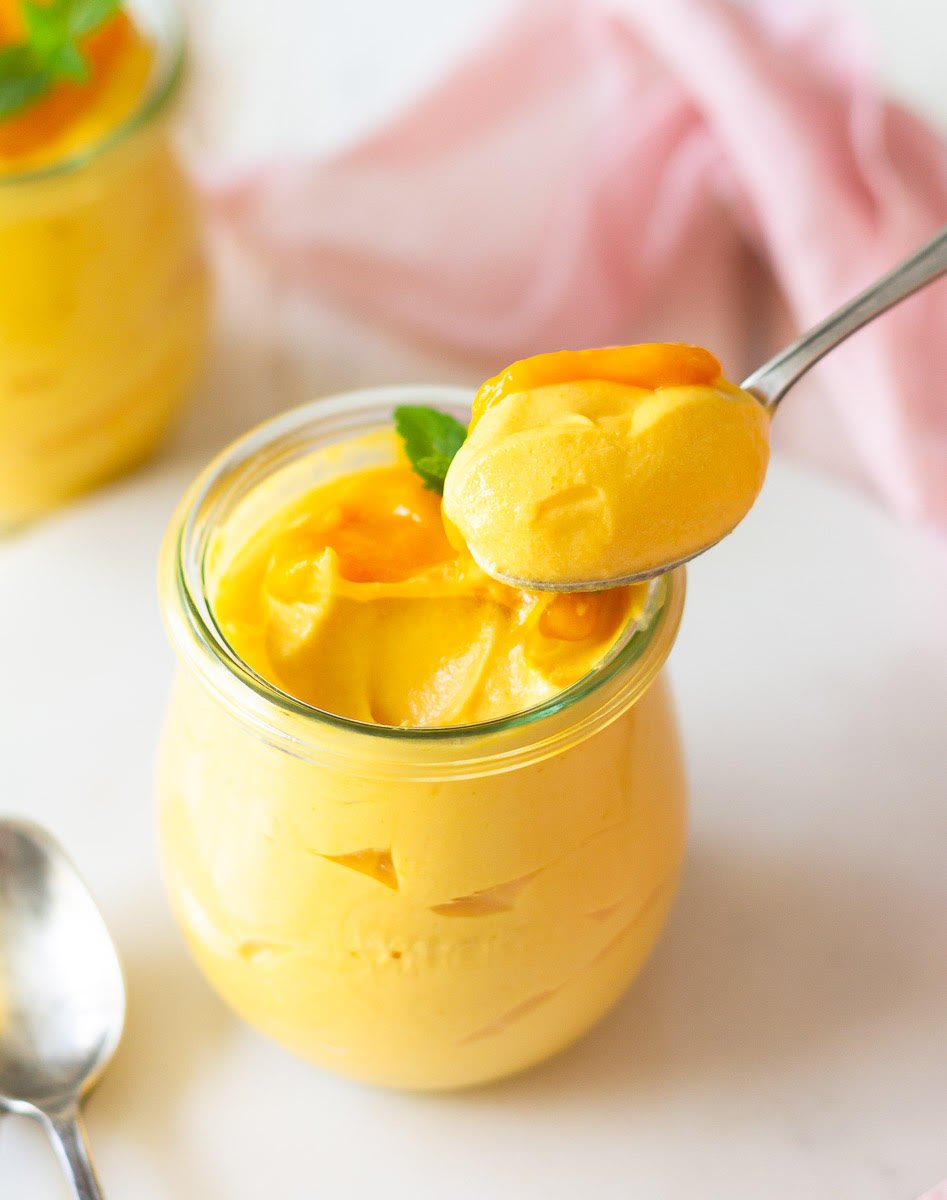 VARIATIONS OF THIS NO-BAKE MANGO DESSERT
It's easy to make this mango whipped cream dessert extra indulgent with just a tweak here and there:
A hint of lemon zest will make the mango mousse zing, especially if your mangoes are too sweet.
Finely ground cardamom powder would give it an Indian touch, very similar to mango shrikhand.
Vegan: Replace regular cream with any plant-based cream to make vegan mango mousse. Since you can find coconut cream without any trouble, it's a great choice. Chill it, and then use only the solid part that floats on top. Don't shake the can to mix the layers. Leave the liquid sediment alone.
SOME NOTES ON THIS MANGO MOUSSE DESSERT
When mixing the mango purée with whipped cream, don't use vigorous movements.
Chilling the mousse will firm it up, it will be just spoon-ably soft.
My recommendation? Make it the morning you're going to be serving this no-bake mango dessert.
How much sugar or honey you need for this recipe for mango mousse depends on the sweetness of your fruit. I barely needed a tablespoon. You may need more if the mangos are tart. I always say, "Taste test," and then adjust by adding as little or as much sugar as required.
DON'T SKIP THESE DESSERTS WITH MANGO
Half the joy of cooking is sharing it with others, which is why I'm always eager to hear from you. So go right ahead and drop a comment or reach out on Instagram, Pinterest, YouTube, or Facebook. I hope you love this mango mousse recipe as much as we do!
📖 Recipe
Print Recipe
The Best Mango Mousse Recipe! (3 Ingredients)
Juicy, luscious, and bursting with fruity flavors, this mango mousse recipe combines mango purée with whipped cream to make an amazingly delicious mango dessert!
Servings:
2
Large servings
Ingredients
1/2

cup / 118 ml

Cream

I used Amul cream with 25% fat

2

tbsp

Icing sugar

You may need to add more or less depending on the sweetness of your mangoes

2/3

cup / 166.66 gms

Mango puree

Homemade or store-bought
Instructions
In a large bowl, beat together the cream and icing sugar until soft peaks form.

For faster results, place your bowl and beaters in the freezer for 30 minutes or so.

Add mango puree to the whipped cream and gently fold it in.

Transfer to your dessert cups and refrigerate for 2-4 hours.

Just before serving, decorate with mango puree and mint leaves. Enjoy!