I've lost count of the number of times I've made chocolate fudge with condensed milk (and all the variations of it) using this recipe. A recipe for which full credit goes to Nigella Lawson, a goddess when it comes to the kitchen and someone I look up to for cooking and baking.
Jump to:
For years I've been making this decadent, velvety, melty fudge for the home and for gifting, and it has never failed. Not that any of Nigella's other recipes are any less. I have most of her cookbooks, and every recipe is divine. If you haven't checked out her blog yet, you're missing some seriously delicious stuff.
How to make chocolate fudge with condensed milk?
Of all life's pleasures, nothing is more indulgent than good chocolate. Maybe except when you turn it into a rich, intense, and melt-in-your-mouth perfect dessert. That's what you get with this chocolate fudge recipe, which, by the way, is not how you typically make fudge. This is the easy and I-don't-have-time way. Yet. Yet. The end result disappears faster than you think.
In a thick bottomed pan, on low heat, add a tin's worth of sweetened condensed milk.
Combine it with salted butter and dark chocolate. The darker, the better. 65% to 75% works best.
Stir, stir, stir until everything is melted and you have a nice, glossy, silky mixture.
Turn off the heat and let the mixture cool a touch. Just a few minutes.
Then whisk in a few drops of rose water. It's a Tasha Twist to Nigella's recipe, and completely optional (but personally recommended).
Finally, fold in your chopped pistachios. I also added walnuts, another twist to the original recipe.
Setting the chocolate fudge
Pour the mixture into an 8-inch square pan lined either with parchment paper or aluminum foil.
Smoothen the top and scatter a few more pistachios along with dried rose petals. (The pop of green and red brings all the Christmas feels.)
Slide the pan into the fridge and let the fudge set for 2 hours.
Cut into squares (I got 36 of them) and serve straight out of the fridge!
What is the secret to making fudge with condensed milk?
Low heat. Never, ever turn the heat up high. It'll burn your chocolate in seconds. Also, don't leave the pan unattended. Keep stirring continuously. It barely takes any time, and you'll be done in a blink.
As always, use the best quality ingredients possible. It genuinely takes the fudge from 0 to 100 in 2 seconds.
What else can you use to make chocolate fudge?
Nuts: I love the mouthfeel of nuts. The crunch hidden inside the fudgy goodness is mana for me. You don't have to stick to pistachios or walnuts, any nut you like works or you can leave them out. Absolutely. I promise the fudge is just as delicious.
Can't live without nuts? Toast them. Cool them. And then add them to the chocolate mixture. It's an extra step, but one hundred percent worth it.
I didn't know it was possible to make the fudge any better, but the toasted nuts proved me wrong, making the fudge crunchier.
Add-ons: One reason I love this chocolate fudge recipe is that it's so simple to riff off. You can change the flavor profile and take it in any direction your taste buds desire. Some options are:
Pure orange oil and peel for that citrusy brightness
Coffee powder; when chocolate stars in a recipe, coffee is not far behind
Dried cranberries, or cherries
Sea salt
How to make vegan chocolate fudge?
Substitute the butter with coconut oil. Use good quality vegan chocolate. If you need brand options available in India, I wrote about them here. Switch to plant-based condensed milk, or you can make it at home with coconut. It's easy, thick, creamy, and delectable bliss.
Can you store chocolate fudge?
Given the number of times I've made this fudge, it's shocking that I've never needed to store it. Not a single fudgy square last! It's all gone in a day or two between the four of us.
I do store them in the refrigerator though these days I'm taking my cue from Nigella's blog, where it says you can store them in an airtight container in the freezer.
Serving the chocolate fudge with condensed milk
As Nigella, herself says, it's a rich fudge, and despite the condensed milk, it's not tooth-achingly sweet. The earthiness of the nuts and dark chocolate counterbalances it, making little squares of happiness you can nibble on:
With a cup of coffee after dinner
With the evening tea
Or anytime at all.
Try the chocolate fudge with condensed milk recipe:
4 basic ingredients
Hit for the holidays
Needs just 5 minutes of your attention
Makes a big batch, divine for Christmas gifting to spread a little love
More easy chocolate recipes
Chocolate Peanut Butter Pudding
📖 Recipe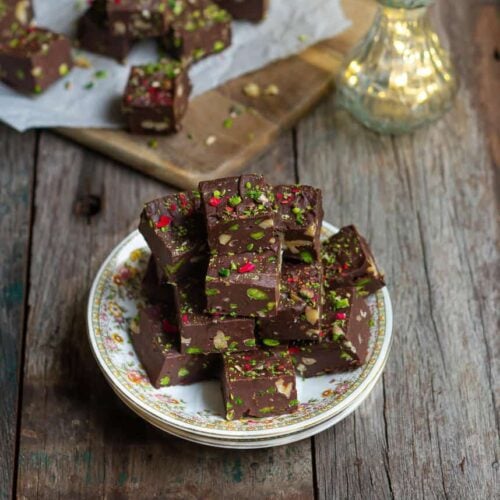 Print Recipe
Chocolate Fudge with Condensed Milk
Chocolate Fudge with Condensed Milk -decadent, velvety, melty fudge for home and for gifting...perfect for the festive season!
Ingredients
1

can / 400ml

Sweetened condensed milk

30

gms

Butter, room temperature

350

gms

Dark 70% chocolate

1

tsp

Rosewater ( optional)

50

gms

Pistachio, chopped

50

gms

Walnuts, chopped

Dried rose petals, for topping (optional)
Instructions
Combine the condensed milk, butter, and chocolate in a heavy-bottomed pan.

Cook on low heat, stirring constantly until everything has melted and the mixture is smooth and shiny. This will take about 10 minutes.

Take the pan off the heat. Stir in the nuts. Let cool for a few minutes, then add rose water, if using. Mix well.

Pour into a foil-lined s 8" square pan.

Smoothen the top and sprinkle some more nuts and dried rose petals if you want. Press them down gently.

Refrigerate for 2 hours or until set. Cut into small squares and serve. Enjoy!