Korean corn cheese is a super addictive corn with cheese recipe that's great as an anytime snack. Tucked between pockets of corn and spring onion, the burnished, bubbly cheese sings in your mouth with every bite.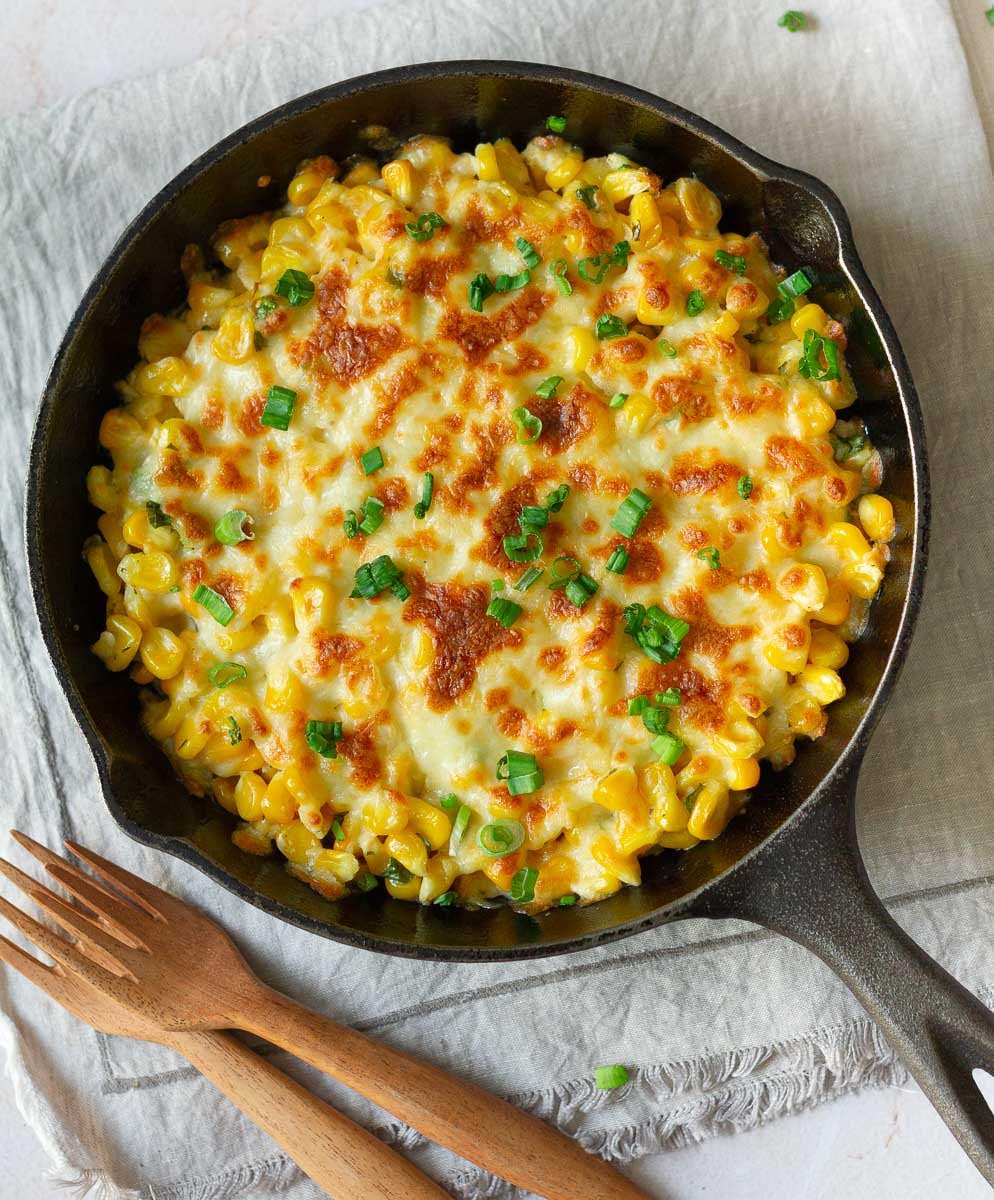 I've been besotted with Korean food lately. The number of recipes I binge-watched puts the word "obsession" to shame. And I've been sharing the simplest ones first.
Cheesy corn, as it turns out, is the easiest side dish I've ever made. It uses the most basic ingredients and requires 5 minutes of prep and 15 minutes in the oven.
Needless to say, it was right up my alley.
Gloriously golden from the cheese, creamy from the mayo, and crunchy from the sweet, starchy kernels, it's a delicious mess that is sure to turn into a fixture on my table this summer.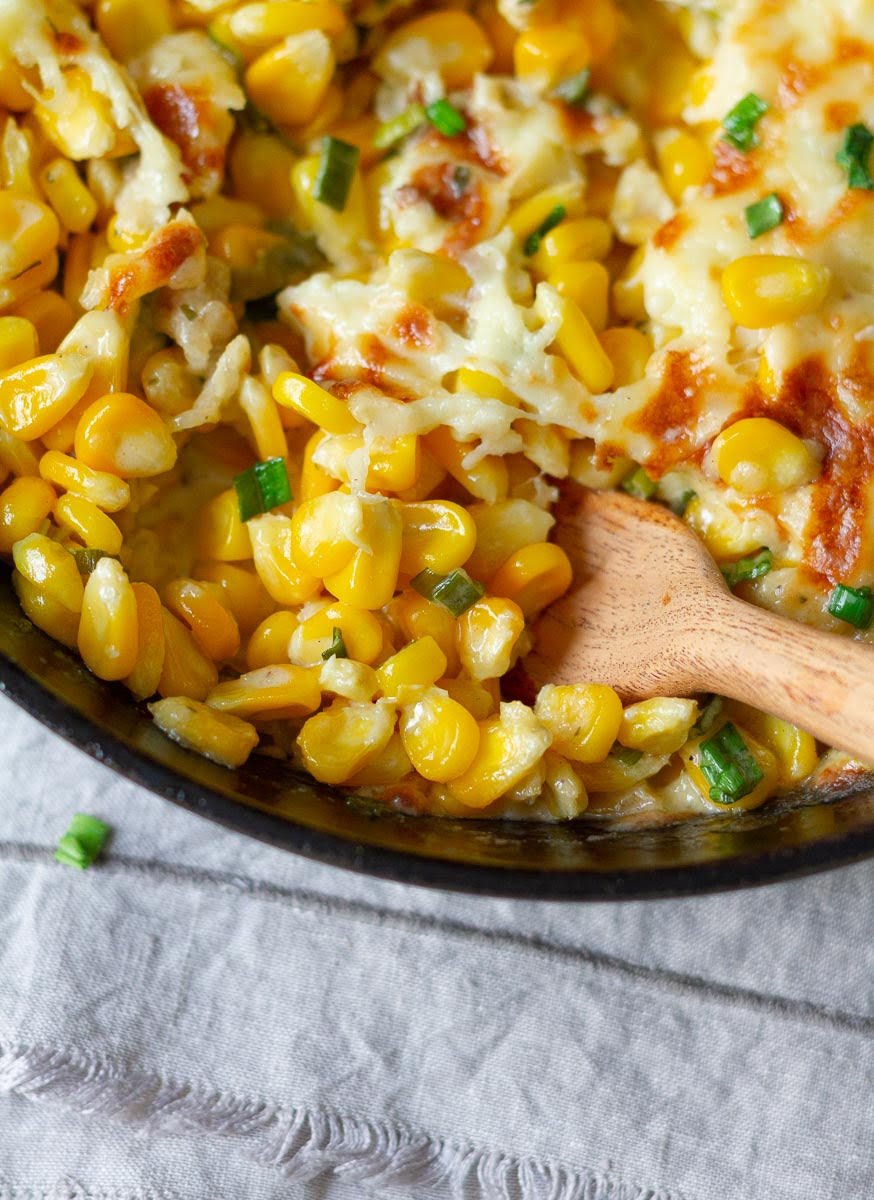 Jump To:
REASONS YOU'LL LOVE KOREAN CORN CHEESE
Fantastically easy to make.
Don't need fancy or unique ingredients; everything is easily available.
Works wonderfully as an appetizer or alongside chips, crackers, and Co.
Kids, young adults, and more adult adults: everyone enjoys corn with cheese and mayo.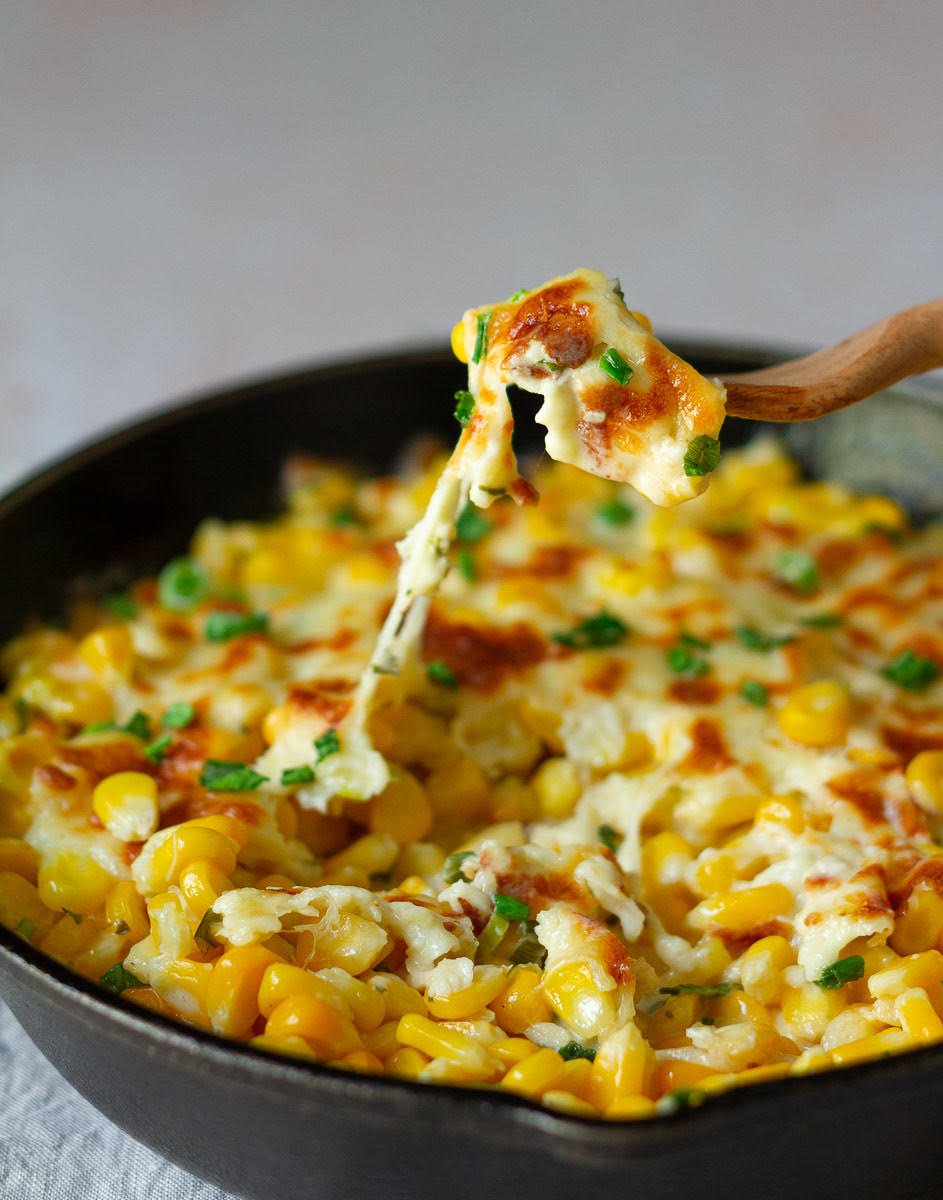 WHAT IS KOREAN CORN CHEESE?
Corn cheese is a popular snack in South Korea, served with alcohol. It falls into the category that we Indians call chakna, Koreans call anju, and the English-speaking world calls bar food, pub grub, or nibbles.
It's also served as a side dish during barbecues. Corn smothered with cheese and mayonnaise enlivened with scallions and spices, it is similar to fondue: cheesy, sweet, and savory.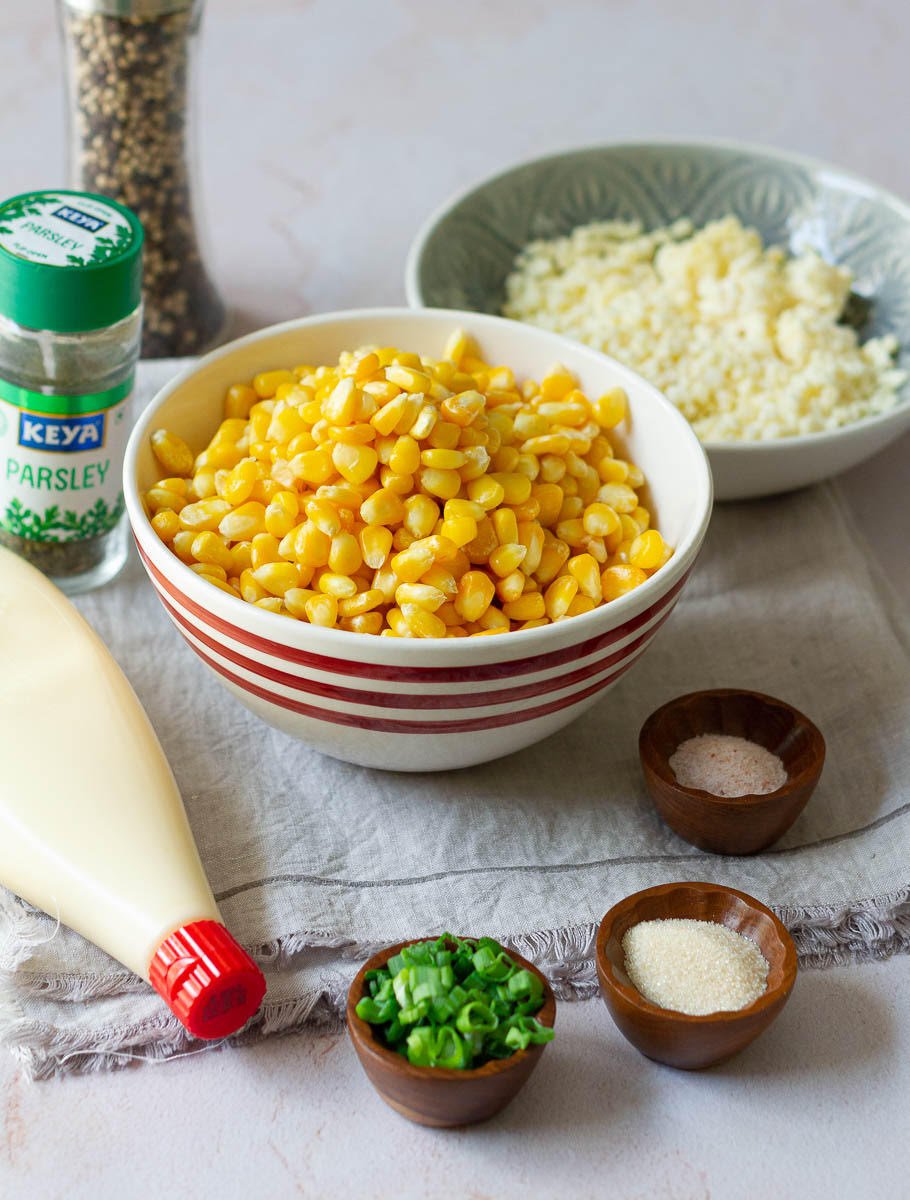 HOW TO MAKE CHEESE CORN?
Step 1: In a large bowl, mix corn, mayonnaise, and chopped scallions (or what we call spring onions here).
Step 2: Add salt, sugar, pepper, and a dash of dried parsley (not mandatory to this corn cheese recipe; I just love adding my own touch).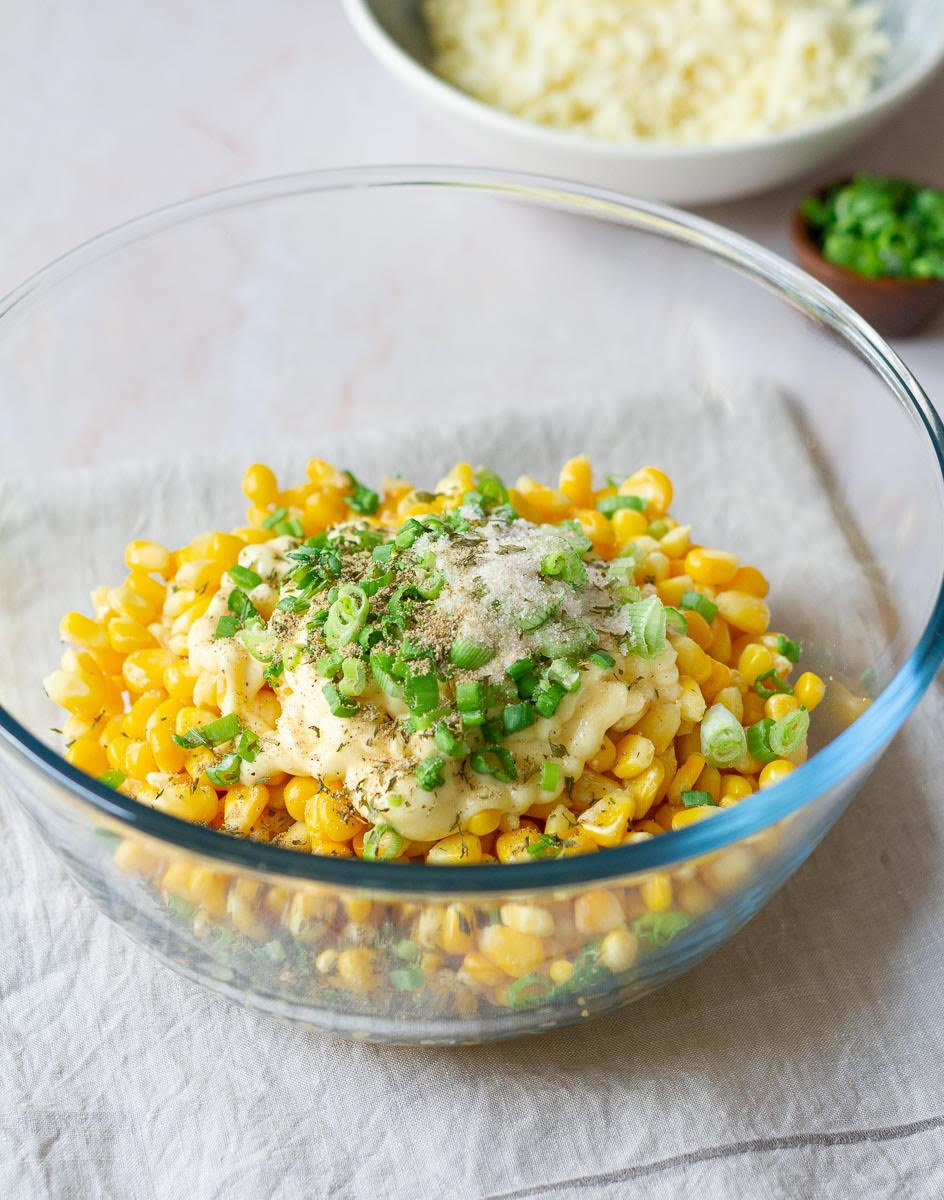 Step 3: Mix, mix, mix, and then transfer everything to a liberally buttered cast iron skillet. A casserole dish is also an option, but a skillet conserves heat, keeping the cheese in the perfect melty condition.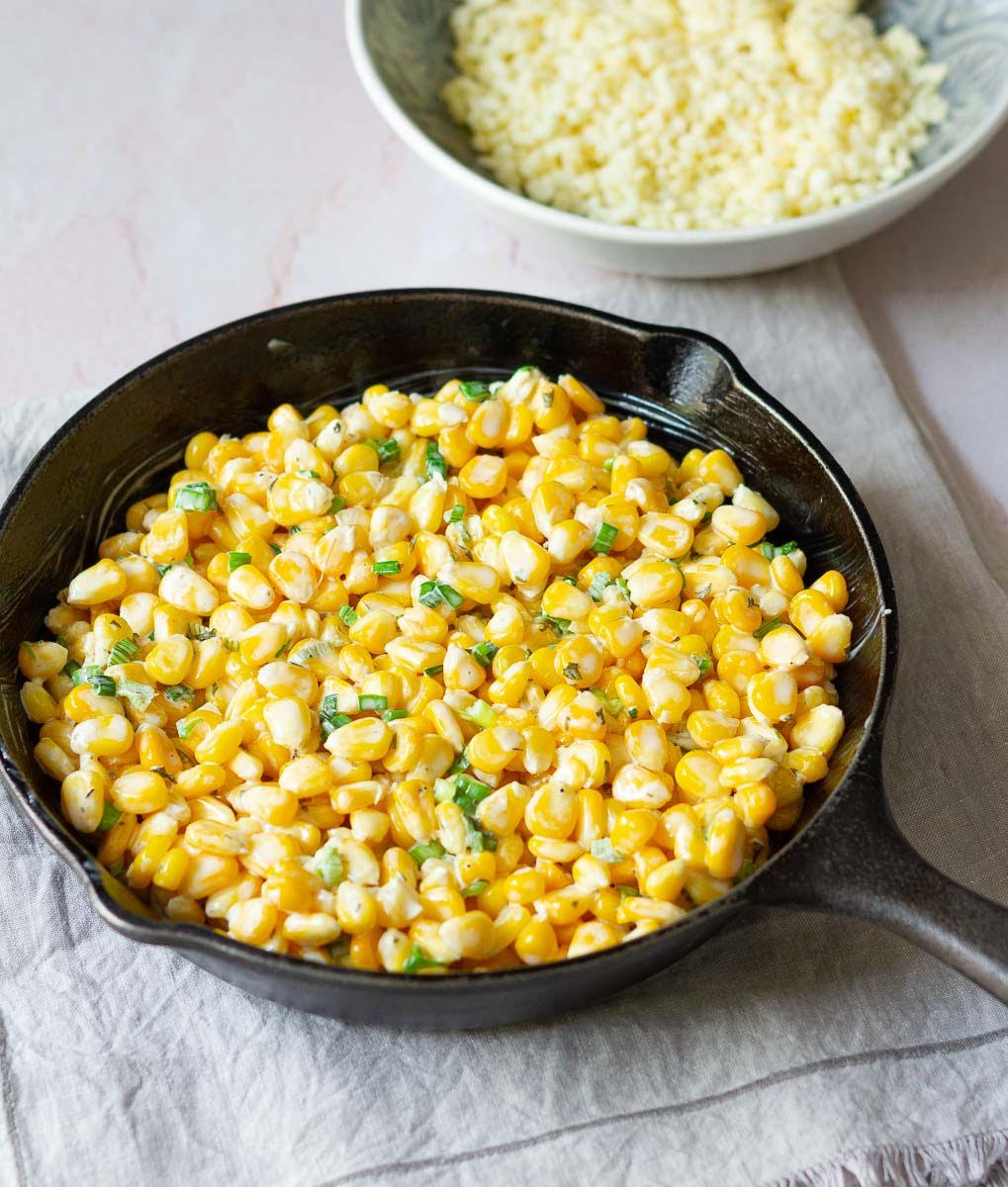 Step 4: Top with shredded mozzarella, and then bake till the cheese begins to sign in between pockets of corn.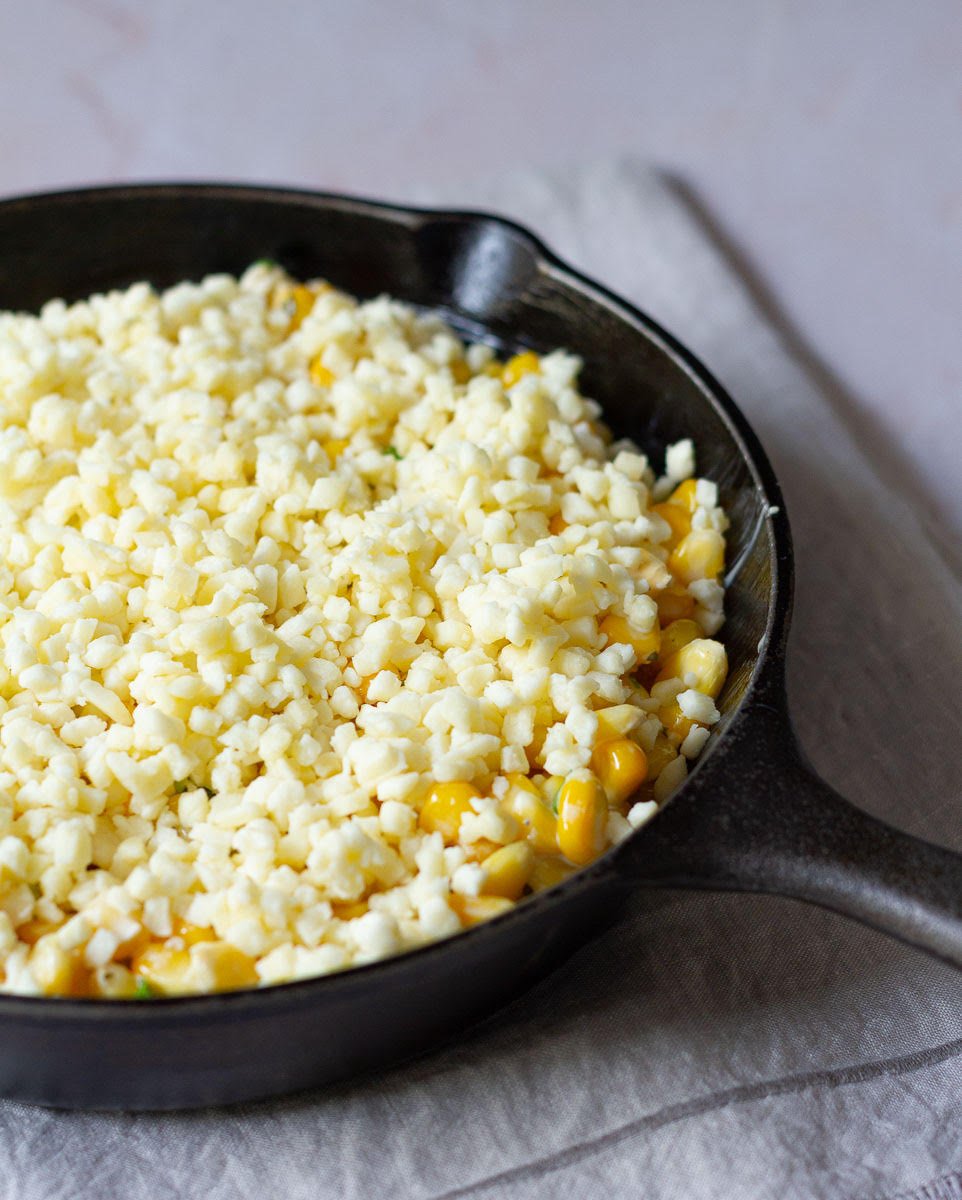 Final step: Let the golden brown and bubbling cheese cool just a tad, and then dig in hot.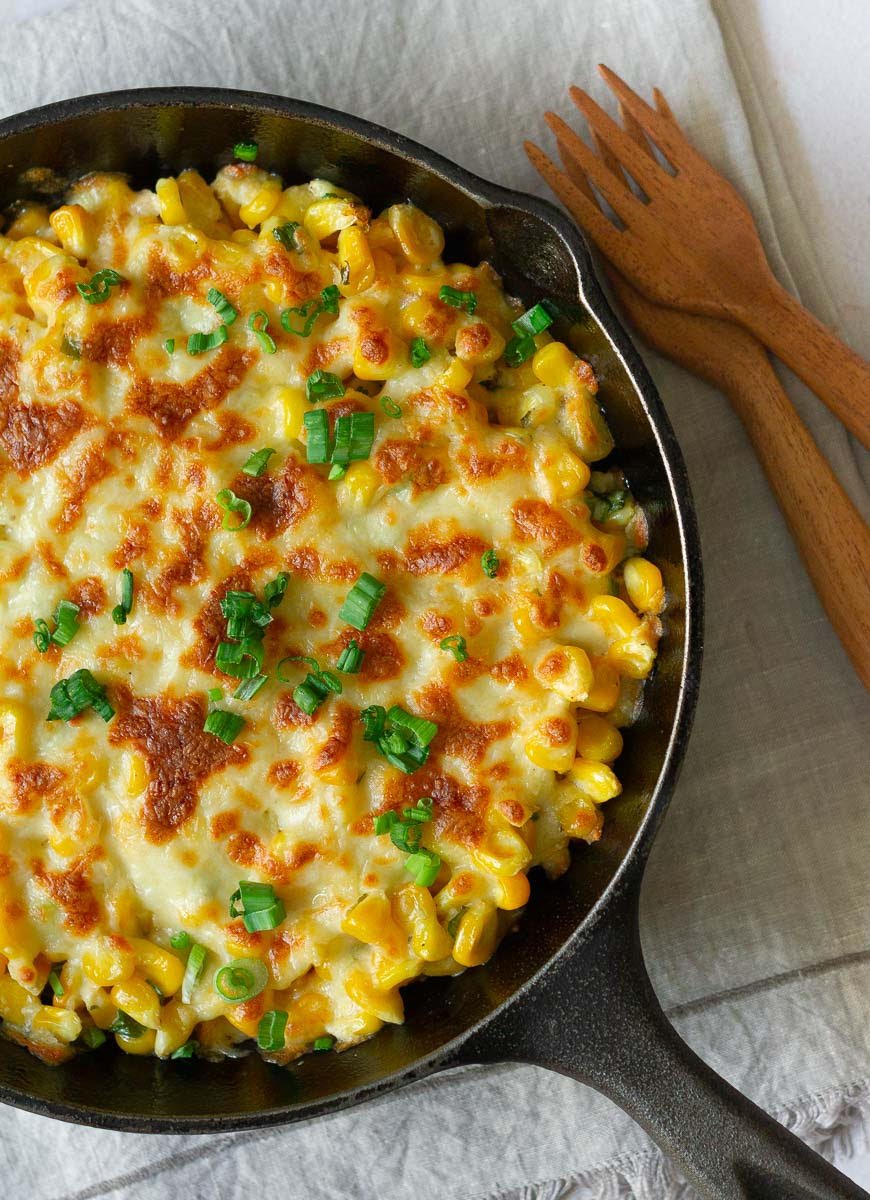 NOTES ON KOREAN CORN CHEESE INGREDIENTS
Corn: I used frozen corn and thawed it before mixing and baking. If fresh corn is what you have on hand, use that. Or even canned corn. Corn with cheese is as malleable as a recipe can be.
Mayonnaise: I had Kewpie mayo at home, so that's what went into this Korean corn recipe. Don't have Japanese mayonnaise? Go ahead with whatever is stashed in your refrigerator.
And if you're hankering for vegan cheese corn, try homemade mayonnaise. It would do very well.
Cheese: Typically, this recipe is made with mozzarella because it's mild and lets the corn shine through. But any cheese that catches your fancy will work like a charm. We're looking for creamy cheesiness, so I'd suggest a Gouda or a Gruyère—something that melts beautifully and stretches.
By the way, I've made cheesy corn with my regular Amul too, and it turned out scrumptious. So, if that's all you have, use it, or you could mix different types of cheese.
Seasoning: Add pepper according to your taste. Sugar brings balance to Korean corn cheese.
Salt is, of course, necessary as a flavor potentiator, but use it with a light hand. Your mayonnaise will likely have some in it, so you don't want the corn and cheese to be too salty. Remember, you can always sprinkle more in the end, but reducing salt in a dish is perdition.
Add-ins: Corn cheese is perfect as-is. Honestly, it needs no embellishment. Parsley was a whim of mine, so it is entirely optional.
That said, you can definitely add more spices to it if you're looking for variations of Korean corn recipes:
Red chili powder
Chili flakes
Dried herbs: oregano or thyme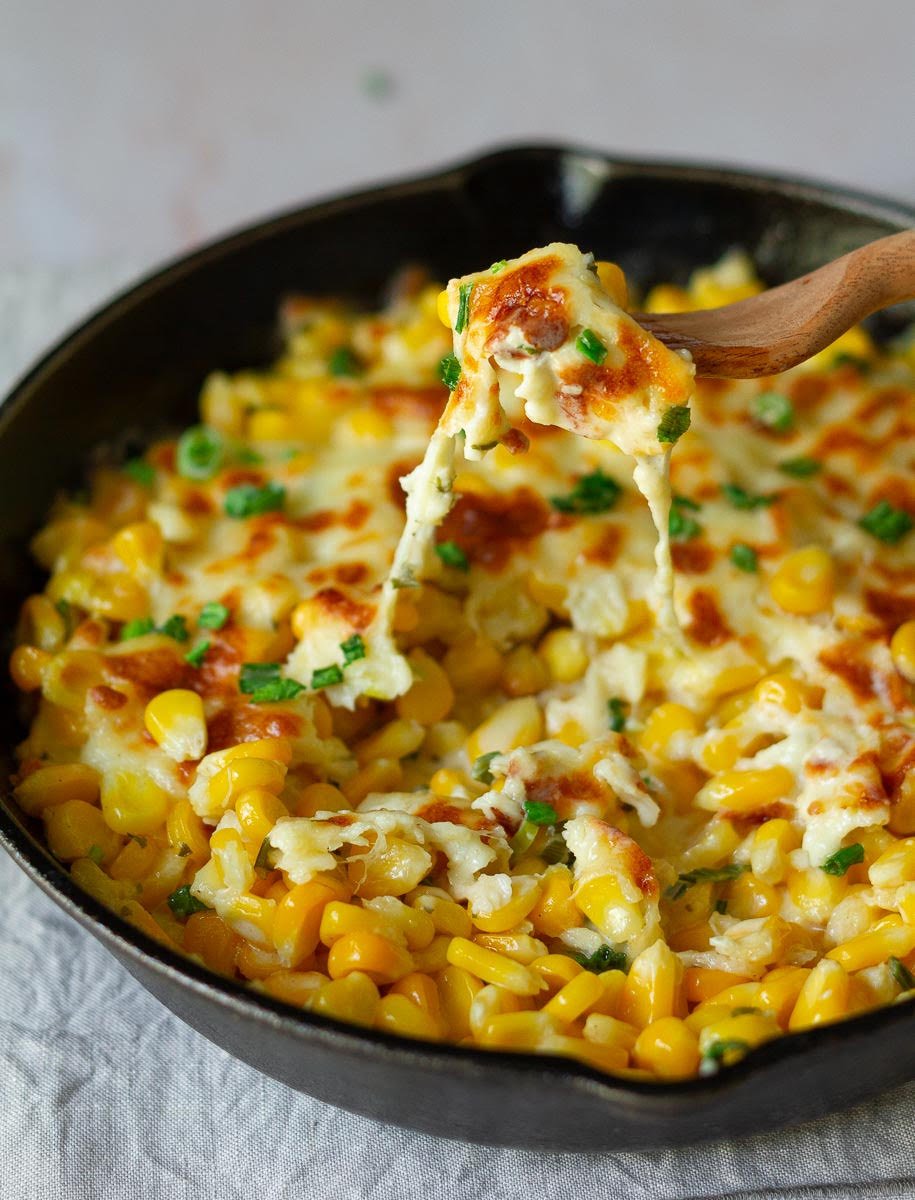 SERVING KOREAN CHEESE CORN
You want the unvarnished truth? My home obliterated any trace of Korean cheesy corn in minutes. We ate it as-is, gooey, cheesy, and almost piping hot, and it was unbelievably yummy.
Just sprinkle on some more chopped spring onions right out of the oven and serve. It is a fine accompaniment to chips, crackers, or bread of choice. Don't want to have it as a dip? It can be served as a Korean corn side dish in a pinch.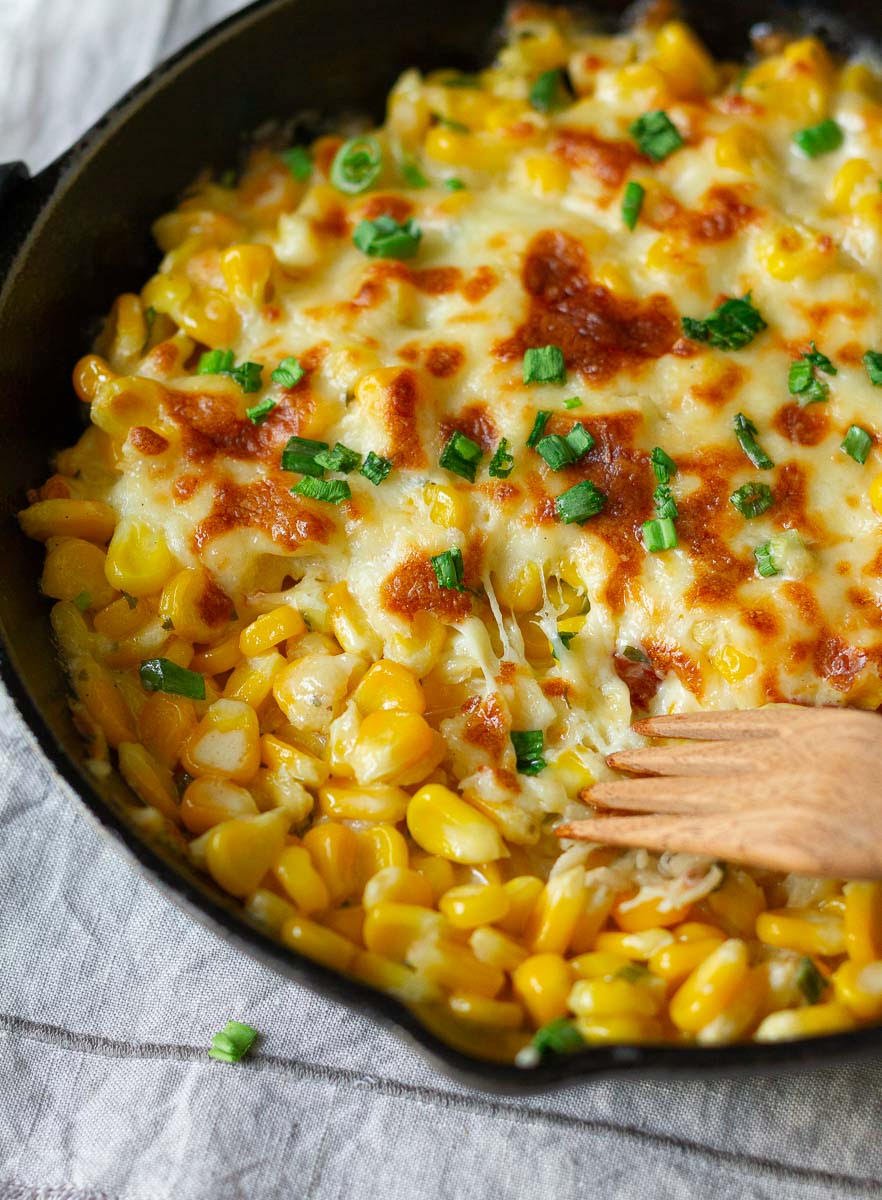 MORE KOREAN SNACK RECIPES
Half the joy of cooking is sharing it with others, which is why I'm always eager to hear from you. So go right ahead and drop a comment or reach out on Instagram, Pinterest, YouTube, or Facebook. I hope you love this Korean corn cheese recipe as much as we do!
📖 Recipe
Print Recipe
Korean Corn Cheese Recipe
Korean corn cheese is a super addictive corn with cheese recipe that's great as an anytime snack. Tucked between pockets of corn and spring onion, the burnished, bubbly cheese sings in your mouth with every bite.
Ingredients
3

cups / 500 gms

Corn

I used thawed frozen corn. You can use fresh or canned corn too.

2 -3

tbsp

Mayonnaise

1

tsp

Sugar

2-3

tbsp

Spring onion, finely chopped

1

tsp

Dried parsley

Salt & Pepper to taste

1

cup /100 gms

Mozzarella cheese, grated

1

tsp

Butter, for greasing the baking dish
Instructions
Preheat your oven to 200 C. Grease your cast iron skillet or oven-proof dish, with butter.

In a larger bowl, combine corn, mayonnaise, sugar, salt, pepper, dried parsley, and spring onions.

Transfer to the greased pan and top with cheese.

Bake at 200 C for 15 minutes until the mixture is bubbling, the cheese melted, and nicely browned on top.

Take t out of the oven, let it cool for 5 minutes, and serve, Enjoy!