No oven? No problem! Mango icebox cake is the perfect summer, no-bake dessert.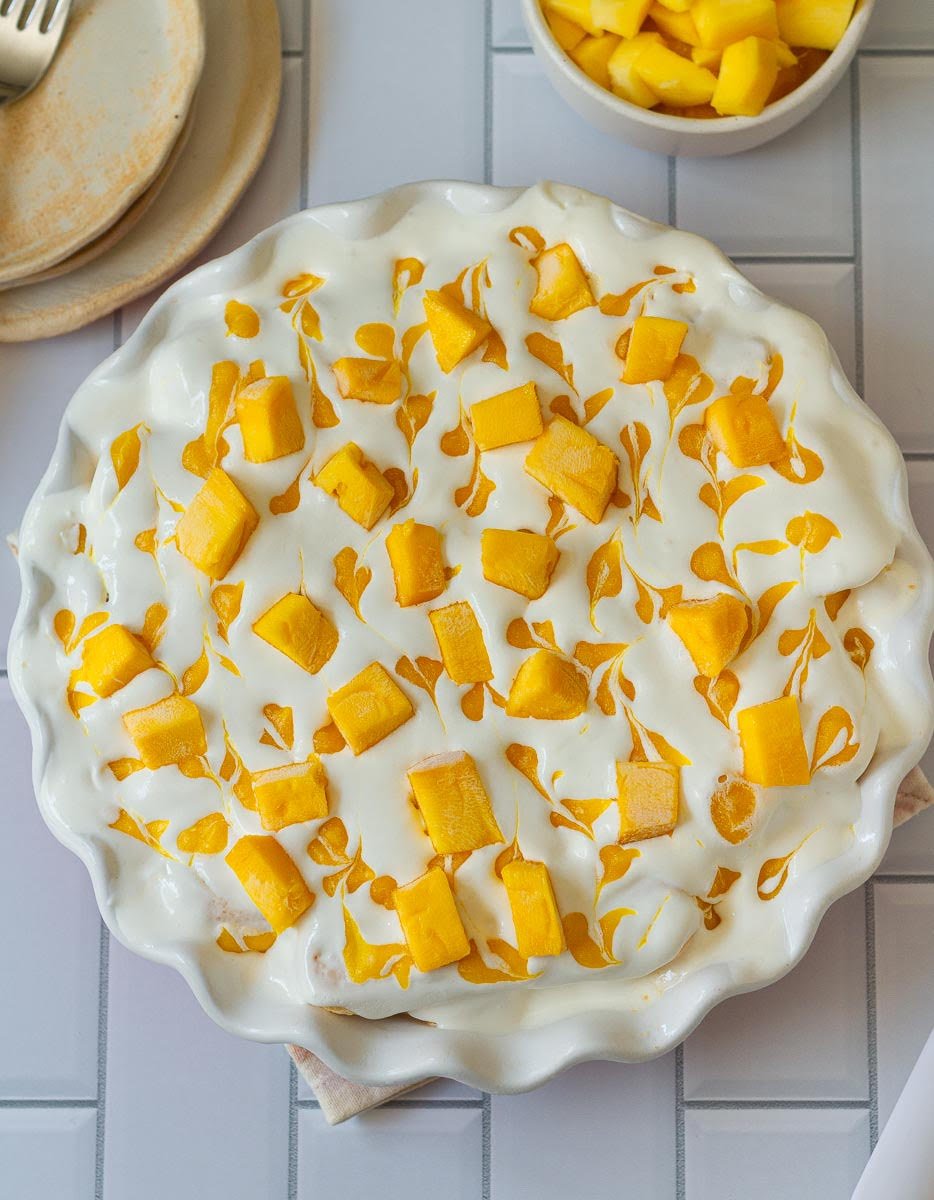 The idea of chilling on a hammock under a palm tree with a frosty pineapple mango smoothie has been living rent-free in my mind. For weeks now. I've been fervently hoping for a vacation. But life, it seems, has other plans.
So, I brought the vacation to me with the mango float recipe. Generous layers of juicy mangoes, luscious whipped cream, and crispy cookies united in chilled harmony to make mango royale.
It's guaranteed to work its magic on your taste buds and make you go coconuts. The good type.
For me, making the icebox cake recipe was an exercise in admiration and panic. Why?
It's a sweltering inferno here. So, the minute I took the mango cake out, it began melting, which made capturing an Instagram-worthy picture a race against time.
In the end, I just had to make peace with the fact that this was not like my easy, no-bake mango cheesecake. Shooting was going to be a somewhat messy endeavor.
Anyway, after the first 15 minutes, it didn't even matter. Creating perfect pictures ranked a distant second in my priorities. I just wanted to dig into this fruity, creamy goodness!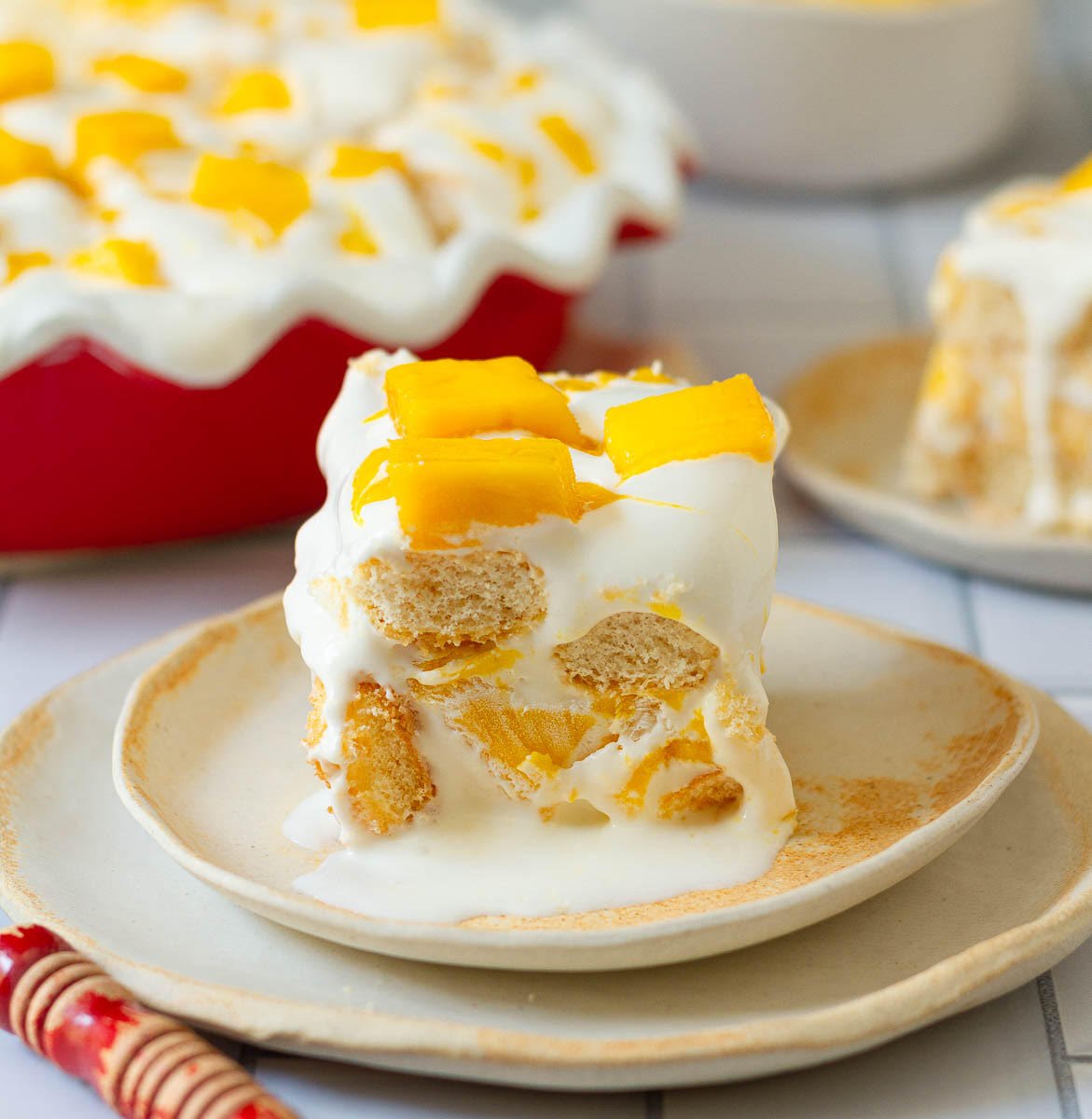 Jump to:
WHAT IS A MANGO FLOAT?
Mango icebox cake, mango royale, or mango float is a Filipino dessert. Made with cream, fruit, and graham crackers, the no-bake mango dessert can trace its origins back to the Philippines.
Loved for its refreshing and fruity flavors, the graham cake is believed to have been influenced by Western-style icebox cakes, which typically consist of layers of cookies or crackers and whipped cream, refrigerated until the ingredients meld together into a cake-like texture.
WHY TRY THIS MANGO ICEBOX CAKE?
This Graham cake (Filipino style) makes an irresistible treat.
It's a midsummer dream, bringing the taste of the tropics to your table.
A no-bake mango dessert that requires minimal effort.
A surefire crowd-pleaser that will have everyone coming back for seconds.
HOW TO MAKE MANGO FLOAT?
Step 1: Whip your chilled cream to soft peaks consistency.
Step 2: Whisk in the condensed milk, folding it gently into the whipped cream until well combined.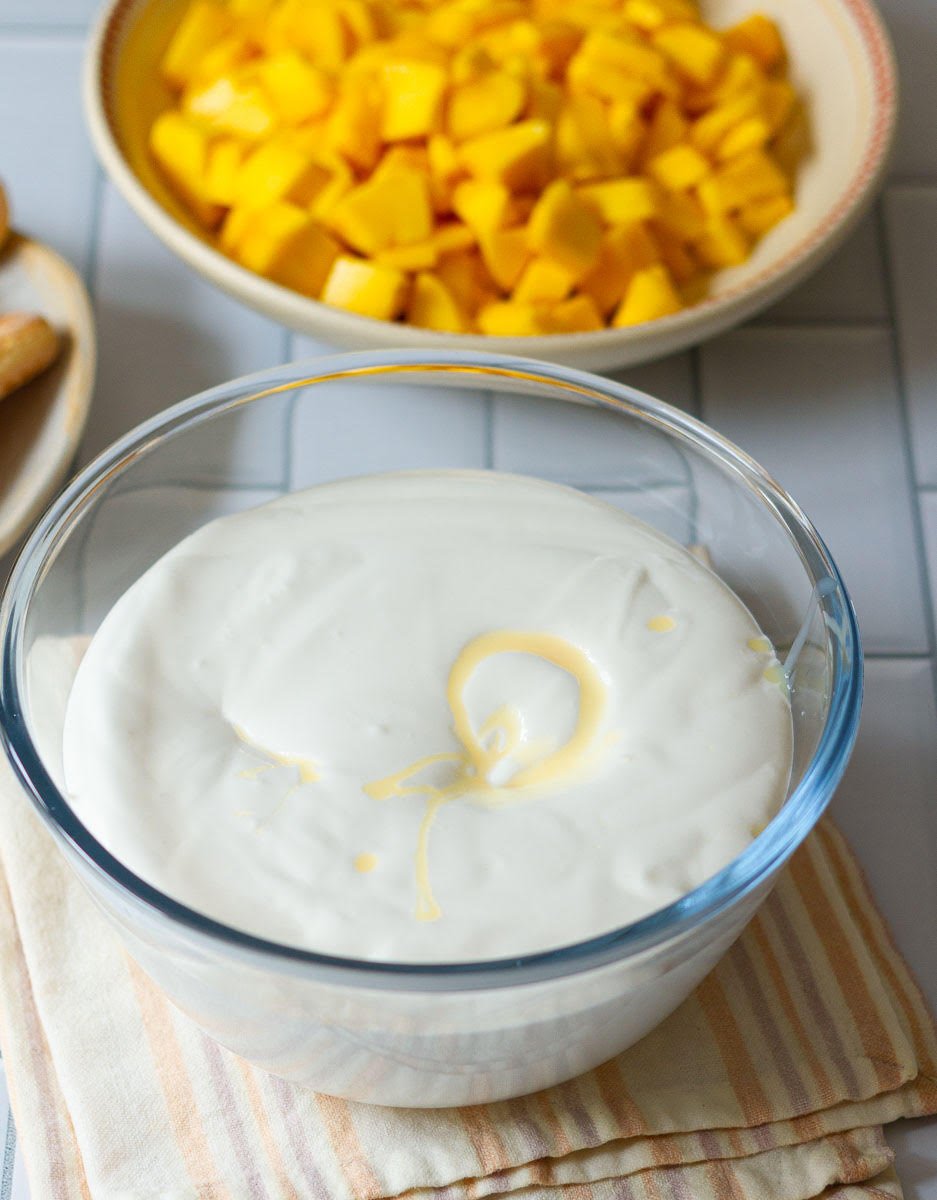 Step 3: Peel and cube your mangoes into small pieces.
Step 4: Find a freezer-friendly dish and then start assembling the mango icebox cake in three steps:
Line the bottom with ladyfingers.
Scrape half your whipped cream on top of the biscuits.
Layer your mangoes next.
Repeat the alternating layers of biscuit, cream, and mangoes.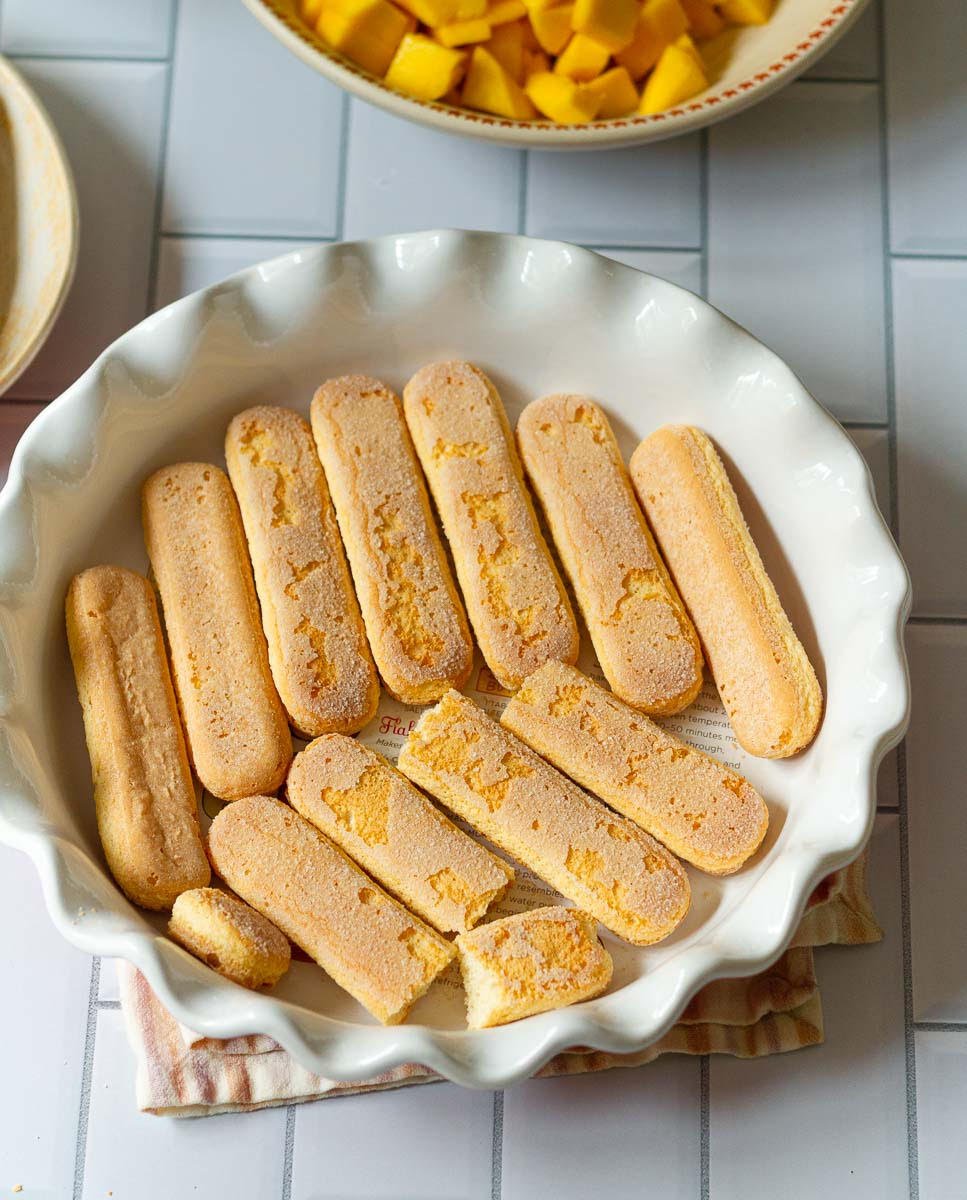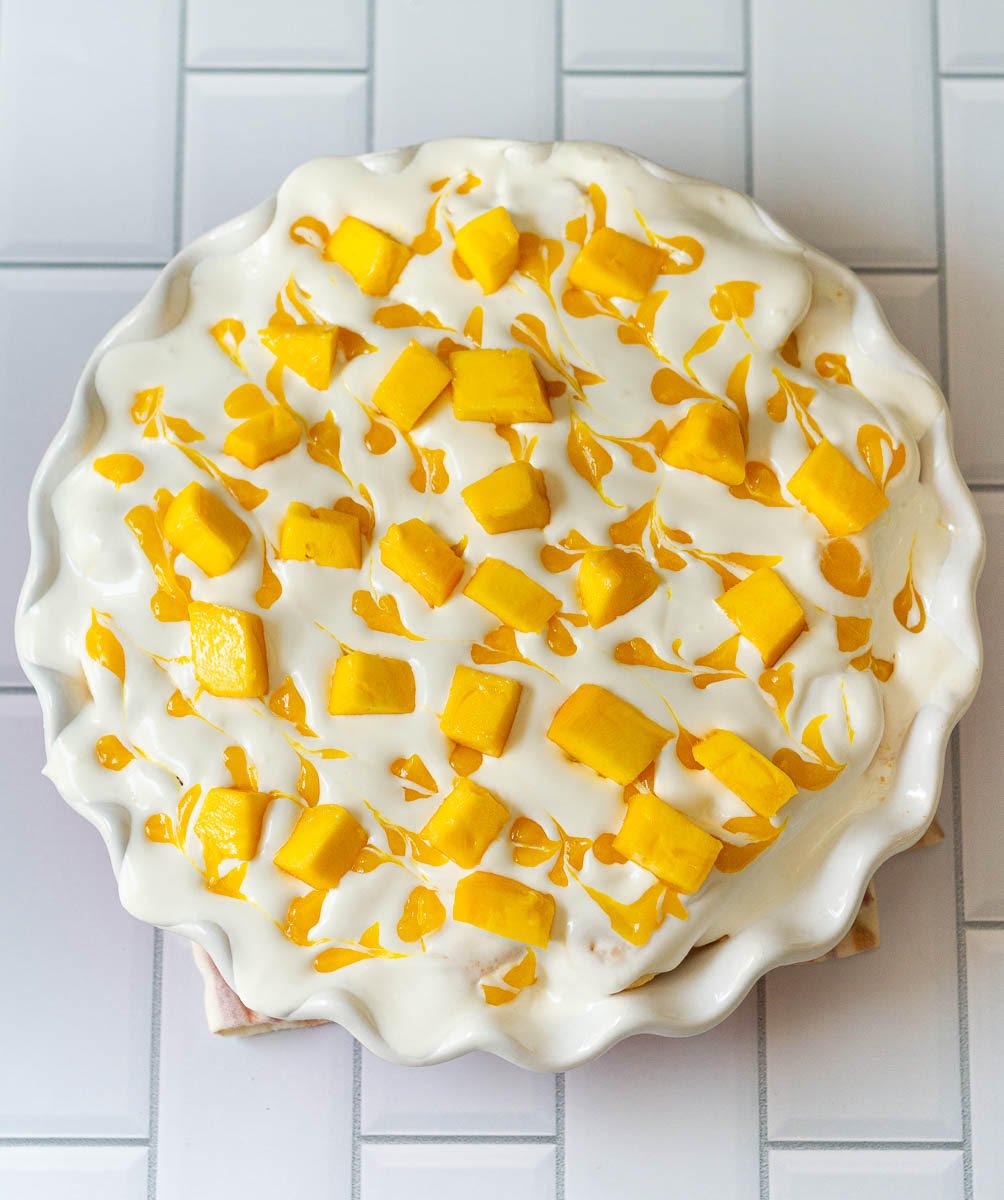 Step 5: Stash the whole concoction in the fridge or freezer, preferably overnight. I prefer to freeze this every time.
Final step: Enjoy a cake that is totally going to addle your wits and make you see tropical nirvana!
HELPFUL MANGO FLOAT CAKE RECIPE NOTES
The trick to getting voluminous, airy whipped cream is to chill it before whisking. Also, use cold condensed milk.
Beat well. Strive for that soft, fluffy, and light consistency. The more air your heavy cream has, the better it will freeze.
Cut the biscuits to make them fit more neatly into the dish.
Don't forget to smooth the surface of the cream layers of the mango refrigerator cake.
How long you'll need the cake to chill depends on how hot it is where you live. I simply stick it in the freezer for a few hours. Trust me and my empty dish of mango icebox cake; the wait is worth it.
SERVING THE MANGO FLOAT CAKE
The cake played fast and loose with our temptation, so I wasn't really bothered about how to decorate it. Mango slices, cubes, or swirls of mango purée (which is what I finally opted for)—everything works.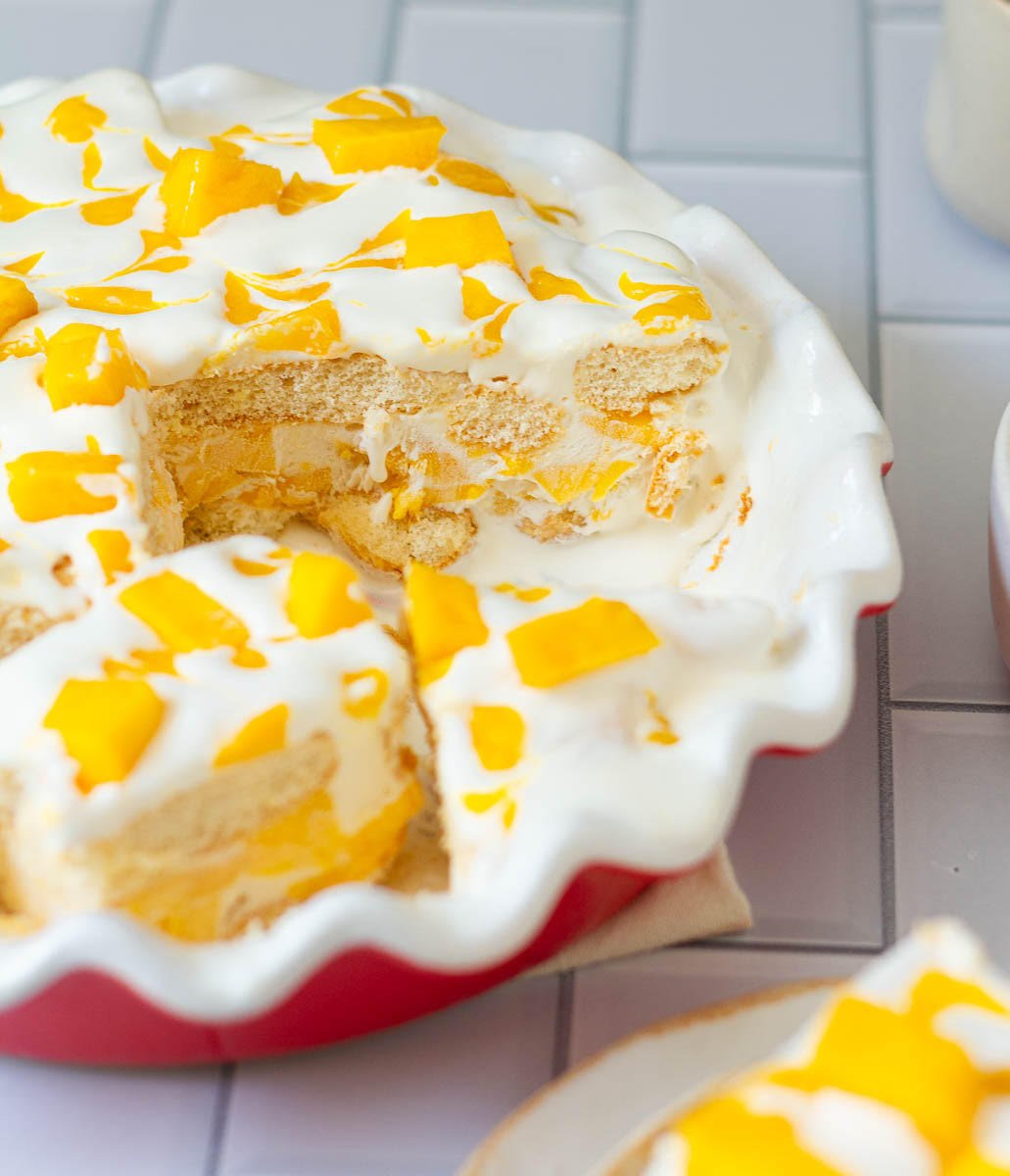 LET'S CHAT MANGO FLOAT INGREDIENTS
Biscuit: The cookie layer is the spine of mango float recipes. The backbone that helps the delicious layers stand tall. Thankfully, it doesn't warrant calling for a particular type of biscuit, though it is often made with Graham crackers.
If you don't want to make the traditional mango graham cake, use ladyfingers, Marie biscuits, digestives, or even rusks. Pick what's in the pantry, I say.
I like textural play in my desserts. That hide-and-seek of creamy and crunchy, so I really didn't feel the need for sugar syrup to soften the ladyfingers. If your palate veers towards mushier or if you're using rusks, feel free to drizzle some over the biscuits you use before adding the whipped cream layer.
Fruits: Don't think too much about what kind of mango to use for icebox cake. Just grab whatever's available to you.
To me, mango purée swirls on top were a no-brainer here. But it is entirely optional. Skip it, make it at home, or use the canned version – your pick.
Not madly in love with mangoes? Use any fruit, from berries to bananas to peaches.
Vegan recipe for mango float: Switch to your favorite vegan cookies, use vegan condensed milk, and any non-dairy cream alternative. Coconut cream would be a fantastic option. Yes, the coconutty flavor will muscle through, but then mangoes and coconut are a match made in heaven, right?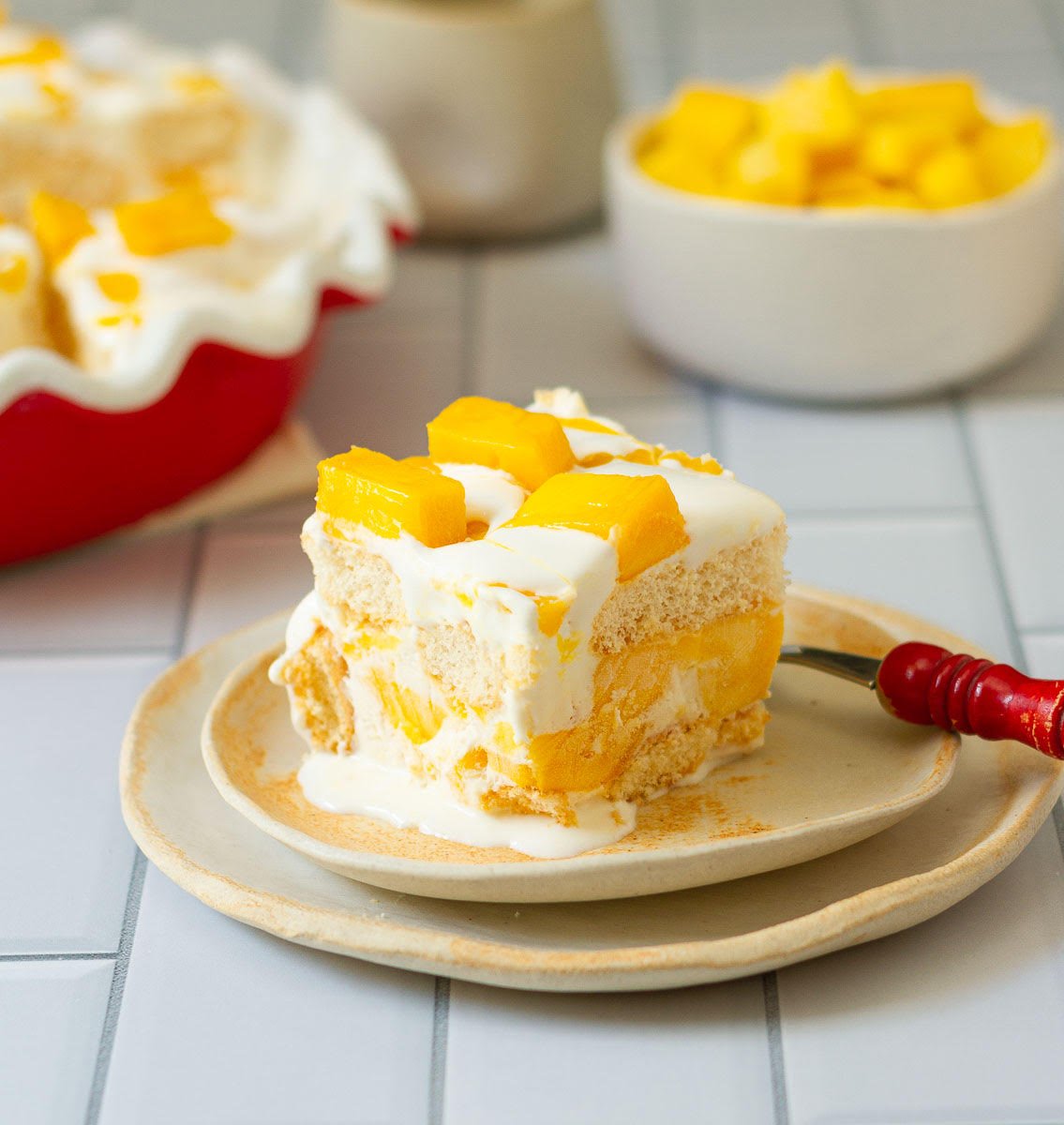 MORE NO-BAKE DESSERT RECIPES
No- Bake Strawberry Cheesecake Bites
Half the joy of cooking is sharing it with others, which is why I'm always eager to hear from you. So go right ahead and drop a comment or reach out on Instagram, Pinterest, YouTube, or Facebook. I hope you love this mango icebox cake as much as we do!
📖 Recipe
Print Recipe
Mango Float Recipe
This is the perfect summer no-bake dessert! Generous layers of juicy mangoes, luscious whipped cream, and crispy cookies united in chilled harmony to make mango royale.
Ingredients
1.5

cups/ 360 gms

Whipping cream, chilled

1/2

cup / 153 gms

Sweetened condensed milk

1.5

cup / 280 gms

Diced mangoes

20-24

Ladyfinger cookies

3-4

tbsp

Mango Puree

Optional
Instructions
Whip the chilled cream in a large bowl until soft peaks form.

Whisk in the sweetened condensed milk.

In a 9" dish, layer the ladyfingers at the bottom.

Cover with half the cream mixture. Top with three-quarters of the mangoes.

Repeat with another layer of ladyfingers and cream.

Top with swirls of mango puree ( totally optional), and the balance mango cubes.

Refrigerate for at least 8 hours ( preferably overnight) or freeze for a few hours. I always prefer to freeze this dessert.

Cut into squares, serve, and enjoy!