Mango sago pudding is a 4-ingredient, simple vegan no-bake dessert. Think of bubbles of squishy happiness folded into coconutty, mango-ey pudding. The popular Asian dessert is similar to sabudana kheer, with a few differences that make it the yummiest mango coconut sago dessert I've had in some time!
I am a super fan of sabudana or sago in any form, from sabudana khichdi to sago pudding. So, when I read about this mango tapioca pudding that's extremely popular in China, Hong Kong, Singapore, and other Asian countries, I had to try it.
Cause seriously, when summer hands you mangos, why just settle for mango cake or latte.
The story of the origin of the mango sago dessert goes like this: Wong Wing-chee, the then-head chef of Lei Garden, a famous restaurant chain, invented it in the 1980s for the launch of the Singapore branch.
It's traditionally made with condensed milk (I left it out), sago, and coconut milk, creating a creamy, almost addictively textured tapioca pudding that's bursting with unadulterated, intense mango flavor.
This eggless recipe is my take on it. Not authentic by any means, but just as bright, light, and quick as you would want from a summer or weeknight dessert.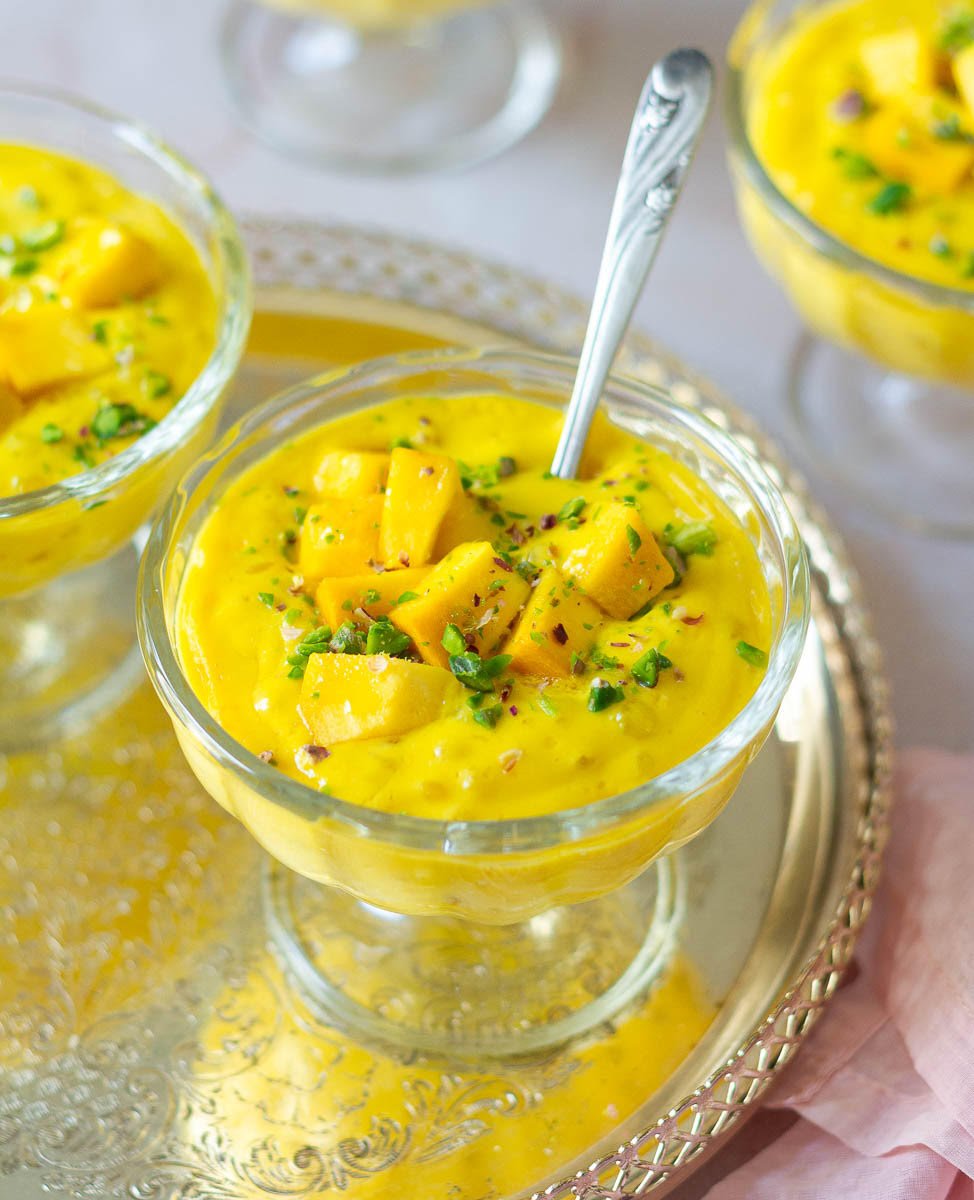 Jump To:
WHY TRY THIS MANGO SAGO DESSERT?
Can be easily made ahead of time.
Guaranteed success on guests going crazy for it.
A swift dessert with sago to complete a meal or simply satisfy sugar cravings.
Incredibly smooth and creamy, with delightfully squishy tapioca pearls gleaming in tropical flavors.
HOW TO MAKE TAPIOCA MANGO PUDDING?
Step 1: Wash and soak your sago.
Step 2: While the sago is soaking, quickly blend coconut milk, mango, and sugar into a thick, smooth mixture.
Step 3: Taste and adjust for sweetness and consistency. If the mango purée is too thick, splash more milk into it. If it's too thin, add more mangoes.
Step 4: Refrigerate the mango mixture.
Step 5: Take your soaked sago and add it to a boiling pot of water. Cook till the pearls turn translucent and tender.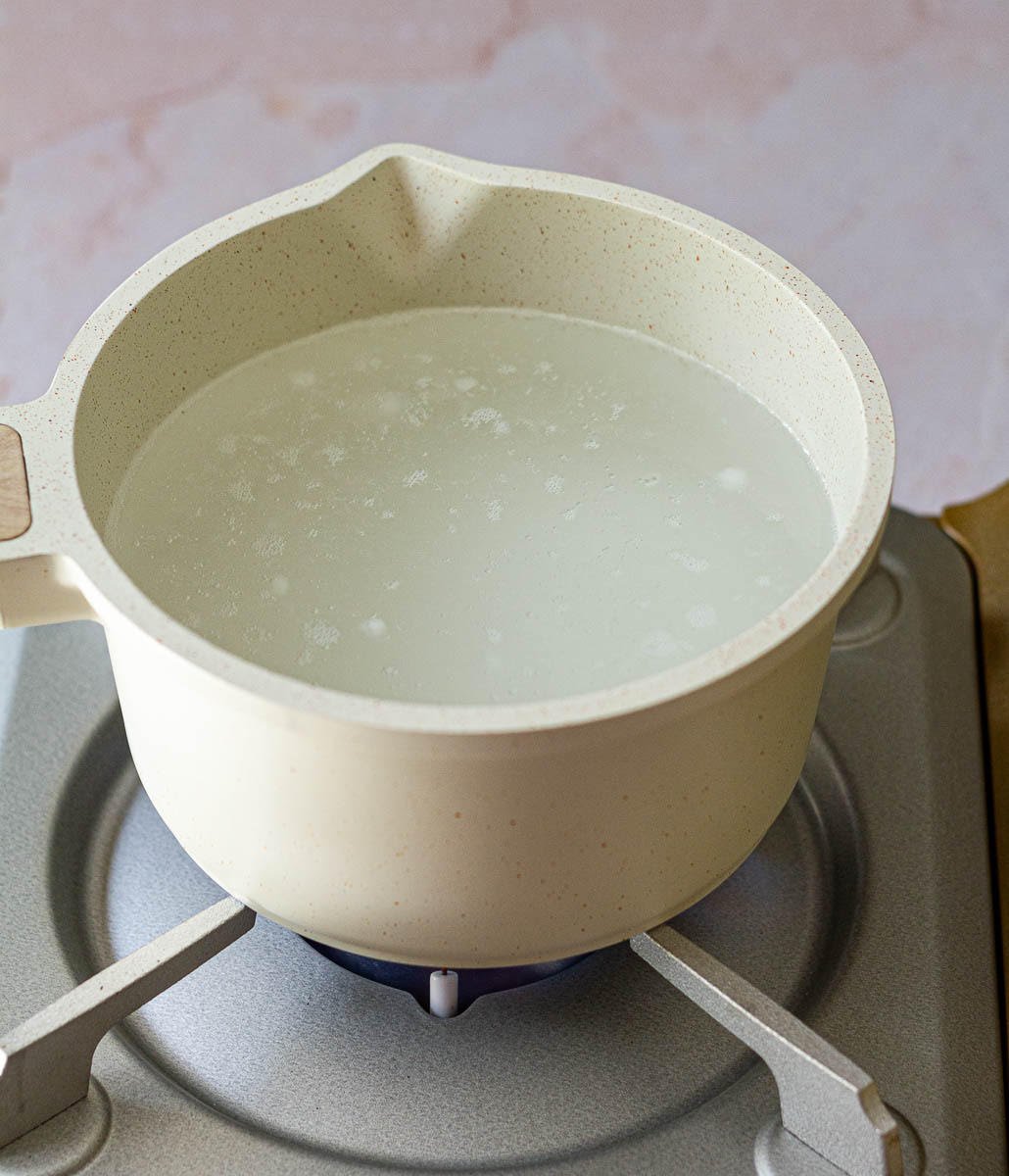 Step 6: Drain and run the cooked sago underwater, and then transfer it into a bowl of cold water. Keep aside until ready to use. Drain again before use.
Step 7: Combine the mango mixture and the cooked, cooled, and drained sago.
Step 8: Divide into serving bowls and top with chopped mangoes and a sprinkling of pistachios.
Final step: Dig in (or slide it in the fridge until you're ready to serve).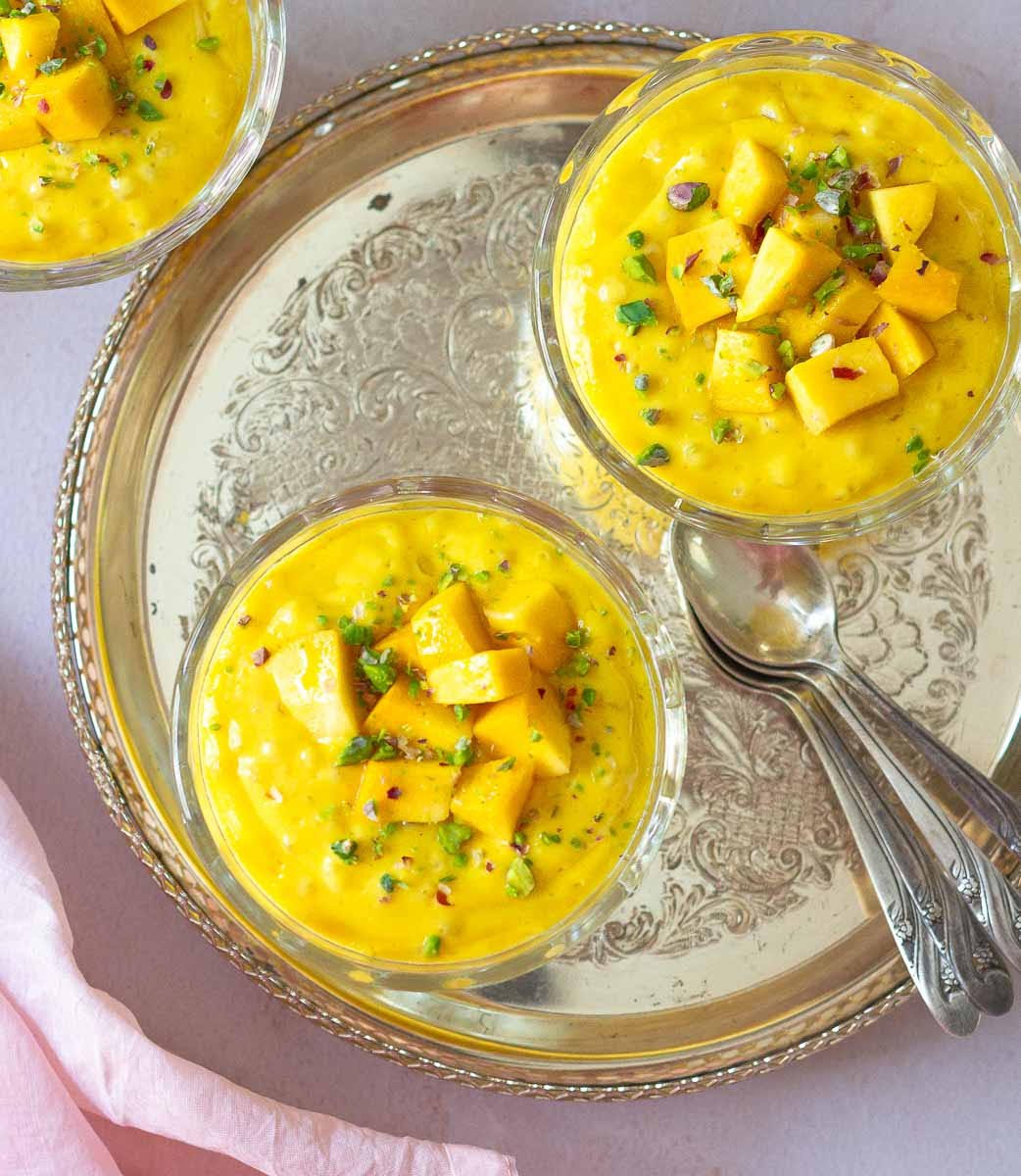 QUICK SAGO DESSERT RECIPE TIPS
Unsoaked sago is finicky, so soak the pearls for at least half an hour to ensure they cook evenly and much faster.
One thing to remember when cooking with sago is not to be in a rush. If you want a light and creamy pudding, go slow. How do you know when the pearls are cooked? When they are clear with no white flecks left.
I didn't soak my sago, so it took about 20 to 25 minutes for the pearls to cook through. Around the 15-minute mark, I got a little worried that the pearls would disintegrate instead of cooking through. They didn't, so let me reassure you. If you see little white centers, just keep going. They will cook without falling apart. My advice? Soak them. It'll be quicker.
Do remember to stir the pot. And no, you don't have to stand on the stovetop. Just come back every 6 to 7 minutes to give it a stir so nothing sticks to the bottom.
A tip I learned to make chewy instead of sticky sago is to submerge them in a bowl of cold water after cooking. It gets rid of the external starch.
Recipes for sago pudding - mango or otherwise - keep well for 3 to 4 days refrigerated.
MANGO TAPIOCA PUDDING SUBSTITUTIONS
There's not much room for experimentation in this mango sago pudding recipe. But then, let me tell you, it doesn't need any tweaks. You simply cannot go wrong with the sago-coconut milk combo!
Milk: You can easily replace coconut milk with regular milk in this pudding recipe, as long as you're not hankering for a coconut mango dessert (like I was) or a vegan mango dessert. Keep in mind that you'll have to adjust the consistency because regular milk is thinner. I'd say skip skim milk and choose whole milk.
Sweetener: Honey is an excellent sugar substitute.
Add-ins: Vanilla extract would oomph up this eggless mango dessert to wow levels. Just be gentle with it. Half a teaspoon is enough. You want to accent the tropical flavors, not disguise them.
A pinch of freshly ground cardamom powder would Indianize this Vietnamese mango dessert.
Some crushed saffron would be fantastic with it.
Toppings: Pistachios were my choice. They almost invariably are. But some toasted almonds on top would be equally brilliant. And if you can catch hold of coconut flakes, then those would be amazing in this mango sago pudding!
MORE MANGO PUDDING RECIPES
Beetroot Mango Chia Pudding Parfait
Half the joy of cooking is sharing it with others, which is why I'm always eager to hear from you. So go right ahead and drop a comment or reach out on Instagram, Pinterest, YouTube, or Facebook. I hope you love the mango sago dessert as much as we do!
📖 Recipe
Print Recipe
Mango Sago Dessert: Tapioca Pudding
Mango sago pudding is a 4-ingredient, simple vegan no-bake dessert. Think of bubbles of squishy happiness folded into a coconutty, mango-ey pudding!
Ingredients
1/2

cup / 80 gms

Tapioca pearls/ Sabudana

1

cup /250 gms

Coconut milk

1.5 -2

cups / 280 gms

Mango cubes

2

tbsp

Sugar
Garnish
Mango chunks and Pistachio

Optional
Instructions
Wash the tapioca pearls/ sago well.

In a medium-sized saucepan, bring water to a boil. Add the washed tapioca. Stir, and cook for 20-25 minutes, or until the tapioca is completely translucent.

Drain the cooked tapioca, and rinse in cold water. Transfer it to a bowl of cool water and set aside.

While the tapioca is cooking, blend together the mango, coconut milk, and sugar, until smooth. Taste and adjust for sweetness.

Add more coconut milk if you like a thinner consistency. Add more mango is you like an even thicker consistency. Or reduce the quantity of coconut milk by 1/4.

Transfer the chilled mango mixture to a mixing bowl. Drain the cooked and cooled tapioca and add to the bowl. Mix well.

Spoon into your serving bowls, garnish with mango chunks and some finely chopped pistachio ( completely optional).
Notes
If you soak the washed tapioca for 30 -60 minutes, it will cook faster.