Easy, super-refreshing, and astonishingly beautiful, a mango matcha latte is what you want, no need, if you've been looking for matcha drink ideas or unique healthy drinks for summer. It's balanced, flavorful, and, best of all, cooling.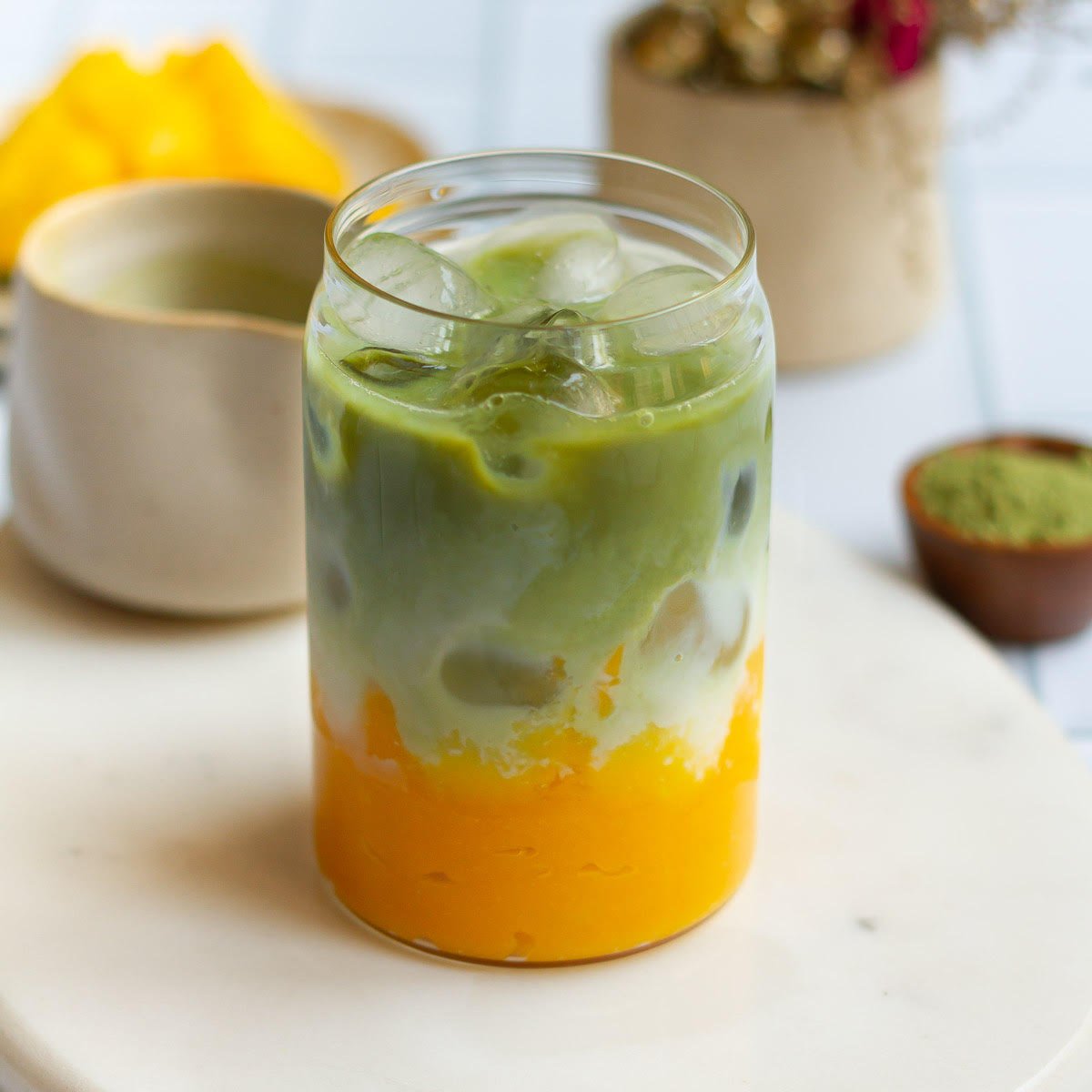 Who knew the answer to how to make a matcha latte would be this easy? Hot water, matcha powder, milk, a whisk, and voila. A mind-blowing replacement for 11 o'clock joe or evening tea is ready. And that's coming from me - a diehard fan of chai.
I've had the matcha mango latte in place for my evening tea 3 days in a row, and I will say this: whoever decided to combine the king of fruits with matcha did us a huge favor. I am obsessed!
The grassy taste of the green tea latte complements the sweet, tropical flavor of mango perfectly. Fruity, creamy, and smooth, it's a great option for those who want a unique and flavorful twist on a classic matcha latte or need better recipes for mango drinks.
Jump to: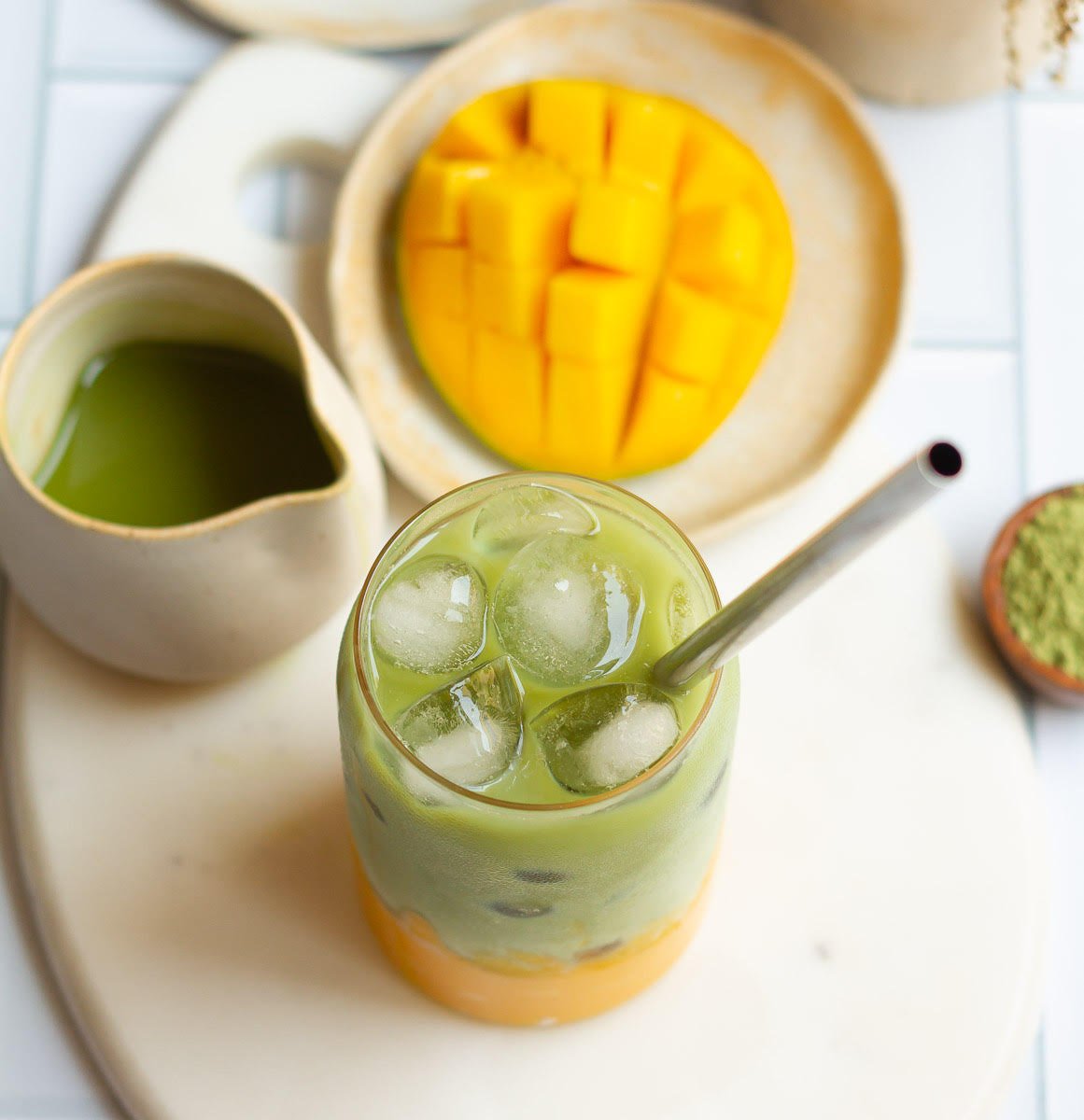 WHY SHOULD YOU TRY THIS ICED MANGO MATCHA LATTE?
A dreamy and fun drink for summer that's just too pretty not to share!
It takes 15 minutes from start to finish to make this mango summer drink.
Totally customizable: you can play around with the quantity of sweetener, milk, and matcha to make it perfect to your taste.
WHAT IS MATCHA LATTE?
Matcha is finely ground powder made from shade-grown green tea leaves, which are carefully harvested and processed to maintain their bright green color and delicate flavor.
The powder packs a punch of L-theanine, the amino acid that helps keep your mind stimulated and calm. Basically, any matcha drink gives you the same shot of caffeine as coffee (or twice as much as tea), but without the jitters. It's also full of antioxidants, naturally cleansing and detoxifying your body.
A matcha latte is a drink made by whisking the powder with hot water to create a frothy, concentrated tea base. This is then combined with milk and sweetener to create a creamy, slightly sweet beverage.
The result? Delicious and visually striking. While many people prefer to serve matcha latte hot, I veer toward matcha cold drinks, especially in summer. So, this matcha latte recipe is iced!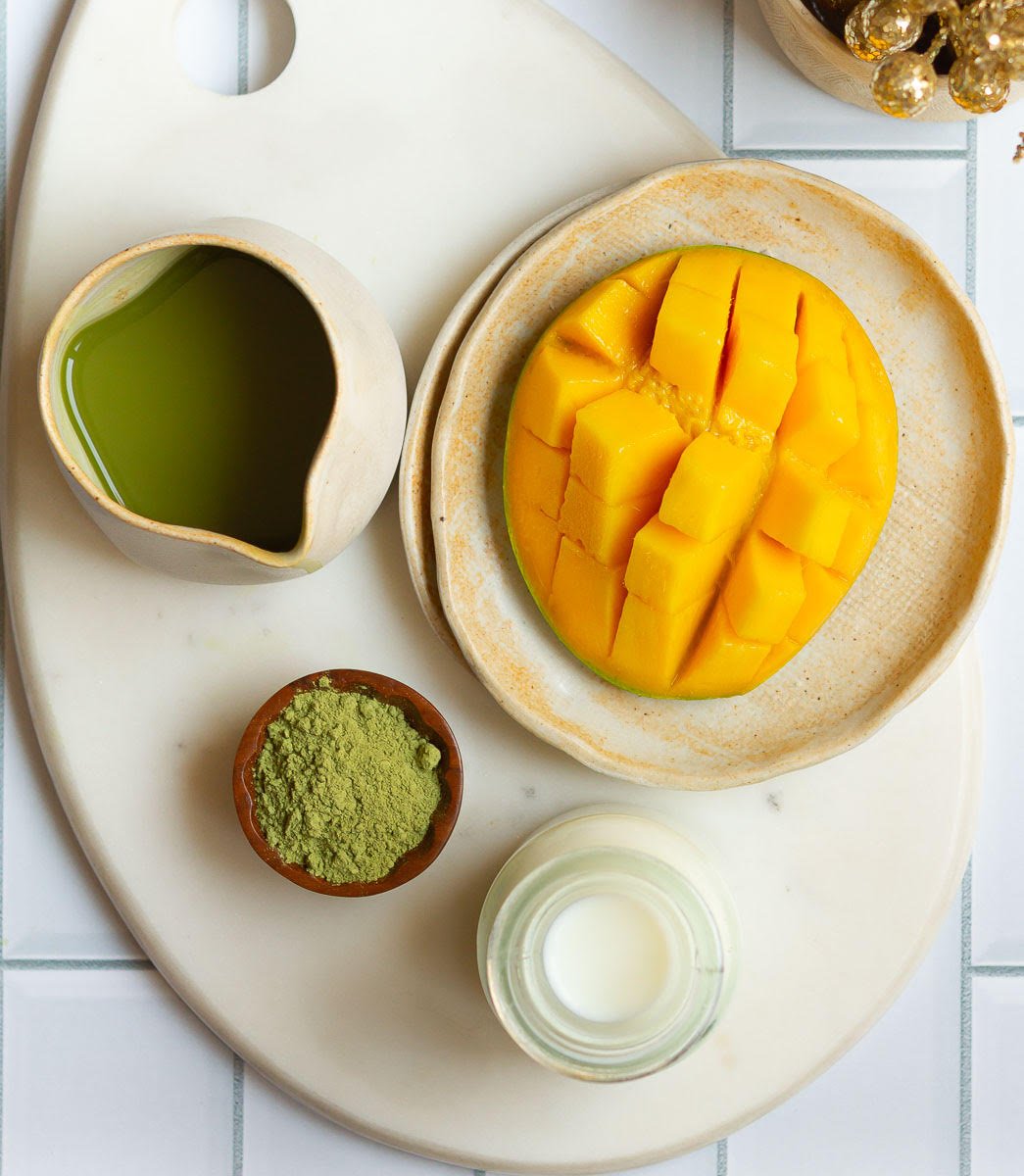 HOW TO MAKE A MANGO MATCHA LATTE?
Step 1: Purée your mangoes and keep them aside.
Step 2: In a spot of hot water, whisk in matcha powder till you have a thick, lump-free paste. I don't have the bamboo whisk that's used for matcha, but my regular whisk accomplished the task easily. Add the rest of the water.
Step 3: Measure and keep the milk and sweetener ready.
Step 4: Now assemble the iced matcha latte by spooning the purée into a glass.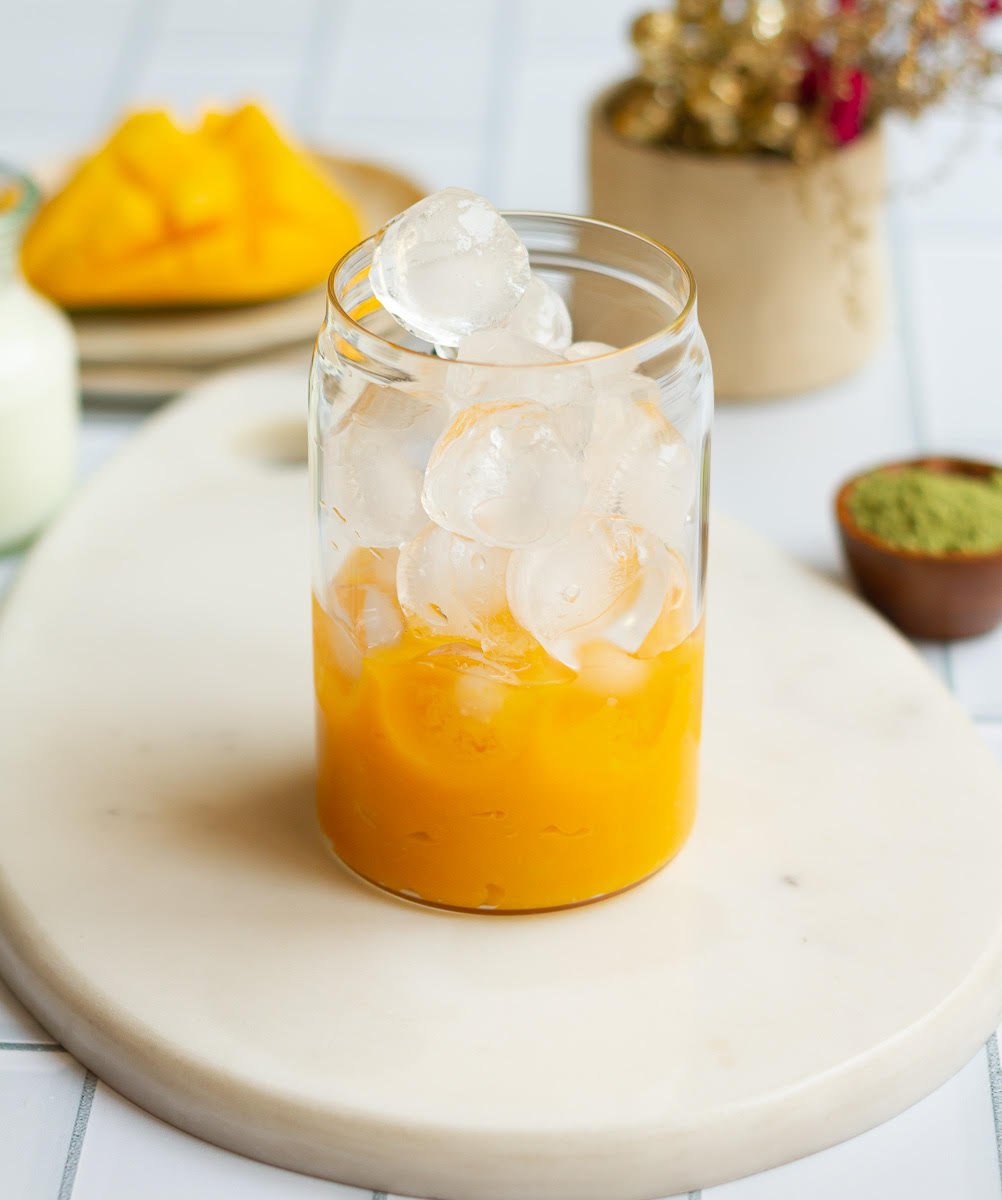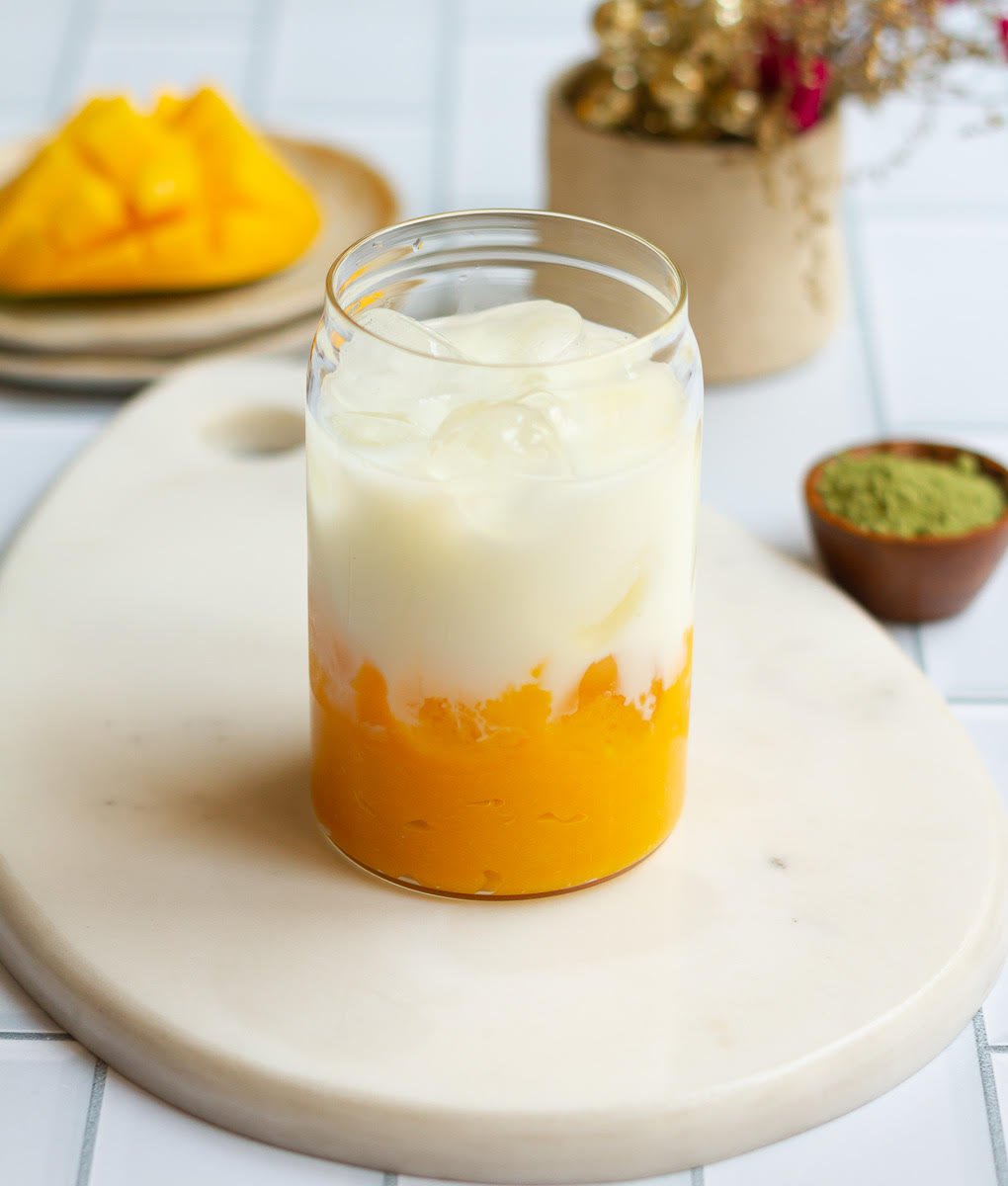 Step 5: Top it with ice, and then carefully pour in the milk and sweetener. Finally, add the matcha.
Final step: Enjoy the mango matcha latte!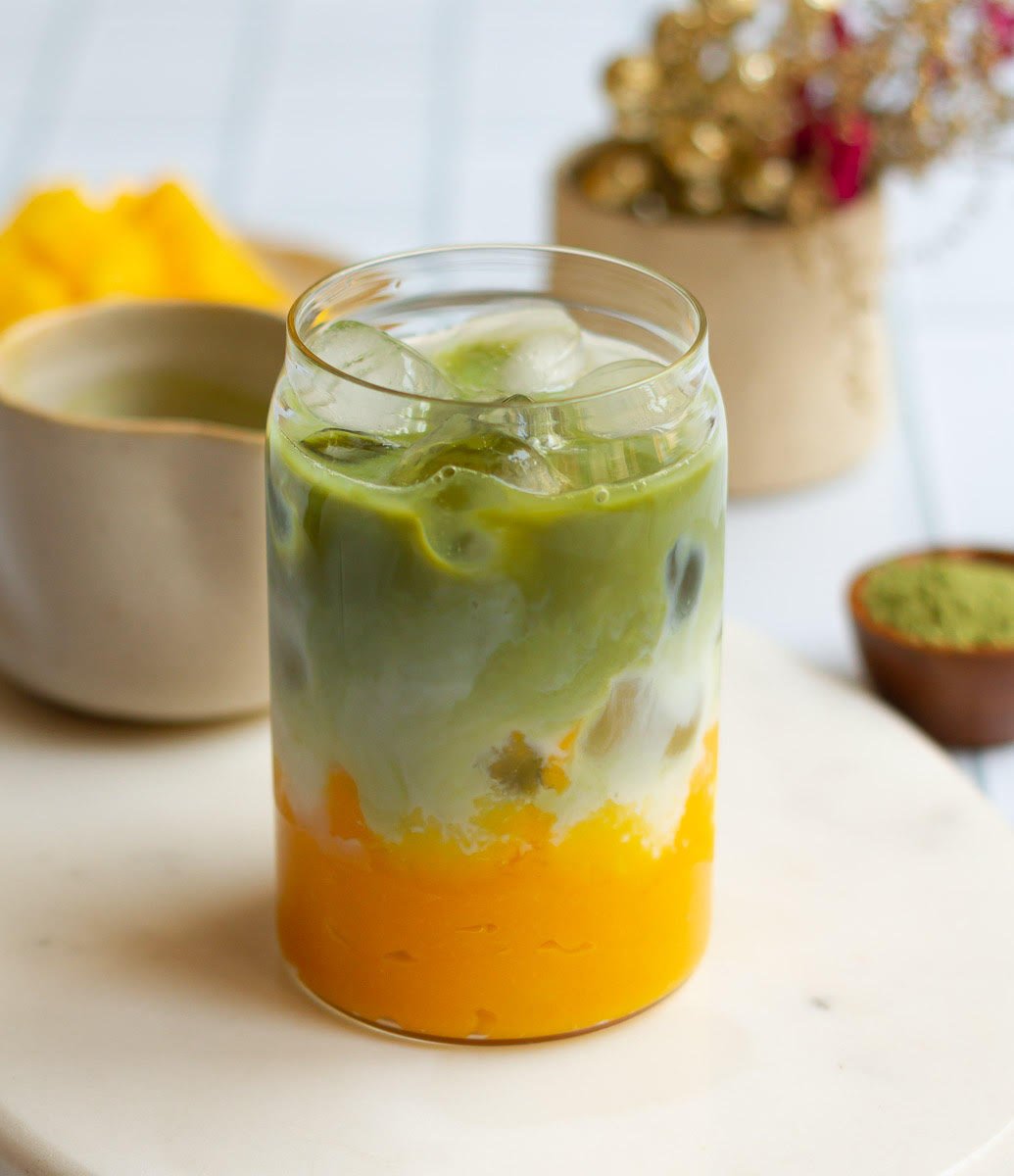 MY NOTES ON HOMEMADE MATCHA LATTE
Matcha: There are two types of matcha available in the market: ceremonial and food-grade. The first one is of slightly higher quality, so its texture is finer and the flavor a bit sweeter because they don't use the stems and veins to make it. Food-grade quality has that quintessential earthy taste, feels a little coarser, and is definitely friendlier to the pocket.
I won't say that one is better than the other in this mango-iced drink; pick the type you like the most. Although, I will urge you to check the expiration date.
Whisking: Take your time whisking it. You don't want chunks in your mango matcha. A simple trick I use is to sift the powder first before adding hot water. FYI, hot water makes it easier.
Also, don't worry about the type of whisk you have: handheld, electric, or dedicated wooden. All of them do the job.
Layering: Ice plays a crucial role in creating those stunning canary, ivory, and sage. So really, fill up the glass. Plus, it also sorts of ties the flavors of the cold matcha latte together.
When you're pouring milk or matcha, be gentle. Don't slosh, or you'll end up with swirls instead of layers, like me. Not that they are any less breathtaking or delicious, but, yes, the visual is different.
Purée: I know people who love thick and chunky, healthy mango drinks. I, on the other hand, lean towards smooth purées. Even when I made a mango matcha smoothie, I ended up blending the fruits to a silky texture.
But that's just me and my palate. You can keep this mango matcha latte as textured as you like.
Add-ins: Honestly, every recipe I have for matcha drinks to make at home is complete in itself. I've never felt the need to add anything more to them. But, as I always say, if you want to oomph it up, go ahead. Boba balls (tapioca pearls) would be a magnificent choice.
MATCHA MANGO INGREDIENTS
Milk: Use any milk, dairy or non-dairy, for this iced matcha recipe. If you want a creamier mouthfeel, look for full-fat options. If you want a vegan mango latte, use almond milk, cashew milk, or oat milk.
Sweetener: honey, maple syrup, or agave syrup—all work wonderfully in this drink with mangoes. You can even use granulated sugar; just blend it into your mango purée.
How much sugar your matcha iced latte needs depends on the sweetness of your mangoes. Mine were so sweet and juicy that I didn't need to add anything.
And if, after the first sip, the iced matcha doesn't feel right, you can even top it up with syrup to adjust sweetness.
Fruit: Any fruit would be a fantastic substitute for mango in this recipe. Strawberries, raspberries, or even peaches will be sensational with matcha. So, pick a fruit of your choice.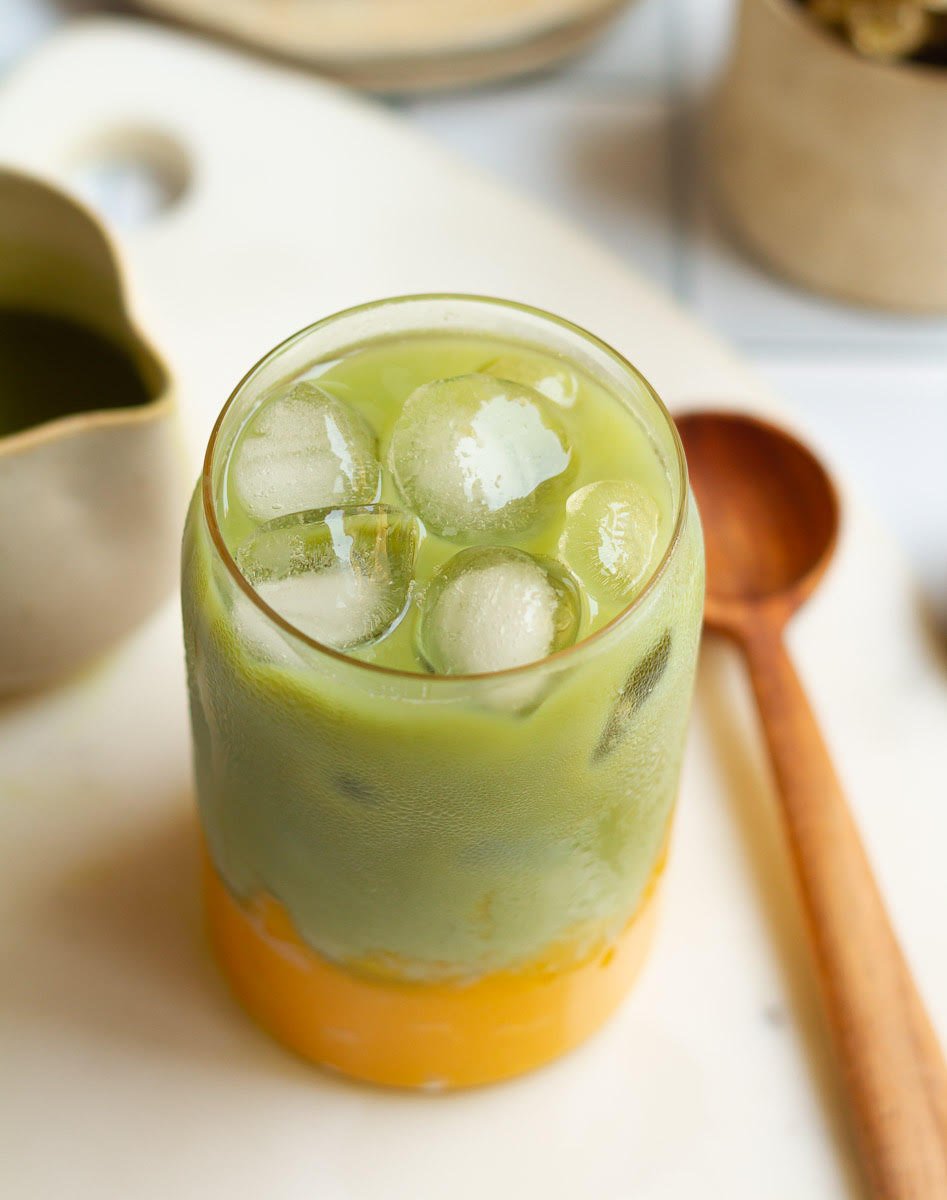 SUMMER MANGO DRINKS I LOVE
MORE COOLING DRINKS FOR SUMMER
Half the joy of cooking is sharing it with others, which is why I'm always eager to hear from you. So go right ahead and drop a comment or reach out on Instagram, Pinterest, YouTube, or Facebook. I hope you love this mango matcha latte as much as we do!
📖 Recipe
Print Recipe
The Perfect Mango Matcha Latte
Ingredients
1

Mango

2

tsp

Matcha powder

1

tbsp

Hot water

1/2

cup / 118 ml

Water

1

cup / 236 ml

Milk

1-2

tsp

Honey/maple syrup

Ice
Instructions
Puree the mango. Keep aside.

Whisk together the matcha powder and 1 tbsp hot water in a small bowl, until a smooth paste is formed. Add the rest of the water, mix well, and keep aside.

Spoon the mango puree into the glasses.

Pour over the milk and sweetener.

Add the matcha. Serve and enjoy!
Notes
You can also add sugar or any sweetener of your choice while pureeing the mango.