I give this four-ingredient homemade cream cheese recipe a big two thumbs up. The DIY cream cheese, rich, creamy, and with just a hint of tang, is totally fuss-free, cheaper to make at home, and fast becoming a pantry essential.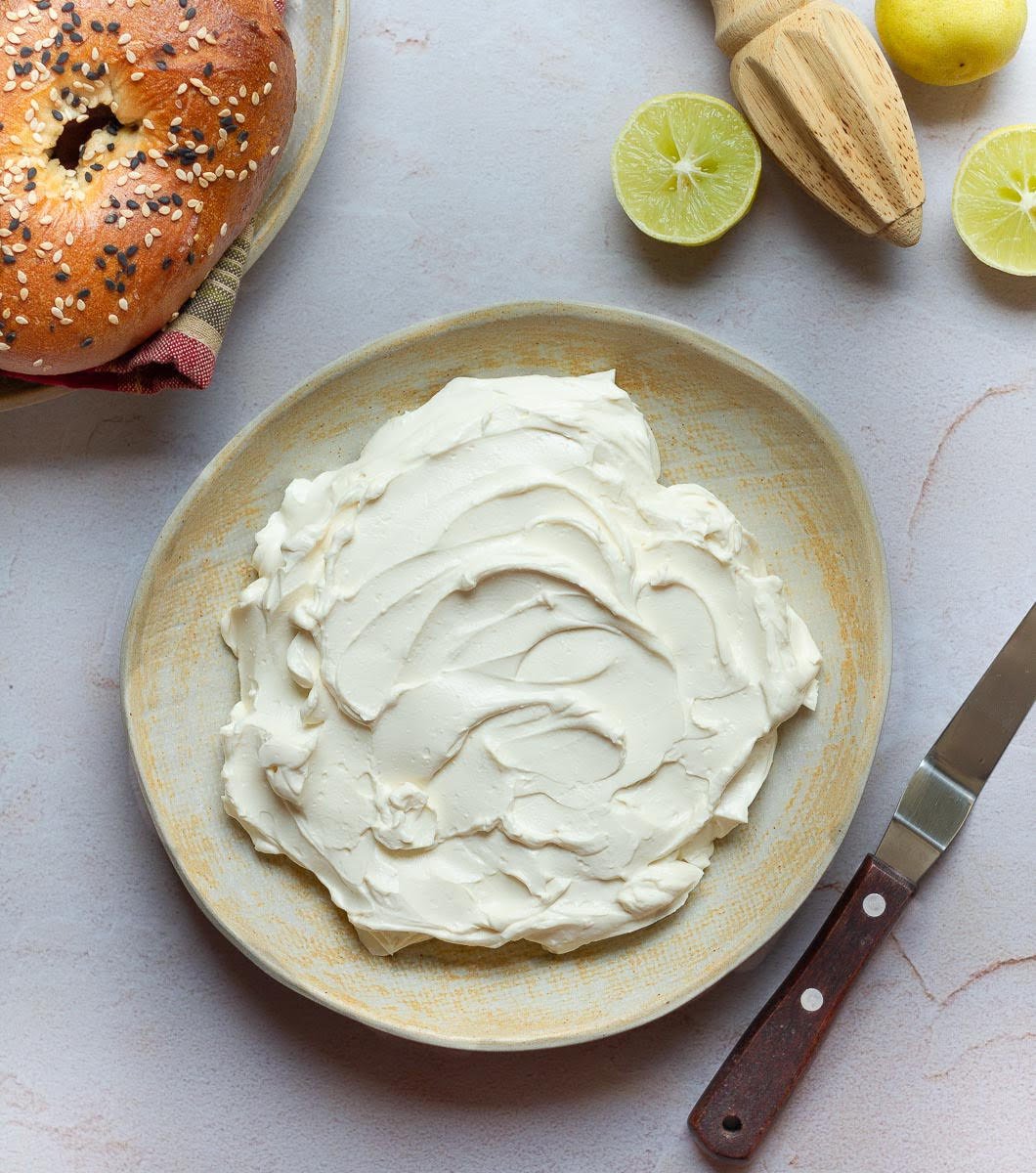 Growing up, we didn't have a domestic brand of cream cheese. Not only was it incredibly hard to get your hands on a tub of imported one, but it was also prohibitively expensive. This was the homemade cream cheese recipe we used. It's been a long time since I made cream cheese at home, and it was far easier than I remember.
Anyone planning a recipe that uses cream cheese and doesn't have access to a store-bought one (or prefers homemade ingredients)? This is the quickest way to make cream cheese from scratch.
Jump to:
WHY DO I REALLY LOVE THIS CREAM CHEESE RECIPE?
The recipe makes for a good quantity
A great way to add to the list of homemade ingredients
Gives you full control of the quality and quantity of ingredients
So much more creamy and fresher tasting than store-bought cream cheese
WHAT IS CREAM CHEESE?
When you make cheese from cream and milk, it's called "cream cheese." The soft, creamy, spreadable, and mildly tangy fresh cheese is wonderful in both sweet and savory dishes. Think cheesecakes, frostings, schmears on bagels, dips, and more.
INGREDIENTS IN CREAM CHEESE
Milk: I definitely recommend full-fat milk when you make cream cheese at home. Don't use low-fat as it doesn't curdle as well and won't give you that great luscious creamy texture.
Cream: I prefer to work with ingredients that are very, very readily available to all. That's why the cream I used was the regular Amul/Mother Dairy one with 25% fat. It worked gorgeously.
If whipping cream is more convenient for you, use that. Or skip the cream altogether and substitute it for full-fat milk and make the homemade cream cheese entirely with milk.
Salt: You'll only need it for seasoning. I suggest starting with a very small quantity and increasing the amount to match your preference when you're blending the mixture.
Lemon juice: Fresh lemon juice is what helps the cream and milk curdle. I've seen cream cheese recipes use regular white vinegar too. In fact, I've heard that it gives a thicker curds. I've yet to test the truth of it, but if you do, I'd love to know, so leave a comment!
HOW TO MAKE CREAM CHEESE?
Homemade cream cheese keeps it easy and simple. You can halve or double the recipe, in either case I would advise consuming it within a week. It tastes the best fresh. So plan recipes that require cream cheese, like a bagel or puff pastry or even a sandwich meal.
Step 1: In a thick bottom pan, heat full-fat milk and cream with a little bit of salt.
Step 2: Continuously stir the mixture, so it doesn't stick to the bottom, and when it comes to a gentle simmer (not a rolling boil), add lemon juice.
Step 3: Continue to cook and stir on low heat until the mixture completely curdles. Within 3 to 5 minutes, you'll notice the curds separating from the whey (that's the liquid with a greenish tinge).
Step 4: Keep a sieve lined with muslin or cheesecloth ready. Pour the mixture over it and let it drain for about 15 to 20 minutes. I let mine sit undisturbed for half an hour, just because I had the time.
Step 5: While the mixture is still warm, gently squeeze the curds to remove any excess liquid.
Step 6: Place the drained curds in your food processor, grinder, or mixer and pulse till you have rich, smooth, and creamy homemade cream cheese.
Final step: Adjust for taste by adding salt to the DIY cream cheese, and then eat fresh or store it.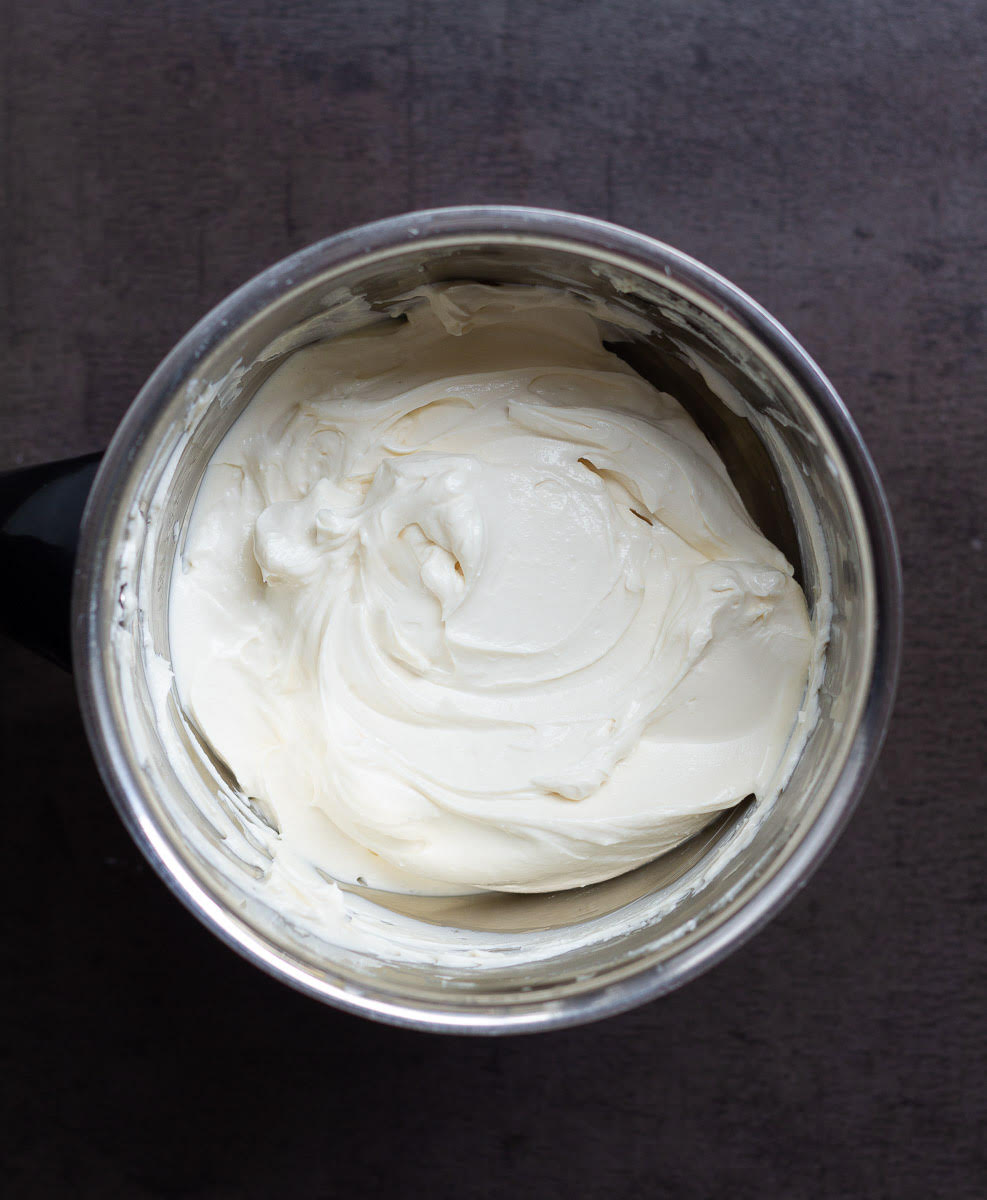 DIY CREAM CHEESE TIPS
Use a thick-bottom pan because it prevents the milk from getting burnt.
Stirring frequently also deters burning.
Don't bring the milk and cream to a proper boil because too much heat makes the cream cheese grainy and gritty. Why? Because the protein in the milk gets denatured (read: insoluble).
If the cream cheese has a granular feel even after blending, add salt and grind it some more till it is almost velvety.
Always store homemade cream cheese in an airtight container in the fridge, and it's good for up to 2 weeks.
USE CREAM CHEESE FOR BAKING
There are tons and tons of ways to use homemade cream cheese. The classic is obviously cheesecake (click that link for a roundup of the 15 best recipes). But there's more to this divine spread, and I think of it as a blank canvas that I can experiment with endlessly.
Make it into a dip
Use it for sandwiches
Add dried or fresh herbs for more flavor
Combine with crushed garlic, spices, or seasoning for a savory note
Mix with cinnamon, sugar, blueberry, or strawberry preserves for a sweeter taste
RECIPES WITH HOMEMADE CREAM CHEESE
Chocolate Cream Cheese Muffins
Cream Cheese Swirl Banana Bread
Chocolate Swirl Cheesecake Bars
Strawberry Cream Cheese Pound Cake
Mocha Cupcakes with Chocolate Cream Cheese Frosting
Pumpkin Chocolate Swirl Cake with Orange Cream Cheese Frosting
📖 Recipe
Print Recipe
Easiest Homemade Cream Cheese
The DIY cream cheese, rich, creamy, and with just a hint of tang, is totally fuss-free, cheaper to make at home, and fast becoming a pantry essential. 
Ingredients
2

cups ( 500 ml)

Milk, full fat

2

cups ( 500 ml)

Cream

1/2

tsp

Salt

2-3

tbsp

Lemon juice

You can also use white vinegar
Instructions
Combine the milk, cream, and salt in a heavy-bottom saucepan.

Bring the mixture up to a gentle boil on medium heat, stirring continuously.

Add the lemon juice, and keep stirring.

Cook this mixture until it curdles and you get a greenish whey. This will take 3-4 minutes.

Remove from heat and pour the mixture into a sieve lined with cheesecloth. Make sure the sieve is placed on top of a bowl to catch the whey.

Save the whey for later use.

Let the mixture drain well for 20-30 minutes.

Transfer to a food processor and blitz until you get a smooth, creamy cheese.

Taste and adjust for salt.

You can add any herbs/ garlic/ spices if you want at this point.

Transfer into an air-tight container and refrigerate. This will keep well for a week. Enjoy!