Good food. That's what I needed. Because there is nothing more satisfying than freshly-baked yeasty goodness, I knew it had to be a variety of bread.
Since I have quite a few bread recipes, I wanted to try something new. Then I stumbled upon a mouthwatering bagel photo with a shiny crispy crust. And you know what happens next, right?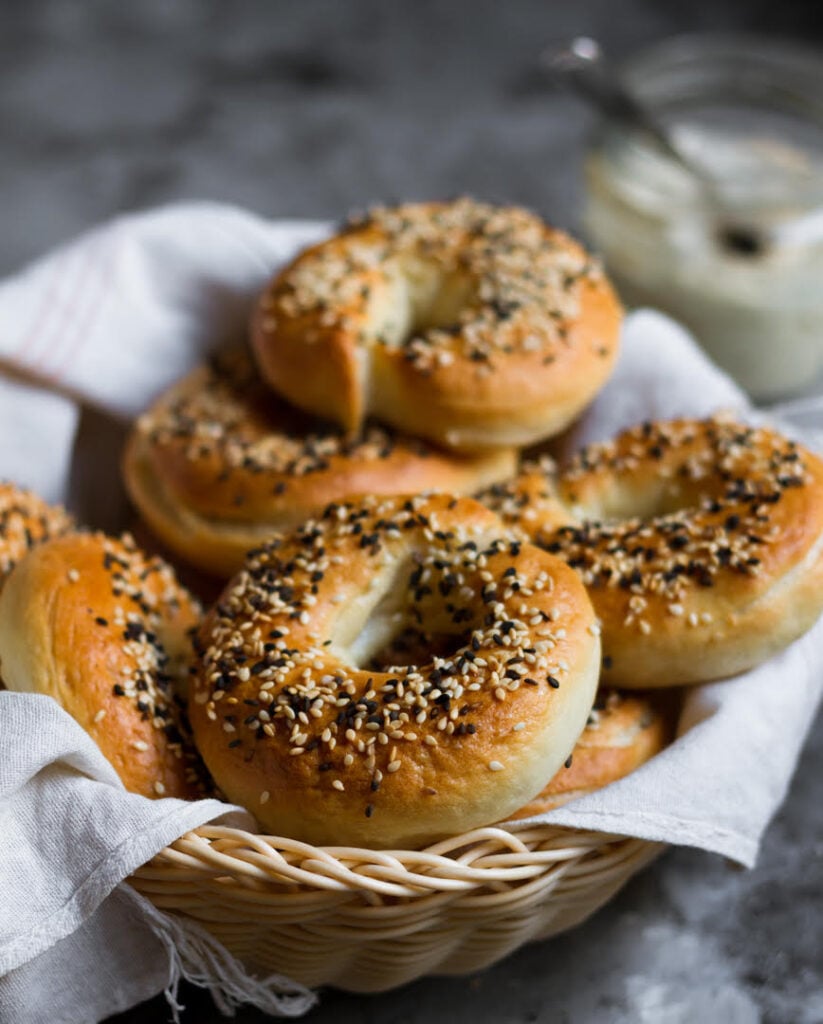 Once you see a food photo, the craving doesn't abate until you've had your fill. That's how I ended up baking a batch of soft, chewy homemade bagels that snapped with every bite!
How to Make Homemade Bagels?
Making bagels at home is not hard. It requires only the most basic ingredients, which you'll have at home. What it does take is time – about 3 hours. But that too is not a hardship because you're just waiting for half of it.
Start by kneading the dough using flour, yeast, salt, and sugar. Bagels are typically made with bread flour. We don't get the exact match here. But in my previous life as a baker, I've made them with 100% whole wheat and 50% all-purpose flour + 50% whole wheat flour. Pick what suits you best.
You can knead by hand or a stand mixer. A mixer will get the job done in 8 or so minutes. Kneading by hand will take more elbow grease and a good 10 to 12 minutes.
Quick note:
Make sure the water is lukewarm. That's what gets the yeast active. Add the water in small increments because you don't want a soft dough like for other breads. This dough needs to be stiff, satiny, and firm.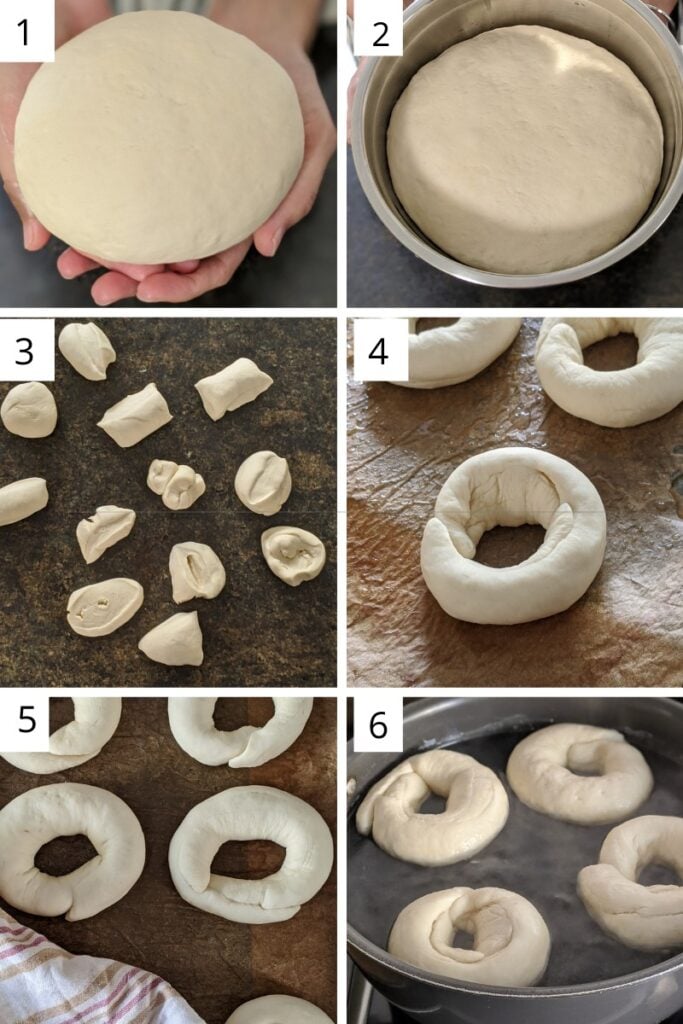 Proofing the dough
Place the dough in a greased container, and cover it with a plastic wrap or damp towel. Let it rest till it doubles in bulk. 60 to 90 minutes later, you can take the dough out, deflate it gently and divide in equal balls. I got 12 pieces.
Place the balls on a greased baking tray. If you decide to line the tray with parchment paper, lightly grease it too. Always keep the tray covered, so the dough balls don't dry out.
Shaping the bagel dough
Working with one ball at a time, roll it into a rope. Think 7 to 8 inches. Make a ring from the rope and pinch the ends together. There are two more methods to shape the dough.
You can loop the long rope around your fingers and then seal the ends. If you don't want to roll the dough into ropes, create a tight ball. Then with your finger, poke a hole in the center. Stretch the gap a tiny bit, and voila, you have a bagel.
Set all the rings on the tray, cover it, and let it rest again. When the rings look puffy, they're ready for poaching. Since it is warm here, mine took about 20 minutes.
Boiling the bagel rings
Just like you give pretzels rolls a water bath, you poach bagels. Why?
It stops the dough from rising further and gives you that gorgeous tight crumb instead of misshapen lumps.
It imparts the incredibly distinct chewy texture.
It caramelizes the exterior and forms that shiny, crusty coat.
For the bath, in a wide pot, boil water with some sugar. Fitting as many rings as the pot can take comfortably, drop them in. Boil each side for a minute.
If you prefer chewier bagels, increase it to 2 minutes but no more than that. Take them out, drain and then transfer to the baking tray.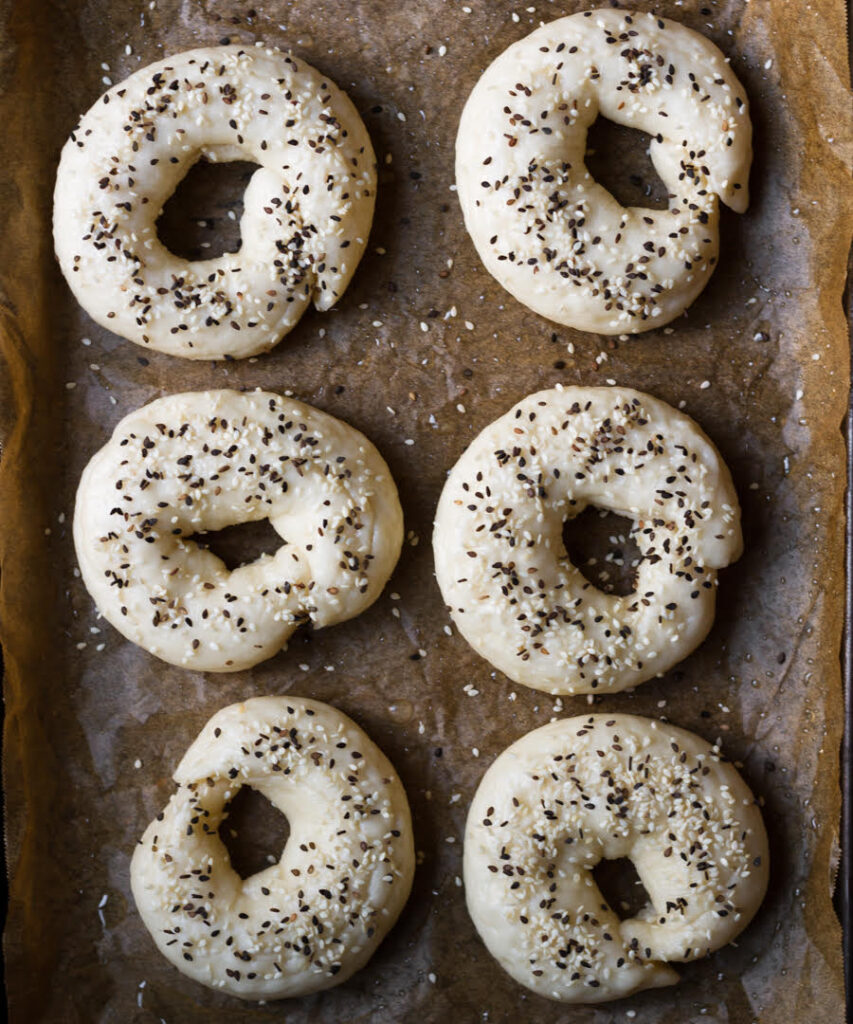 Quick note:
Always test a bagel before boiling them all, else you'll end up with heavy, dense lumps of dough.
When you dip one in water, it should fall and then float to the surface. If your bagel sinks, it needs more air. Let the rings rest for some more time and then boil. 
Baking the homemade bagels
While you give the bagels a water bath, make sure you preheat the oven. So, once that's done, you just have to slide the tray in.
At this point, you can add toppings. Sesame seeds, poppy seeds, and sea salt all are great choices. Or you can go plain.
To give the bagels an utterly professional look, you can even brush the tops with egg wash (egg white beaten with water). Then shake the topping of your choice.
In my haste to have a bagel now, I couldn't be bothered with this step, and frankly, they were still worthy of a poem. 
Serving the Homemade Bagels
The freshly-baked, caramel-hued bagels are downright delicious as-is. The chewy interior that pulls just a little bit with every bite and the perfectly crispy exterior is all you need to satisfy a craving. 
But you can always enjoy them the classic way – split in half and smeared with cream cheese or cashew ricotta, which I almost always have on hand. You can also make a sandwich out of them or relish them as breakfast with an egg on top.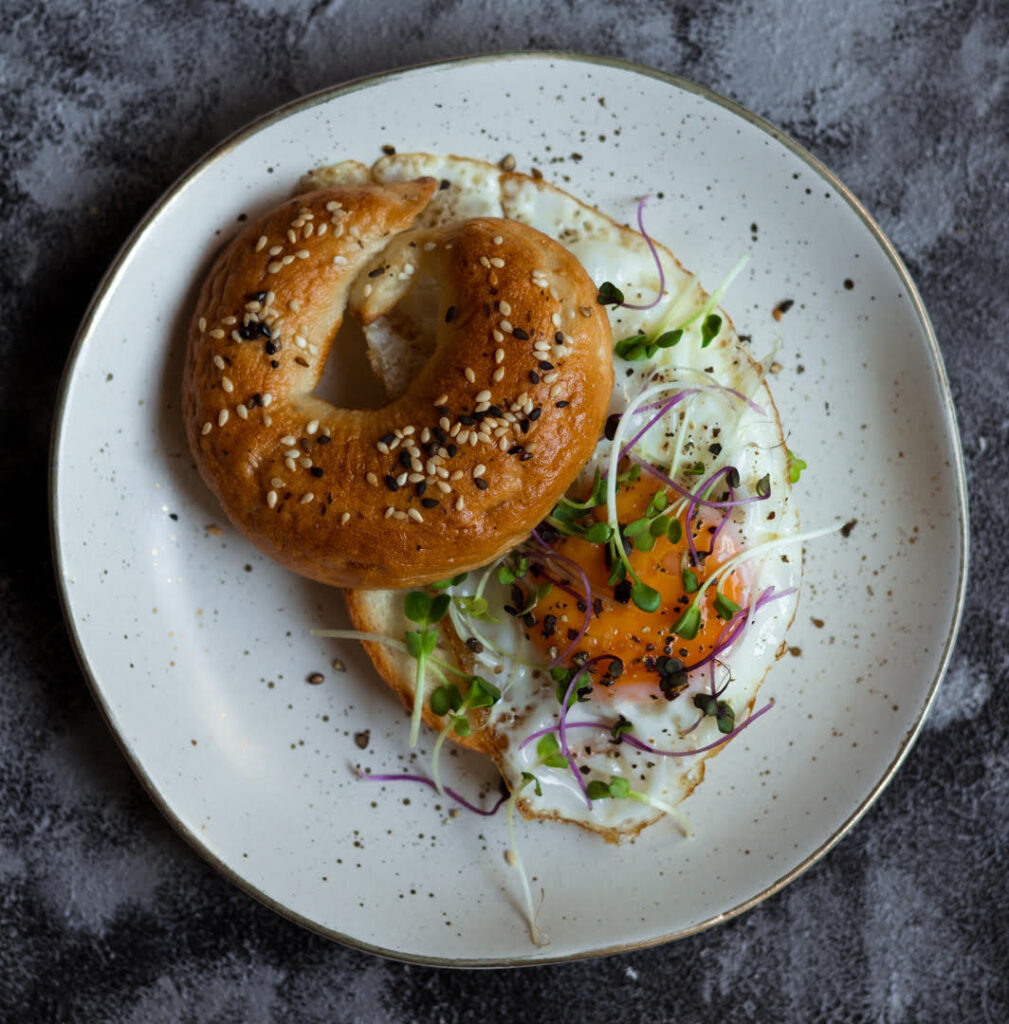 This homemade bagels recipe will give you super soft, light yet hearty versions. Even though the kids binged on far more than their fair share, they didn't sit heavy on the stomach one bit!
I'd love to hear from you! Please tag me on Instagram @tashasartisanfoods, using the hashtag #tashasartisanfoods. You can also FOLLOW ME on INSTAGRAM, PINTEREST for more fabulous recipes! Do subscribe to Tasha's Artisan Foods so you'll never miss a recipe!
📖 Recipe
Print Recipe
Homemade Bagels Recipe
This homemade bagels recipe will give you lovely chewy bagels with a perfectly crispy exterior, to satisfy all your carb cravings.
Ingredients
4

cups ( 500 gms)

All-purpose flour

2

tsp

Dried active yeast

2

tsp

Sugar

1.5

tsp

Salt

11/3

cups ( 310 ml)

Lukewarm water

You may need extra water.
Water Bath
4-5

cups

Water

1

tbsp

Sugar
Instructions
Combine the flour, yeast, sugar and salt in a large bowl.

Add the water and stir it all together until a scraggy dough is formed.

Turn out on a lightly floured surface and knead for 10-12 minutes until you get a smooth and firm dough. You may need to add some extra water if your dough is not moist enough.

If you are using a stand mixer, this process will take about 8 minutes. Knead for 2-3 minutes by hand, once you've taken it out of the mixer.

Place the dough ina lightly greased bowl, cover with a damp kitchen towel or plastic wrap. Place in a draft-free place for 60-90 minute or until the dough doubles in size.

Lightly grease your baking tray or line it with parchment paper and lightly grease the paper. You may need 2 trays.

Once the dough has doubled in size, gently deflate it and divide into 12 equal-sized portions. Keep the dough balls covered with a damp kitchen towel.

Working with one portion at a time, roll the dough ball into a rope, about 7"-8". Pinch the two ends together very well.

Place the shaped bagels onto the prepared tray. Cover with plastic wrap or a damp kitchen towel. Let it rest for 20-30 minutes or until the bagels are puffy.
Water Bath
While the shaped bagels are resting, bring water with 1 tablespoon of sugar to a boil in a large wide pot.

Also preheat your oven to 220C.

Once the water comes to a boil, carefully drop the bagels, 3-4 at a time, in the pot.

Cook for 1 minute on each side. Take out with a slotted spoon and place back in the prepared tray. Repeat with all other bagels.

Top the poached bagels with sesame seeds or any other topping of your choice.

Bake for 20-25 minutes or until golden brown.

Let cool on a wire rack for a few minutes. Slice them horizontally, slather with cream cheese and enjoy!