The crumbly layers of cinnamon bread pudding infused with creamy custard and crusted with cinnamon sugar disappeared far too quickly for my satisfaction. And as I sit here writing this, I'm desperately trying to make the last remnants of it stretch and womanfully resist licking clean the drizzling of rum-tinged caramel.
Jump to
How to make cinnamon bread pudding?
It is just bread bathed in a mixture of milk, eggs, sugar, and a whole lot of cinnamon. But it bakes into something so sublime that every time I'm surprised anew, which should tempt you enough to give the bread pudding a try.
Step 1: Start with stale, dry bread and cut into cubes (or tear into small pieces). You can cut off the crusts or leave them be.
Step 2: Toss the pieces with raisins and pecans, then set aside.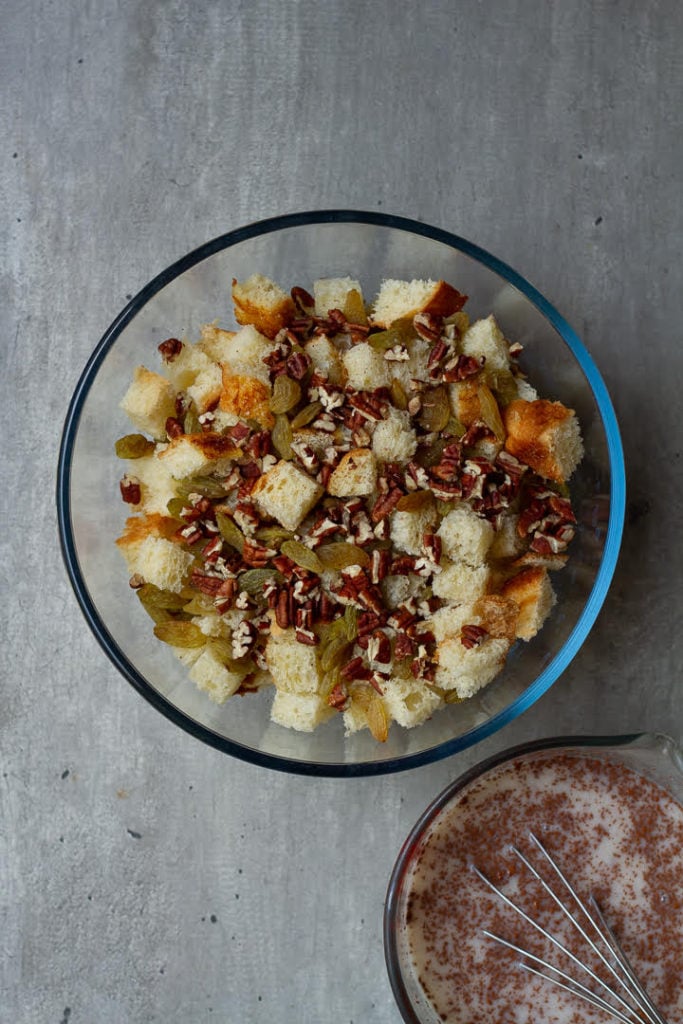 Step 3: In another bowl, whisk coconut milk, eggs, vanilla extract, and sugar. Add a hefty spoonful of cinnamon to the custard.
Step 4: Pour the mixture on your bread cubes, and pack it down gently so the bread soaks in the custard.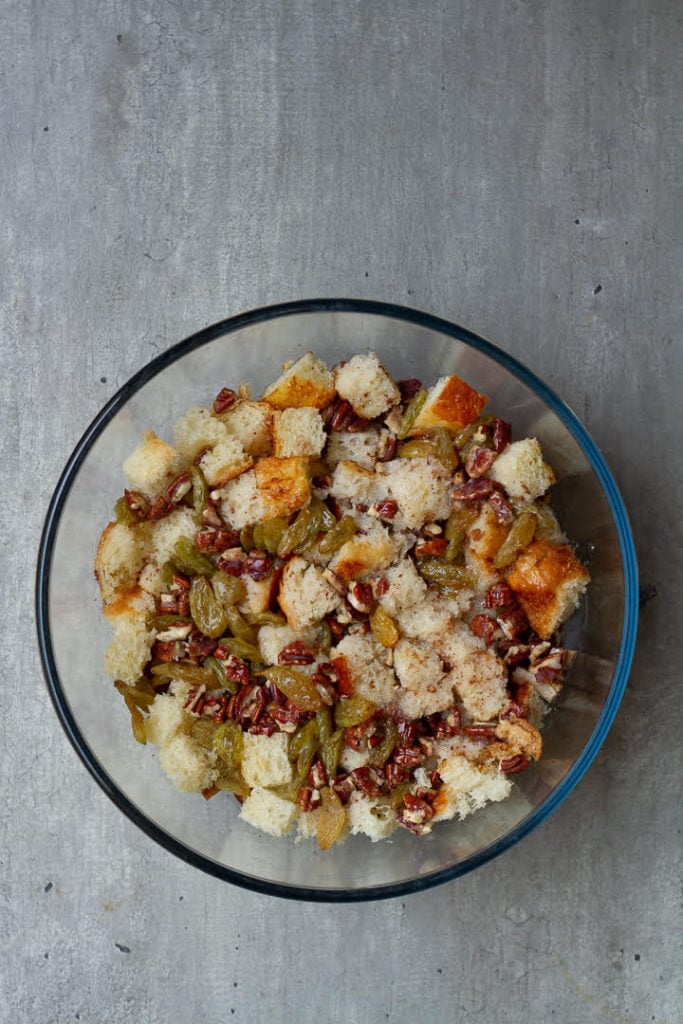 Step 5: Set your oven to preheat and let the mixture sit for 10 to 15 minutes. You may need more time in case your bread is quite stale.
Step 6: Transfer to an 8 or 9-inch baking pan. I chose to split it into 2 pans, and press it down once again.
Optional step: Right before I set the bread pudding to bake, I drizzled melted butter on top with a sprinkling of cinnamon sugar. If you don't have cinnamon sugar, brown sugar works really well. Use just a teaspoon or two of it. Or feel free to skip over this step.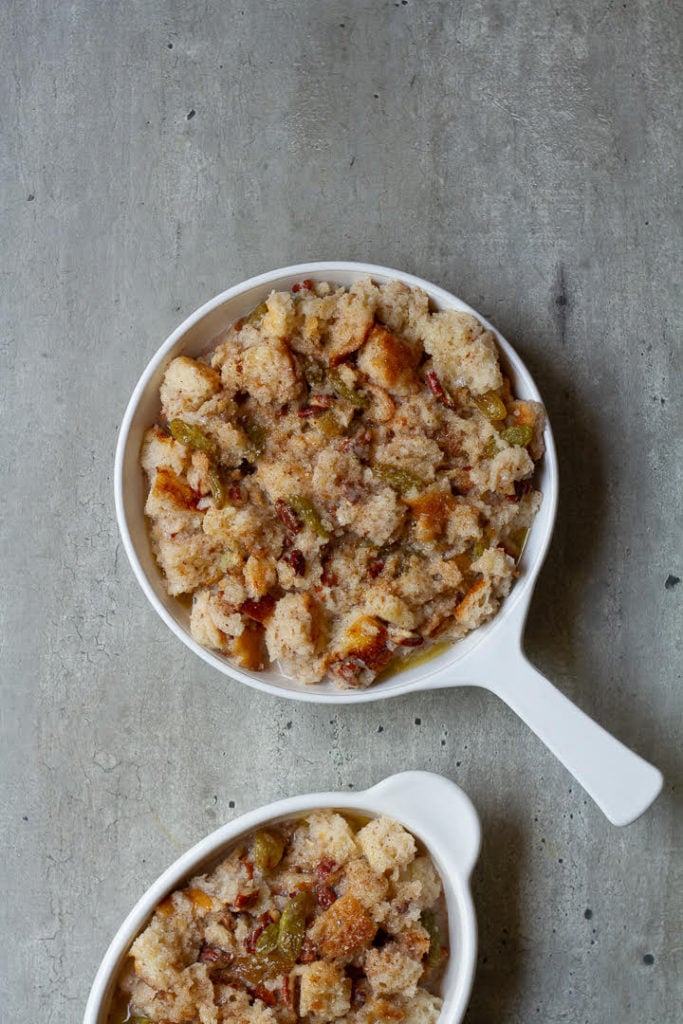 Final step: bake for 40 odd minutes till the custard has completely set along the sides and the top is crisp and golden. Just so you know, melted butter does wonders to give the cinnamon bread pudding a richer hue.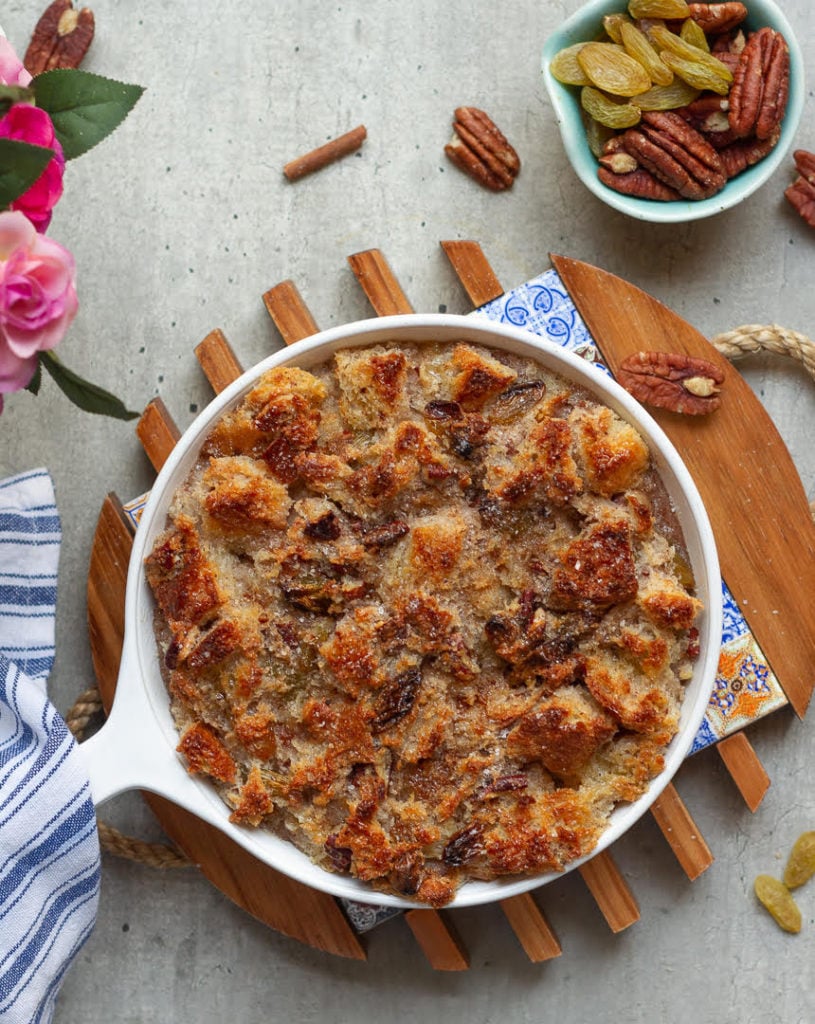 Cinnamon bread pudding with caramel sauce
Bread pudding can be as simple or as extravagant as you want, depending on your inspiration. This time I was definitely in a rapturous mood, so I made Vegan Caramel Sauce with a good splash of rum.
Right before serving the cinnamon bread pudding, I dressed it with buttery, rich rum sauce. You can:
Replace rum with bourbon or brandy
Leave the alcohol out
Skip the caramel sauce altogether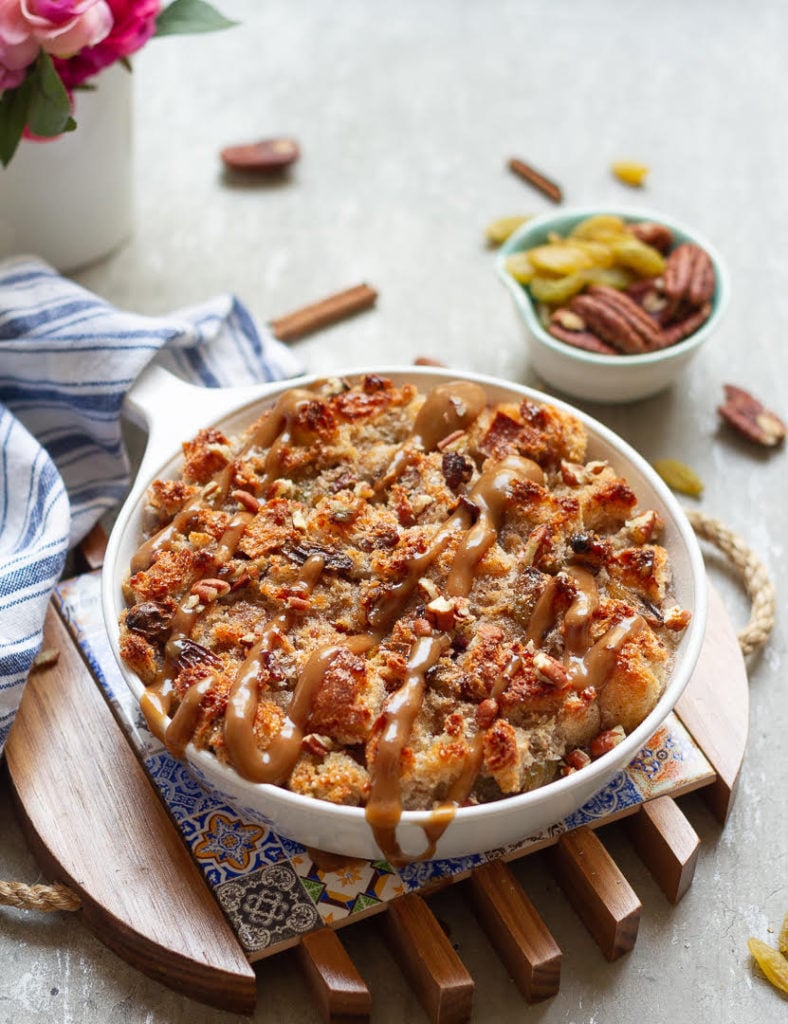 Cinnamon bread pudding questions
Which bread to use for cinnamon bread pudding?
Let's get this out of the way.
Regular store-bought white bread is good enough. Last year, right around this time, when all of us were in major need of some soul food, I made Chocolate Chip Bread Pudding with regular white bread, and it turned out to be flawlessly decadent.
That said, if you have enriched bread (those with high-fat content), like brioche or challah, keep them as your first preference. FYI, if you're in the mood to bake bread at home, here are the brioche and challah recipes. They're easy to make, delicious to eat, and fantastic for bread pudding.
Why does bread pudding need stale bread?
As I said, any bread works for pudding. Stale is better. I recommend using one that is a day or two old. It's drier and has a chewier texture, making sure the pudding doesn't get soggy after the bread soaks up the custard.
Have just fresh bread at hand and are craving bread pudding? Leave it out for three to four hours, or bake it at a low temperature for about 20 minutes.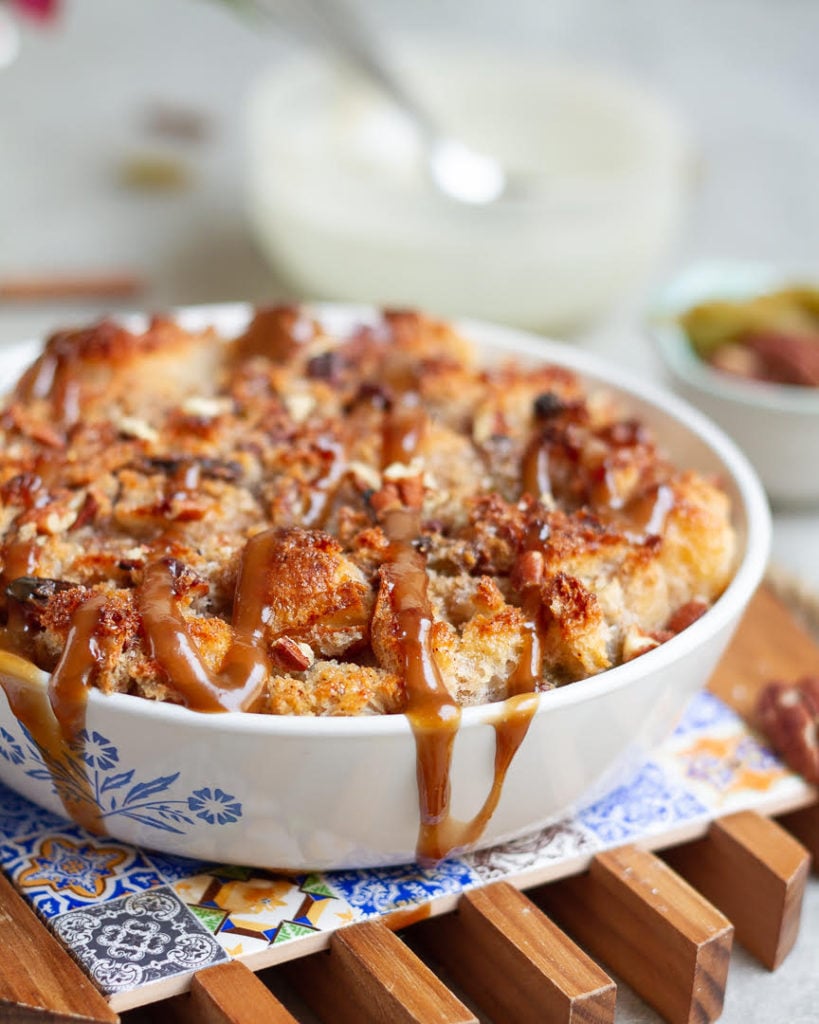 How do you know when cinnamon bread pudding is done?
Believe you me.
You'll know when the bread pudding is baked. The cinnamon-vanilla aroma hits you around that point. And positively everyone in the house will know there's something spicy and buttery baking in the kitchen. But look for golden baked top and a set custard. When the pudding is no longer jiggly, its done!
Is cinnamon bread pudding supposed to be warm or cold?
Let your craving be the guide on whether you want to eat bread pudding warm, cold, or at room temperature. I prefer to let the pudding cool just a bit (think: 5-10 mins) and then dig in while it's still warm. The melded layers of cakey bread and cinnamon are luscious with a dollop of ice cream or whipped cream.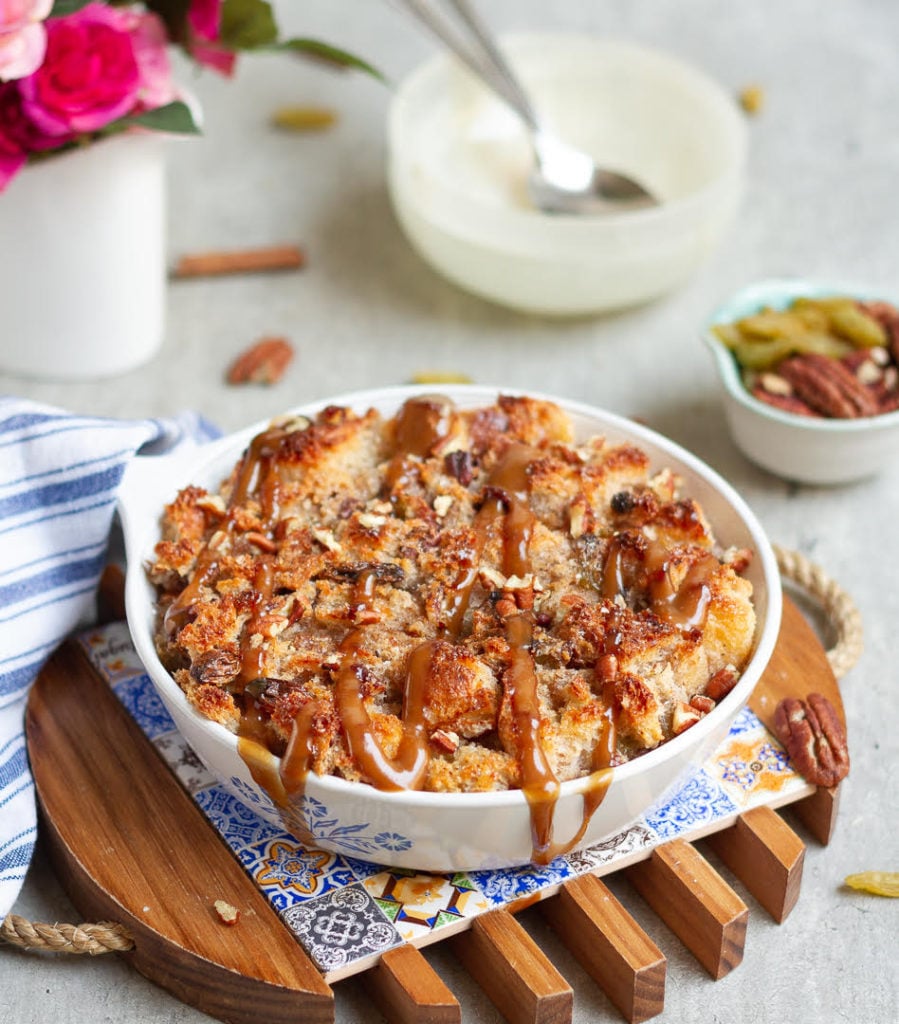 Cinnamon bread pudding ingredients and their substitutes
Sugar: Cane, palm, coconut, brown, raw, or regular sugar. Everything works for this recipe.
Milk: My lactose-intolerant digestive system doesn't love regular milk, so my bread pudding recipe calls for coconut milk. It's creamier, which makes the pudding richer. However, any milk you prefer will do.
Vanilla: Okay, so this is important because a lot of bread puddings have an eggy taste. The best way to mask it is with liberal use of good-quality vanilla extract.
Raisins: Cinnamon pairs exceptionally well with golden raisins, but black raisins will do in a pinch here. Add as many or as few as you want.
Nuts: Like raisins, the quantity of pecans you use is between you and your palate. For those who are not fans of pecans, try almonds, walnuts, or hazelnuts. You can keep the pudding nut and raisin free as well because there are no hard and fast rules and plenty of room to experiment with add-ins (think: chocolate chips)/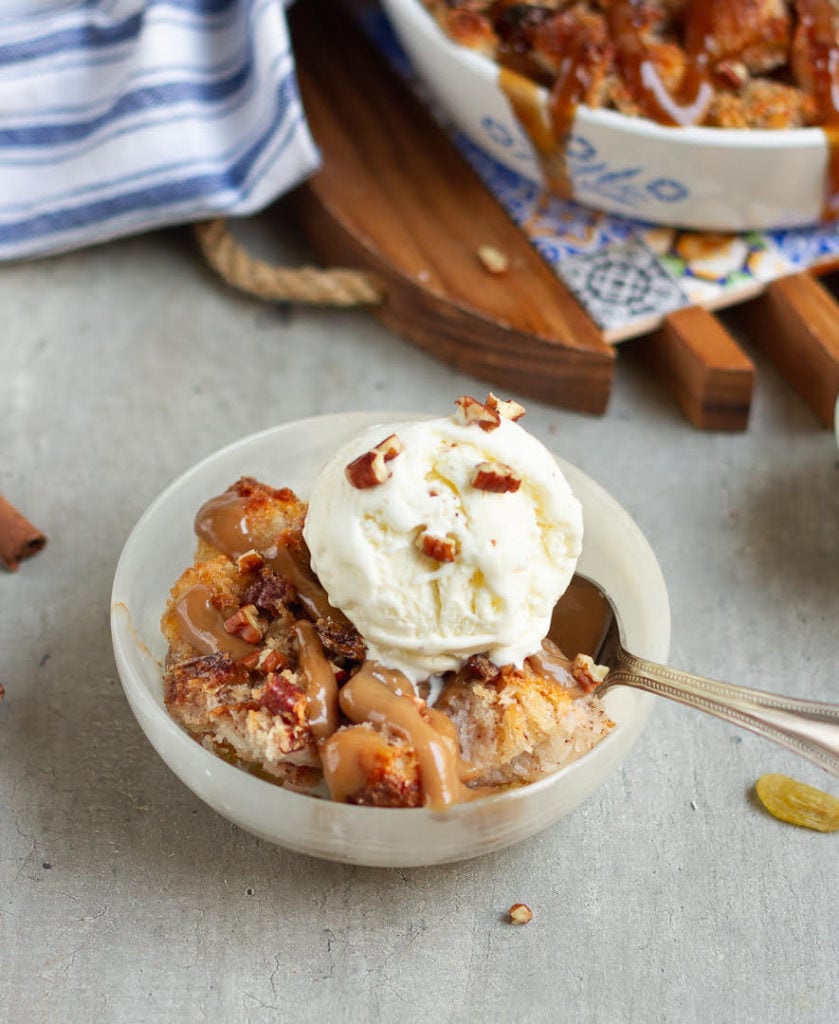 Every reason to bake cinnamon bread pudding
A comforting, homey dessert
Perfect for a summer evening paired with an ice cream scoop
With a proper kick of booze, that never hurt anybody
Have it as a dessert after lunch and it'll make the day fly by on a happy high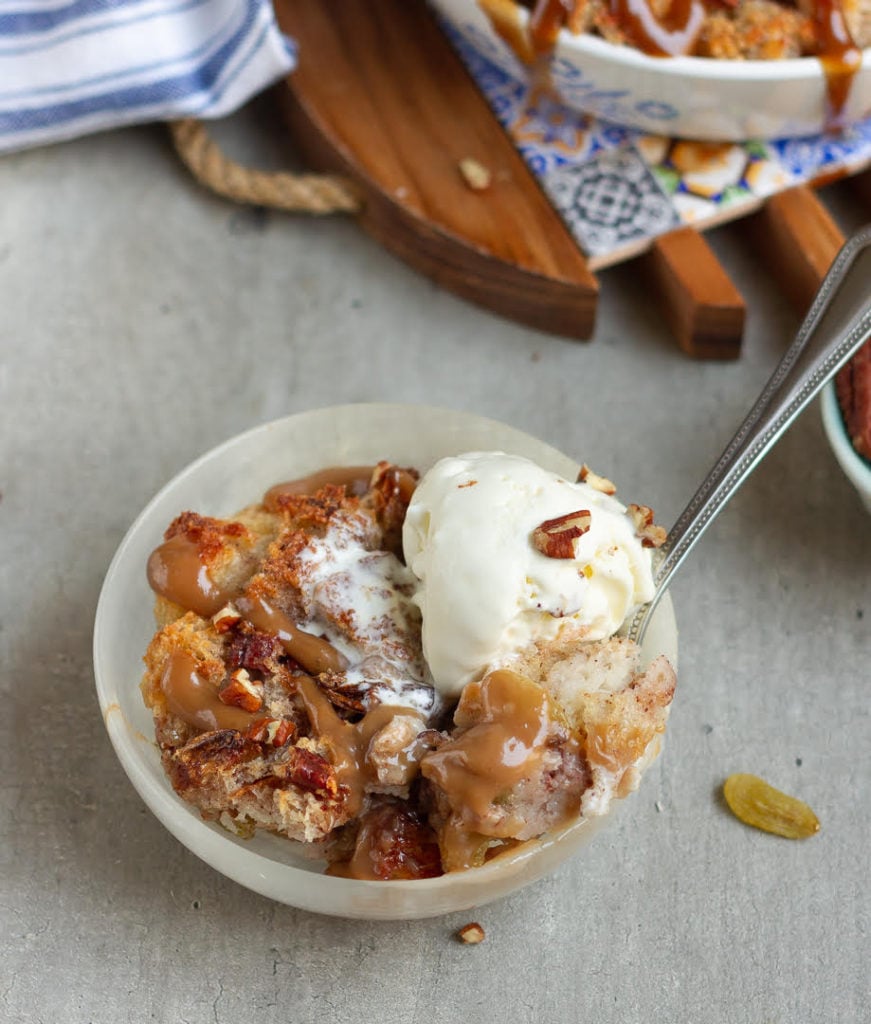 More easy dessert recipes
📖 Recipe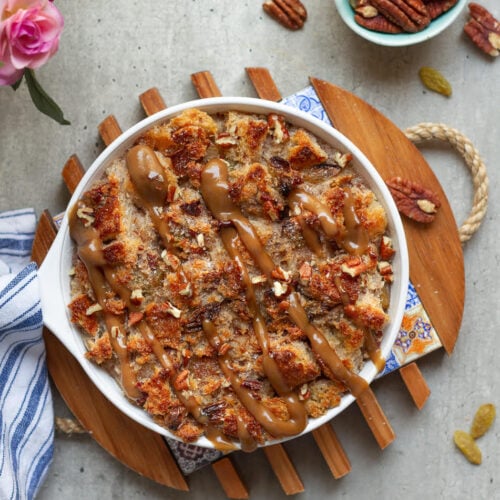 Print Recipe
Cinnamon Bread Pudding
Cinnamon Bread Pudding - The crumbly layers of bread pudding infused with creamy custard and crusted with cinnamon sugar, topped with decadent rum caramel sauce and a scoop of icecream!
Ingredients
10-12

slices

Brioche bread,cubed

You can use regular white bread too

70

gms ( 1/2 cup)

Raisins

35

gms (1/3 cups)

Pecan, roughly chopped

3

Eggs

350

ml ( 1 1/2 cups)

Coconut milk

You can use any milk you prefer

170

gms ( 3/4 cup)

Raw sugar

You can use white sugar

1

tsp

Vanilla extract

1.5

tsp

Cinnamon powder

1

tbsp

Butter, melted

2

tsp

Cinnamon sugar, for topping

Optional

Ice cream and caramel sauce for serving

Optional
Instructions
Combine the bread, raisins, and pecans in a large bowl.

Whisk together the eggs, coconut milk, sugar, vanilla extract, and cinnamon powder in a small bowl.

Pour over the bread mixture.

Press the bread down a bit so it absorbs the custard mixture well.

Let the mixture stand for 10- 15 minutes so most of the custard gets soaked.

Preheat your oven to 180C.

Pour the bread mixture in a pan, 8"/9" in diameter. I used 2 small baking dishes.

Spoon over the melted butter and sprinkle some cinnamon sugar on top.

Bake for 35-40 minutes till the pudding looks golden brown on top and the custard is set.

Serve warm with a scoop of ice cream and caramel sauce. Enjoy!