Buttery, tender, and flaky, these chocolate chip buttermilk scones are a pleasure, best shared with others. With all the earmarks of a classic scones, they melt in your mouth. Wonderfully light and so, so moist, it's the delicate magic of buttermilk at work. Each bite has chocolatey hints playing hide and seek in golden layers.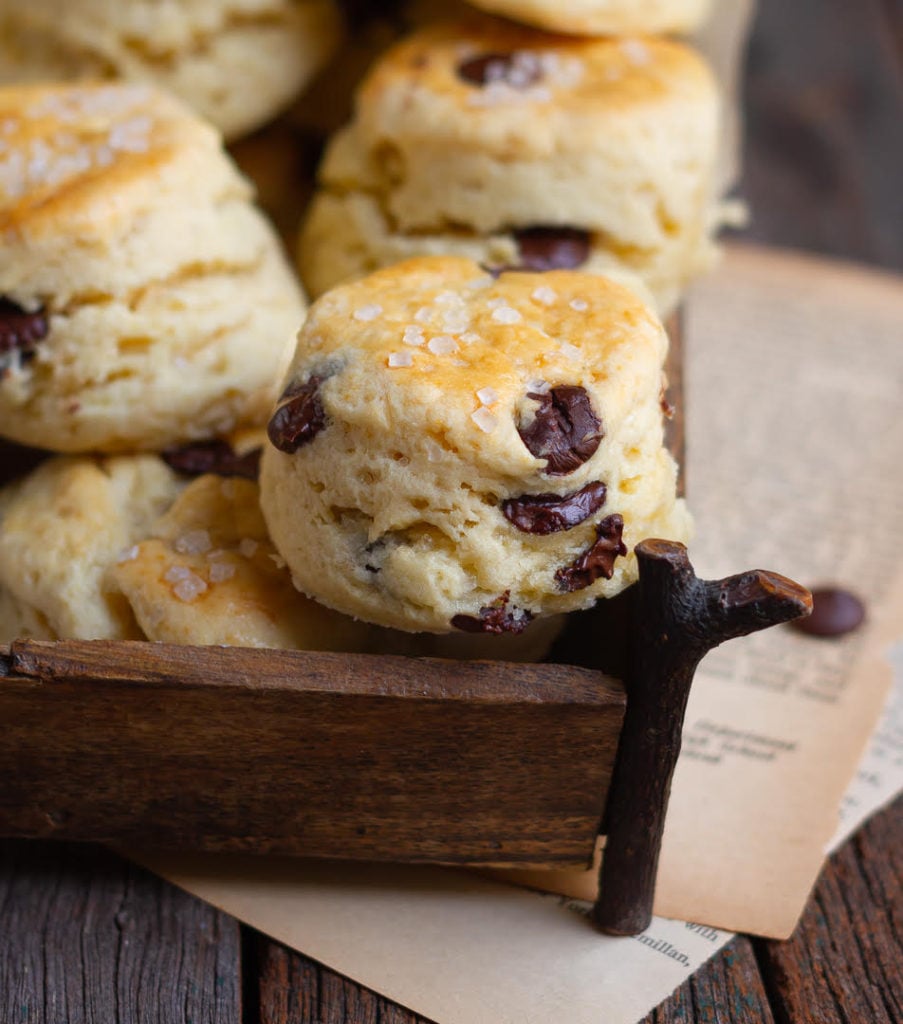 Jump to:
Chocolate chip buttermilk scone recipe
Tips and tricks to tender scones
How to make chocolate chip buttermilk scones?
Nothing beats the flavor of home-baked scones! It's no wonder I've made countless at home, but this is the first time with buttermilk. And I think I've found one for the books.
Step 1: Combine the milk and vinegar in a small bowl and set it aside for 5 minutes.
Step 2: In a large mixing bowl, whisk together the flour, baking powder, baking soda, salt, and sugar until no lumps remain.
Step 3: Add cubes of chilled butter and rub and crush them into the dry ingredients with either 2 forks, a pastry cutter, or your fingertips. This is called cutting the butter. Do this repeatedly till the mixture resembles small crumbles. Think: tiny bits of butter coated in flour, with some large pieces of butter peeking out here and there.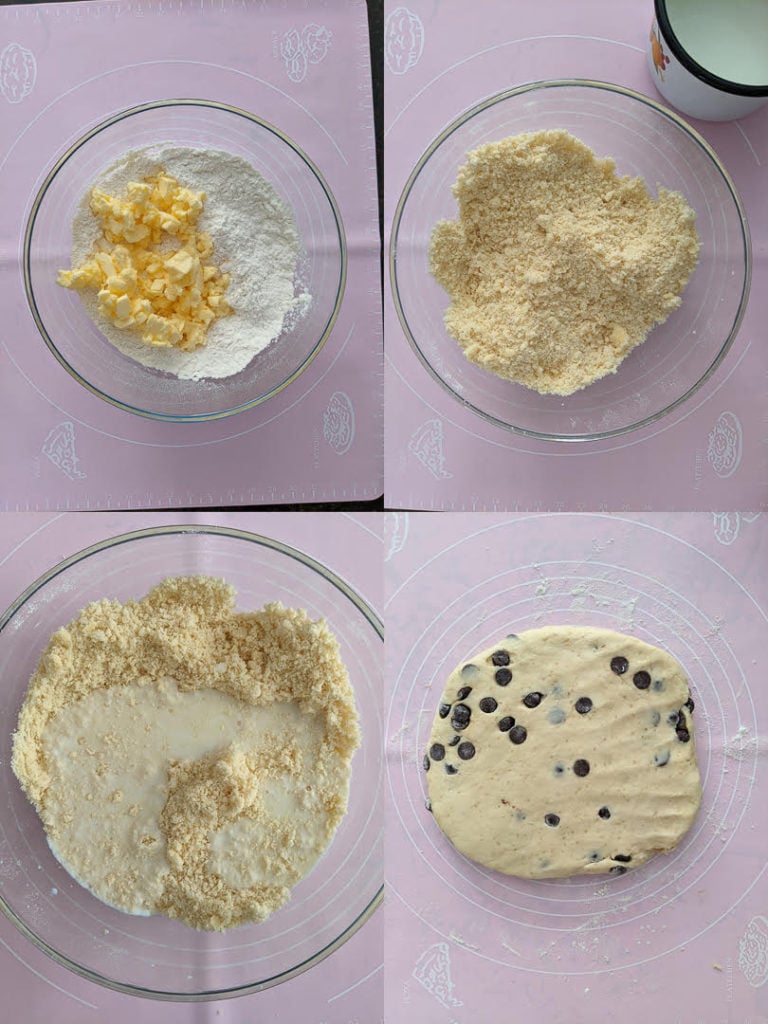 Bring the buttermilk scone dough together
Step 4: By now, the buttermilk will be ready. Form a well in your dry ingredients and pour it in. With a fork, and using a circular motion, mix everything till you have a shaggy dough.
Step 5: Once it is combined, turn the dough out onto a lightly floured surface.
Step 6: Quickly and gently bring the dough together with your hands. It'll take no more than a couple of minutes, and you won't need to knead it.
Fold the chocolate chips in the buttermilk scone
Step 7: Flatten the dough with your hands and then sprinkle chocolate chips across the surface. Press them down so they are embedded in.
Step 8: With your pastry cutter, divide the dough into two. Then place one layer over the other with the side studded with chocolate facing upwards.
Step 9: Bear down hard on the two layers, so they flatten a bit and stick to each other. Cut them in half once more and place one over the other. Press and then cut again. Essentially, you repeat the press-cut-place process 3 to 4 times till all your chocolate chips are uniformly distributed in the dough.
Bake the chocolate chip buttermilk scones
Step 10: Dust a little flour on the dough and then flatten it into an 8-inch sheet about 2.5 inches thick. You can use a rolling pin, but scone dough is so soft that you won't need one.
Step 11: Dip your cookie cutter in loose flour (so it doesn't stick to the dough) and cut scones in the shape you prefer. I went with round.
Step 12: Gently recombine any leftover dough. Roll it and cut out scones again. Repeat till no dough is left.
Step 13: Brush the scones with egg wash (1 egg beater in a teaspoon of water).
Optional Step: Sprinkle granulated sugar on top for some amazing crunch.
Final step: Bake until risen and golden, about 19 minutes for me. Let them cool on the tray for 5 minutes, then transfer to a wire rack.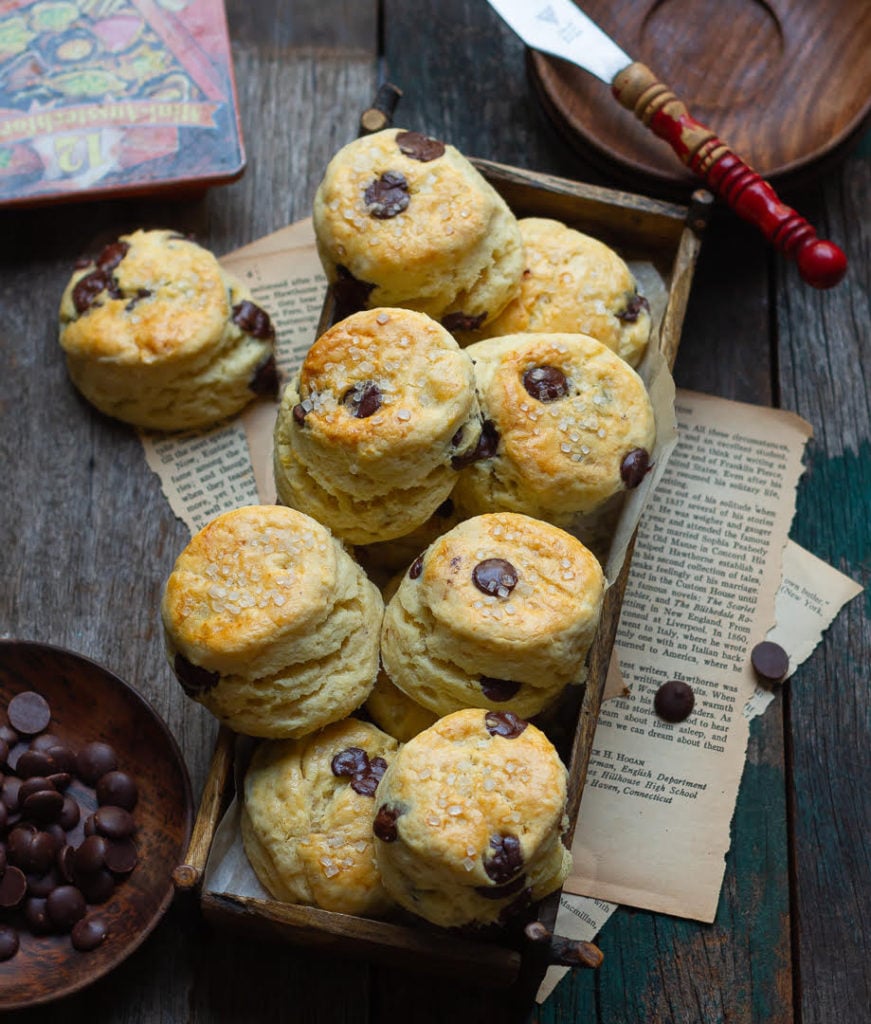 Process video for Chocolate Chip Scones below:
What's the secret to making good scones (the flakiest)?
Don't overmix: Never, ever mix the dry and wet ingredients zealously. Calm movements work best. Do not knead the dough. You simply push and pat till it comes together. It's a soft dough, so don't panic and add more flour.
Chill, chill, chill: The butter has to be (has to be) chilled. I cannot reiterate this enough. My tip? Cut the butter into cubes, then pop it in the freezer for a few minutes before you begin rubbing it in the flour.
Be like the quick brown fox: The faster you work, the lesser the chance the butter softens and spreads around. You don't want that. So be quick and work steadily. It should take 3 to 4 minutes to cut the butter into the flour.
Cool the dough: It's 40 degrees here. Needless to say, the refrigerator was my best friend for this scone recipe. Instead of adding unnecessary flour, if your dough feels sloppy or just unmanageable, slide it into the fridge for 15 minutes.
Don't knead the add-ins: Whether it is chocolate chips or raisins (I'll get to ingredient substitutes in a moment), stick to my folding method. If you knead the dough to evenly spread the chips, you'll form a gluten network. And that will make your scones dense, not lighter than air.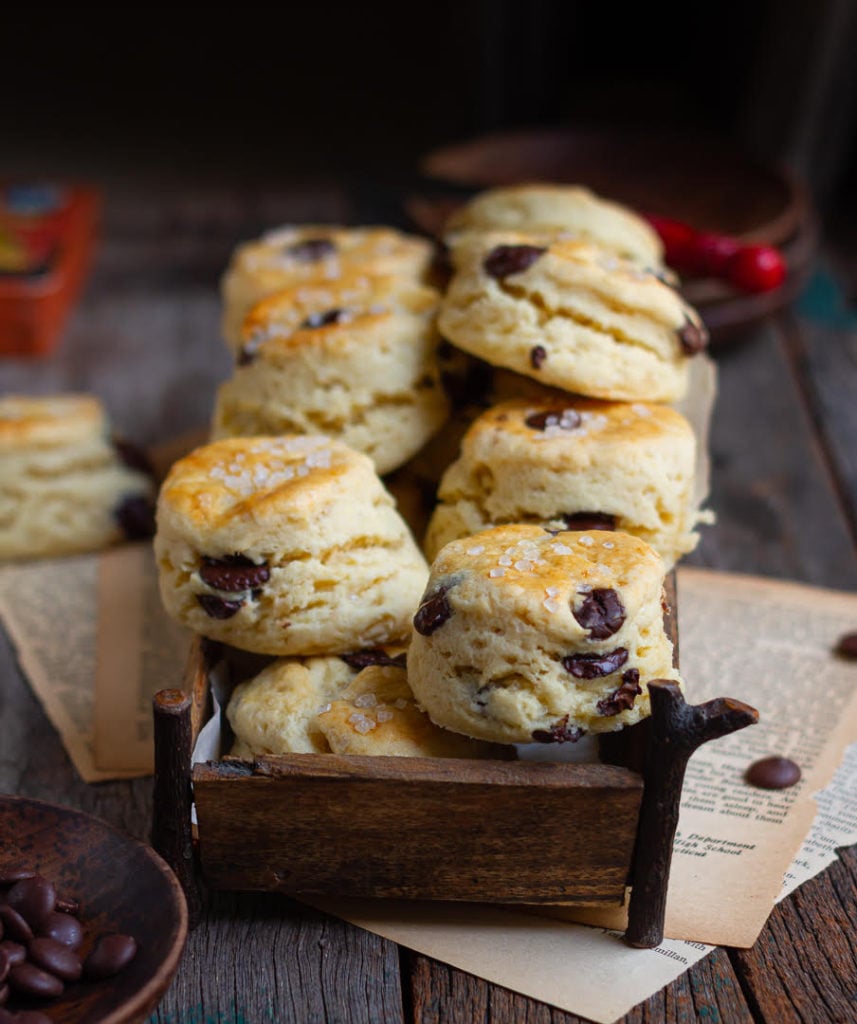 Why use buttermilk in chocolate chip scones?
Generally, scones use milk or cream as the primary wet ingredient, and there is nothing wrong with it. My mango coconut scones can attest. But buttermilk takes the texture to stratospheric levels.
It activates the leavening agent, baking powder, and creates steam, which makes the flaky layers rise beautifully. So, you have this utterly moist middle with pockets of gooey chocolate wrapped in the most tender crust. It's hands down the best scone I've eaten, and I've had plenty.
How to make buttermilk?
You can use store-bought buttermilk for these chocolate chip buttermilk scones, but I always prefer homemade. There's nothing to it. Simply mix regular white vinegar into milk and let it rest.
Buttermilk scone recipe notes for ingredients
Flour: Back when I was still running my bakery, scones were a staple item on the menu. From whole wheat to amaranth, I've made them with every flour imaginable. So, go ahead and experiment with the flour. They'll honestly be just as delicious but with a different texture.
Gluten-free scones: Try buckwheat flour with a portion of amaranth flour. See my strawberry & rosemary scones for the recipe. Or use 100% buckwheat flour, as in my lavender buckwheat jam scones.
Sugar: What's in your pantry works best, be it regular, cane, raw, or palm sugar.
Buttermilk: If you love a hint of tang, there's nothing like buttermilk for it. Though, regular cream or full-fat milk will work just fine.
Vegan chocolate chip scones: Switch to plant-based milk and butter to make the scones vegan. Chilled, solid coconut oil, or coconut butter are other excellent substitutes. Also, instead of egg wash, brush the scones with cream or coconut milk, as I did for my Banana Bread Scones.
Chocolate: Chocolate is the star of these scones, and so good quality dark chocolate is the ideal option. Since I lean towards very lightly sweetened treats as opposed to cloyingly so, my scones had 70%. But if all you have is 55%, 50%, or any other, use that. Just about any chocolate will work here.
Other add-ins: Raisins and dates are two alternates you can whisk in with your eyes closed. Or just leave the buttermilk scones plain and enjoy them with a pat of butter or spread of jam.
Why the chocolate chip buttermilk scone recipe works?
Uses pantry ingredients
Perfect dish for lazy weekend brunches
Bake ahead of time and serve for an evening treat
Zero need to slather butter on top, it remains soft inside and crispy on the surface
More scone recipes
Whole Wheat Strawberry Orange Scones
If you like the effect of buttermilk, you'll love these recipes
Vegan Chocolate Cherry Muffins
Easy Eggless Stovetop Marble Cake
📖 Recipe
Print Recipe
Chocolate Chip Buttermilk Scones
Buttery, tender, and flaky, these chocolate chip buttermilk scones are simply sublime! With all the earmarks of classic scones, they melt in your mouth. Wonderfully light and so, so moist, it's the delicate magic of buttermilk at work.
Ingredients
360

gms ( 3 cups)

All-purpose flour

65

gms ( 1/3 cup)

Sugar

2.5

tsp

Baking powder

1/2

tsp

Baking soda

1/8

tsp

Salt

185

gms ( 3/4 cup)

Butter, cubed and chilled

250

ml ( 1 cup)

Buttermilk

1 cup milk + 1 tbsp vinegar, stir and let sit for 5 minutes.

80

gms ( 1/2 cup)

Dark chocolate chips

I used 70% dark chocolate
Topping
Egg wash - 1 egg beaten with 1 tsp water

Granulated sugar

Optional
Instructions
Preheat your oven to 200 C. Line a baking tray with parchment paper.

In a large bowl, whisk the dry ingredients – all-purpose flour, baking powder, baking soda, sugar, and salt. 

Rub in the chilled cubed butter, using your fingertips or a pastry cutter, until the mixture forms coarse crumbs.

Pour over the buttermilk. Mix with a fork until the dry ingredients are just moistened.

Combine the ingredients gently using your hands until they all come together and you can form a ball with the dough. Please don't knead the dough.

Turn the dough on a floured surface and gently pat into an even circle, about 6" in diameter.

Sprinkle the chocolate chips on the surface. Press them down slightly. Cut the dough in half and place one on top of the other. Press the dough slightly, and again cut in half.

Place the halves on top of each other, press it slightly and repeat this process twice more.

This helps the chocolate chips get dispersed evenly through the dough without overworking it. It also helps create flaky layers.

Press into an 8" circle, about 2" in thickness. Use a cookie cutter to cut out into any shape you like. I used a 2" round cookie cutter. Gently place on the prepared tray.

Brush lightly with egg wash and sprinkle some granulated sugar on top.

Bake for about 20 minutes or until lightly golden and cooked through. Remove from the oven and allow to cool for a few minutes.