As much bread as a pastry, the eggless brioche was simply a beautiful, stunning, gorgeous feast for all the senses. The sight, scent, sound, and feel of every soft, buttery morsel with a crispy golden crust sends you into raptures. But the true sign of a successful brioche is when you can't wait for the knife and dive directly into the loaf to tear bite-sized chunks.
I've made brioche rolls before, but not a loaf. After I bought one from my usual bakery for the Classic French Toast, it got me thinking – it was high time I baked it at home. 
And believe you me, nothing compares to what you make at home and what you get in the stores. It's not merely the taste – that's one hundred percent heavenly and did I mention rapturous. It is the glossy dough that feels almost like putty in the hands. You can't help but interact with it.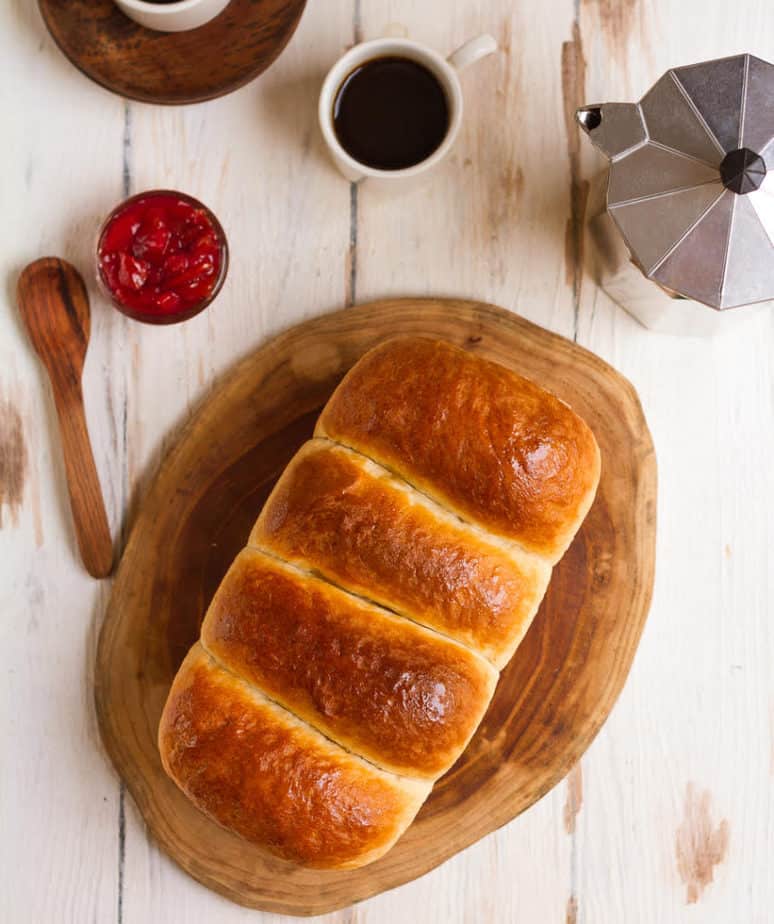 What is brioche?
Brioche is a classic French bread. It comes within the Viennoiserie category as the dough is yeast-risen. It is also an enriched bread as it contains butter, egg, and milk in godly amounts.
The dough swallows up far more butter than you think possible. It's practically like you're pouring it in. But that's what forms the super tender, matte crust with a rich, soft and flaky crumb.
I did have some misgivings about working with a dough that required so much butter ( so much !!) in this blistering June heat. But despite the high temperatures in my kitchen, it held up nicely.
So, don't put off baking a brioche if your corner of the world is equally scorching hot. The dough is a delight to work with. You'll fall in love with the dough first, the bread second. But I get ahead of myself, back to the recipe.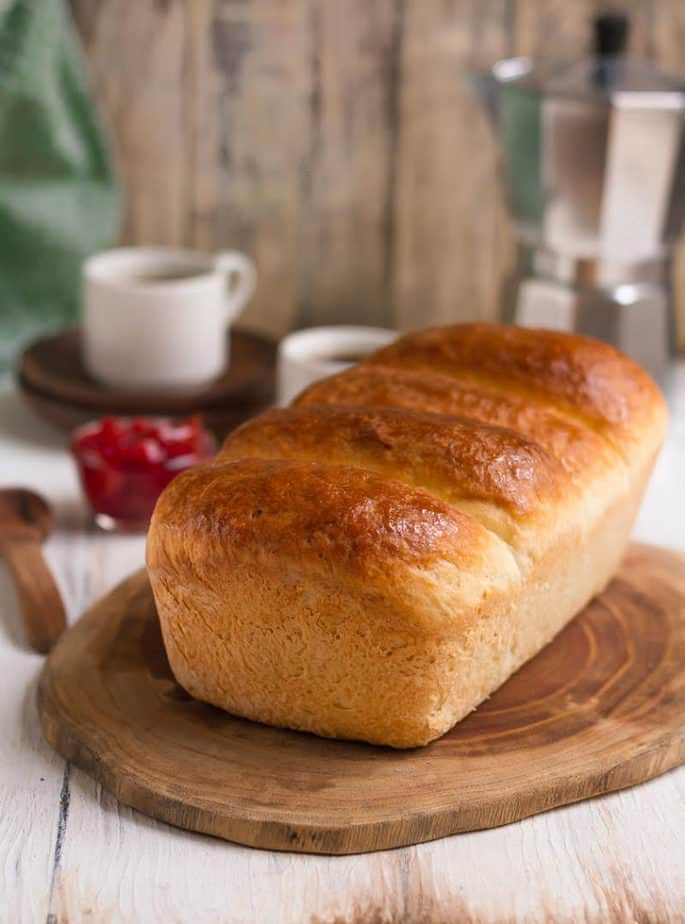 How to make eggless brioche?
I adapted this recipe from Rainbow Nourishment. While her loaf is completely vegan, mine is simply eggless and refined sugar-free. If you want a traditional recipe with eggs, see my orange brioche rolls.
You can make brioche dough by hand, but if you have a stand mixer, I urge you to hunt it down and use it. It will cut down your effort to a great, great degree.
Make the brioche dough
Sprinkle some yeast on top of lukewarm milk (the little heat helps the yeast bloom) and stir thoroughly.
Let it rest for a few minutes until the yeast has activated and you can see bubbles.
In the meanwhile, combine flour, sugar, vanilla extract, and butter (has to be softened but not melting) in the large bowl of your stand mixer.
Add the activated yeast, then knead for a good 12 to 14 minutes.
Once the dough starts to leave the sides of the bowl, it is just about there.
Knead for a few minutes more till you have a supple, sticky dough that, when stretched thin, doesn't tear and is very manageable.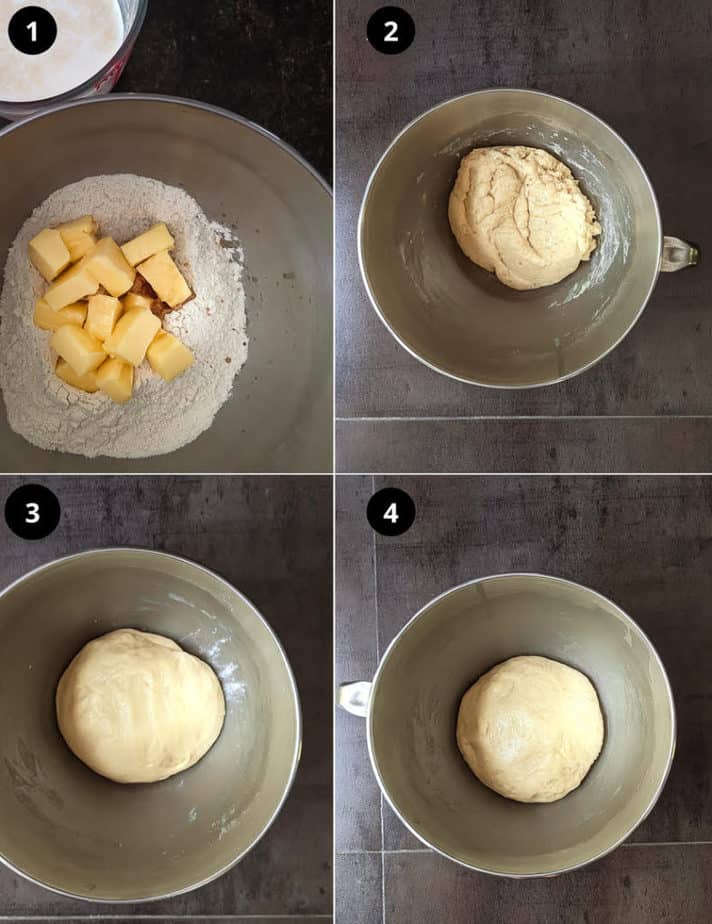 Hand knead: if you don't have a stand mixer, hands work well enough. When you get tired, take a break for a few minutes. Cover the dough with a damp kitchen napkin and come back to it when you're ready to knead some more.
I couldn't resist getting my hands in it, because it's so hypnotizing to watch the shaggy, scraggly mess of flour and eggs transform into a silken dough. So, after the stand mixer was done, I turned it over on a lightly floured surface and kneaded it again for 2 to 3 minutes.
First rise: Put the dough in a bowl and cover it with a damp kitchen napkin. It is important that you let the volume increase close to double.
So, let it rest in a warm corner till it doubles in size. Because the dough contains butter, it will rise only in a warm place – mine did it delightfully in an hour.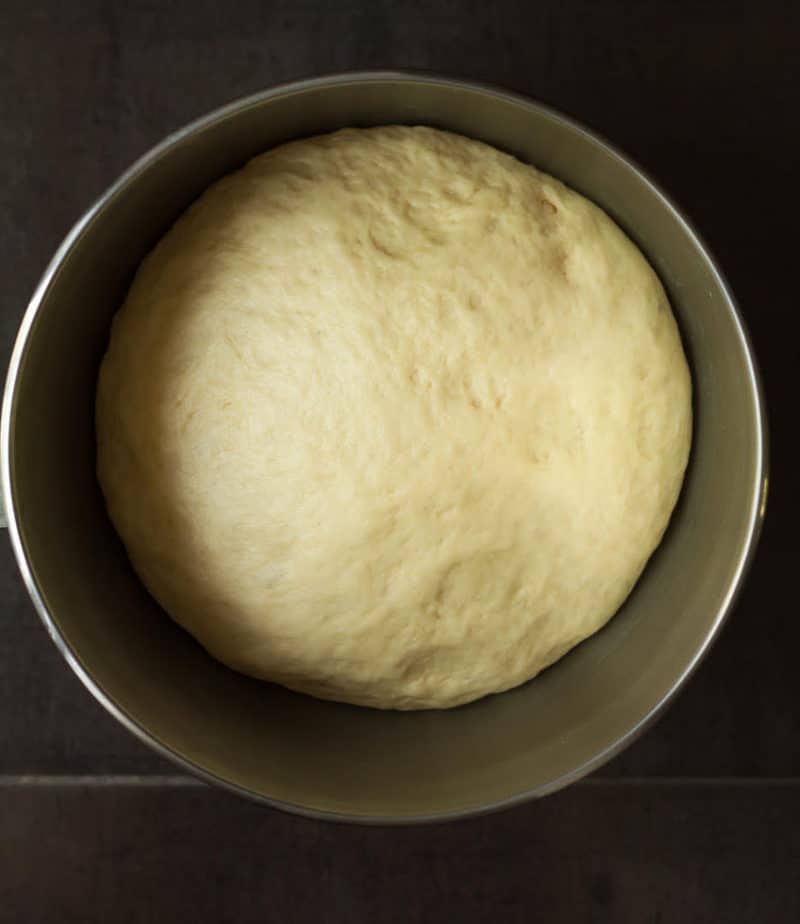 Baking the eggless brioche
Take out the risen dough on a minimally floured surface (less flour prevents white streaks).
Punch it down gently and divide it into four equal parts.
Roll each into a log, making sure the size fits your tin, width-wise.
Second rise: Grease the tin and dust it with flour. Place the logs inside and cover with a damp napkin. Let it stand till the dough is puffy again. You'll see it peeking over the rim of the loaf tin in about 20 to 30 mins.
Bake in a preheated oven for half an hour. Make sure to keep an eye on it from 25 minutes onwards.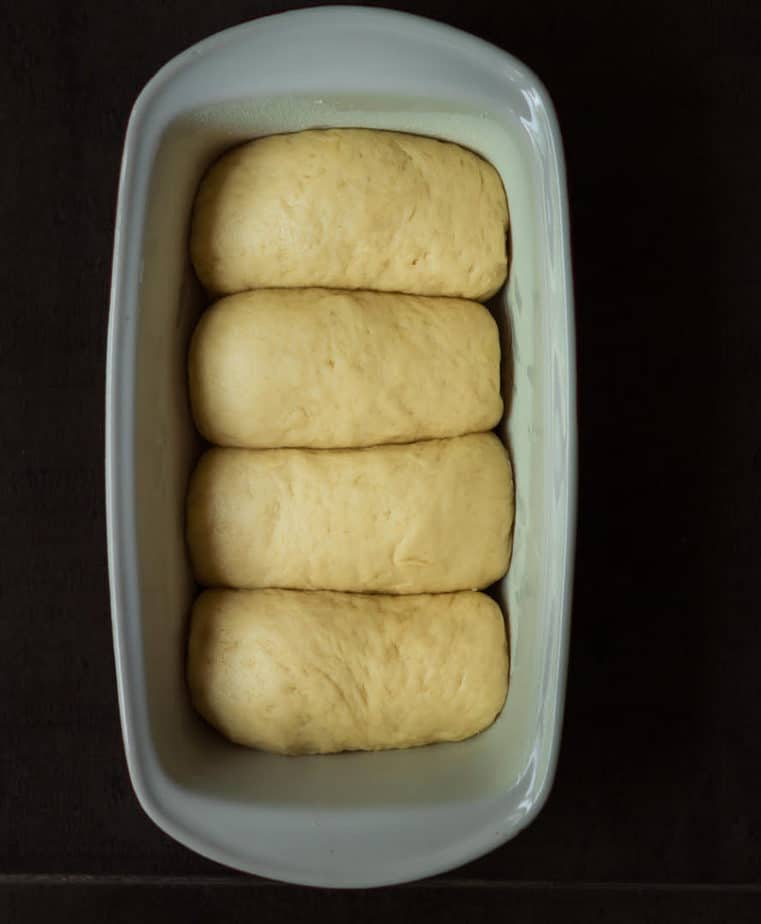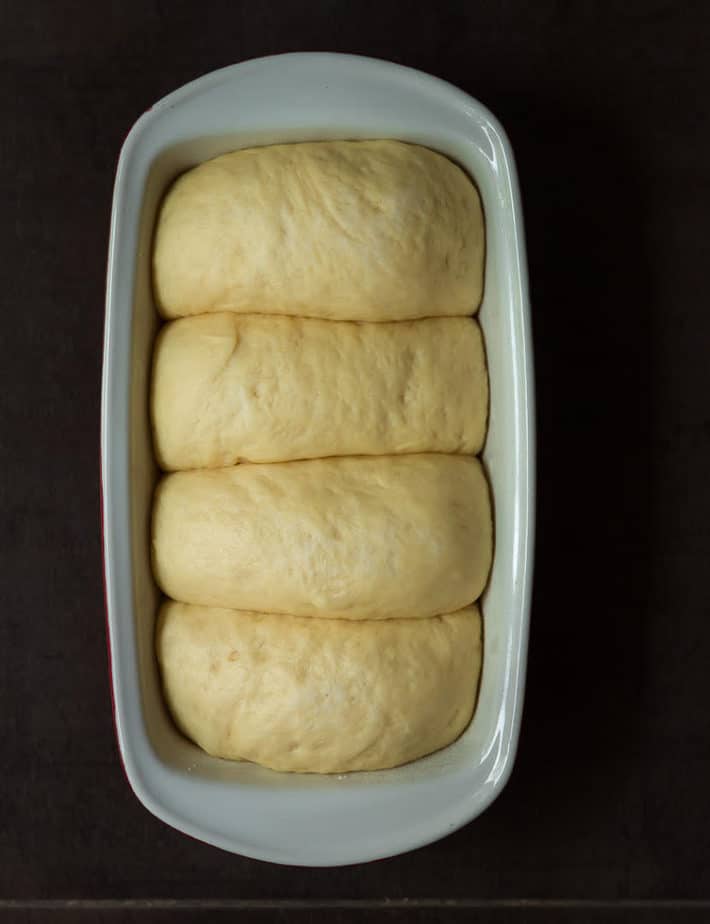 Variations of eggless brioche recipe
Flour: I used all-purpose flour, but whole wheat flour is a great option. You can even use both of them together.
It is the gluten strands that absorb the tons of butter in brioche, which is why I haven't tried it with gluten-free flour. But, if you have or have seen a recipe for it, drop it in the comments.
Sugar: As always, I prefer raw sugar. But you can switch it with regular or cane sugar.
Milk: My lactose-intolerant-self decided to stick with almond milk. Feel free to sub it with regular milk and if you're making vegan brioche with plant-based milk.
Butter: My recipe has regular, salted butter. You can use unsalted butter but do add salt to the ingredients if that is the case. For vegan brioche, try olive oil or plant-based butter as a replacement for butter.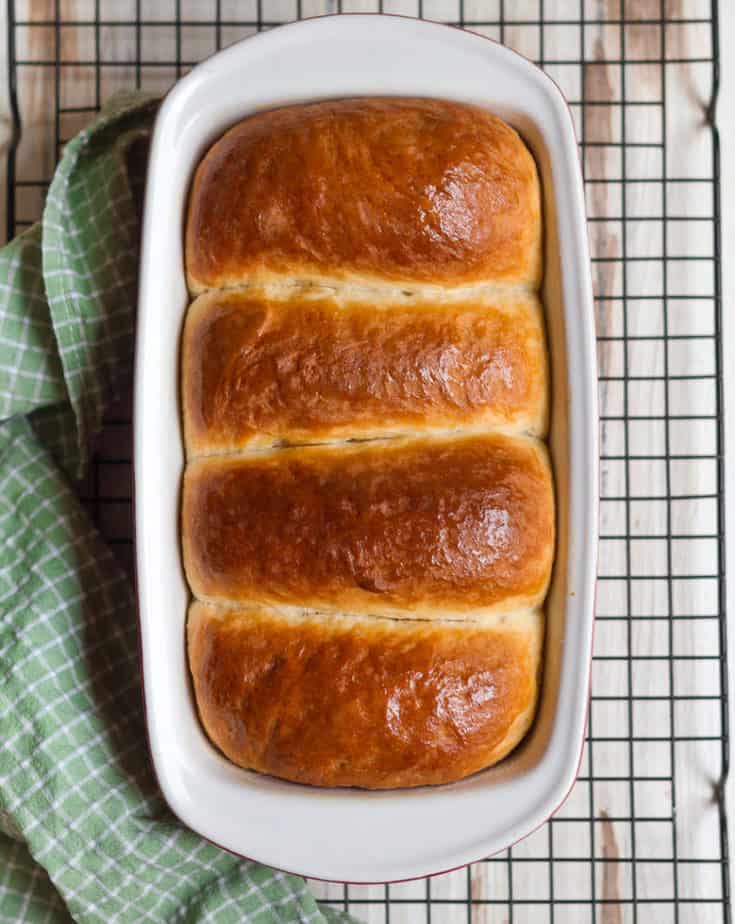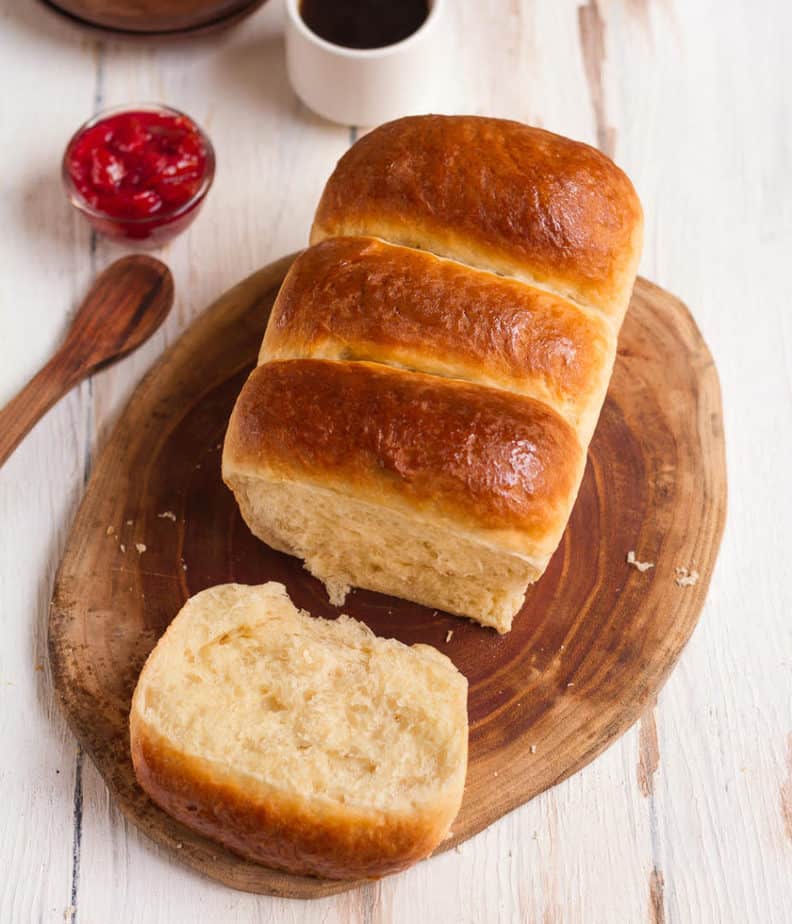 Serving the eggless brioche
Eggless brioche needs no embellishment—it's perfect on its own and eaten as-is. But if you want to give it a touch more richness and shiny glaze, brush it with honey immediately after you take the loaf out of the oven.
Let it sit in the tin for a few minutes. Turn it out and then cool. Slice it thin and toast or be like us – pull apart by mouthfuls and enjoy it warm.
Just in case you have leftovers, use it to make French toast. Lamentably, no one at my home let me save even a slice to even think about making a sandwich or chocolate bread pudding.
Because according to the kids, eggless brioche is not bread. It is an impossibly yummy delicacy that from now on we'll have as a treat.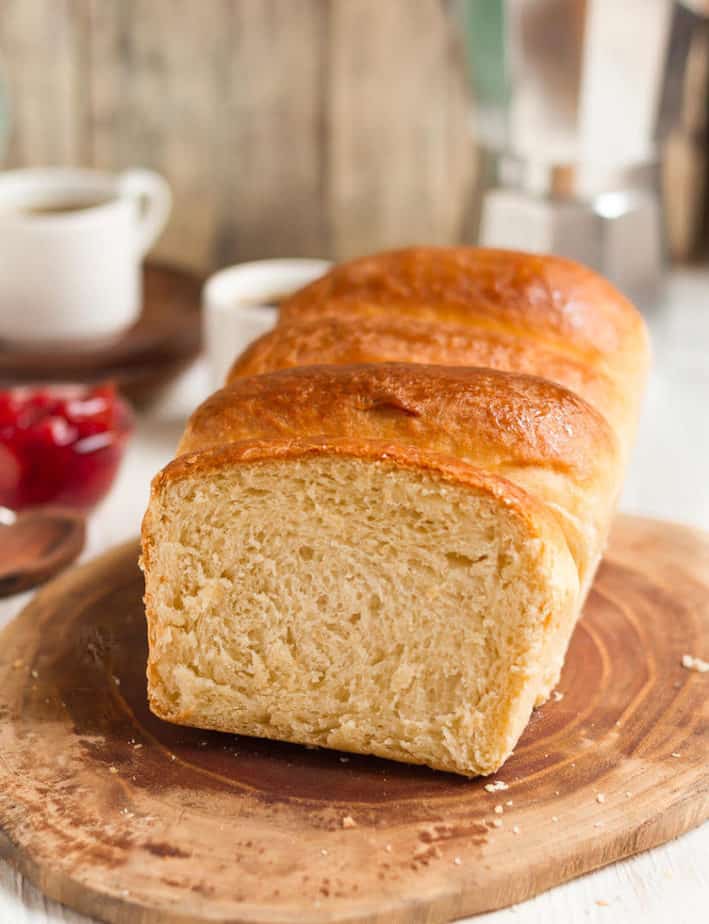 If you make this wonderful bread, please leave a comment and/or give this recipe a rating! I love getting to connect with you guys. You can also follow me on Instagram & Pinterest for more fabulous recipes.
📖 Recipe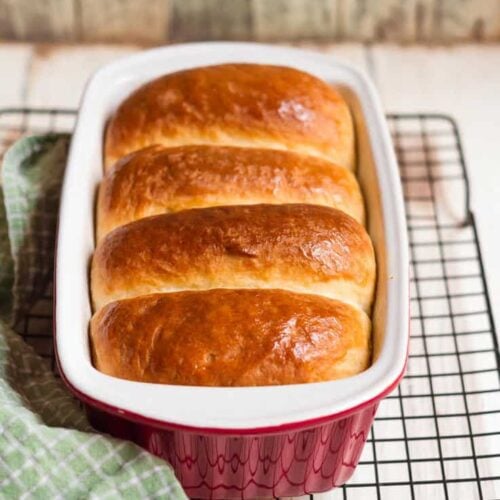 Print Recipe
Eggless Brioche
As much bread as a pastry, the eggless brioche is simply a beautiful, stunning, gorgeous feast for all the senses. The sight, scent, sound, and feel of every soft, buttery morsel with a crispy golden crust sends you into raptures.
Ingredients
3

cups

All-purpose flour

1/4

cup

Raw sugar

2/3

cup

Butter, softened

I used salted butter

1

tsp

Vanilla extract

3/4

cup

Almond milk, lukewarm

You can use any milk you prefer

1

tbsp

Dried active yeast

1

tbsp

Honey/ Maple syrup

Optional
Instructions
Combine the milk and yeast in a small bowl. Keep in a draft-free place for 5 -10 minutes until frothy.

Combine the flour, sugar, vanilla extract, butter, and the yeast milk mixture in the bowl of your stand mixer.

Knead the dough for 10-12 minutes, until the dough is smooth and elastic.

You can also knead this dough with your hands on a floured work surface.

Add more flour if the dough is too sticky. Add more milk if it seems dry.

Turn the dough out onto a lightly floured surface and knead for 2-3 minutes with your hands. This step is ooptional, but I like to do this to get a better feel of the dough.

Shape the dough in a ball and place in a lightly greased bowl. Cover with a damp kitchen towel and place in a draft-free area to rise for an hour or until doubled in size.

Once the dough has doubled, turn it out on a lightly floured surface and gently knead for 2 minutes.

Divide the dough into 4 equal-sized portions. Shape into logs, wide enough to fit into your loaf pan.

Grease and flour a loaf pan ( 9" x 5" ). Place the dough rolls in the pan. Cover with a damp kitchen towel and let it rise again until puffy, for about 30 minutes.

Preheat your oven at 250 C.

When the dough is puffed, place in the oven, reduce the heat to 180C and bake for 30-35 minutes.

The bread should be golden brown and the bottom should sound hollow when tapped.

Remove from the oven and immediately brush on some honey or maple syrup. Leave to cool in the tin for 20 minutes, before turning out on a cooling rack.

Cool for another 30 minutes before serving. Enjoy!