Challah is one badass bread, all pillowy inside and golden-brown soft on the outside. Don't let the fancy facade fool you. There's a reason I call the recipe easy challah bread. There's not much technique to it, and you'll need only basic pantry ingredients.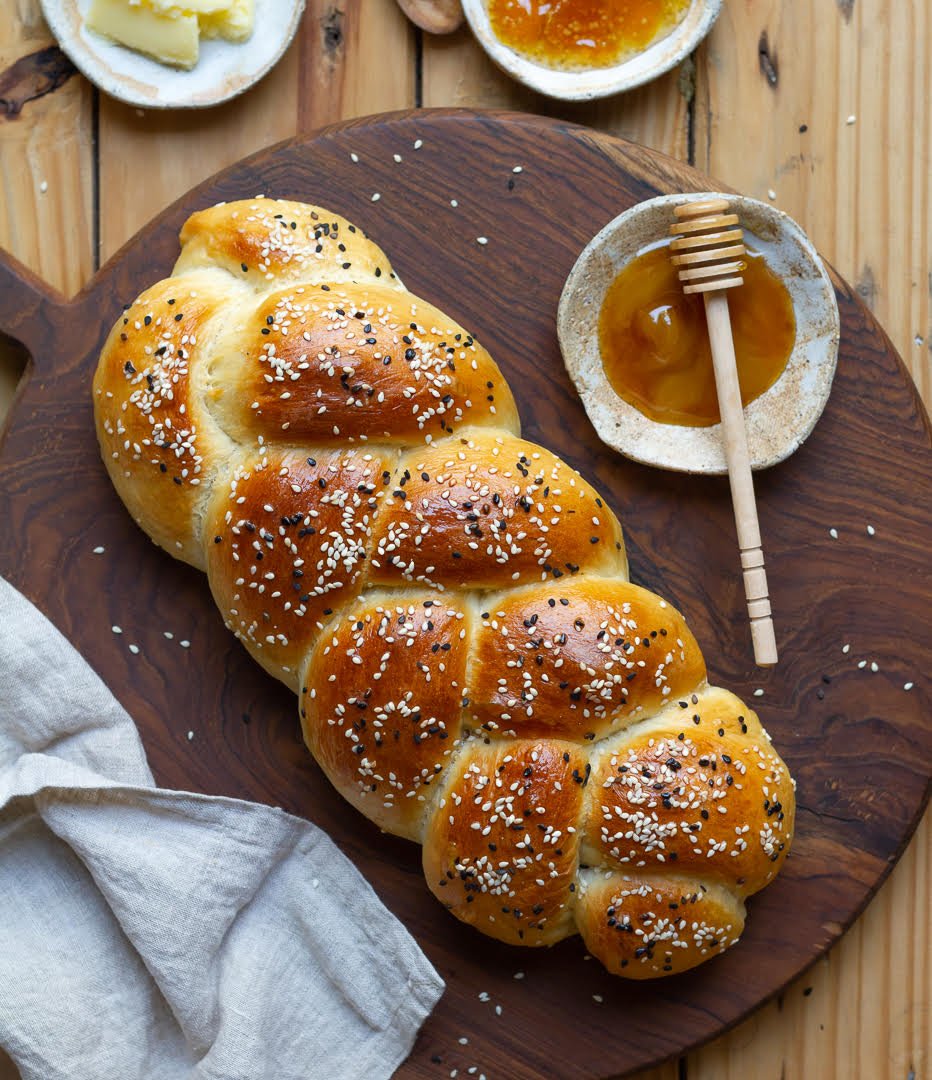 Jump to
What is challah?
Challah is a braided, enriched bread, meaning it uses yeast and contains over 10% fat, eaten by Jewish communities on Shabbat and other major holidays. Across Eastern Europe, it's known by many other names like hallah, kitke, berches, chałka, khale, etc. It can be easily made at home, irrespective of your experience level.
How do you pronounce challah?
Challah, a Hebrew word that appears in the Bible, is not pronounced with the hard "ch" sound like in chip or chai. Keep the "c" silent and sound it like "haa·luh"
What does challah taste like?
Challah is not like the usual white loaves of bread that taste plain. It has a hint of sweetness to it and feels rich and soft on the palate. And if you're wondering if it tastes as decadent as it looks, then the answer is an emphatic yes.
How to make challah bread?
There are 5 steps to making challah: you knead, you proof twice, you shape, and you bake. It seems complicated, but it's not. You'll have an absolutely stunning, show-stopping loaf ready in about 3 hours and an afternoon well spent.
Prepare the challah dough
Step 1: Combine eggs, water, yeast, olive oil, and honey in the bowl of your stand mixer.
Step 2: Add in the flour and mix till it forms a rough mass.
Step 3: If you're going to knead by hand, transfer the shaggy dough to a floured surface and knead it for a good 10 to 12 minutes. I used my stand mixer, and at a low setting, it took about 9-10 minutes to form a soft, supple, and smooth dough. Whichever route you choose, it's important to knead well so the braids of challah don't split during baking.
First proof of challah
Step 4: Grease a mixing bowl, place the dough in it and cover with a damp kitchen towel. A cling wrap is also fine, but I've found that in dry heat like the one here, a damp towel works better. It keeps the dough moist.
Step 5: Allow the dough to rise and double in volume. It's sweltering hot here, so my challah dough took 45 minutes to rise. But in cooler kitchens, it can take one and a half to two hours.
Divide and shape the dough into strands
Step 6: Punch the dough down to help it deflate, then divide it into 6 equal pieces.
Step 7: Roll each piece into a ball, cover with a damp towel again, and set aside for 5 minutes.
Step 8: Taking one ball at a time, roll it into a 6- to 7-inch long rope while covering the rest.
Step 9: Going back to the first rope, roll it again till it forms a 12-inch-long strand.
Step 10: Repeat for all 6 strands.
Step 11: Pick 3 dough strands and arrange them side by side at 90-degrees to you. Pinch their ends (the one farthest from you) together.
Step 12: Then start braiding like you're making a plait. Make sure you apply the same tension throughout the process, or else some sections of the braid will be loose and some tight, creating a misshapen loaf.
Step 13: When you reach the bottom of the braid, pinch the loose ends together and fold it under the loaf. Make sure you tuck the top end of the braid in the same fashion.
Step 14: Take the remaining three dough strands and repeat the process.
Second proof challah dough
Step 15: Place the loaves on a parchment paper-covered tray. Cover with a kitchen towel again and let it rise for a second time till puffy. For me, it took about 35 minutes.
Step 16: Brush the top with egg wash (one whole egg whisked in a splash of water) for that shiny glaze.
Step 17: Dust with sesame seeds and bake for 24 to 30 minutes. (Challah bakes at a lower temperature. So, preheat at 200, but bake at 180.)
Step 18: Let challah cool on a rack, and then dig in.
Substitute ingredients for this easy challah bread recipe
Honey: use regular white sugar.
Olive oil: any vegetable oil you prefer.
Sesame seeds: sprinkle poppy instead.
Egg wash: try milk or lightly beaten cream.
Eggs: I've not tried eggless challah, but those who have said to just omit the eggs and increase the amount of water.
Good to know when making challah bread
There are many ways to braid challah, from 4 strands to 14 strands. The easiest is obviously the 3 strands, so stick to it if it is your first go-around.
You have to give the bread ample time to proof so it rises to its absolute maximum. When challah is not proofed enough, it's denser and the braids tend to split.
How do you know when your challah is proofed and ready to bake?
You'll know when you see the dough. It'll be puffy and twice its size. Or you can do a poke test. Press a knuckle or fingertips and if the challah dough springs back instantly, it needs more time.
On the other hand, if it leaves a trace or mark of your knuckle on the dough, it's ready to be baked. Another way to know if the dough is ready to bake is to give it a wobble. If it jiggles, it's time for the oven.
Is challah dough sticky?
The dough of challah bread should feel smooth, elastic, and stretchy. It should not stick to the bowl sides or your hands. If it's sticky, add a spoonful of flour and continue kneading till you get the consistency right. The key here is to use as little additional flour as you can.
What's the difference between brioche and challah bread?
Both brioche (French origin) and challah (Jewish origin) are enriched breads, so they seem similar, but there are distinct differences. For one, challah doesn't have any dairy in it. So, while brioche is made with butter, challah is made with oil. That also makes brioche a little richer than challah.
Leftover challah bread uses
Challah is lovely as-is, with morsels torn right from the loaf. But even after 3 days in the fridge (albeit properly covered), it was as soft as day 1. So, it makes fabulous bread for sandwiches, soups, and whatnots.
Try it with honey, butter, or jam. It's also marvelous for French toast and bread puddings because the texture holds up really well.
More pillowy soft bread recipes
📖 Recipe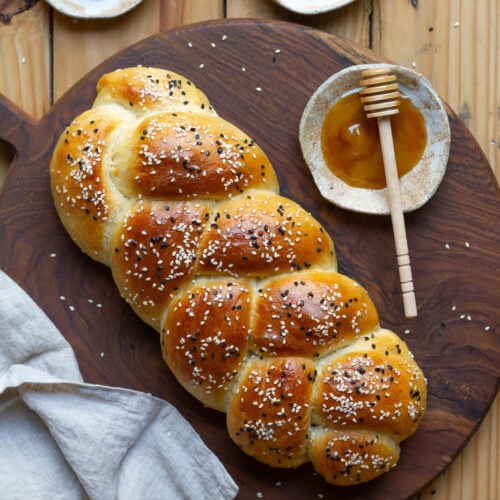 Print Recipe
Easy Challah Bread
Challah is one showstopper of a bread, all pillowy inside and golden-brown soft on the outside. It's incredibly easy to make and is totally irresistible!
Ingredients
2

Eggs

200

ml ( .84 cup)

Water, lukewarm

2

tsp

Dried active yeast

50

gms ( 1/4 cup)

Honey

1 1/4

tsp

Salt

30

gms ( 2 tbsp)

Oil

I used olive oil. Feel free to use any vegetable oil

500

gms ( 3 cups + 2 tbsp)

All-purpose flour
Topping
1

Egg, beaten with 1 tsp water for eggwash

Black and white sesame seeds
Instructions
Combine the eggs, water, yeast, salt, honey, and oil in a large bowl or in the bowl of your stand mixer. Whisk them well.

Add in the flour and combine well until a rough mass is formed. Take the dough out on a lightly floured surface and knead for about 10 -12 minutes.

You could also use your stand mixer for kneading. Knead at low speed for about 8 -9 minutes.

The dough is ready when its smooth and soft.

Place in a lightly greased bowl, cover, and let proof in a warm place for 1- 11/2 hours or until it doubles in size.

Punch the proofed dough and divide into 6 equal-sized pieces.

Roll each piece into a ball. Cover with a damp kitchen towel and let it rest for 5 minutes.

Roll out each ball into a rope, about 7" in length. Repeat for all the dough balls.

Now starting with the first one we rolled out, roll each strand to a length of 12".

Now take 3 strands together. Pinch them at the top and braid them, tucking in the ends under the braid.

Repeat with the other 3 strands.

Carefully place on a parchment-lined baking tray.

Cover with a damp kitchen towel or cling wrap and place in a warm place for about 1 hour or until puffy and pillowy

Preheat your oven to 250C.

Brush the loaves with egg wash, and sprinkle with sesame seeds.

Bake for 25-30 minutes at 180C or until golden brown.

Cool the loaves on a cooling rack until just barely warm. Slice and enjoy!