As much as I love cooking and baking, the food blogs take the cake and the bakery. While searching for a quick bread recipe, I stumbled upon gold like, "The recipe calls for one bottle of beer." And that's how I ended up making an easy cheese beer bread.
To say that baking the bread is fun is an understatement. What else do you expect with a surprise element like beer?
And no, the bread doesn't taste like beer. All you get is a hint of malty, bitter flavor at the back of your mouth, balanced by the caramelized sugar.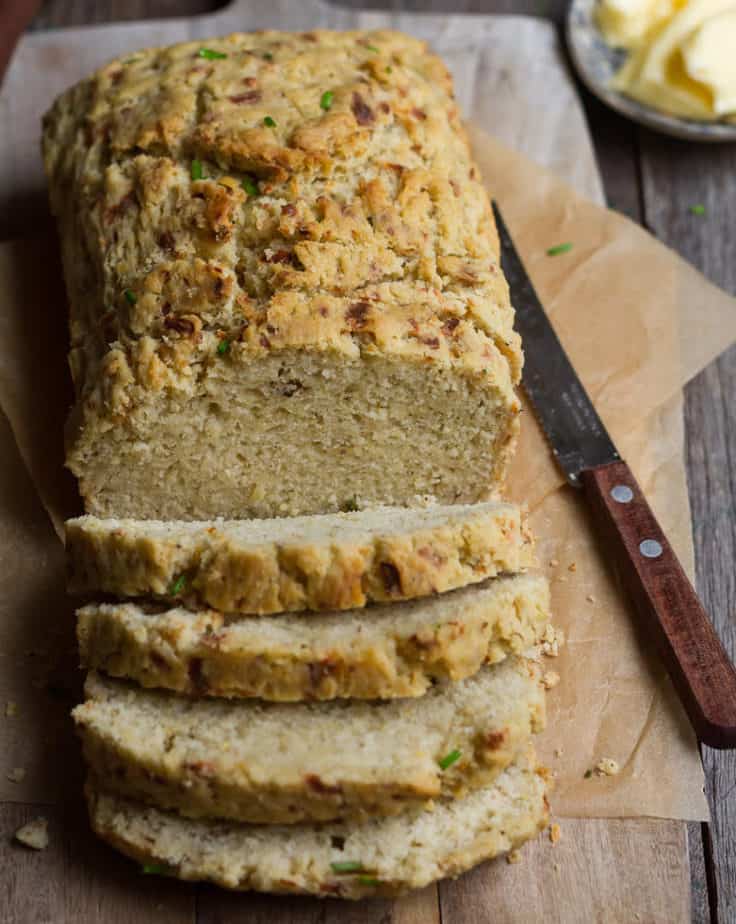 What does beer do in the bread?
The beer, along with the baking powder, acts as a leavening agent for the dough. So, you don't have to use yeast, which means no kneading and no proofing time. It truly is a quick bread.
Like when you cook with wine, the alcohol in the beer evaporates as you bake. So, don't expect that hit of booze with every slice.
But the beer does lend a pleasing yeasty taste to the bread and gives it a hearty, rich, and dense texture. Think heavy banana bread, not milk bread.
How to make cheese beer bread?
I think everyone should have a handful of quick bread recipes in their collection and the cheese beer bread is one such. You just have to dump everything in a bowl and then bake.
Combine all-purpose flour, salt, pepper, baking powder, brown sugar in a bowl.
Mix till the ingredients are evenly incorporated.
I also added dried oregano and chopped green onions, but these are optional (more on add-ins later).
Combine melted butter and shredded cheese to the dry ingredients.
Pop a beer bottle and pour it into the flour mixture.
Mix until you have a thick and lumpy dough.
Spoon it in a well-greased 9 by 5-inch loaf pan.
Brush the top with melted butter and bake for 50 to 60 minutes.
Quick notes:
Don't overmix the dough. Just enough that there are no dry flour streaks visible. You're not gunning for a smooth dough but a scraggly one.
Ovens vary, so the baking time might differ for you. Keep an eye on the bread after the 50-minute mark.
Serving the cheese beer bread
The aroma of the baking beer bread vaporizes all manners of problems. So, the next few steps are particularly hard on the heart.
You have to let the bread cool for 20 to 25 minutes before taking it out of the loaf pan. Then cool completely on a wire rack before you slice it.
But the wait is worth it. The interior is soft, moist yet dense, and the crust is slightly crisp from brushed butter. And as you slice it, the edges break apart in tiny, utterly irresistible crumbs - the sign of a successful loaf.
Cheese beer bread is best enjoyed the day of baking as attested by my kids who've already binged on a few slices.
It's great with a pat of butter.
It pairs well with soups and stews.
You can even toast beer bread and drizzle it with honey.
Variations of cheese beer bread recipe
My cheese beer bread recipe is an adaptation from NYT Cooking. According to them brown sugar helps keep the bread. But I think white sugar will work just as fine, especially because the delicious bread barely lasts longer than a day!
What kind of beer is best for the cheese beer bread?
Any kind of beer will do for the recipe. I don't drink beer, so I simply incorporated what I had in hand – a 330 ml bottle of Carlsberg.
In case you want a stronger yeasty, malty taste in the bread, choose a stronger beer.
What can I use instead of beer in beer bread?
I haven't experimented with substitutes as of yet. But I've read recipes that use club-soda (a spin on Irish soda bread) and non-alcoholic beer instead of beer.
What cheese to use in beer bread?
I didn't use any fancy cheese, but what was easily available in the local market, which turned out to be Amul cheddar.
But go ahead try any sharp cheese like a gouda or cheddar to really bring out the flavor.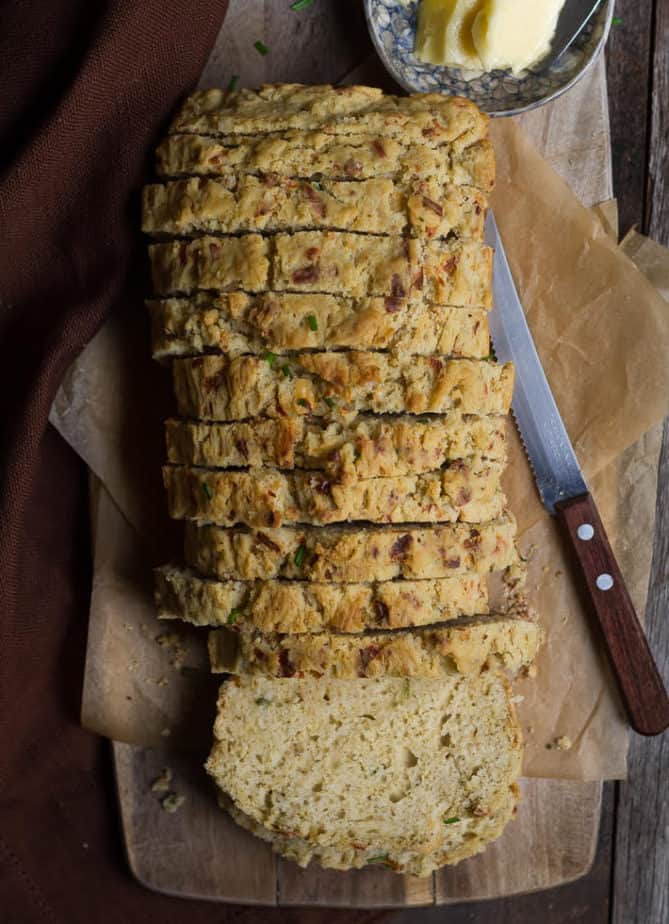 What add-in can you use in beer bread?
The recipe is completely customizable to your taste. You can load it up with more cheese either in the batter or on top.
Instead of dried oregano, try dried or fresh parsley to add something special to the bread.
Switch the green onions with chopped jalapenos.
Finely diced onions are another option.
Garlic would do wonders for the taste.
Give chili flakes a whirl.
Or even bacon.
Buttery, moreish, and so, so, delicious the cheese beer bread will turn out perfect no matter what ingredients you add-in!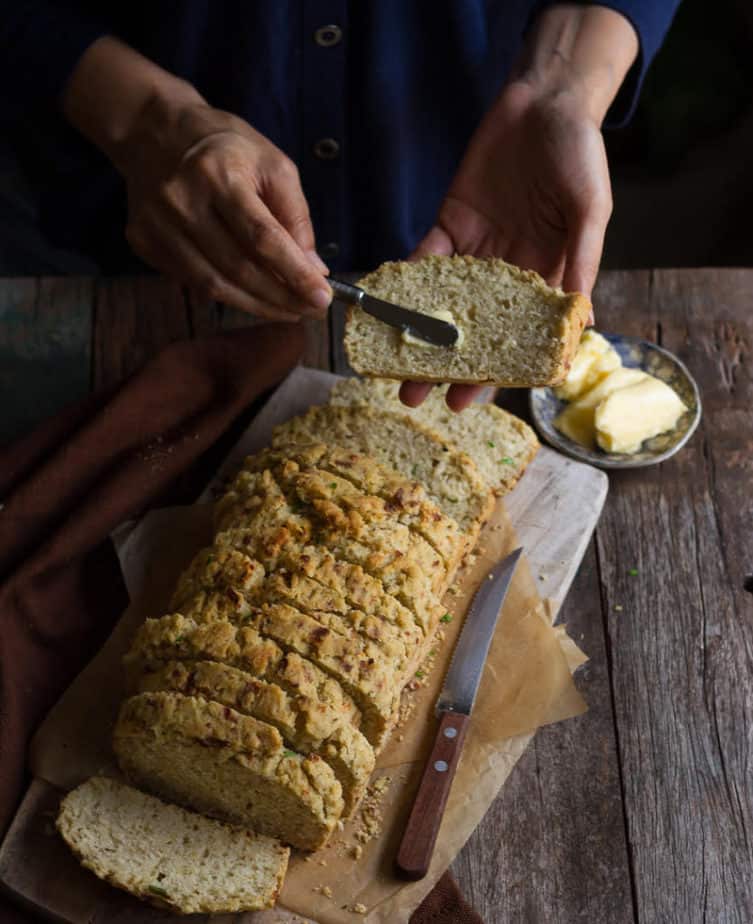 If you make this delicious beer bread, be sure to leave a comment and/or give this recipe a rating! I love getting to connect with you guys. You can also follow me on Instagram & Pinterest for more fabulous recipes.
📖 Recipe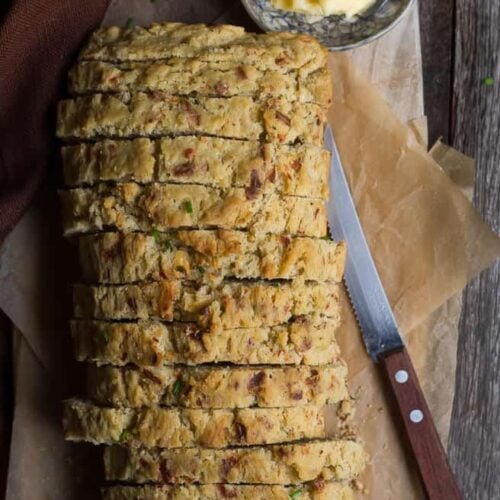 Print Recipe
Cheese Beer Bread
Cheese beer bread- An easy and quick recipe for a wonderfully buttery, hearty cheesy loaf of bread. Perfect with stews and soups!
Ingredients
3

cups ( 390 gms)

All-purpose flour

1

tbsp

Baking powder

1

tsp

Sea salt

2

tbsp

Brown sugar

1

tsp

Black pepper, coarsely ground

1/2

tsp

Dried oregano

2-3

tbsp

Green onion, chopped

1

cup ( 100 gms)

Shredded cheese

1/4

cup ( 50 gms)

Butter, melted

plus extra 1 tbsp for brushing on top

330

ml

Beer
Instructions
Preheat your oven to 180 C. Grease a 9"*5" loaf pan.

Combine all-purpose flour, baking powder, salt, brown sugar, pepper, dried oregano, and chopped green onion in a large bowl.

Whisk in the melted butter and shredded cheese.

Pour in the beer and mix well. Please don't overmix.

The batter will be thick and lumpy.

Spoon into the prepared pan. Smoothen the top and brush with 1 tbsp melted butter.

Bake at 180C for 55-60 minutes, until a skewer inserted in the center comes out clean with a few moist crumbs attached.

Leave to cool for 20 minutes in the pan before turning out on a wire rack to cool completely.

Serve warm with butter. Enjoy!