Words do not do justice to wool roll bread. The pictures do. It's just as pillowy and poofy in real life. With the softest, fluffiest crumb, the delicate, delicious milk bread tests the boundaries of your willpower. So, if you could keep just one homemade bread recipe in your box, make it wool bread, with eyes closed and complete trust.
FYI, if you've never made bread at home, dive into this wool roll bread recipe without a worry. It asks for time, like most good loaves of bread, but it's super simple, gloriously tasty, and it'll turn out perfect!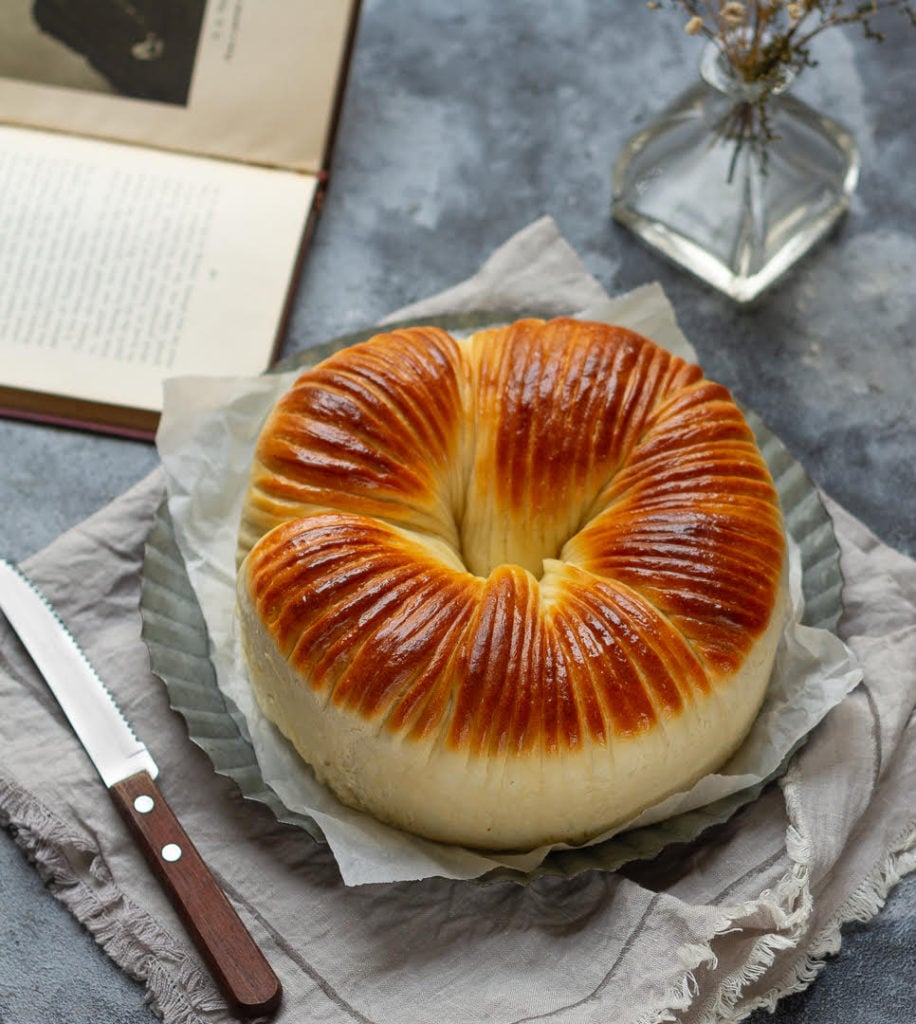 Jump to
What is wool roll bread and FAQs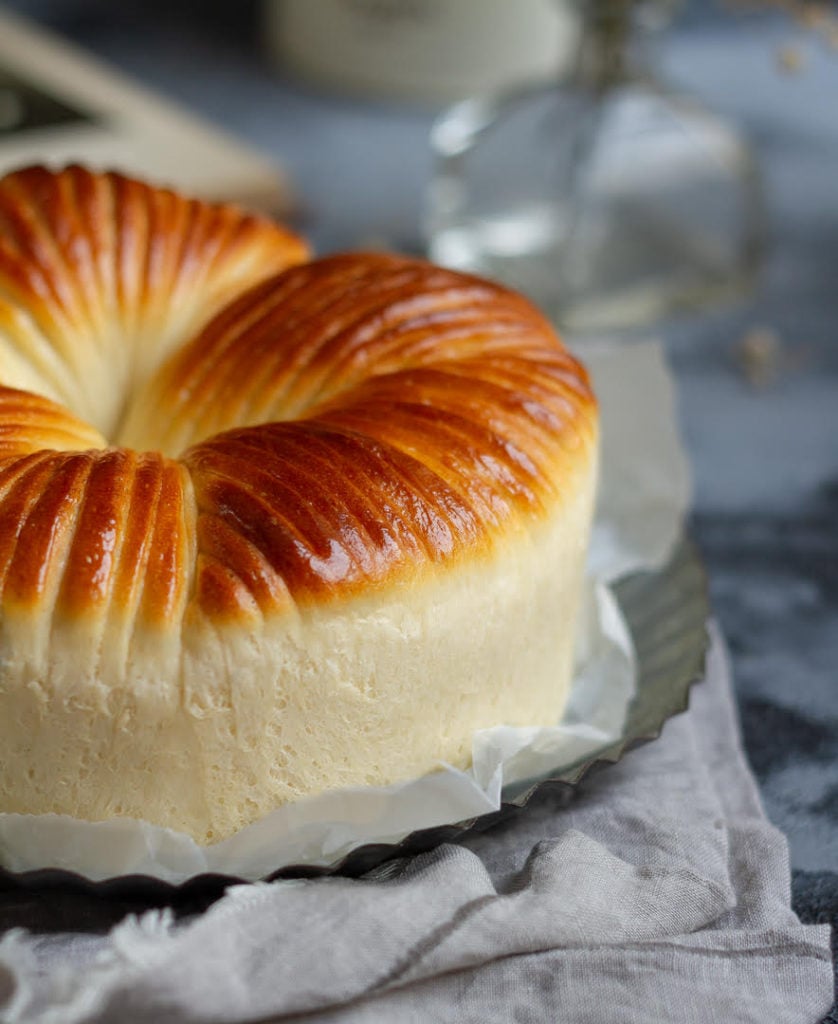 How to make wool roll bread?
Step 1: Mix your yeast in lukewarm milk and set it aside for 5 to 10 minutes to bloom.
Step 2: In a large bowl or your stand mixer, whisk all-purpose flour with salt and sugar. Crack an egg and mix everything (use a fork or whisk if you don't have a stand mixer).
Step 3: By now, the yeast will be bubbly and ready to be added. Pour it in and then knead at medium speed for 10 to 11 minutes. If you're kneading by hand, give it a good 12 to 14 minutes. The key to soft, fluffy wool bread is kneading the dough well. So don't skimp and don't be in a hurry.
Step 4: Take out the dough from the stand mixer, shape it into a ball, and then place it in a greased bowl. Cover the bowl with plastic wrap and tuck it in a draft-free corner for an hour, or until the dough has doubled in volume.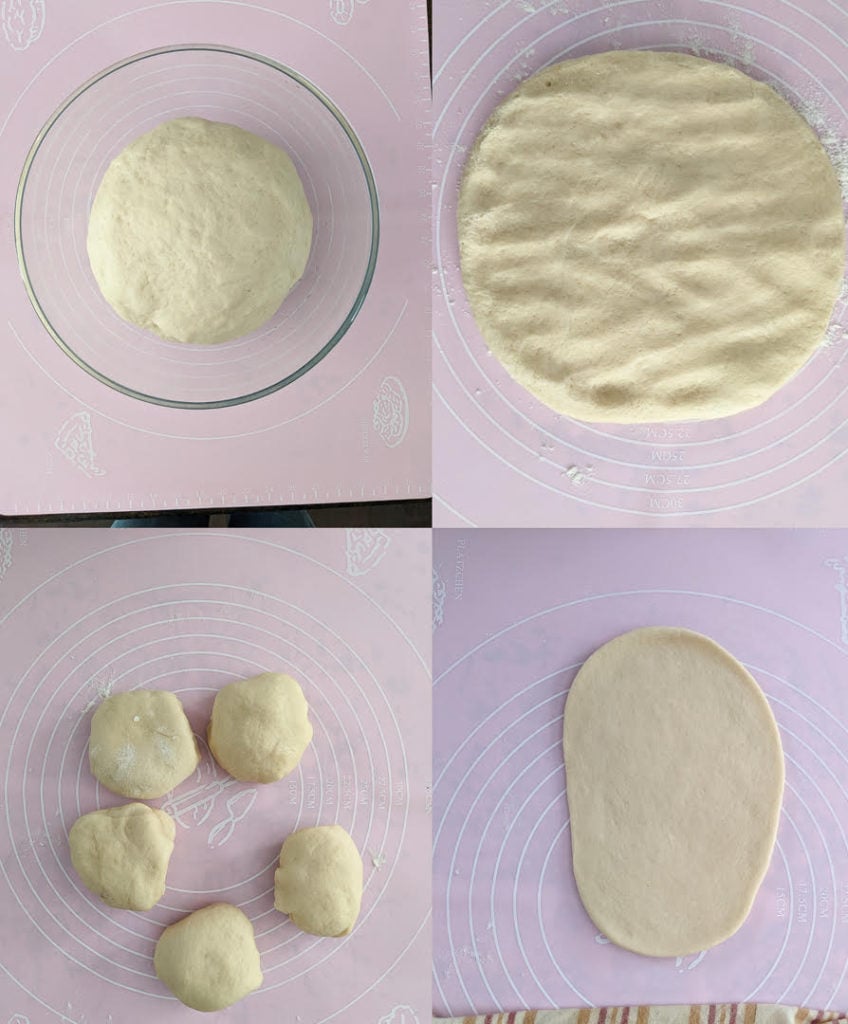 Shaping the wool bread
Step 5: Gently tip the proofed, puffed-up dough on a very, very lightly floured work surface. You don't want to add unnecessary dry flour to this bread.
Step 6: Flatten it into an 8-inch round. This will also deflate the dough. Then cut 5 equal pieces. You can eyeball them or weigh them.
Step 7: Roll each piece into a ball and then cover again with a wrap or damp kitchen towel for about 15 minutes.
Step 8: Working with one dough ball at a time, roll each one into an oblong shape about 16 cm long and 7 to 8 cm wide. You don't have to adhere to these numbers. Take them as bumpers that will help you stay in the right lane. A cm here or there won't hurt the bread a bit.
Step 9: On one half of each rolled-out dough, use your knife to slice vertical threads (or yarns). My tip is to either visually divide each piece into half or score a very light line about halfway through to guide you.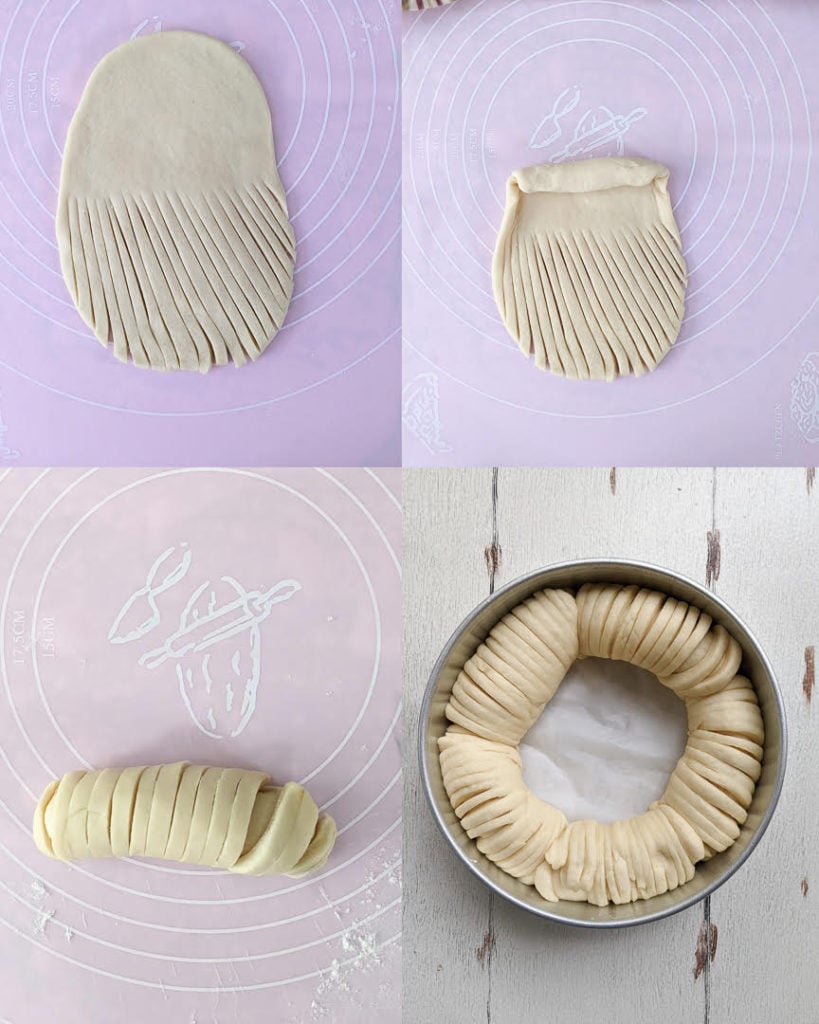 Baking the wool roll bread recipe
Step 10: Starting from the uncut edge, roll the dough down towards the strips. Tuck the seam under the roll and repeat the process for the rest of the 4 pieces. Watch the video to see how I cut and shaped the dough. When you see it, you'll understand better.
Step 11: Place the shaped dough, seam side down, espaliered against the pan's edge, so there's a gap right in the center. I used an 8-inch round pan, well-greased and lined with parchment paper. It's a snug fit, and at one point I thought the rolled logs wouldn't fit. But if you squeeze them in, they do, and the wool bread still rises beautifully.
Step 12: Proof the wool roll bread a final time for 30 to 40 minutes. Once it's puffed up, brush with milk and bake. All ovens are different, so the exact time will vary, but my bread was gorgeous golden in 25 minutes.
Allow the bread to cool for a few minutes before turning it over on a wire rack. You can brush the hot bread with melted butter for that extra sheen!

What is wool roll bread and other burning questions?
The recipe for wool bread began to make its rounds on the internet last year. By all accounts, it originated on the Apron baking channel. It's baked in a round tin and shaped so that it looks like a skein of wool, hence its name.
What if the wool bread dough is sticky?
The recipe for wool roll bread makes for a very soft and supple dough. Once it comes together, it is not sticky. My advice is to give the wool bread time before you gauge and start over correcting the dough.
If it continues to be viscid, add a tablespoon of flour to make it less sticky. If the dough feels too dry, mix in a tablespoon of milk.
How to tell if the wool bread dough is proofed and done rising?
Always do a poke test to check if bread dough is proofed or not. Press your fingertip or knuckle gently but with firm pressure. If the dough springs back immediately, it is not done rising. But if you leave behind an indentation that slowly smooths out, the proofing is complete.
How do you know when the wool roll bread is done?
When the bread is baked, the top will take on a very soft golden-brown hue. Another way to check if the wool bread is baked is to tap it on the bottom. It should sound hollow.
Can you make stuffed wool roll bread?
My recipe for wool roll bread is a basic one. When you've tried it and loved it, experiment with wool roll bread fillings. The range of ways in which this recipe can be adapted for fillings is astounding. All you have to do is fill the uncut part of the rolled dough.
Sweet: cinnamon, raisins, cranberries, chocolate spread (like in Babka), nuts or apples
Savory: cheese, pizza sauce, or pesto
I plan to bake a few stuffed wool bread soon, so keep your eyes peeled for the recipes!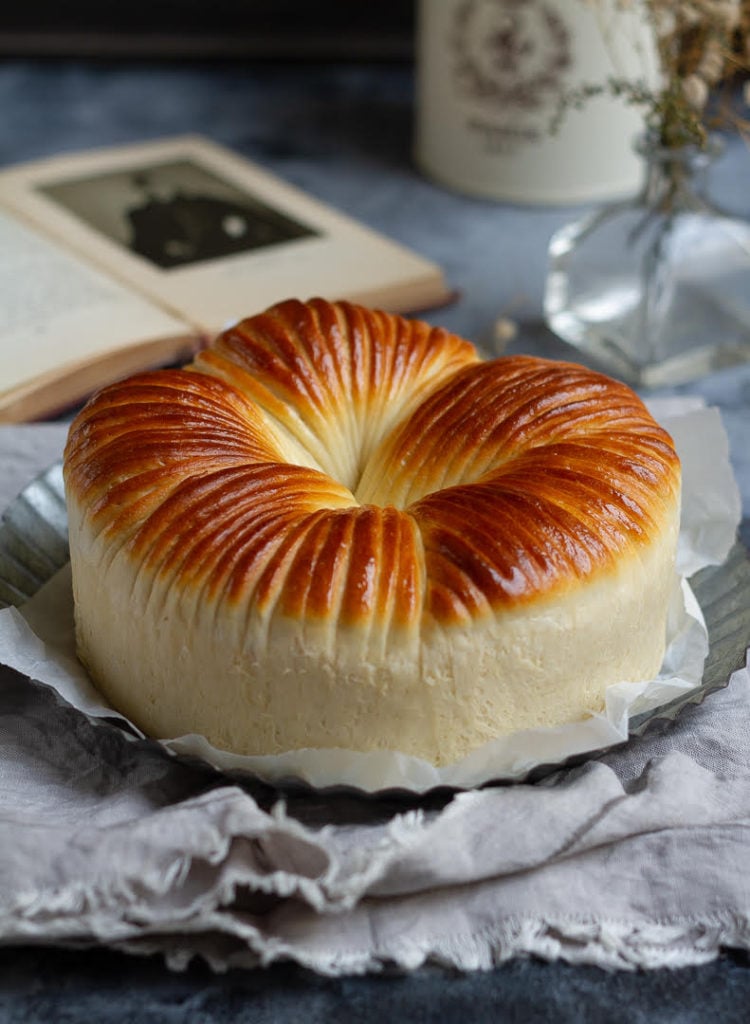 A few substitutes for the ingredients for wool roll bread
Milk: Any milk of your choice works well for the wool bread recipe. Full-fat, creamy coconut milk is an excellent option to make the bread richer.
Flour: Try whole-wheat flour instead of all-purpose. Or go half-and-half of both.
Eggless: I haven't tried the wool roll bread recipe without an egg. For those who want to, substitute it with milk. One egg is about 55 gms, so add that amount of milk.
Egg wash: Brushing milk just before baking gives it a shinier, softer crust. You can replace it with egg wash.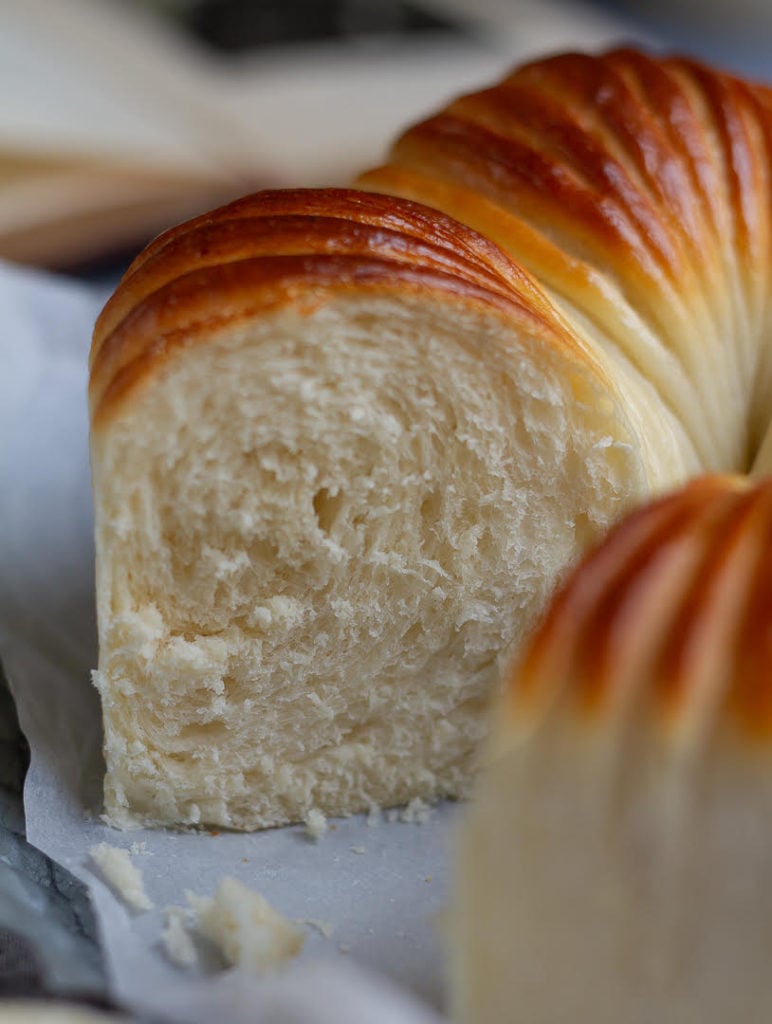 Easy homemade bread recipes
Easy Olive Bread | with Sundried Tomato & Garlic
The very best homemade bread according to me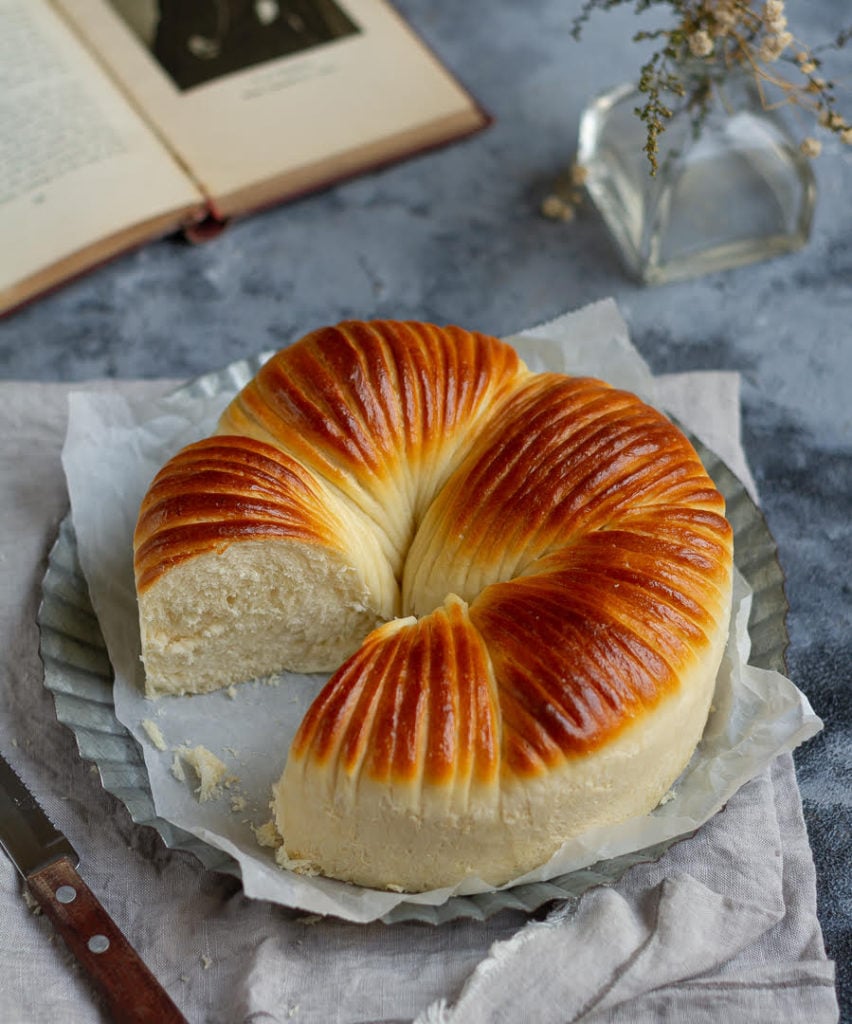 📖 Recipe
Print Recipe
Wool Roll Bread
Wool Roll Bread - With the softest, fluffiest crumb, the delicate, delicious milk bread tests the boundaries of your willpower. This recipe is a winner, simple even for beginners!
Ingredients
180

gms ( 3/4 cup)

Milk

1.5

tsp

Yeast

300

gms ( 2 1/8 cup)

All-purpose flour

30

gms ( 1/8 cup)

Sugar

1

tsp

Salt

1

Egg

1

tbsp

Milk for brushing on top
Instructions
Grease an 8" round tin and line the bottom with parchment paper.

Combine the lukewarm milk and yeast in a small bowl. Mix and keep aside for 5-10 minutes, or until the mixture is frothy.

In the bowl of your stand mixer, combine the flour, sugar, salt, and egg.

Add the milk- yeast mixture and mix to combine.

Knead the dough on medium speed for 10-11 minutes. The dough will be just a tad sticky, supple, and soft.

You can knead by hand too. This would take about 12-14 minutes. Take a 5- minute break in between kneading if you need a rest. Just make sure the dough is covered with a damp kitchen towel.

Turn the dough out in a lightly greased bowl. Cover with plastic wrap and keep in a draft-free place for 45-60 minutes or until the dough doubles in size.

Turn the dough out on a very lightly floured surface.

Gently deflate the dough and pat it into an 8" circle. Cut into 5 equal-sized portions.

Shape each dough portion into a ball. Cover the dough balls with a damp kitchen towel and let them rest for 15 minutes.

Working with one dough ball at a time, roll it out into an oblong shape, roughly 16 * 6 cms.

Leave the top half of the rolled-out dough as is. Using a knife or bench scraper, make thin cuts, lengthways, on the bottom portion of the dough.

Starting from the top, the uncut dough portion, bring the sides in slightly and then roll it tightly to the bottom.

Place the roll, seam side down in your prepared pan. Repeat with the rest of the dough balls.

Cover the pan with a damp kitchen towel and place in a draft-free place for 30-45 minutes or until puffy.

While the bread is proofing, preheat your oven to 180C.

Brush the proofed bread dough with milk.

Bake in a preheated oven at 180C for 25-30 minutes or until its golden brown on top.

Cool in the pan for 10 minutes. Then transfer to a cooling rack to cool completely.

Serve as is or with butter. Enjoy!