The recipe for this crunchy, crispy, chocolatey chocolate salami is ridiculously simple and makes an anytime pick-me-up that will completely floor you!
There are many names for chocolate salami: chocolate biscuit roll, salami dessert, salami cake, chocolate sausage, and salami cookies. But there is only one description for it: epicurean pleasure.
Smooth, luxurious chocolate; crunchy nuts, and crispy cookies, the treat is an explosion of textures without being too heavy. A fine end to any meal, it could also be served as a snack in a pinch.
Jump to:
WHAT IS CHOCOLATE SALAMI?
Chocolate salami is a popular Italian dessert, where it is known as salame di cioccolato or salame dolce. It is equally common in Portugal, Sicily, and Russia, where it's known as salame de chocolate, salame turco, and shokoladnaya kolbasa.
In all its incarnations, the sweet roll owes its name to its shape that looks like salami, which is just a mosaic of nuts and cookies ensconced in chocolate and blanketed in icing sugar.
WHY TRY THIS RECIPE FOR CHOCOLATE SALAMI?
You need just pantry ingredients
Quick to prepare with no cooking
Double or halve the recipe with ease
It's a fantastic make-ahead Christmas treat
An irresistible dessert that can double as a snack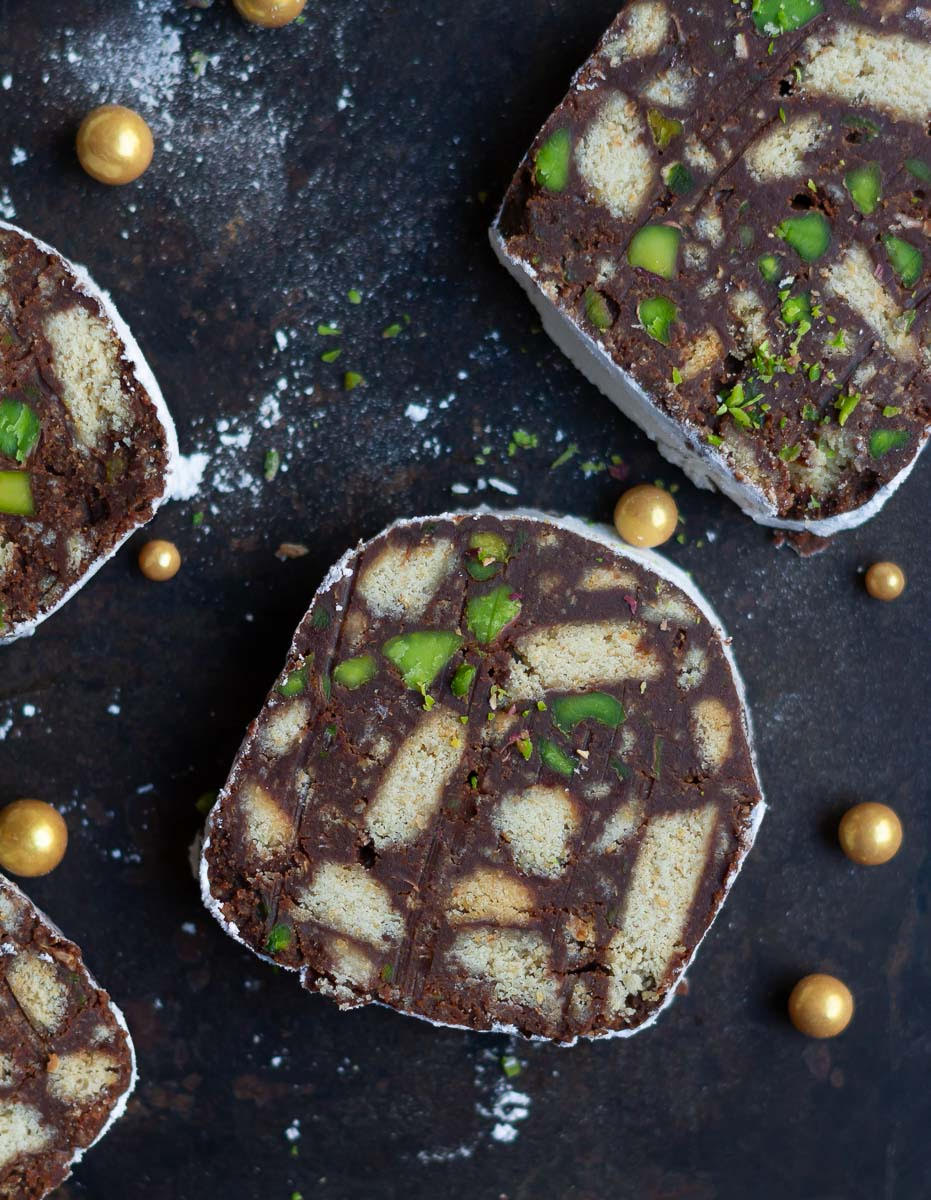 HOW TO MAKE CHOCOLATE SAUSAGE?
Step 1: Place your biscuits in a Ziploc bag and roughly crush them using your hands or a rolling pin. You're looking for small to medium chunks, not fine powder.
Step 2: Melt chocolate chips and butter.
Step 3: Pour in milk and stir until you have a homogenous, smooth mixture.
Step 4: Incorporate the crushed biscuits and some chopped pistachios.
Step 5: Tip the mixture onto a sheet of parchment paper, shape it into a cylinder, and wrap the chocolate sausage tightly in the paper.
Step 6: Twist the ends to seal it and refrigerate till the salami cake is solid and set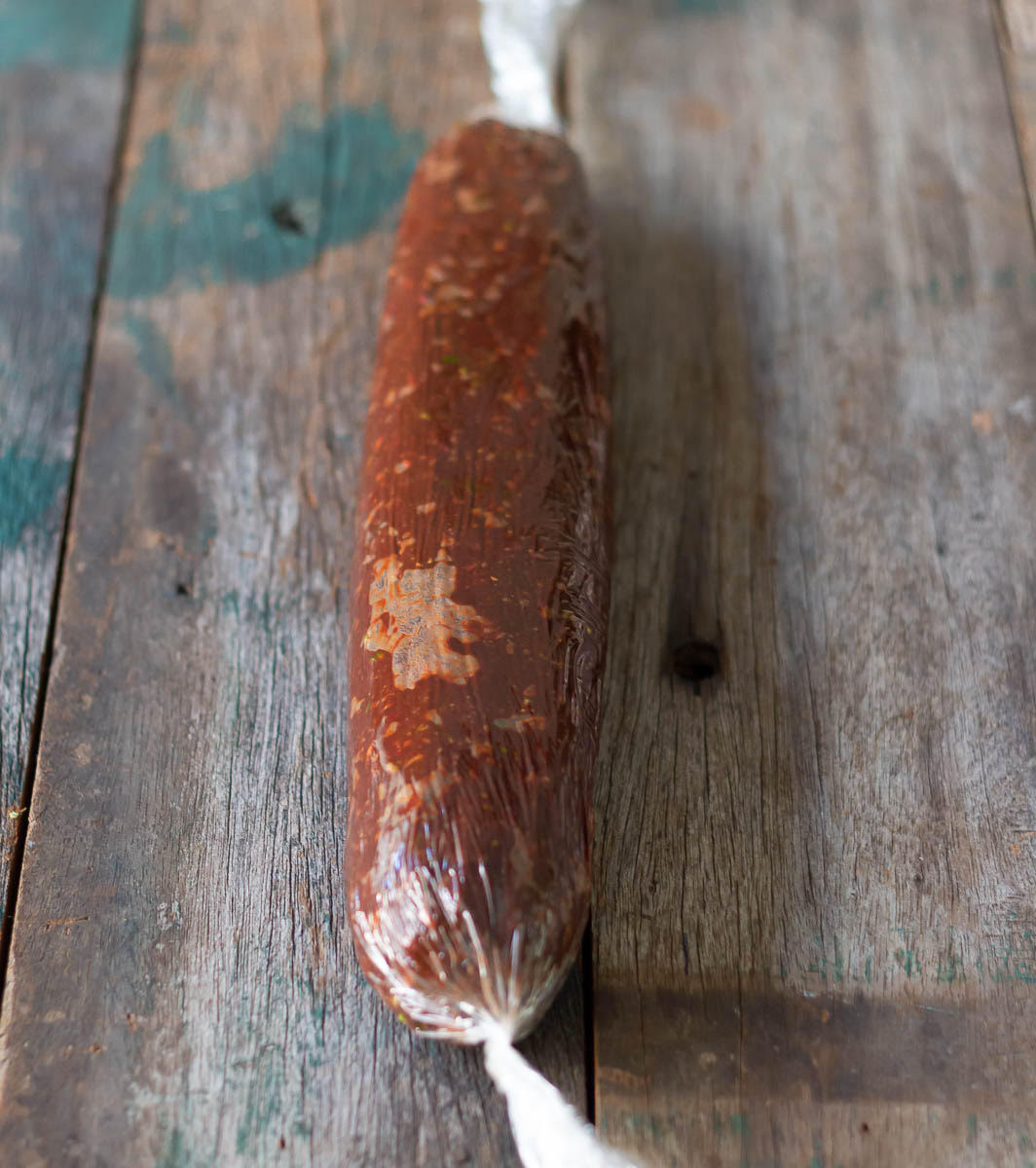 Final step: Dust icing sugar, slice, and serve.
NOTES ON NO-BAKE CHOCOLATE SALAMI
Make sure you start with room-temperature ingredients.
Chocolate salami is meant to be textured: crispy, crunchy, and chocolatey. So don't use a blender to crush the biscuits. Leave them chunky.
Use a double boiler to melt the chocolate for this salami dessert.
When you're rolling the chocolate sausage, make it compact and tight, so there are no pockets of air.
If you want a neater look, wrap first in paper and then in foil or plastic wrap.
This is a no-cook, no-bake chocolate biscuit roll, but it does need a period of rest in the refrigerator. Give it at least 4 hours or more. Trust me, it'll be easier to cut, and the salami cookies (because that's really what they are, just made without cookie dough) won't crumble.
They pack well, which makes them perfect for Christmas cookie swaps or just homemade holiday gifts. Put in baggies, tie with a string, and add to the basket!
Storage: In an airtight container, chocolate salami keeps well for 2 to 3 weeks. You can even freeze the uncut salami dessert for a month. Just defrost before you cut and serve.
Serve: Coat the chocolate salami with icing sugar and serve thick slices as-is or with whipped cream after dinner. Or you can serve it as a snack with a cup of tea or coffee.
VARIATIONS
Biscuits: There's just one rule with chocolate biscuit roll. Use plain, crunchy cookies, not rich, soft ones. I prefer digestives, but graham crackers, vanilla wafers, tea biscuits, Marie biscuits, or even amaretti cookies will do.
Nuts: Pistachios were my pick for a) the visual appeal and b) their delicate flavor that plays in harmony with the chocolate and cookies.
But by no means limit yourself to them. Play around with pecans, peanuts, hazelnuts, almonds, or cashews—whatever is easily available to you.
Milk: I chose to make the chocolate salami without eggs and used whole milk as a substitute. Alternatively, you can use cream.
Salt is a potentiator. It doesn't add a flavor of its own; rather, it brings out the delicious flavors of other ingredients. So, if you're using unsalted butter, include a couple of pinches of salt in the recipe.
Chocolate: My recipe for chocolate salami has 55% dark chocolate chips. I didn't even include additional sugar because we're not too gung-ho about overly sweet desserts.
That said, pander to your taste. Choose the type of chocolate that you enjoy, as long as it is of high quality, and stay away from compound chocolate.
Add-ins: there are tons of ways to accent the flavor of these salami cookies. A dash of rum or brandy. A splash of coffee or liqueur. All are brilliant options. Include them along with the milk.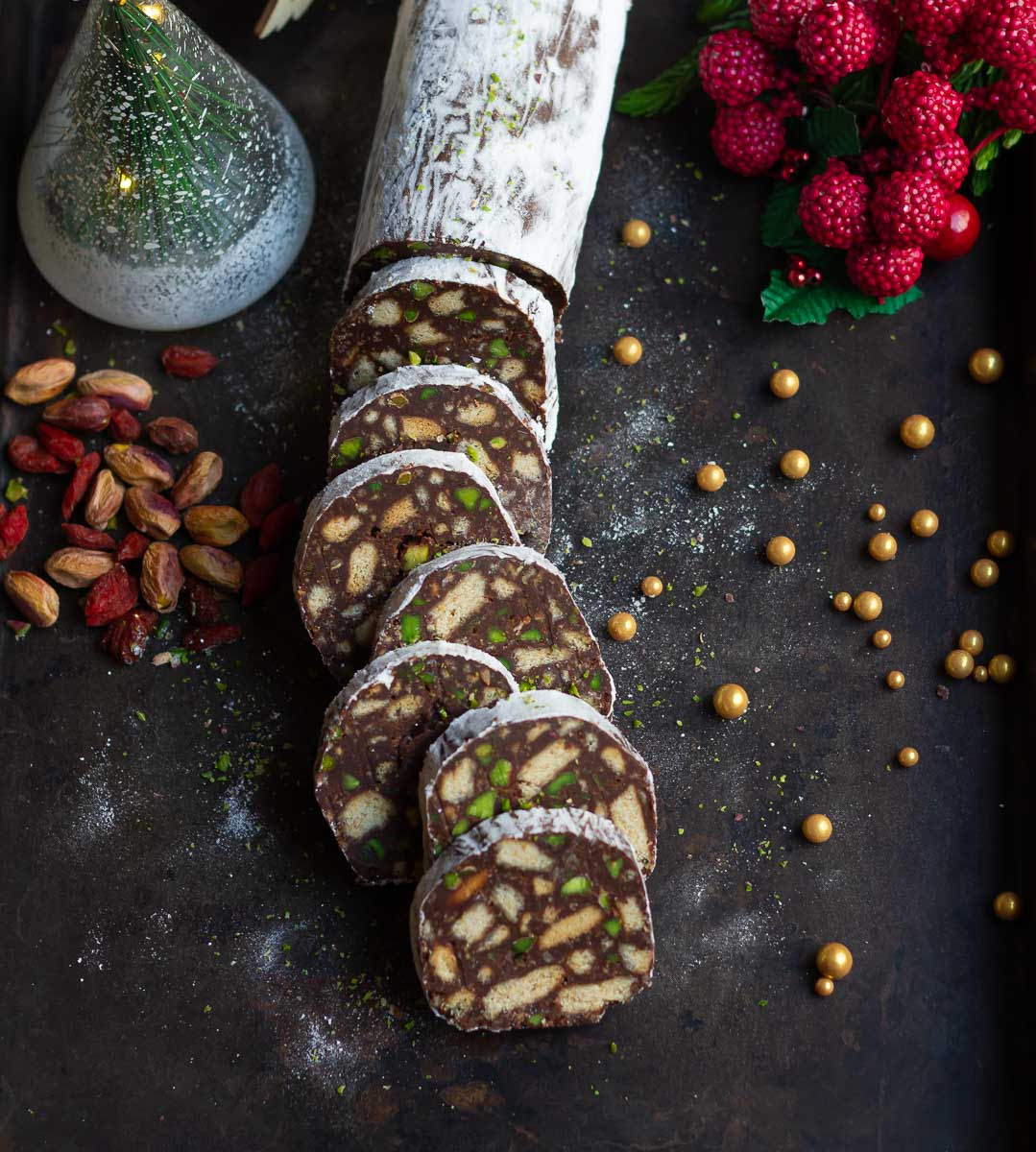 MORE DESSERT RECIPES
Half the joy of cooking is sharing it with others, which is why I'm always eager to hear from you. So go right ahead and drop a comment or reach out on Instagram, Pinterest, YouTube, or Facebook. I hope you love this chocolate salami as much as we do!
📖 Recipe
Print Recipe
Easy Chocolate Salami Recipe
The recipe for this crunchy, crispy, chocolatey chocolate salami is ridiculously simple and makes an anytime pick-me-up that will completely floor you!
Ingredients
250

gms / 25 pcs

Digestive cookies

200

gms / 1.25 cups

Dark chocolate, room temperature

90

gms / 6 tbsp

Butter, room temperature

90

gms / 1/3 cup

Milk, lukewarm

1/2

cup / 60 gms

Pistachios
Instructions
Place the cookies in a ziplock and crush them, using a rolling pin.

Make sure the cookies are broken into chunks and not completely crushed. Set aside.

Roughly chop the pistachios and keep aside.

In a large bowl, melt the chocolate and butter together until melted and smooth.

Add the milk and mix well.

Add the crushed cookies and chopped pistachios. Mix well.

Spread the mixture on plastic wrap or parchment paper and shape it into a log. Twist the ends of the wrap tightly, like a candy wrapper.

Place the log in the refrigerator for at least 4 hours or until solid.

When the chocolate has set, remove the paper and dust the log liberally with icing sugar.

You can store sliced chocolate salami in an air-tight container in the refrigerator.