Easy recipes are my thing, but mulled wine takes the cake and bakery when it comes to ease. All you need is a red wine you love, fresh orange wheels, and a blend of three spices to make it.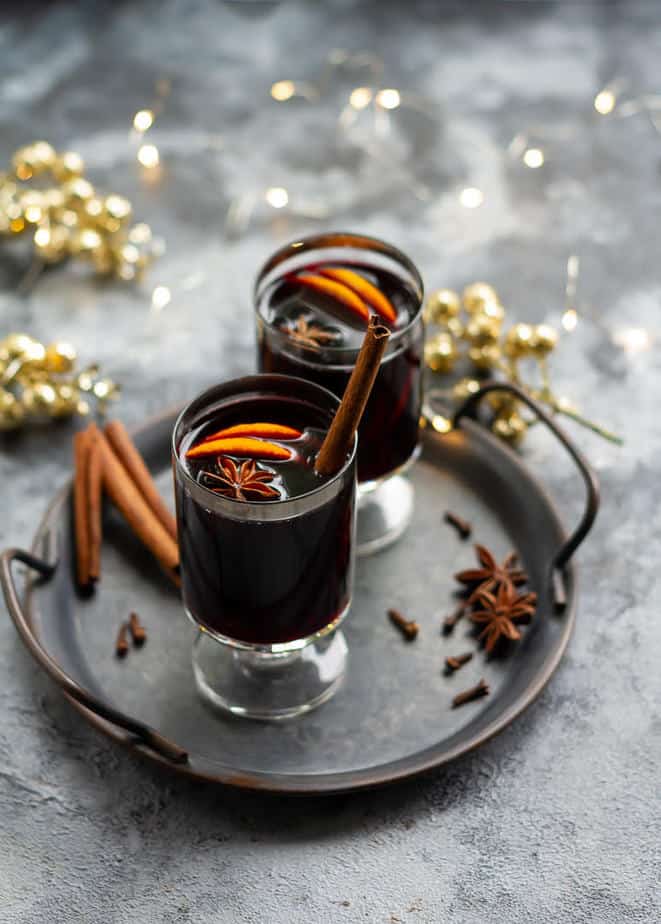 With cloves providing smoky notes, cinnamon lending some dimension, and star anise making it striking, it's the type of mulled wine that floods the home with the most amazing and comforting aroma.
The type of mulled wine that reminds you that Thanksgiving and Christmas is in the air. The type of mulled wine you make for yourself and not just guests because after the year we've had, all of us need a welcoming, cozy embrace on a wintry night.
Jump to
What is red wine mulled wine?
Mulled wine and Christmas go like PB&J. But the sweet-spicy beverage is also made during Thanksgiving, and New Year. The traditional ingredients are wine, sugar, and an assortment of spices. However, at times, the recipe may use fresh fruit, dried fruit, and additional alcohol.
Served warm in a mug, the spiced wine makes you feel toasty and fuzzy from the very first so if you haven't tried making mulled wine at home. Do it this holiday season. I promise you'll love it!
How to make mulled wine?
The secret to heady, warm and comforting mulled wine is using whole spices instead of a mulled wine spices mix or ground spices. Barring that, there really is not much to making it.
In a saucepan, pour your red wine, and bring it to a bare simmer.
Add sliced oranges, cinnamon, cloves, star anise, and brown sugar.
Let the wine mull on low heat for 30 to 120 minutes.
Strain and serve nice and warm.
How to garnish mulled wine?
Spiced wine is a no-effort drink. Sip on it as-is, and you'll finish a batch quicker than you think. But who says you can't jazz it up for spur-of-the-moment plans?
When family or friends come over for the holidays, make the drink extra special. Garnish it with:
A fresh orange wheel
A stick of cinnamon
A star anise
My two cents on making the best mulled wine
High heat is not your friend when mulling. Use low heat.
Don't boil the wine; bring it to a simmer. It'll ensure the alcohol doesn't evaporate, and you get oodles of spice flavor.
If it is a weekday, and you're short on time. Let the wine simmer for 30 minutes. But if you're making it ahead, you can cook it for up to 2 hours.
Feel free to throw in other spices, but the three I mention are more than enough because of their potency.
Which type of wine to use for mulled wine?
I used a smooth Sula Shiraz Cabernet for the recipe, and it went really well.
My advice? Use the red wine you love. Don't overthink it. Just make sure it's not too heavy on the pocket. All the subtle nuances of expensive wines are lost once you cook them. Also:
Keep it good quality, fruity, and not too sweet.
A dry, smooth, medium-bodied one is best.
How long can you keep mulled wine, and can you reheat it?
You can refrigerate spiced wine for three to five days. Before you store it, make sure it is completely cool. When you want to serve, reheat it gently at a low temperature on your stovetop.
Additions and optional ingredients for mulled wine
Sugar: When you steep wine, the sour and tannic tastes come to the forefront. That's why a sweetener is necessary. Brown sugar does a charming job, but if you want more dimension to the festive drink, use maple syrup or honey. Make sure you add them after the wine is mulled but still warm.
Boozy Boost: There are a lot of things you can use to spike mulled wine. Brandy is the obvious choice. But a splash of bourbon is good too. Don't have either? Don't worry. Stick to just red wine, it's the leading character anyway.
Oranges: Orange slices, particularly the peel, lend complexity to the flavor of spiced wine. You can make it brighter and more citrusy by squeezing fresh orange juice into the saucepan along with the wine.
Don't sleep on mulled wine because:
It's quick and easy to make
It's the ideal spicy, boozy beverage for parties
A glass makes you feel comfy, fuzzy, and snugly
Holidays simply are not complete without a mug of mulled wine
Some more festive drinks
📖 Recipe
Print Recipe
Mulled Wine Recipe
This mulled wine recipe is flavored with fresh oranges, cinnamon, cloves, and star anise. Its like a warm, cozy embrace on a cold night...perfect for the Holiday seson!
Ingredients
1

bottle ( 750ml)

Red wine

1

Orange, sliced

4

Star anise

2

Cinnamon sticks

8-10

Cloves

2

tbsp

Brown sugar
Instructions
Combine the red wine, oranges, star anise, cinnamon sticks, cloves, and brown sugar in a saucepan.

Cook for on low heat for at least 30 minutes, upto 2 hours.

Strain the wine through a sieve and serve warm. You can garnish with cinnamon sticks, star anise, and fresh orange slices. Enjoy!