Warm spices, candied fruits, crunchy nuts embedded in a gooey, moist crumb soaked in enough rum to reach blissful heaven: this Christmas rum cake is definitely not the usual fruitcake. It has a sweet side perfectly counterbalanced by the bite of cloves, ginger, and nutmeg.
And I know there are endless Christmas cake recipes, with each family swearing up and down that, theirs is the best, but this is my favorite way to make it.
It is so loaded with exquisite revelry of savors that a little goes a long way. And it tests my own willpower mercilessly, begging for a nibble. I'm not ashamed to admit that already only a tiny morsel of it is left!
How to make Christmas rum cake?
Soaking the fruits in rum is the most essential part of the Christmas cake. It's also the reason why most people don't try it, because they think it'll take ages.
So, I found a shorter route (more on it later) to rum cake. Where the cake can be ready in days, not weeks or months. But, if you have the time and Christmas is still a ways off, follow the (slightly) longer one. The end result is a perfect holiday gift (or a treat to be kept all for yourself).
Soak the Christmas cake fruits in rum
Add to a mixture of rum and whiskey, cherries, cranberries, apricots, figs, tutti-frutti, and orange peel.
Close the jar and set it aside.
For those enjoying chilly winters like me, the kitchen/pantry countertop is fine. If it's warm where you are, refrigerate the jar.
Every couple of days, shake the jar.
How long should you soak fruits for Christmas cake?
The longer you soak the fruits, the more flavor your cake will have. A month or two is what most people say. I kept them for 10 days, and the cake was sweet, spiced, and lush, with yummily boozy!
A quicker method to soak fruit for cake
There is a shortcut to soaking fruits in alcohol. You can do it overnight. For those bound by time, use these steps:
Combine the rum and whiskey with the fruits in a saucepan.
Gently bring it to a bare simmer and then switch off the heat.
Let it cool down to room temperature and then use it in the recipe.
Make the batter for the Christmas plum cake
In a bowl, beat softened butter with jaggery powder till it's light and creamy.
Add an egg. Beat it in and then add another egg. Beat again and then incorporate the last egg.
In another bowl, sift all-purpose flour, almond flour, baking powder, and baking soda.
Mix ginger powder, clove powder, cinnamon powder, and grated nutmeg into the dry ingredients.
Fold the dry ingredients into the wet, and you'll get a thick batter.
Now you add in the soaked fruits.
I appreciate a bit of crunch and a play of texture in my Christmas cake, so I also included chopped cashews and almonds. However, this is a completely optional step. Feel free to omit it.
The final touch was orange zest, giving the rum cake a citrusy brightness.
What consistency or how thick should Christmas cake batter be?
The batter is thick with a consistency that drops slowly from a spoon. If you feel it's too thick, you have three options:
Pour some of the liquid you soaked the fruits in.
Include a splash of rum.
Use freshly squeezed orange juice.
Bake to get the (most) moist Christmas rum cake
Take an 8-inch tin and grease it liberally.
Line the bottom with butter or parchment paper.
I advise lining the sides with paper too. It just makes it so much easier to take out the cake.
Grease the paper as well, so that the cake doesn't stick.
Pour the batter into the tin and then bake in a preheated oven for a good 1 hour and 15 minutes.
How do you know when a Christmas fruitcake is done?
You'll know the fruitcake is done when a skewer inserted in the center of the cake comes out clean. I recommend checking the cake after the one-hour mark is crossed, as oven temperatures differ a lot.
How do you stop the Christmas cake from burning?
If the top of the cake is browning too much or too fast, loosely cover the top with foil.
Store and feed the Christmas plum cake with rum
Once baked, the cake can be eaten immediately ( after its cooled), but feeding it enhances the flavor, adding a luscious dimension. The longer you keep the cake, the more intense the flavors will be. I fed the cake for two days, and it developed the flavors stunningly.
Once the cake is baked, grab a skewer and gently poke holes in the cake.
Then either brush or slowly drizzle the soaked fruit liquid so that it seeps inside and noses its way to random pockets of crumbs. You also have the option of feeding it just rum.
Let it cool completely. It is important to mature the flavors.
Then wrap it in foil nicely and store it.
The next day, unwrap and then brush either the soaked fruit liquid or rum once again.
Can you feed the Christmas cake with orange juice?
Yes, absolutely. If you have kids at home or don't want any booze in the cake, use orange juice.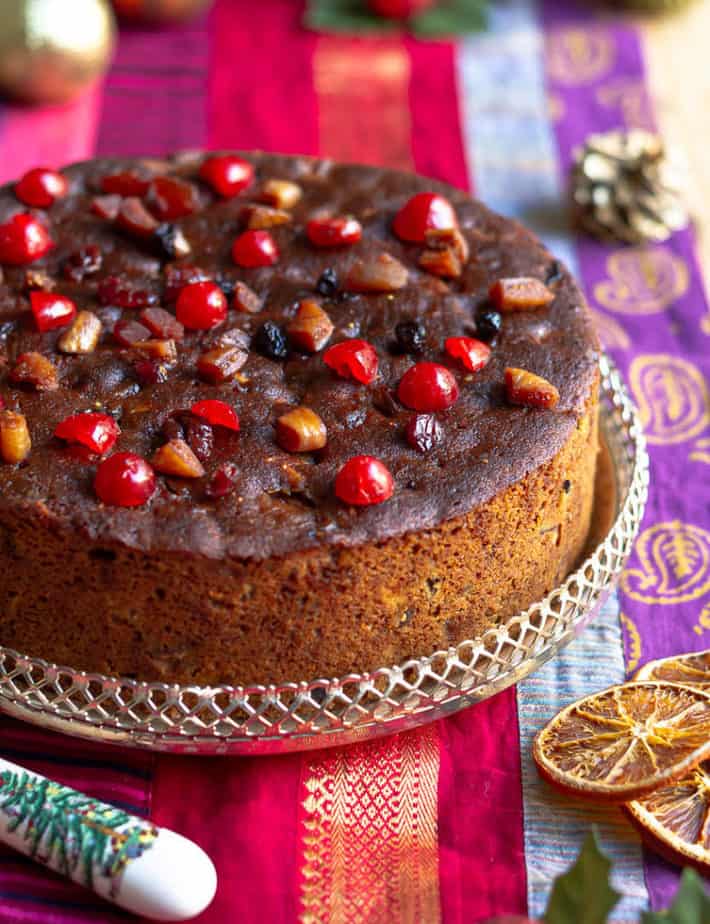 What are the ingredients for rum cake?
Sugar: Typically, traditional Christmas cakes have brown sugar. I just wanted to make use of the jaggery powder I had lying around, so that's what went into the recipe. FYI, it lends a gorgeous, deep caramelly flavor.
Egg: I have never made an eggless Christmas fruitcake. Although I've seen others do it. Substitute the eggs with full-fat Greek yogurt. Homemade yogurt is another alternative, as long as you drain it thoroughly. You don't want watery yogurt in this recipe.
Fruits: You can use any combination of fruits and dry fruits you relish or are available. Raisins of any type, black currants, dates, candied ginger, everything works.
Nuts: These are optional. Cashews and almonds are my preference. You can use whatever rocks your tastebuds: walnuts, pecans, hazelnuts.
Spices: Pander to your palate and pick the spice(s) you love. I adore the sharpness of ginger and the bite of cloves. But if you don't enjoy them, simply stick to cinnamon. For a citrus punch, up the amount of orange zest.
Alcohol: Whiskey is not necessary for fruitcakes. I've no idea how it became a tradition for me. It was likely during the time I was running my bakery and had run out of rum. To make the difference, I splashed some whiskey, and the habit stuck. Only rum is fantastic for the cake. Brandy also works.
Booze-free: Without a worry, replace the rum with orange juice. Wherever the recipe calls for alcohol, absolutely go ahead with OJ. You'll still get a wonderfully flavorsome cake.
Enjoy the Christmas rum cake
When you're ready to serve the cake, garnish with some cherries or a spoonful of any leftover soaked fruit. Don't have either? Dust it with icing sugar or dig in as-is; the dense, rich, and super flavorful cake really needs no embellishments.
I bid you adieu with a little inside tip. Give the cake a little time to marry all the spices and live happily ever after. My personal recommendation is to let it feed and mature for a day before you dig in.
Trust me, you will not regret the wait!
More Christmas recipes to try this holiday season
Chocolate Fudge with Condensed Milk
📖 Recipe
Print Recipe
Christmas Rum Cake
Christmas Rum Cake - Warm spices, candied fruits, crunchy nuts embedded in a gooey, moist crumb soaked in enough rum to reach blissful heaven! A no-fuss, easy recipe to make the loveliest cake of the season!
Ingredients
Soaking dry fruits
1/3

cup

Tutti frutti

1/3

cup

Dried cranberries

1/3

cup

Dried figs, chopped

1/4

cup

Dried cherries

1/4

cup

Dried apricots, chopped

2

tbsp

Orange peel

1

cup

Rum

1/2

cup

Whiskey
Cake
1

cup ( 250 gms)

Butter, softened

1 1/4

cup( 300 gms)

Jaggery powder or Brown sugar

3

Eggs, room temperature

You can replace the eggs with 120 gms of plain Greek yogurt.

2 1/4

cup (300 gms)

All-purpose flour

1/2

cup ( 50 gms)

Almond flour

1

tsp

Baking powder

1/2

tsp

Baking soda

1.5

tsp

Cinnamon powder

1.5

tsp

Ginger powder

1/2

tsp

Clove powder

1/2

tsp

Nutmeg powder

Zest of 1 orange

1/4

cup

Almonds, chopped

1/4

cup

Cashew, chopped
Instructions
Soaking dry fruits
Combine all the dry fruits and orange peel in a jar. Pour over the rum and whiskey. Stir well and set aside for at least 1 week.
Cake
Preheat your oven to 170C. Grease and line an 8" cake tin with parchment paper. Butter the parchment paper too.

Sift together the flours, spices, baking powder, and baking soda in a large bowl.

In another bowl, beat together the butter and jaggery powder or brown sugar, until pale and creamy.

Add in the eggs, one at a time.

Fold in the dry ingredients, until no white streaks remain.

Fold in the orange zest, nuts, and all the soaked fruits ( keep aside 2-3 tbsp for topping the cake later).

This will be a thick batter. Pour into the prepared cake tin and smooth the top.

Bake at 170C for 1 hour 15 minutes, or until a skewer inserted in the center comes out clean.

If the top is getting too brown, cover lightly with foil.

Once you've taken the cake out of the oven, use a wooden skewer to poke holes on the surface of the cake. Brush with rum or the leftover alcohol from soaking. Let the cake cool completely. Cover with aluminum foil and let the cake rest for at least 1 day.

Next day, unmould the cake and place it on a serving platter. Brush the surface again with rum or leftover soaking alcohol.

Top with reserved soaked fruits and some glace cherries if you like. Cut into slices and serve. Enjoy!
Notes
*This cake can be kept out for 1 week before serving. Just make sure its tightly covered in aluminum foil. 
*You can brush or feed the cake with rum or leftover alcohol from soaking the fruits every 2 days for a more intense flavor.
*If you don't have the time to soak the dried fruits for a week, simply combine all the soaking ingredients and bring it to a gentle simmer on low heat. Take it off the heat, let it come to room temperature, and then proceed to use in the cake as per the recipe.