Roses are red, violets are blue, and I've got a treat that'll make your taste buds swoon! Rose Tres Leches is the moistest, creamiest cake that's as festive as it can get. So, so easy to make (and yes, you can make it ahead), this three-milk cake doesn't need fancy ingredients!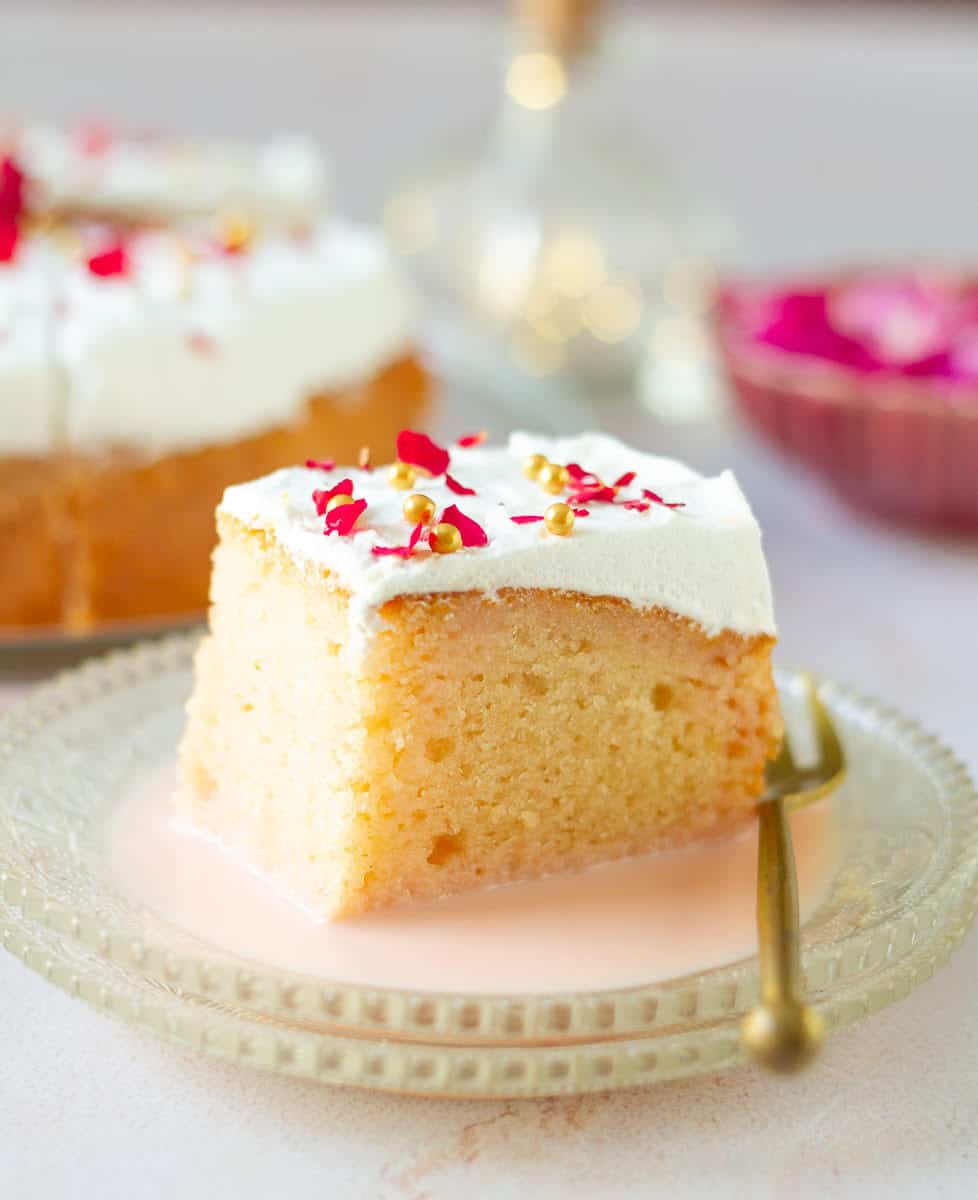 WHAT DOES TRES LECHES MEAN?
For the uninitiated, Tres Leches is a Spanish term that translates to "three milks" in English. So, what is Tres leches cake? It's a cake that gets a bath made from a heavenly concoction of three kinds of milk: milk, condensed milk, and heavy cream.
The result? A cake so moist and otherworldly, it's a revelation.
Topped with cream and served chilled, the subtle rose flavor is like a secret love note hidden in the sponge that makes you swoon!
3 REASONS TO TRY ROSE MILK CAKE RECIPE
The perfect cake for the holidays or festivals.
You can make it a day in advance, and it only gets better.
It feels very involved, but it isn't; the recipe is as simple as can be!
HOW TO MAKE ROSE TRES LECHES?
Step 1: Sift flour, baking soda, baking powder, sugar, and salt into a large bowl.
Step 2: Separately, mix yogurt, oil, vanilla extract, and rose syrup. I used Rooh Afza, the most popular concentrated rose squash in India.
Step 3: Add the dry ingredients to the wet and mix to form a smooth, thick batter.
Step 4: Grease the baking tin and line the bottom with parchment paper. Pour the rose Tres leches cake batter on it.
Step 5: Bake for 30 to 35 minutes, or until a skewer inserted in the center comes out clean.
Step 6: While the Rooh Afza cake bakes, get the rose milk soak ready by mixing condensed milk, cream, and milk with rose syrup.
Step 7: With a skewer or toothpick, make holes in the baked cake so the entire top is covered with them.
Step 8: Pour the 3/4th of the Tres leches syrup over the still-hot three-milk cake. Let it sit and reach room temperature.
Step 9: Transfer it to the fridge so that it can absorb all that rosy goodness. I prefer overnight, but a solid few hours will do in a pinch.
Final step: Decorate and serve the next day.
NOTES ON MAKING THE BEST TRES LECHES CAKE
The trick to this rose cake (or rather, any Tres leches) is patience. Be patient. Don't be in a hurry. Let it soak up the syrup. Think drenched, submerged, and sopping.
When you feel you've overdone it with the Tres leches syrup, pour a little more of it. More is better. Trust me.
Pour the syrup while the cake is still hot. A cool or cold cake will not absorb the three-milk concoction, giving you a soggy rose Tres leches cake.
Make sure your skewer plunges right down to the bottom of the cake when making holes.
DECORATE PINK TRES LECHES CAKE LIKE YOU MEAN IT
I made the rose Tres leches cake for the festive season. A masterpiece, so I had to make it as pretty as I pleased, and the aesthetics I was gunning for were, you guessed it, roses.
After transferring the chilled cake to a serving platter, top it with whipped cream and edible dried rose petals for that extra oomph. Cut a slice and serve it with some of the leftover rose Tres leches syrup drizzled around it.
HOW LONG DOES TRES LECHES LAST?
The shelf life of milk cake recipes depends on various factors. Typically, I've noticed a refrigerated:
Tres Leches (with whipped cream) stays fresh for approximately 2 to 3 days. It will become soggy over time.
Tres leches without whipped cream last a bit longer, typically up to 4 to 5 days in the refrigerator.
I don't recommend leaving rose Tres leches cake at room temperature for an extended period because of the dairy. If it sits out for more than a few hours, it may spoil.
SUBS & SWAPS FOR THIS EGGLESS TRES LECHES CAKE
Flour: This milk cake without egg is best made with all-purpose flour as opposed to whole-wheat flour although half of both flours is an option.
Oil: coconut or any vegetable oil you prefer.
Rose syrup: Rooh Afza was just a personal choice. You don't have to make a Rooh Afza cake; pick any brand of rose syrup that's easily available to you.
Rose water: For me, the syrup lent the eggless milk cake enough rose flavor. For that additional floral note, try rose water. Add a teaspoon of it to the batter and the three-milk concoction.
Vegan rose Tres leches: Switch to plant-based yogurt in the batter and milk, cream, and coconut condensed milk in the syrup.
MORE ROSE FLAVOR RECIPES
Coconut Almond Bliss Balls With Rose
Half the joy of cooking is sharing it with others, which is why I'm always eager to hear from you. So go right ahead and drop a comment or reach out on Instagram, Pinterest, YouTube, or Facebook. I hope you love this rose Tres leches as much as we do!
📖 Recipe
Print Recipe
Rose Tres Leches (aka Rose Milk Cake) Recipe
A treat that will make your tastebuds swoon! Rose Tres Leches is the moistest, creamiest cake that's as festive as it can get. So so easy to make, this 3 milk cake doesn't need any fancy ingredients!
Ingredients
1.5

cup /200 gms

All-purpose flour

1.5

tsp

Baking powder

1/2

tsp

Baking soda

1/4

tsp

Salt

1/2

cup / 100 gms

Caster sugar

1

cup / 245 gms

Greek yogurt, plain

1/2

cup / 9 gms

Coconut oil

2

tbsp

Rose syrup

1

tsp

Vanilla extract
Rose Milk Syrup
1

cup / 250 gms

Milk

1/2

cup / 100 gms

Cream

1/2

cup / 140 gms

Sweetened condensed milk

4-5

tbsp

Rose syrup
Whipped Cream
1/2

cup / 100 gms

Cream

1/4

cup / 25 gms

Icing sugar
Instructions
Preheat your oven to 180C. Grease an 8" pan and line the bottom with parchment paper.

Whisk together the flour, sugar, baking powder, baking soda, and salt in a large bowl.

In a separate bowl, whisk together the oil, yogurt, rose syrup, and vanilla extract. 

Pour the wet ingredients over the dry ones and mix well.

Pour the batter in the prepared pan and bake for 25-30 minutes or until a skewer inserted in the center comes out clean.
Rose Milk Syrup
While the cake is baking, make the rose milk.

Mix together the milk, condensed milk, cream, and rose syrup. Set Aside.

When the cake is baked, poke holes all over the hot cake's surface with a wooden skewer and pour over 3/4 of the rose milk.

Let the cake soak in the milk. Once it's cooled at room temperature, transfer the cake to the refrigerator for 8 hours or overnight.

Before serving, carefully turn the cake onto your serving platter. You can also serve the cake in the pan.

Spread the whipped cream liberally on top of the cake and sprinkle some dried rose petals for decoration.

Slice and serve each slice with the remaining rose milk. Enjoy!
Whipped Cream
Beat together the cream and icing sugar until soft peaks form.