Life is complicated. Turkish pide bread is not. So, if you're intimidated by baking bread, this soft, no-knead, easy Turkish bread recipe is right up your alley.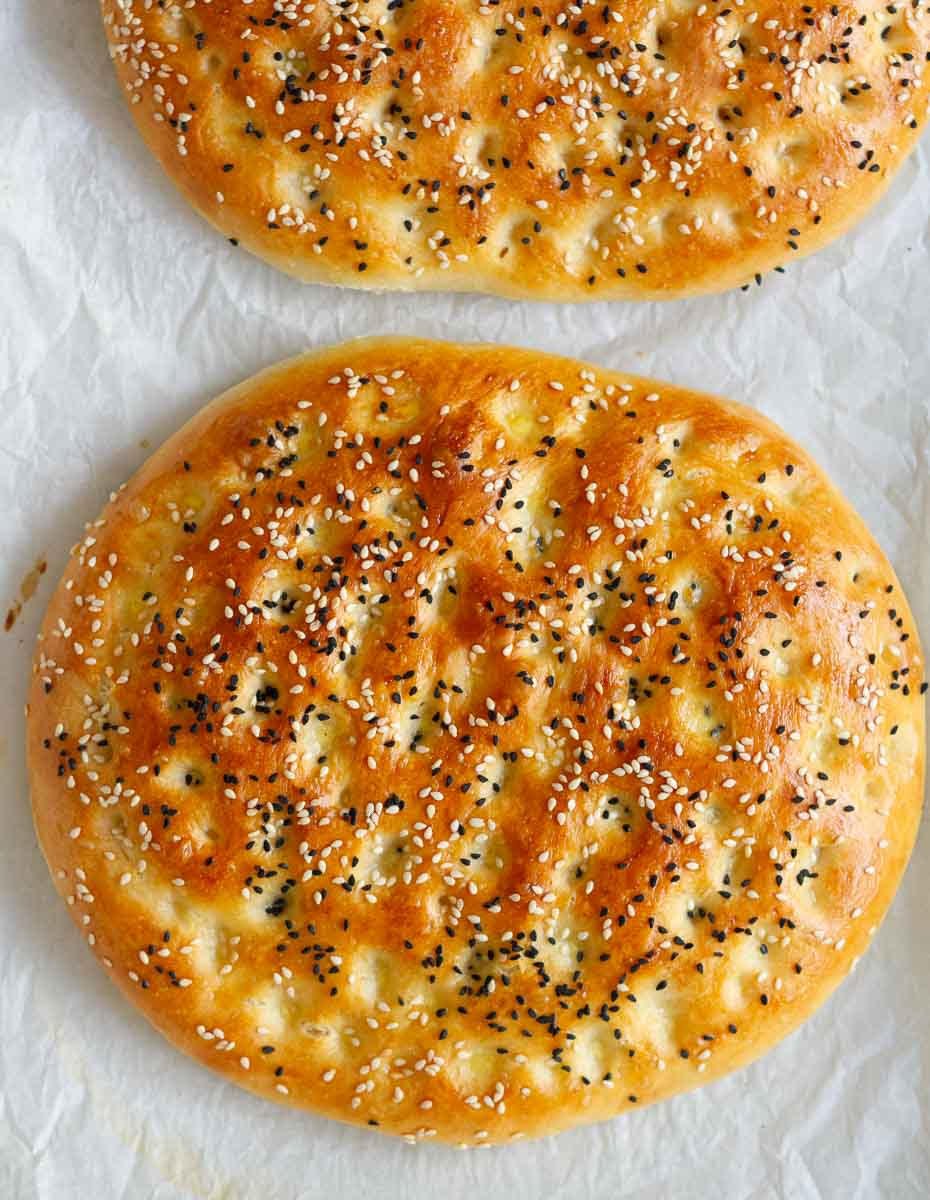 WHAT IS PIDE BREAD?
Turkish pide bread, often simply referred to as "pide" or Ramazan pidesi or Ramazan pide, is a type of flatbread that is popular in traditional Turkish cuisine.
Think of it as Pita's cousin.
Pronounced pee-dae or pee-deh, the leavened bread (i.e., it uses yeast to help the dough rise) is stretched by hand or rolled out into its unique shape.
You'll frequently see it in two avatars: with or without filling. The first one is often topped with cheese, which is why it's also known by the moniker Turkish pide pizza.
The second is the one I made (without filling). It's a round, fluffy bread with a diamond pattern on top that you'll love to snack on.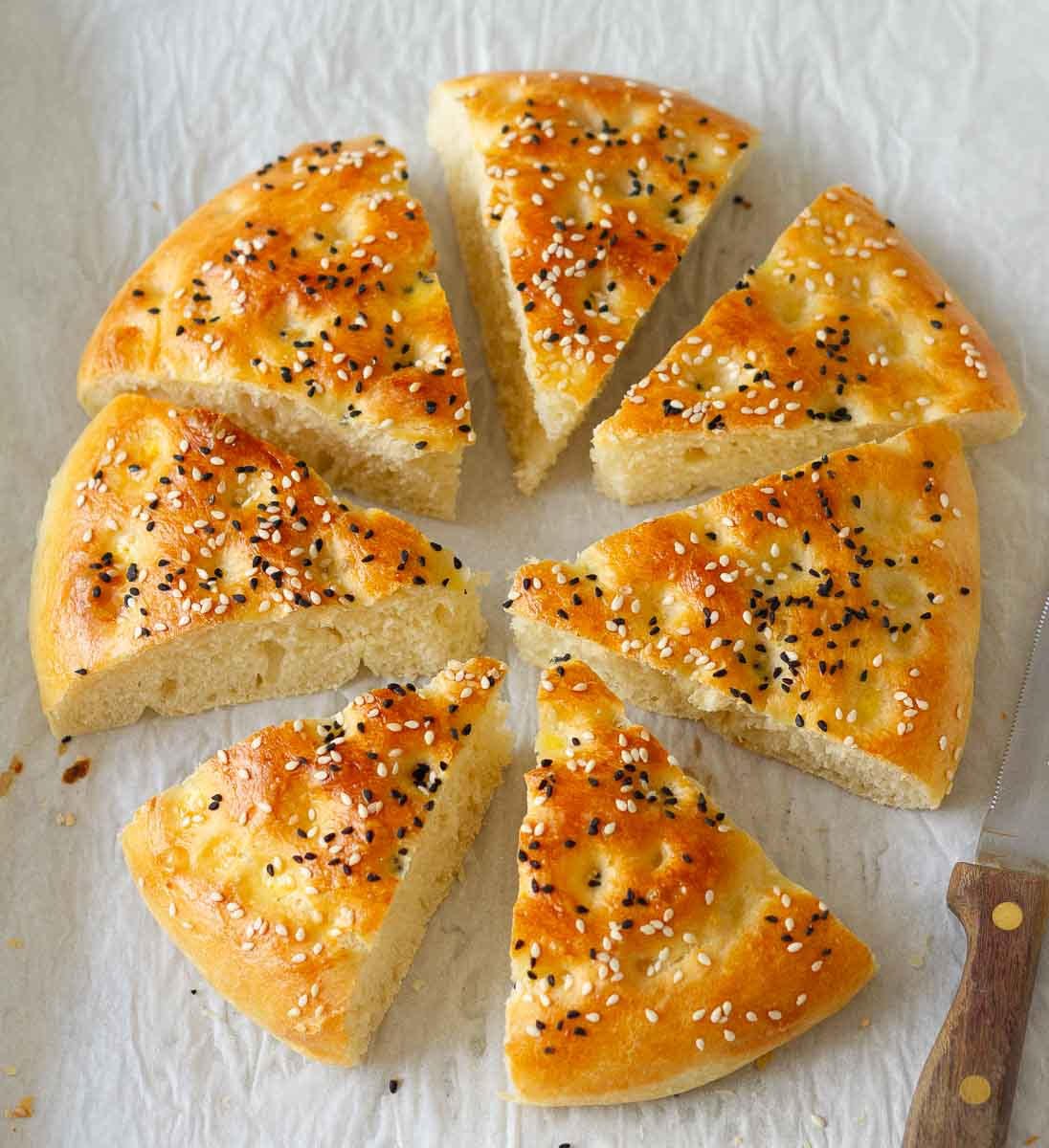 Jump to:
WHY TRY THIS RECIPE FOR PIDE?
Easy no-knead bread
Beautiful and super soft
Very moreish and so flavorful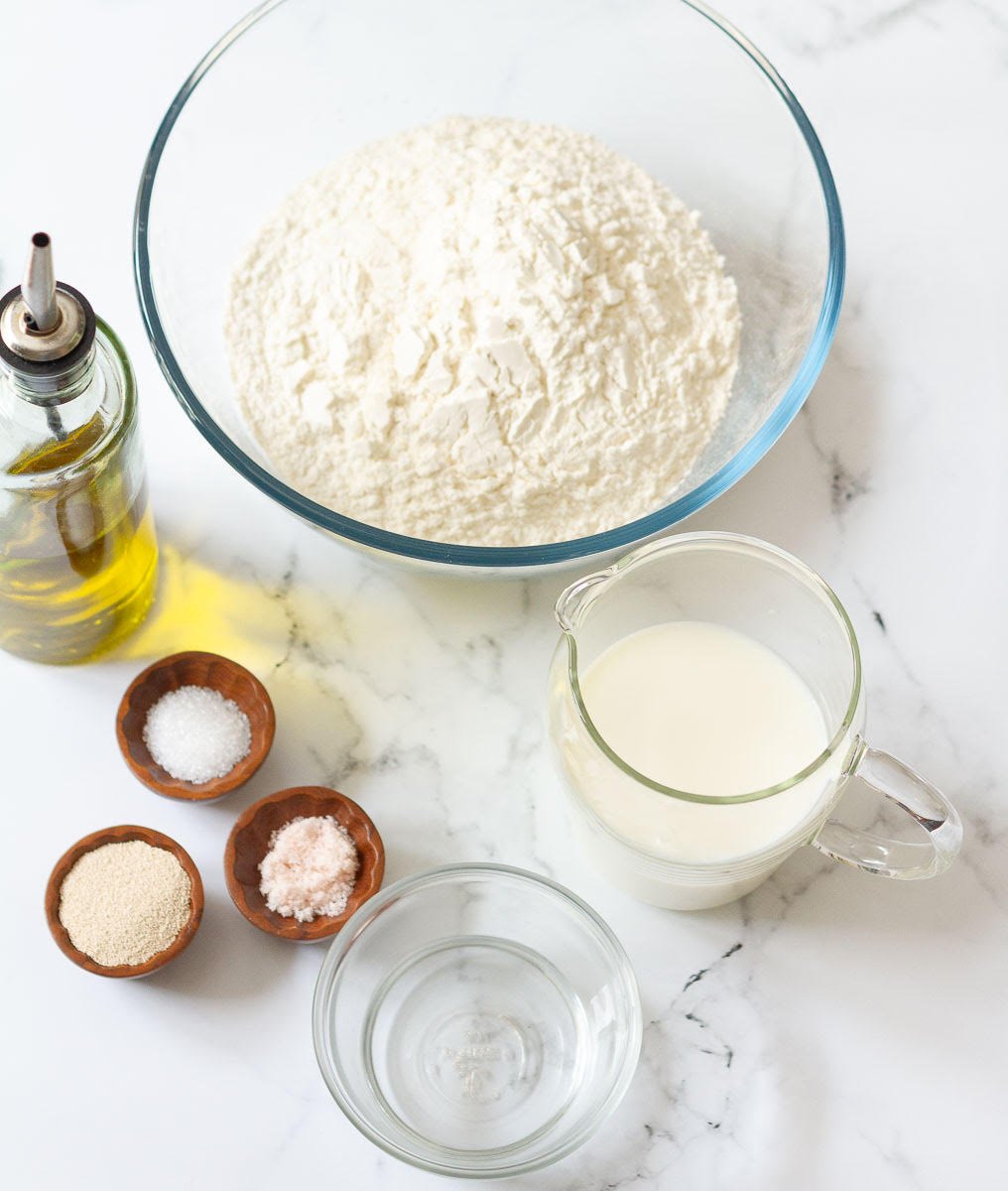 HOW TO MAKE TURKISH PIDE BREAD RECIPE?
Step 1: In a large bowl, whisk the flour, salt, sugar, and yeast.
Step 2: Add lukewarm water and milk, along with oil. Combine until you have a shaggy mass of pide Turkish bread dough.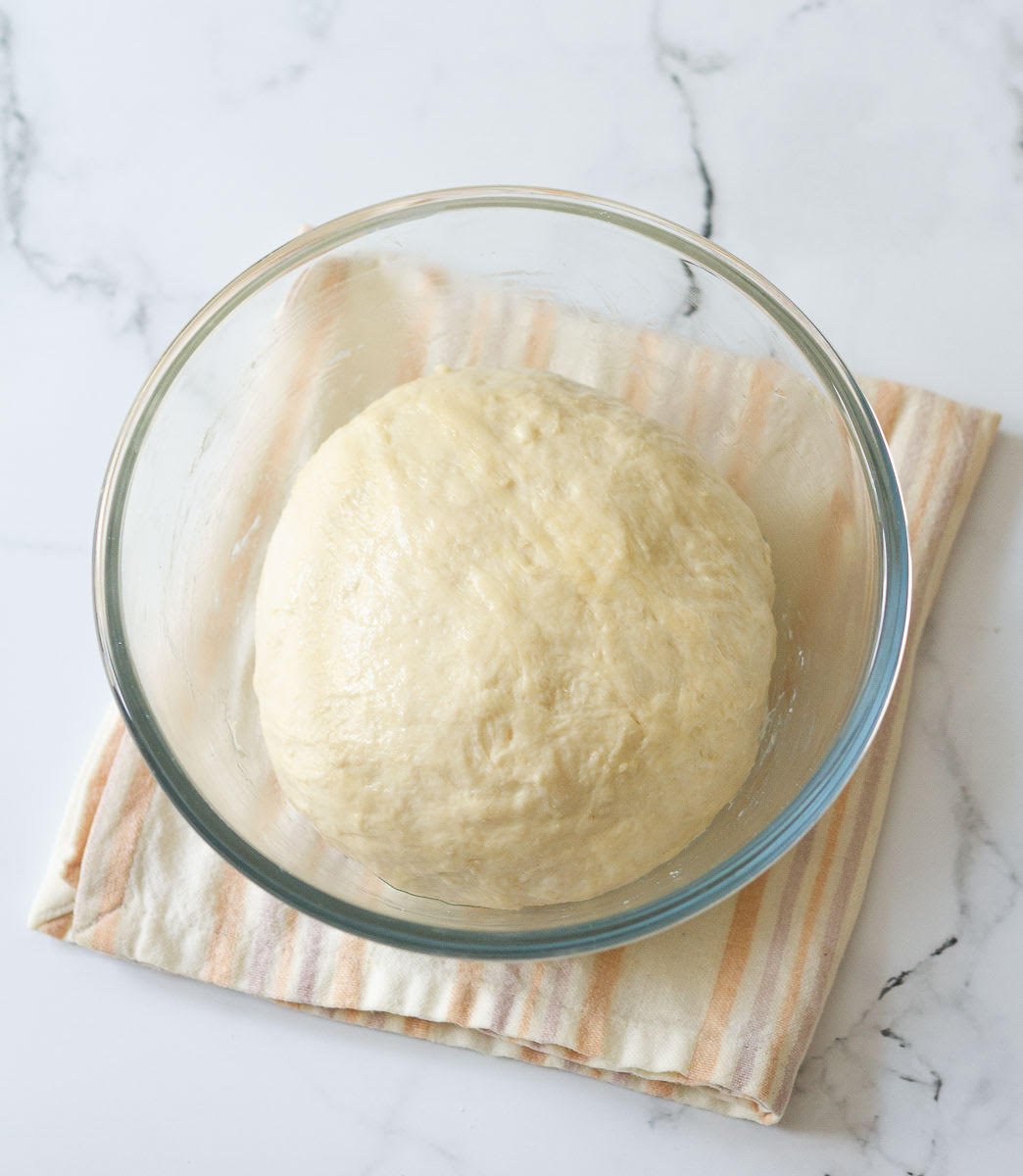 Step 3: Lightly transfer the dough to a greased bowl, cover it, and then let it proof for 1 to 1.30 hours in a draft-free corner of your kitchen.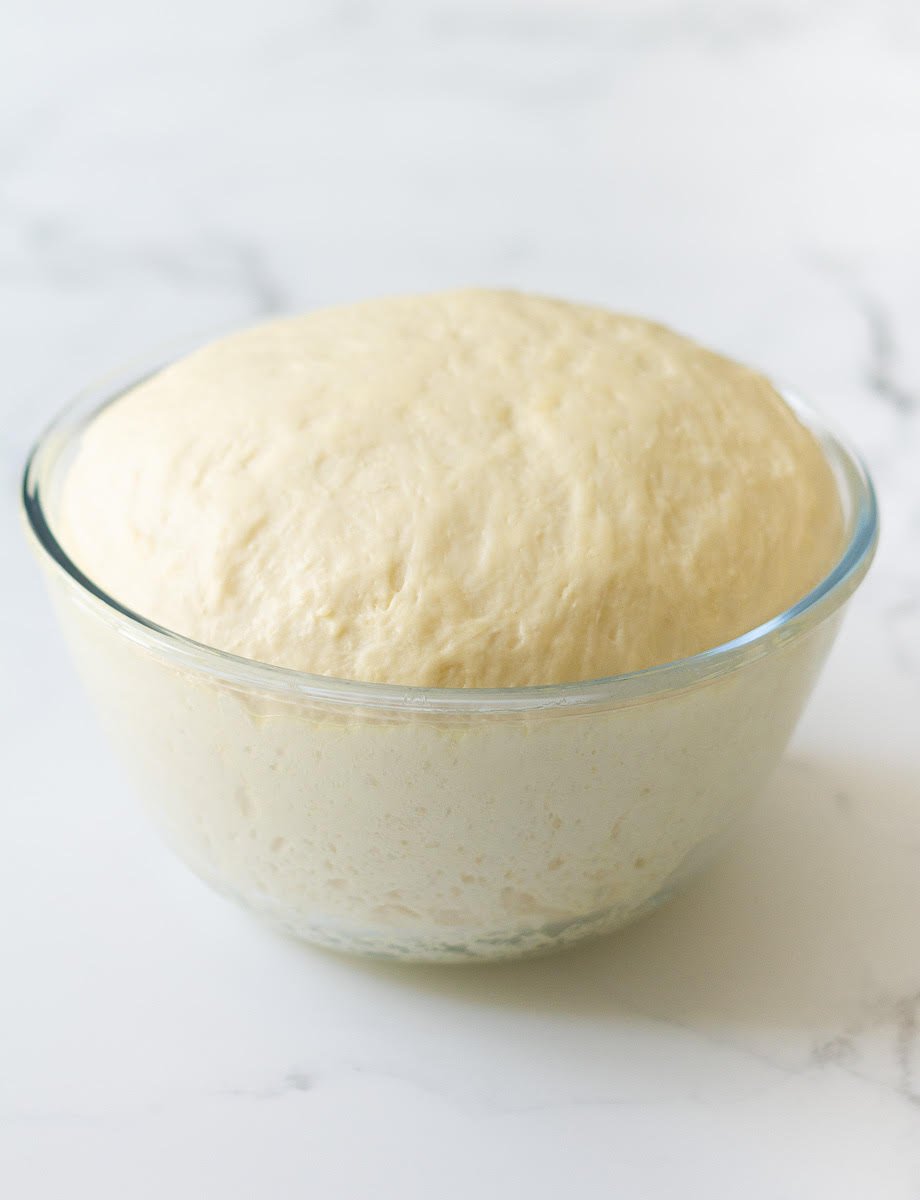 Step 4: When the flatbread dough is doubled in volume, take it out of the bowl and gently deflate it (don't punch).
Step 5: Divide it into 2 portions and roll each into a tight ball.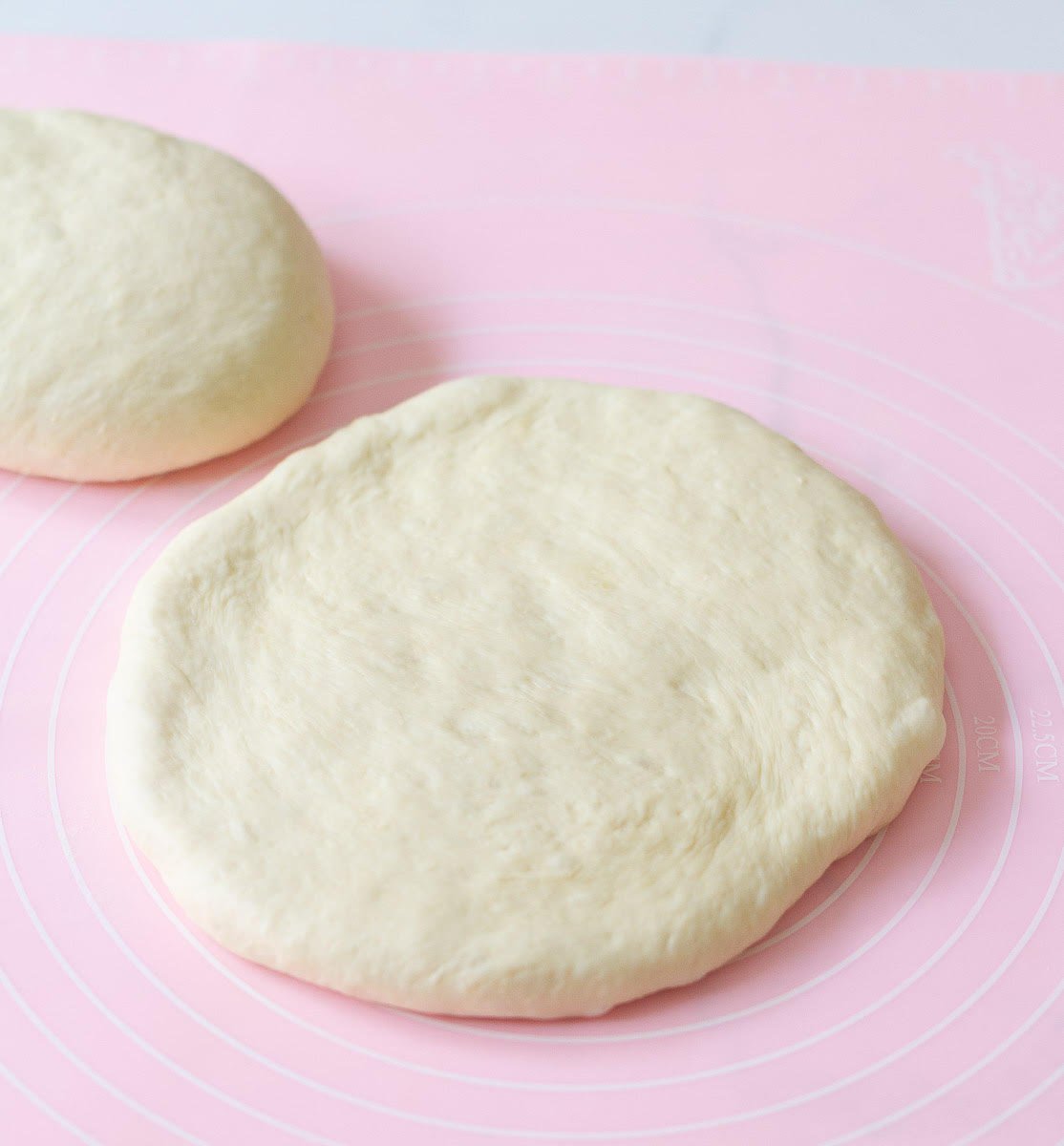 SHAPE THE PIDE
Step 6: Pat each ball with your hands and flatten it into a 7- or 8-inch circle.
Step 7: Transfer each disc to a parchment-lined baking tray.
Step 8: Go around the dough to make a smaller circle, using three of your fingertips to press down. When you finish, the pide dough will have a 2-cm circular border. (Watch the video)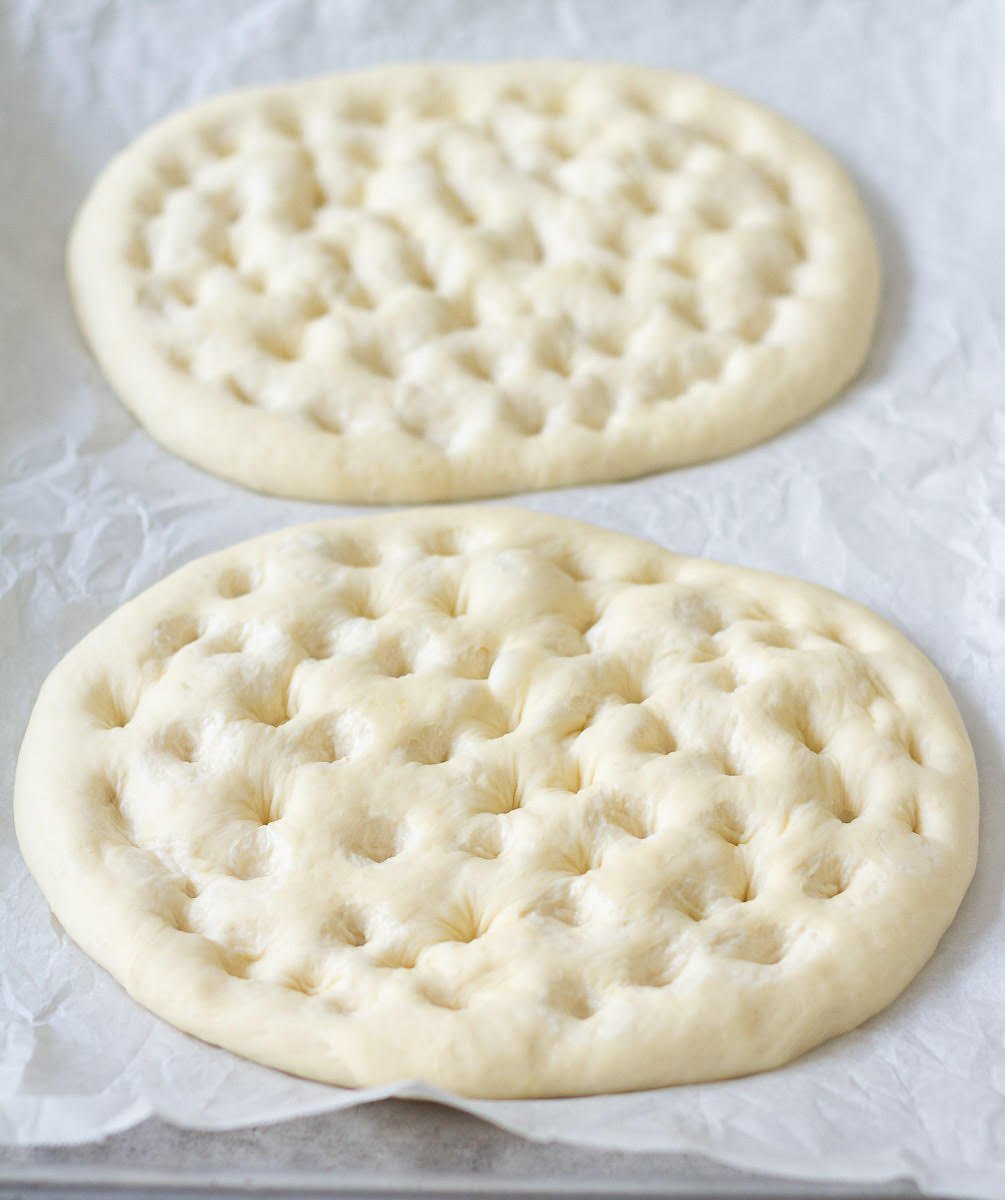 Step 9: Next, make the characteristic diamond pattern. Start by pressing down gently along the centerline of the dough, dividing it lengthwise.
Step 10: Continue using your fingers to make diagonal lines starting from the top of the dough to create a series of diamonds.
BAKE THE FLATBREAD
Step 11: Brush the Turkish bread liberally with a mixture of egg and a tablespoon of yogurt.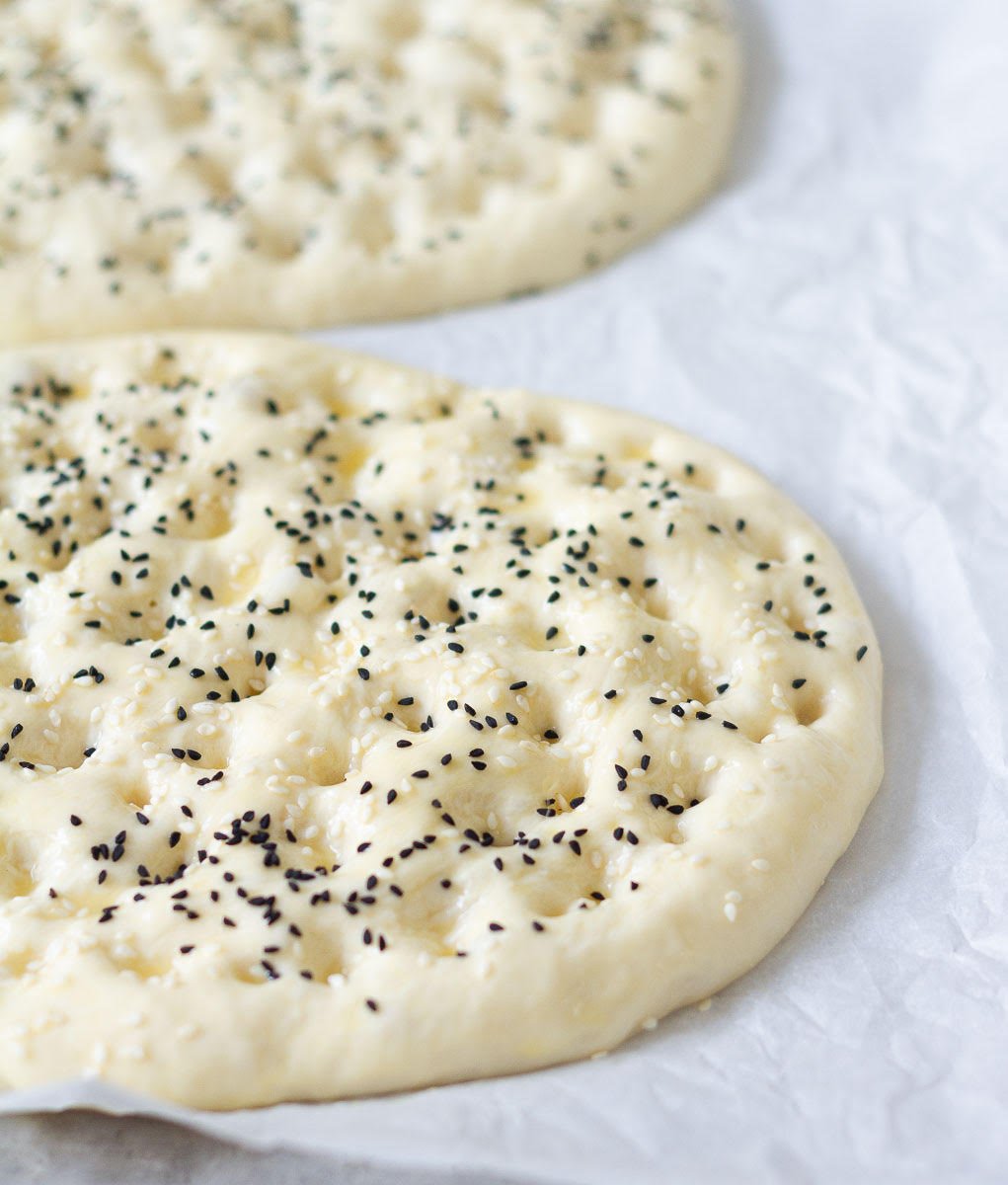 Step 12: Sprinkle seeds and bake till you have a glistening golden-brown crust and the bottom is lightly golden.
Final step: Slice or wedge and serve.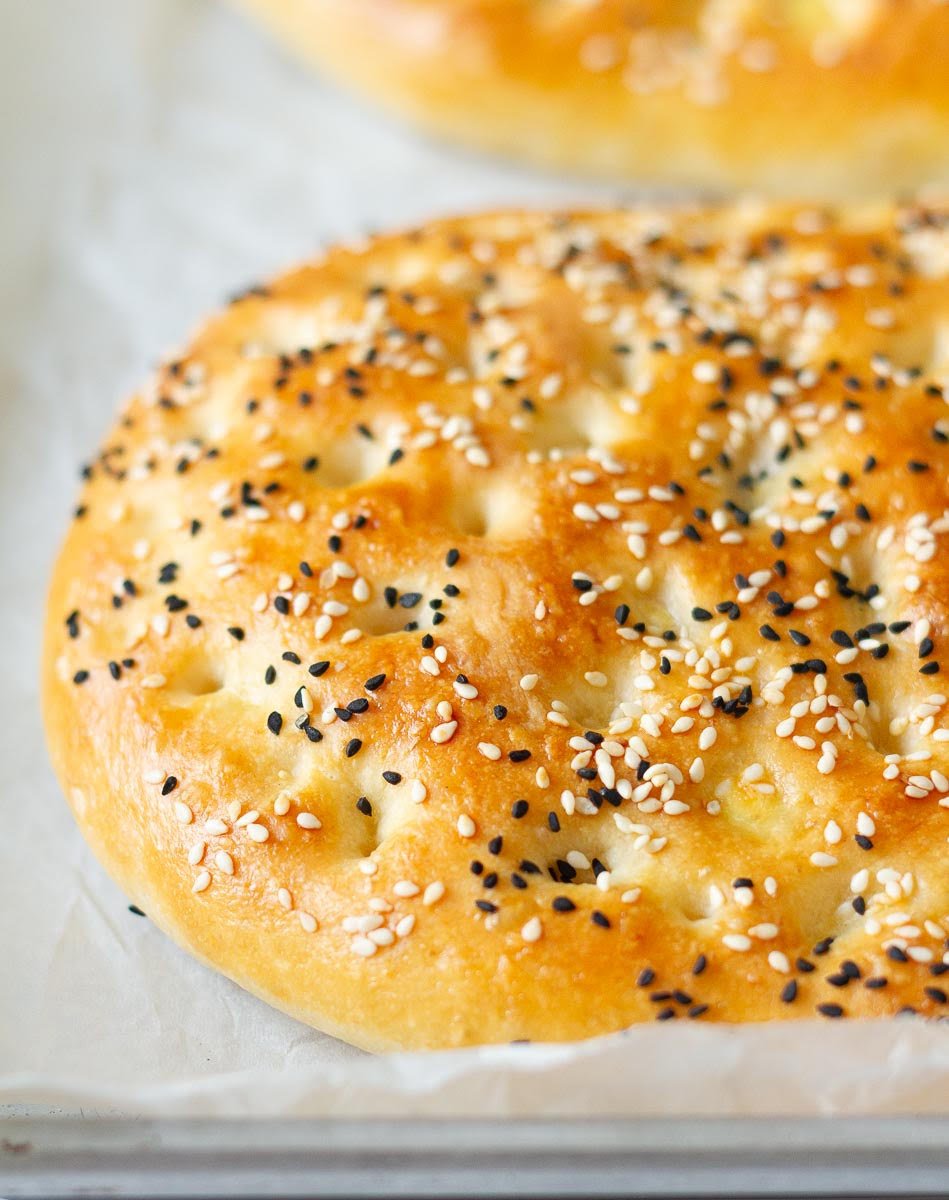 NOTES ON THIS NO-KNEAD BREAD
Your milk and water need to be lukewarm to help the yeast bloom—neither cold nor scorching hot.
I kneaded this bread for a minute or two simply out of habit. You don't need to knead. The dough will come together automatically.
How long it takes to proof the Turkish flatbread depends on the ambient temperature. The colder it is, the longer it needs. So just a bit of patience is required while the yeast does its job.
Don't let the pide rise too much. You want it to double in size, and that's it.
I always cover my bread with a slightly damp kitchen towel after it's baked, so it stays softer for longer.
MY TIP ON MAKING TRADITIONAL TURKISH BREAD PATTERN
I've goofed up enough times when making the pattern on a Turkish loaf to know that a few tricks really help.
My ace card is to use wet hands, so the dough doesn't stick to the fingers.
Also, go deep when making the indentations because, remember, the flatbread will rise as it bakes. If your pattern is too shallow, it'll disappear in the oven.
I still can't make the beautiful diamond / square patterns, but the bread is yet super delicious!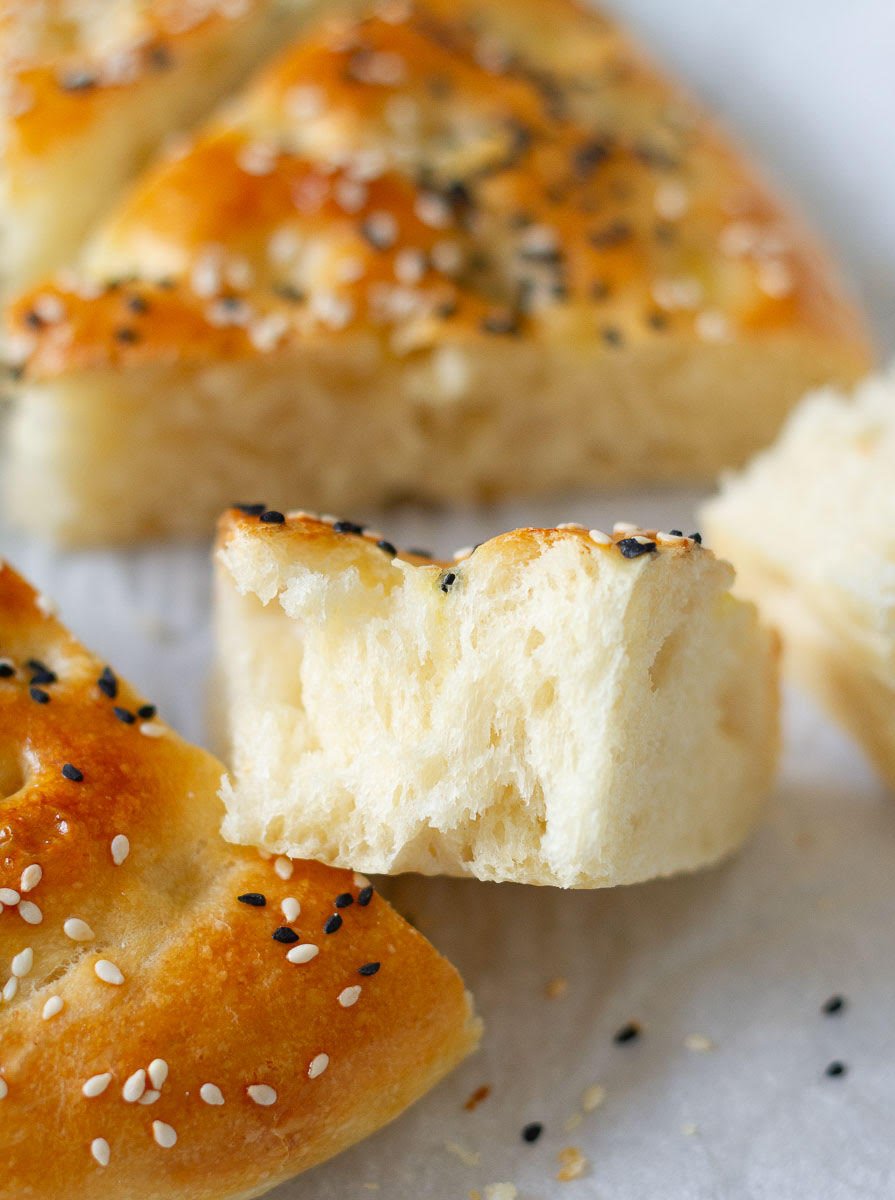 SERVING PIDE BREAD
The Turkish flatbread is "eyes rolling in bliss" delicious as-is. You can enjoy it on its own, with butter, or as part of a meal.
Mop up soups and stews with it: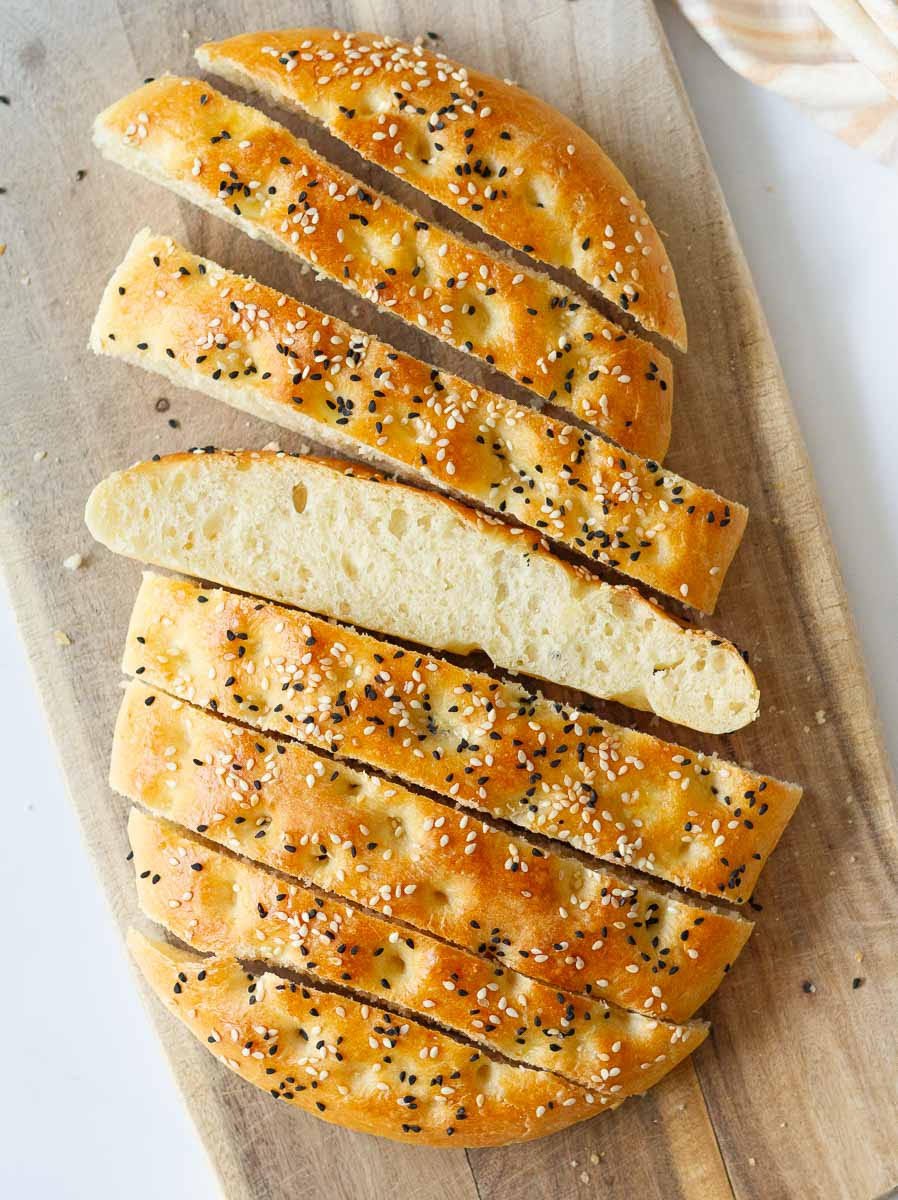 HOW TO REHEAT RAMAZAN PIDESI?
Pide is great at room temperature, but if you love hot bread, it's easy to reheat. Sprinkle the flatbread with water (the steam makes the crumb soft) and:
Slide it into a hot oven for a couple of minutes.
Or use a stovetop. Just place it in a pan and cover.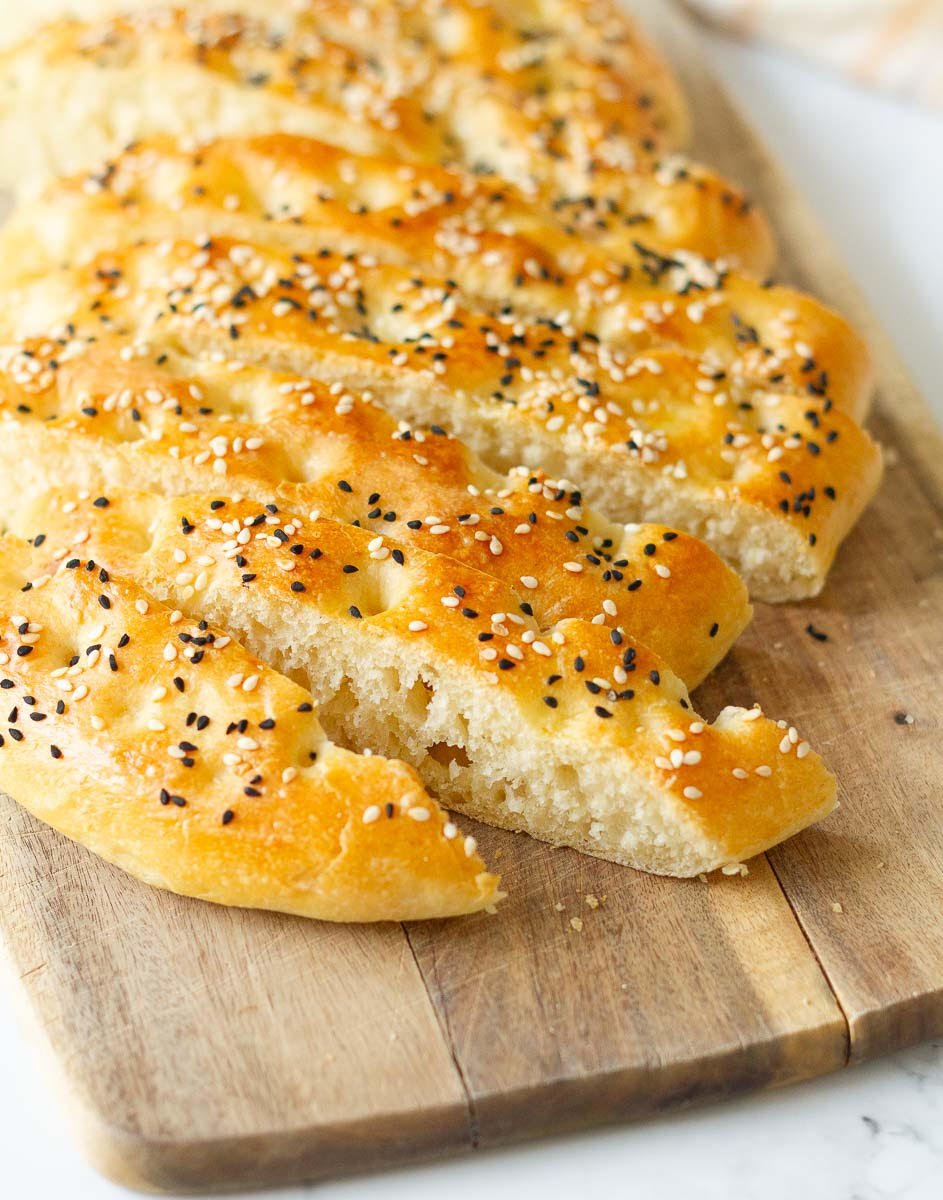 TURKISH PIDE BREAD SUBS & SWAPS
Flour: I used all-purpose for this soft pide recipe. You can substitute it with whole wheat, but I'd recommend only using half a portion of it. Otherwise, the bread will be too dense.
And yes, the dough is supposed to be soft and sticky. Don't be tempted to add more flour. You want that tackiness.
Sugar: Caster, cane, raw, or regular plain sugar—everything works in this easy no-knead flatbread recipe.
Salt: Let your palate be the guide between sea salt (what I used) and table salt.
Oil: I used extra virgin olive oil.
Yeast: I've not tried pide with fresh yeast, but dry active or instant both gave equally delicious results.
Milk: I used regular-toned milk. If you're more familiar with full-fat or plant-based milk, add those.
Egg: gives pide bread that lovely sheen and shine. A different route to the same place would be to brush the dough with butter, milk, or oil right before you sprinkle the seeds.
Seeds: It's traditional to use white sesame and nigella seeds, and I'd recommend both, as they lend pide bread a nutty and peppery dose. But you can omit them.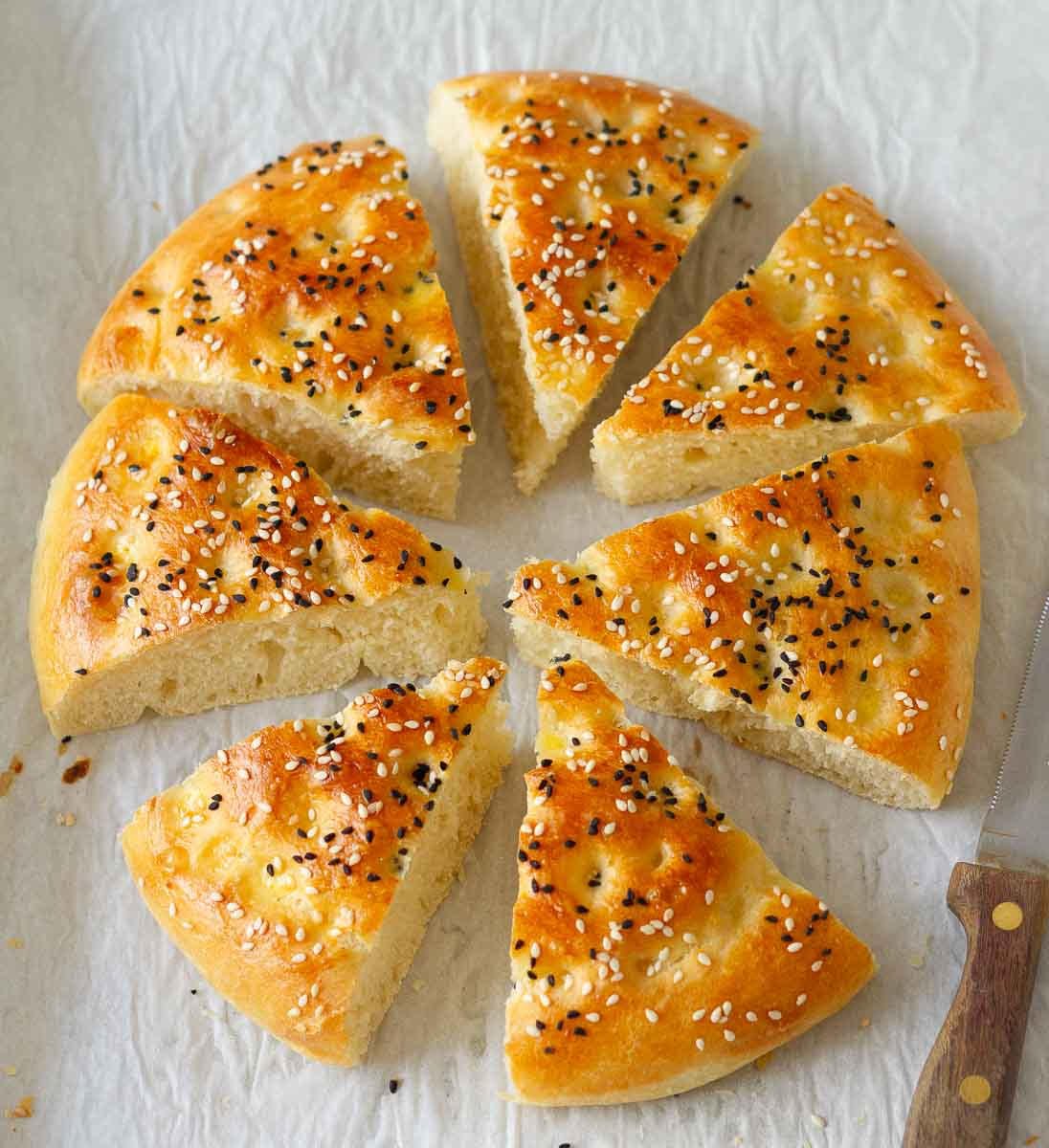 MORE FLATBREAD RECIPES YOU'LL LOVE
Khachapuri – Georgian Cheese Bread
Half the joy of cooking is sharing it with others, which is why I'm always eager to hear from you. So go right ahead and drop a comment or reach out on Instagram, Pinterest, YouTube, or Facebook. I hope you love this Turkish pide bread recipe as much as we do!
📖 Recipe
Print Recipe
Best Turkish Pide Bread Recipe!
Turkish Pide Bread - soft, delicious, and so moreish. This a wonderful, simple no-knead recipe that even beginner bakers will enjoy!
Ingredients
3 1/4

cup / 390 gms

All-purpose flour

1

tsp

Sea salt

1

tsp

Sugar

2

tsp

Dried active yeast

1

cup / 250 gms

Milk, lukewarm

4

tbsp

Olive oil

1/4

cup / 45 gms

Water, lukewarm
Topping
Sesame seeds, Nigella seeds
Instructions
In a large bowl, whisk together the flour, salt, sugar, and yeast.

Mix in the olive oil, milk, and water.

Combine into a dough using your hands or a spatula. This is a soft, sticky dough and comes together quickly.

If you want, knead briefly for 1-2 minutes. This is optional. Traditionally this dough doesn't need kneading.

Transfer the dough to a lightly greased bowl. Cover and keep in a draft-free place for 1-1.5 hours or until the dough doubles in size.

Preheat your oven to 200 C. Line a baking tray with parchment paper.

Turn the dough out on a lightly floured surface and gently deflate it.

Divide it into 2 equal portions.

Starting with one portion, gently pat it into a circle or oval shape about 7"- 8" in diameter. Gently place it on the prepared baking tray.

Wet your fingertips and make a circle on the dough, leaving about 2cm from the edge.

Then make a diagonal or square pattern on the dough. This is a step I never get correctly!

Repeat with the remaining dough.
Egg Wash
Prepare the egg wash by mixing together the egg and yogurt in a small bowl.

Brush the egg wash all over the dough.

Sprinkle the seeds on top and bake at 200 C for 20-25 minutes until the bread is golden on top.

Remove from the oven. Let the loaves rest for 5-10 minutes before slicing and serving. Enjoy!