"When you're making tzatziki, how can you NOT make pita bread."
Those were the anguished words thrown at me yesterday with notes of horror and pleading. So, the minute the tzatziki was in the fridge to chill; I jumped into making pita bread.
And let me tell you, the thrill of seeing the bread blow up like a balloon in the oven was worth all the effort, not that making homemade pita takes much.
And the taste - delicate, fresh, warm, and très delicious. But the best part, for me, was the yeasty aroma that imbued the entire kitchen as each pita disc baked!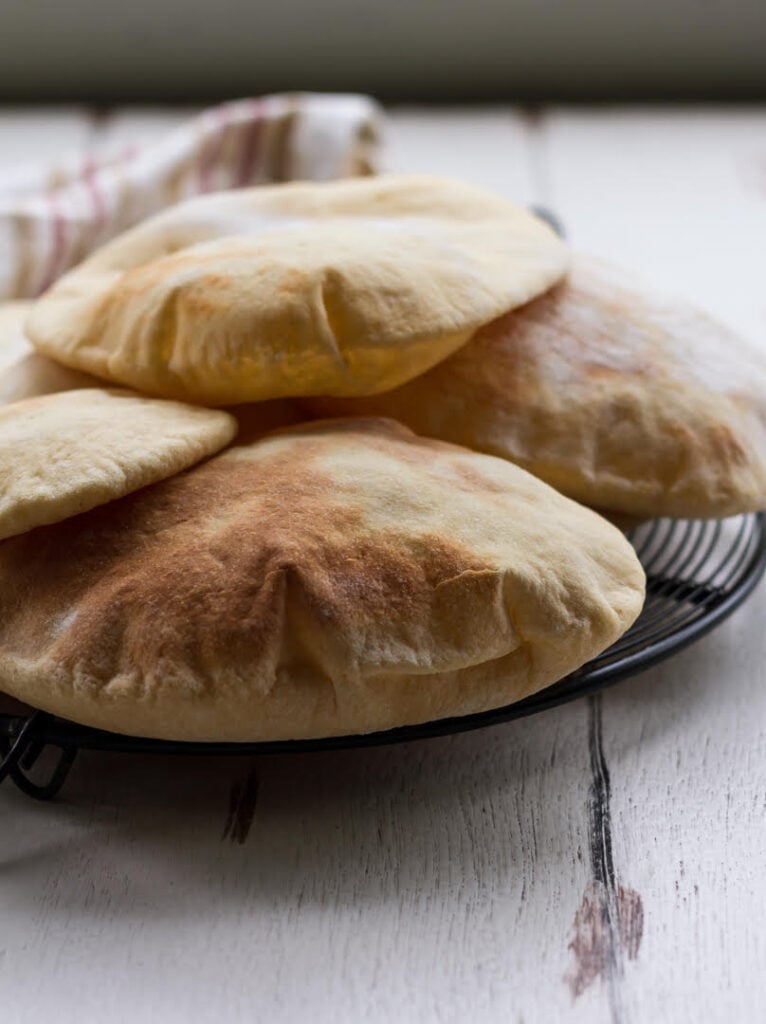 What's pita?
It's a simple flatbread that's been a staple part of the Middle East and Mediterranean cuisine for millennia.
Initially, the round pocket bread was made with a blend of fresh dough and old dough that had gathered yeast. Now, people simply add yeast to the dough mixture.
How to Make Homemade Pita Bread?
Pita is surprisingly easy and quick to make, but it does take a few tricks to achieve the steam-puffed look and the soft, chewy texture.
Start by mixing warm water, yeast, and sugar. Stir them thoroughly and then leave it till the yeast activates.
In the meantime, collect and combine the dry ingredients: all-purpose flour, whole wheat flour, and salt.
When the yeast mixture is nice and frothy, pour it into the dry ingredients along with olive oil. As you mix, a shaggy mass will form.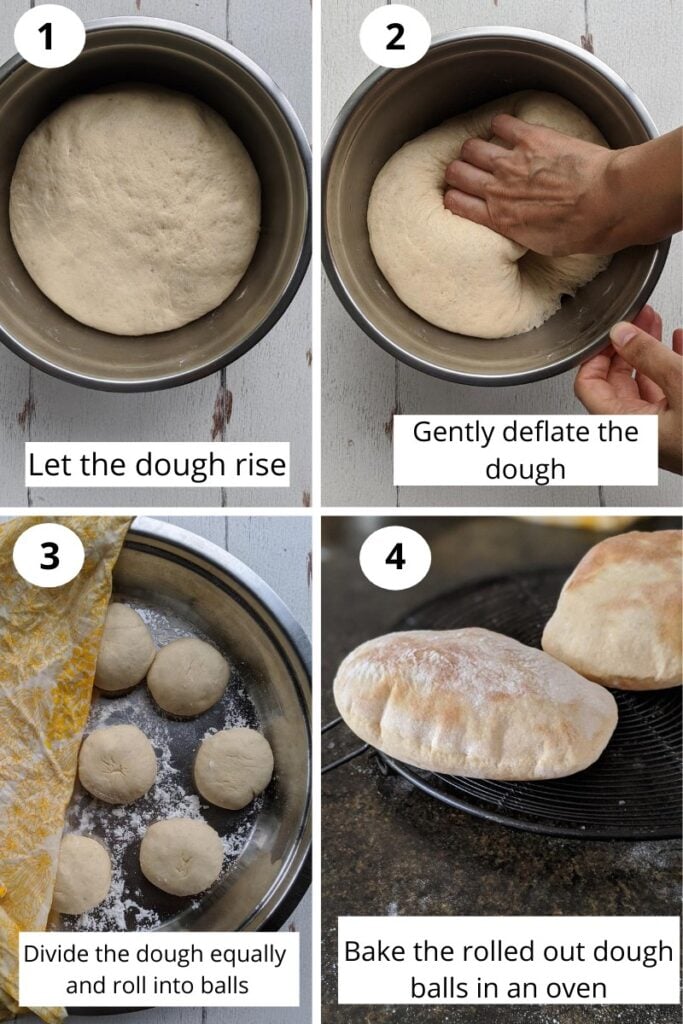 Kneading the pita dough
Knead this for about 8 to 10 minutes till you have a smooth but distinctly elastic dough. If your dough is sticky, try adding small bits of flour. In case the dough feels dry, increase the amount of warm water a tablespoon at a time.
Once the dough is a smooth ball, place it in a bowl, cover it with a damp cloth and let it rise. My dough doubled in less than 60 minutes as it's really warm here. It may take more time for you.
Flour your prep area and then punch the dough gently to deflate. Cut it into equal portions and form them into balls. I had about 8 to 10 dough balls.
Transfer the balls into a floured tray, cover it, and set it aside for a few minutes. While you wait, preheat the oven to the maximum setting possible. That's 250 C ( or 480 F) in my oven.
Pick a dough ball, flatten it and then roll it out. This part is essential - Pita bread puffs up nicely when rolled out evenly. I rolled out mine to about a quarter of an inch thickness.
It's the steam that creates the characteristic pita pocket. So, make sure that your rolled dough circles are even.
Baking the pita bread
Cooking the pita bread doesn't take long. I made 9 and was done in less than 20 minutes.
On a tray lined with Silpat or parchment, fit as many rolled discs as you can and then slide it in the hot oven. I could fit in 2 at a time.
In 4-5 minutes, you'll notice the pita puffing up, and that's when you take them out. You don't need to brown them. Bake them just enough that the edges have a golden hue.
If you do let them bake for a few extra minutes, the breads will get browned on top, which is crunchy and lovely!
As each pita bakes, wrap them in a napkin to keep them warm until ready to be served.
Quick notes:
Besides rolling them evenly and thin, there are two other tips for making the perfect homemade pita bread:
They have to be baked at high temperatures because that's how the dough expands quickly enough to form the steam-filled pocket.
If there are tears in your rolled discs, it will act as a vent for the steam. So, make sure the circle is smooth.
Pita bread can be made on the stovetop. As long as you keep the skillet piping hot, it will work flawlessly.
FYI, if you don't get pockets in some of the bread, don't let it deter you. Truth be told, not all my 9 pieces of bread had the impeccable dome. Yet each one was soft, pliable, and lovely edible spoons to scoop up hummus.
The puffy pita does deflate as it cools, but once you cut it, you'll find the pockets still remain.
Variations of homemade pita bread
I used half all-purpose flour and half whole wheat because it makes the dough that much more flavorful. The nutty hints whole wheat brings is the cherry on the top.
That said, you can make the flatbread with 100% whole wheat and get a punch of protein and fiber in your meal!
Or, make them with 100% all purpose flour. They work out really well too.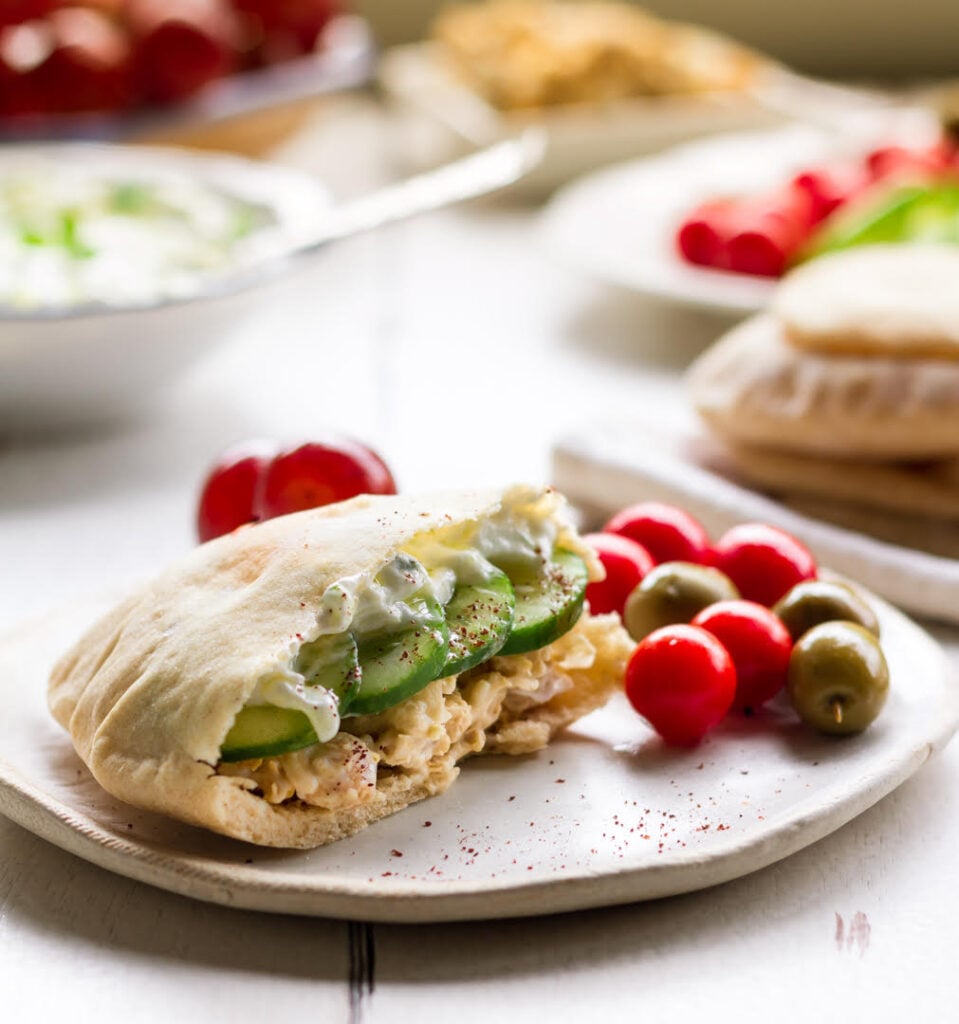 Serving Homemade Pita Bread
Stuff it, wrap it, dip it, scoop with it - the possibilities with pita bread are boundless. I love making pita pizzas too!
Traditionally, pita is paired with hummus or tzatziki, but you can serve them with a dip of your choice like labneh.
I served it as a smorgasbord – think make your own sandwich bar. Smashed chickpeas with olives, cherry tomatoes, and tzatziki peeking out of the warm, fragrant pockets of pita bread.
And that's what I love about pita. It's low effort, fun to make, and gives you a fare that can be relished in infinite ways, none of which are complicated.
That the homemade bread is free of preservatives and can be stored in the refrigerator for 4 to 5 days is an incidental benefit.
I'd love to hear from you! Please tag me on Instagram @tashasartisanfoods, using the hashtag #tashasartisanfoods. You can also FOLLOW ME on INSTAGRAM, PINTEREST for more fabulous recipes! Do subscribe to Tasha's Artisan Foods so you'll never miss a recipe!
📖 Recipe
Print Recipe
Homemade Pita Bread
Homemade Pita Bread - an easy recipe that brings you fresh, warm pitas in a cinch. Perfect for sandwiches, and scooping up various dips!
Ingredients
1

cup

All purpose flour

1

cup

Wholewheat flour

1/2

tsp

Salt

2

tsp

Yeast

1/2

tsp

Sugar

1

cup

Warm water

1

tbsp

Extra virgin Olive oil
Instructions
In a small bowl, combine the warm water, yeast and sugar.

Let this mixture rest for 5-10 minutes, until its frothy and bubbly.

In a large bowl, combine both the flours and salt.

Pour over the yeast mixture and olive oil.

Knead the dough well for 8-10 minutes, until it's smooth and elastic.

Place the ready dough in a lightly greased bowl and cover it with a kitchen towel.

Let the dough rest and proof for 1 -2 hours, or until it's doubled in size. Mine was done in less than an hour.

Gently deflate the dough. Divide into 9 equal- sized pieces.

Form each dough piece into a ball. Place in a tray, cover with a kitchen towel. Let this rest for 10-15 minutes.

In the meanwhile, preheat your oven to 250 C or 480 F.

Line a tray with Silpat or parchment paper. You can use an unlined tray as well.

Once the oven is preheated, start rolling out the dough balls into an oval or round shape. Roll evenly to about a quarter-inch thickness.

Place on your baking tray and slide it in the oven. In 4-5 minutes, you'll see the pitas puffing up and turning light golden brown.

Take them out and keep warm in a kitchen towel.

Repeat with rest of the dough.

Serve warm or at room temperature. These keep well, wrapped in foil or baking paper for 2-3 days in the refrigerator.