Say what you will, but the classic hummus is the best hummus. It gives you the best of both worlds – a great flavor and a smooth-as-butter texture. And now you can make it at home!
There are some recipes that come off easily, with a nary a hitch. Then there are recipes that take some planning and tweaking to reach the perfect stage. The classic hummus is the rare recipe that falls between the two.
It comes out easily (so easily that you can commit the recipe to memory) but a few tweaks take the healthy, protein-rich, creamy dip to knock your socks off levels!
How to Make Classic Hummus?
The authentic nutrient-filled hummus with its tangy zing is made in a mortar and pestle. That's what gives it the unmistakable gritty texture.
I love an ultra-smooth and creamy feel to the dip. So, while I stick to the traditional recipe, I used a blender to make it.
Cooked chickpeas, garlic, lemon juice, cumin powder, salt, tahini and olive oil are pulsed in a blender (or a food processor if that's what you have) until you get a silky, delicious, yummy classic hummus.
I told you the recipe comes off easily. Now onto the tweaking part.
Tips for making the creamiest classic hummus:
The game-changing factor that takes good hummus to oh-my-god hummus is blending it for extra few minutes. When you think the hummus is done, don't stop. Let the blender work its magic, and you'll end up with that super-light, luscious and velvety hummus.
If you are using canned chickpeas, rinse and then cook them on a stovetop for five to ten minutes till they are tender. Since we don't get canned chickpeas here, I soak dried chickpeas overnight and then pressure cook them the next day until they are melt-in-your-mouth and mushy soft.
Some people advise adding baking soda when soaking the chickpeas and then peeling the skin off after they are cooked. The soda lessens cooking time and removing the tough skins takes away the lumps in the hummus.
I take the easier route (who has the time to remove the peel from each chickpea individually!) Plus, I don't feel the need for it because I simply cook the chickpeas for a slightly longer time till they are literally falling apart, skin and flesh.
Blitz the chickpeas when they are warm, and the hummus will come out silkier. And when blending, use cold water. It helps emulsify the ingredients better and gives you a hummus as smooth as a store-bought one.
The garlic has to be chopped or smashed. Putting whole cloves means more work for the blender and uneven texture.
Quick notes
I love a lemony zing to my hummus. The delicate, bright savour is what I look forward to. If you don't prefer a tangy touch to the classic hummus, go light on the lemon juice.
For the cumin powder, roast a few cumin seeds. After they've cooled down, pound them and then add the powder to the blender. It will give the hummus a beautiful smoky hint.
Making classic hummus without tahini
Although tahini plays only a small role in hummus, it still is arguably the most prominent flavour in the dip. So, every hummus must begin with great tahini.
What's tahini? It is a paste made from sesame seed, and it has a marvellous nutty taste and an incredibly buttery texture. You can make it at home or buy it online.
If you don't have tahini, just add a teaspoon or two of sesame seeds when pureeing the chickpeas to make classic hummus.
Garnishing the classic hummus
Pomegranate arils make everything pretty. Their red hue makes them perfect for almost every dish. That's why I use them liberally. Those went on top of the classic hummus along with a tiny sprig of mint snipped from my garden.
I like to use parsley to garnish hummus, but I have an overabundance of mint growing in my house. So, in went those. For the final touch, I added a generous dusting of sumac – the versatile middle eastern spice with a tangy lemony flavor.
Variations of classic hummus
Classic hummus has a fantastic flavour that you can play with any way you like. From the toppings to the garnishing, the variations are as high as the Everest.
You can add in paprika, red chilli flakes or jalapenos on top. You can make it with carrots and turmeric or even with beetroot.
For a touch of green, add parsley when blitzing all the ingredients and the hummus will have the most gorgeous flecks scattered in it.
Serving the Classic Hummus
Obviously, I served the classic hummus with sourdough crackers for the habitually hungry stomachs in my abode. You can serve it with pita or the quintessential vegetable crudités.
It's excellent on top of toast, sandwiches and rolls. Try smearing it on a wrap topped with grilled chicken or tofu or paneer. You can even stir a spoonful of the hummus in hot pasta for truly creamy, delectable sauce.
All in all, classic hummus is a great condiment to have in your fridge. It requires no cooking. It's healthy, and it tastes exactly like a comforting hug at the end of the most tiring day.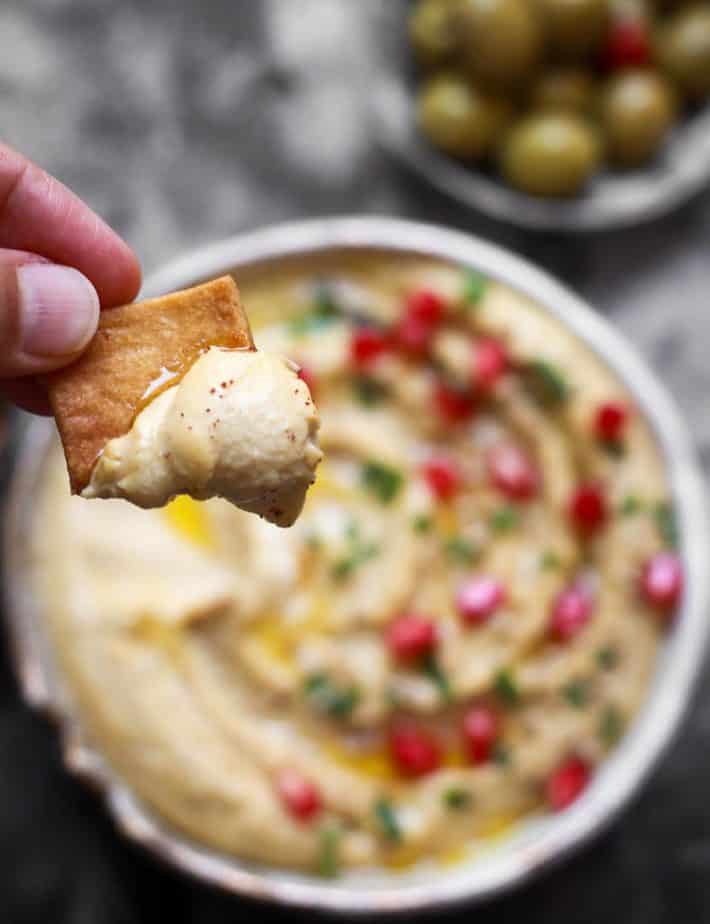 I'd love to hear from you! Please tag me on Instagram @tashasartisanfoods, using the hashtag #tashasartisanfoods. You can also FOLLOW ME on INSTAGRAM, PINTEREST for more fabulous recipes! Do subscribe to Tasha's Artisan Foods so you'll never miss a recipe!
📖 Recipe
Print Recipe
Classic Hummus
Say what you will, but the classic hummus is the best hummus. It gives you the best of both worlds - a great flavor and a smooth-as-butter texture. And now you can make it at home!
Ingredients
1.5

cups

Chickpeas, cooked

You can use the cooking liquid for blending too.

4

cloves

Garlic, minced finely or smashed

3

tbsp

Tahini

1

tbsp

Lemon juice

1

tsp

Roasted cumin powder

2-3

tbsp

olive oil

Plus some extra for pouring on top

Cold Water

Salt to taste
Instructions
Add the chickpeas, garlic, tahini, lemon juice, salt, cumin powder, olive oil, cold water ( or chickpea cooking liquid) and salt. Blitz till smooth. Taste and adjust for seasoning.

If the hummus is too thick, add some more liquid. Once your hummus has reached the consistency you prefer, blitz for a couple minutes extra to make it creamier and fluffier.

Spoon on to a bowl or plate, top with olive oil and serve. Enjoy!