Gochujang mayo has that deliciousness, that elusive umami taste that plays not a song but a whole orchestra on your palate. The spicy kick from gochujang and the creamy texture of mayonnaise makes Korean mayo a unique and flavorful condiment that everyone should try once in their life!
A super quick recipe that needs just two ingredients or three at the most, gochujang mayonnaise is ready in minutes for you to dip anything and enjoy its concert of salty, sour, hot, spicy, and sweet flavors.
Jump to:
WHAT IS GOCHUJANG SAUCE MADE OF?
Gochujang is a popular Korean chili paste made from fermented soybeans called meju, red chili peppers called gochugaru, glutinous rice, and salt. The ingredients are mixed together and then fermented for months or years to create a red paste that is spicy and sweet at the same time.
Extremely versatile, it is one of the two main ingredients in Korean mayonnaise. What is Korean mayo? It's a thick, deep red condiment that's popularly used in Korea to lend brightness and texture to dishes.
WHY TRY GOCHUJANG MAYO SAUCE
It takes less than 5 minutes to make and adds 500 layers of awesomeness.
If you love the funkier side of chili and enjoy a sweeter note, spicy Gochujang Mayo is a must for you.
Incredibly versatile and can be used in a plethora of dishes.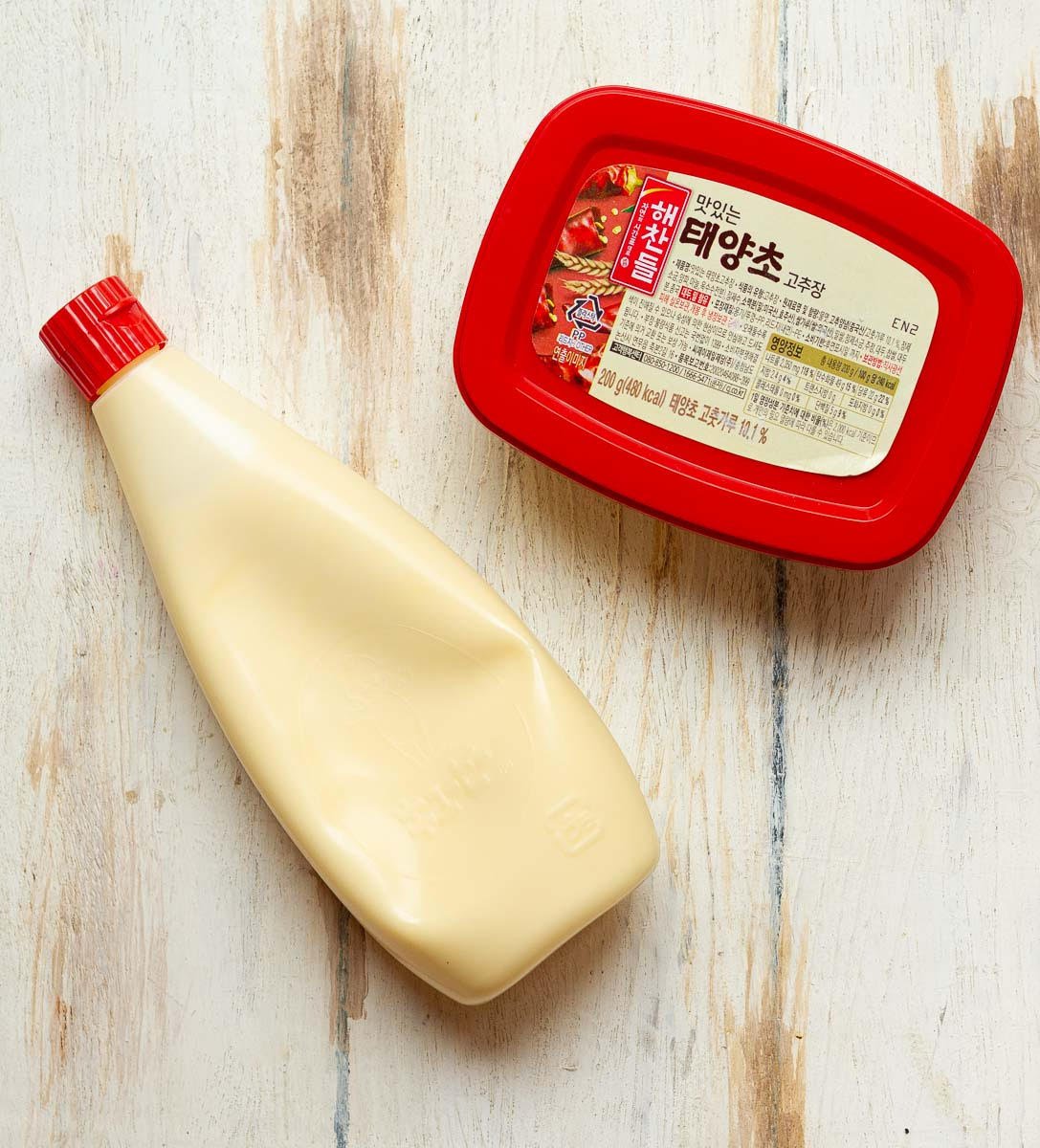 HOW TO MAKE SPICY GOCHUJANG MAYO?
Step 1: In a bowl, mix gochujang paste and mayonnaise.
Optional step: Add lemon juice and toasted sesame oil. The oil really elevates Korean mayo; even a few drops will give it that extra oomph and jazz. So, if you have it handy, do include it.
Final step: Stir, taste, adjust, and serve.
3 TIPS FOR KOREAN MAYONNAISE SAUCE
I didn't feel the need to season the gochujang mayo sauce, but you can add salt and pepper to it according to taste.
Feel free to serve immediately, but a little rest allows the flavors of the Korean spicy sauce to develop.
Gochujang mayo has a good shelf life, so you can easily refrigerate it for a week or more.
2 SIMPLE GOCHUJANG MAYO INGREDIENTS
There are two key ingredients in gochujang mayo: gochujang and mayonnaise. Gochujang has a rich, spicy, and slightly sweet flavor. Mayonnaise, on the other hand, is creamy because it is made from oil and egg yolks.
Gochujang is easily available; you won't have to look far and wide for it. Although it has an underlying layer of sweetness, if the heat is too much for you, feel free to reduce the amount in the Korean mayo sauce.
I used Kewpie (Japanese) mayonnaise, but any mayo that speaks your language will work wonderfully here. For vegan Gochujang mayo, switch to vegan mayo.
Kewpie mayo is tangy and contains less sugar, so I didn't dress up the spicy sauce with lemon, but I would recommend a splash. A dollop of thick Greek yogurt or some red chili powder is two more options to add more flavor to the condiment, not that it needs any bows and frills.
HOW TO USE GOCHUJANG MAYO? IN 1000 OF WAYS!
Enlivener of fries, wraps, and sandwiches. Savior of stews, soups, and marinades. Korean spicy mayo is an Epicurean ingredient that makes cooking shorter and tastier.
So, if you're wondering what gochujang goes with, then the answer is everything. Stir a spoonful of it to make:
You can even use gochujang mayo as a dipping sauce for chicken nuggets or pot stickers, spring rolls, side dishes like smashed potatoes, or as a salad dressing.
MORE EASY RECIPES FOR SHORTCUT COOKING
Cashew Roasted Red Pepper Sauce
Half the joy of cooking is sharing it with others, which is why I'm always eager to hear from you. So go right ahead and drop a comment or reach out on Instagram, Pinterest, YouTube, or Facebook. I hope you love this gochujang mayo as much as we do!
📖 Recipe
Print Recipe
Gochujang Mayo Recipe
A unique and flavorful condiment that needs just two ingredients or three at the most, gochujang mayonnaise is ready in minutes for you to dip anything and enjoy its concert of salty, sour, hot, spicy, and sweet flavors.
Ingredients
1/4

cup

Mayonnaise

I used Kewpie mayonnaise

1-2

tsp

Gochujang (Korean Chili Paste )

1/2

tsp

Toasted sesame oil

Optional

1/2 - 1

tsp

Lemon juice

Optional

Salt & Pepper to taste

Optional
Instructions
Combine the mayonnaise and Gochujang paste in a small bowl.

Taste and add lemon juice, salt, and pepper if needed. I skipped this entirely.

Top with toasted sesame oil and serve. Enjoy!

Store in the refrigerator, covered, for up to 1 week.