Oven-roasted carrots are super, super simple. They're delicious and packed with an intense flavor. They're easy to make, and the roasted carrot recipe is a refreshing change of pace from the traditional way we cook vegetables.
Roasting is a prime example of using seasonal produce in a minimalistic way. You get to bite into vegetables that taste of bluer skies and the end of winter's grip! And it's such a great way to do any veggie, not just carrots, because it celebrates the vegetable, letting it shine.
So, why are carrots roasted in the oven delicious?
The root vegetable is rich in sugars; roasting intensifies the flavor. As the oven does its magic, the carrots caramelize and brown, adding a more complex and sweeter dimension. The trick is to cook them enough to be tender but not shrivel up!
Jump to:
WHY DO YOU NEED THE RECIPE FOR ROASTED CARROTS?
Uses no more than 4 ingredients
Roasting carrots puts their best foot forward
Great for meal prep
So, if you have kids who don't like vegetables, this is how you convert them!
You'll be (wo)manfully resisting the temptation to eat them all right out of the tray
HOW TO MAKE OVEN-ROASTED CARROTS?
Step 1: Wash and dry your carrots.
Step 2: I got my hands on these farm-fresh, cute little baby carrots, so I cooked them whole without peeling or chopping. For any kind of young carrots, scrubbing is enough. For older carrots, peel them before you roast.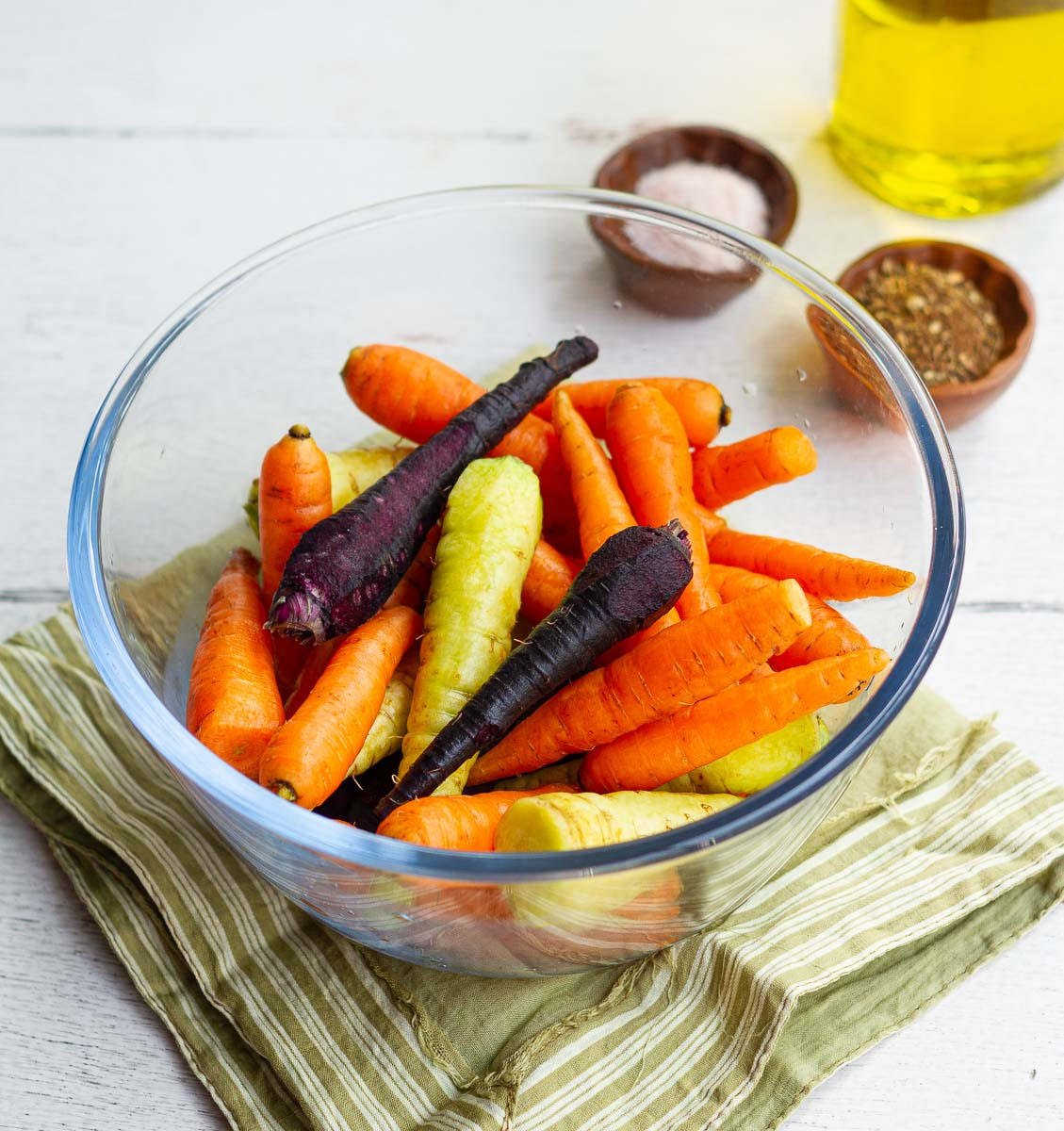 Step 3: Toss with olive oil, sea salt, and za'atar, making sure to mix well, so each root is covered in oil and spices and browns beautifully.
Step 4: Spread the carrots evenly and in a single layer on a parchment-lined (which makes cleaning so much simpler) baking tray.
Step 5: Bake until tender and just about done. It took me 30 to 35 minutes.
Step 6: Sprinkle chopped cilantro on the oven-roasted carrots and serve immediately.
RECIPE NOTES
Which are the best carrots for roasting, you ask? I found the assortment I used to be wonderful, but you can use whatever is locally available.
If you're using big carrots, cut them for even roasting. You can halve, quarter, or make thin carrot fingers, depending on how you want to serve the roasted carrots.
The secret to how to roast carrots? Keep the recipe simple. The best way is to just add some oil and some salt & pepper. That's it. Honestly, the result is scrumptious. But if you want to add other flavors, go for it! (See variations)
Don't overcrowd the baking sheet, or the carrots won't brown correctly.
HOW LONG TO ROAST CARROTS?
I started checking on my carrots after about 25 minutes to make sure they didn't turn mushy. That said, don't wait for a specific time to check the roasting carrots because all ovens differ and the vegetable size will change the cooking time.
Instead, let your senses be the judge.
Once that caramel-ly aroma starts wafting through, the vegetable is cooked but still has a little bite left, and it's not so tender that the baked carrots fall apart under the pressure of a fork, that it's done.
ROAST CARROTS VARIATIONS
Za'atar is just so, so, so flavorful that the recipe for roasted vegetables needs nothing else. But that's what I love about oven-roasted carrots. It's okay to experiment with other spices because the vegetable has a natural affinity for them.
Add what you like and it is easily available. Here are a few choices:
Salt and pepper to make a healthy spring recipe, and enjoy fresh and new carrots.
Paprika to give it some heat.
Finish with garam masala for warmth and spiciness. It's really meant for roasted vegetables with all the layers of spices mixed in it coming through.
Cumin powder and coriander powder when you want to intensify the sweetness.
Italian seasoning for brightness and punch.
You can even add parmesan right before sliding the carrots into the oven for that cheesy burst.
HOW TO SERVE CARROTS ROASTED IN THE OVEN?
My oven-roasted carrots barely sat on the table for a minute before they were obliterated as an evening snack. But it works beautifully as a side dish, so if you're thinking of serving it during dinner, here are some ideas:
Sprinkle some parsley.
Right after the roasted vegetables come out of the oven, grate the parmesan for that detonating umami taste.
Crumbled feta would give a naturally tangy counterpoint to the sweetness of carrots.
Or you drizzle a dip on top:
MORE RECIPES FOR SPRING
Roasted Sweet Potato And Chickpea Salad
Half the joy of cooking is sharing it with others, which is why I'm always eager to hear from you. So go right ahead and drop a comment or reach out on Instagram, Pinterest, YouTube, or Facebook. I hope you love these oven-roasted carrots as much as we do!
📖 Recipe
Print Recipe
Easy Roasted Carrots In The Oven
Oven-roasted carrots are super, super simple. They're delicious and packed with an intense flavor. They're easy to make, and the roasted carrot recipe is a refreshing change of pace from the traditional way we cook vegetables.
Ingredients
500

gms

Baby carrots

You can use regular sized carrots

3

tbsp

Olive oil

1

tsp

Sea salt

1.5

tsp

Za'atar

Chopped cilantro for garnishing
Instructions
Preheat your oven to 200C. Line your baking tray with parchment paper.

Wash, scrub, and peel the carrots. I didn't need to peel my carrots.

Pat them dry and place in a bowl.

Add olive oil, sea salt, and za'atar. Mix well.

Spread evenly on the prepared baking tray and place the tray in the oven.

Roast for 30-35 minutes at 200 C or until the carrots are just cooked through. They should not be overcooked.

Transfer the roasted carrots to a serving platter, liberally garnish with cilantro, and serve. Enjoy!