Raise your hand if you like spring rolls! A wildly popular snack, these crispy delicious Baked Veg Spring Rolls are a cinch to make.
Many of us have grown up on a diet of Indo-Chinese cuisine. So when I try to replicate a Chinese food recipe, it always comes with a disclaimer – it's not authentic! Its simply what we like to eat with some flavours intact, others not so much.
I have a cheat version here. Well, what's new?! Use readymade store-bought spring roll wrappers. By all means, make your own, if you wish to. I'm sure they will taste fabulous. For a non-meal planner like me though, these ready-made sheets come in very handy. Like for my pumpkin ravioli. I'll take all the help I can get for a quick meal.
How To Make  Baked Spring Rolls
Once you have the wrappers ready, the filling really takes no more than 10 minutes to make.
You can pretty much use whatever vegetables you have on hand …carrots, cabbage, beans, baby corn, mushrooms, zucchini, radish.
I love tofu, so it is definitely an add on for me, but you can leave it out, or use chicken, prawns if you prefer, even paneer works here.  Remember its Indo Chinese we are talking about! The rolling process is easy and quite therapeutic.
I like to bake my spring rolls instead of frying…I'm not the most confident "deep fryer" around. I'm far more comfortable with a generous brush of oil than a cauldron of boiling hot oil!
The thing one has to be careful about while making spring rolls (whether you are baking or frying them) is to make sure the filling is not wet. Nor should it be hot. Golden crispy spring rolls are way more tempting than soggy ones.  Am I right or am I right?
These baked spring rolls reheat very well in the oven or in a pan. I would not recommend microwaving them at all. They lose their crunch and become rubbery.
I hope these Baked Veg Spring Rolls make it to your table and you all love them as much as we do. Healthy cooking doesn't have to be boring and dull..it can be wonderfully vibrant and delicious. Take the help if you want, from these ready made sheets, it's all good!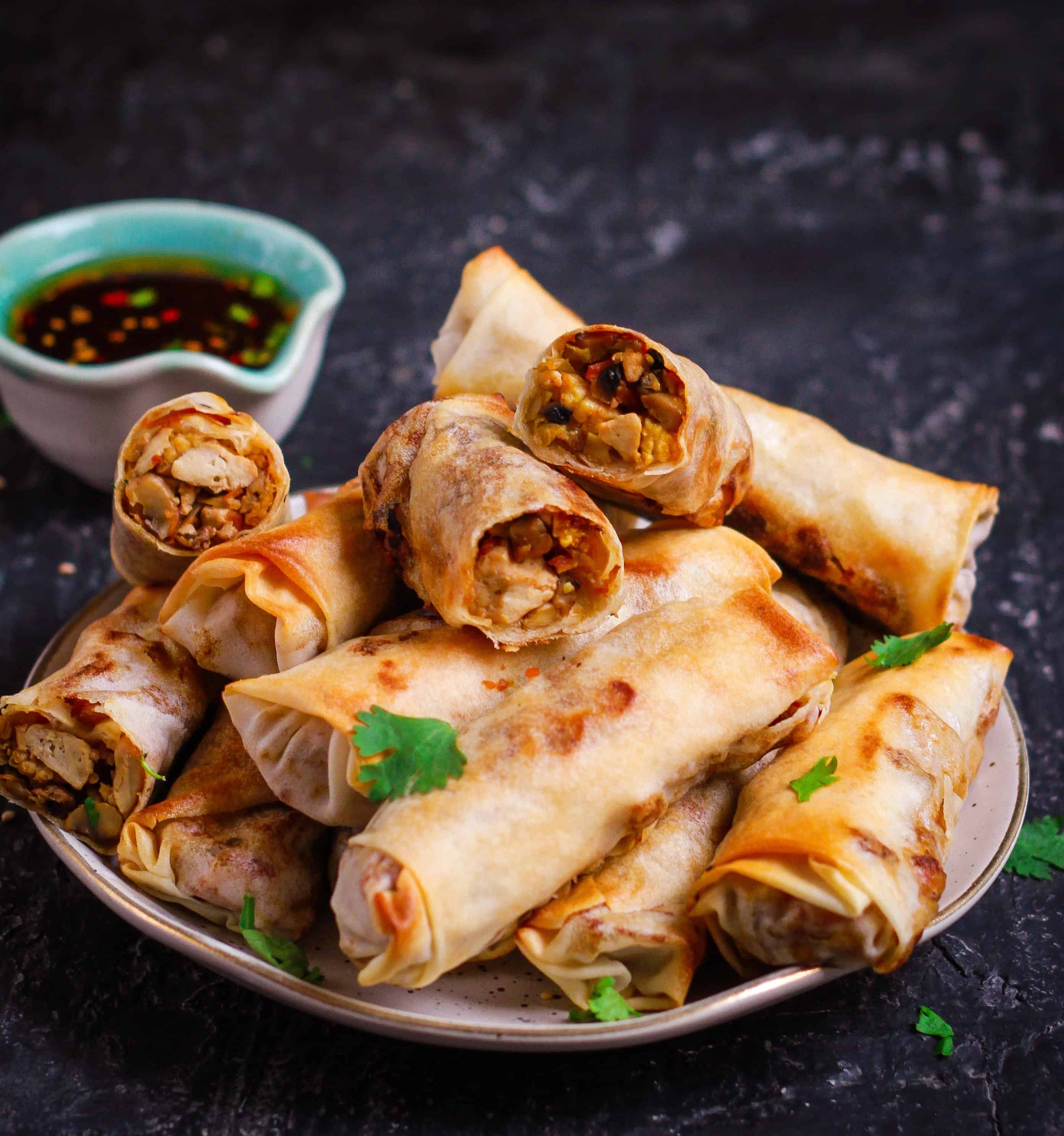 I'd love to hear from you if you try out these Baked Spring Rolls! Please tag me on Instagram @tashasartisanfoods, using the hashtag #tashasartisanfoods. You can also FOLLOW ME on INSTAGRAM, PINTEREST for more fabulous recipes! Do subscribe to Tasha's Artisan Foods so you'll never miss a recipe!
Baked Veg Spring Rolls
Raise your hand if you like spring rolls! A wildly  popular snack, these  crispy delicious Baked Veg Spring Rolls are  a cinch to make!
Ingredients
12

Spring roll Wrapper sheets

1.5

tbsp

Sesame oil

1.5"

Ginger, minced finely

4

cloves

Garlic, minced finely

1

Cabbage, small, finely shredded

1

Carrot, julienned

6-7

Mushrooms, finely diced

5-6

Baby corn, finely diced

400

gms

Tofu, firm, diced into small cubes

1-2

tbsp

Sriracha sauce

2

Tbsp

Soy sauce

Salt & Pepper to taste

1

tbsp

Oil, for brushing the spring rolls
Instructions
Keep the spring roll wrappers covered with a damp tea towel, so they don't dry out.

Heat the sesame oil in a large skillet. Add the finely minced ginger and garlic. Cook for 10-15 seconds, add the cabbage, carrots, mushrooms and baby corn. Cook on high heat till the vegetables are almost cooked through.

Add the diced tofu, sriracha sauce, soy sauce, salt and pepper. Cook until the mixture is cooked and dry. Please make sure the filling is not wet. Taste and adjust for seasoning.

Let the filling cool.

In the meanwhile, preheat the oven to 200C. Line a baking tray with parchment paper.

Once the filling is cool, we can start the assembly of spring rolls.

Keep a small bowl of water handy. Place a wrapper on your work surface in a diamond shape. Place about 2 tbsp of filling along the middle of the wrapper.

Wet the border of the wrapper with water. Fold up the bottom part of the wrapper over the filling. Bring the top part down. Now bring one side over the filling and roll up the wrapper. Place it seam side down on the prepared tray.

Repeat with remaining wrappers until all filling is used up. Brush with oil and bake for 20-25 minutes until crispy and golden. You will need to turn them over once to ensure the bottom part is also crisp.

Serve warm with a dipping sauce. Enjoy!
Notes
NOTE:
* You can see the entire process of making spring rolls here.
*  Please feel to increase the spice levels here per your taste.