Jam-packed with flavors, the enticing combination of sweetness with a spicy edge made the sticky chili sweet potatoes absolutely phenomenal. They give a different meaning to sticky fingers. None of us could help stealing just one more right out of the tray, lacing our fingers with delicious and treacly sauces.
And yes, if you are wondering, these are very much my take on the popular Indo-Chinese dish – honey chili potatoes. All I did was veganize the recipe, and as always, in my bid to make healthier food, got away with frying.
Sweet potatoes are an appetizing way to include some healthy carbohydrates in your meals, and roasting them makes them even more so. High in fiber and vitamins B and C, they lend themselves to any recipe with nary a worry. But this particular one feels like comfort food – much, much better than any takeout!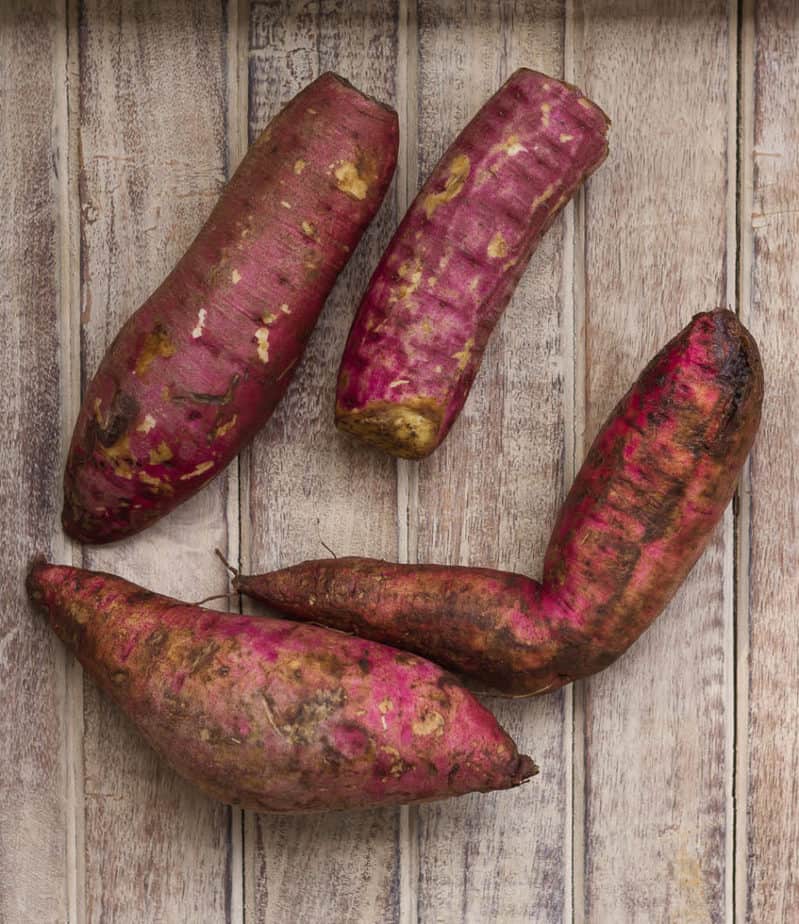 How to make sticky chili sweet potatoes?
There is a good chance that you'll have all the ingredients to throw together sticky chili sweet potatoes if you make Asian food at home. The recipe is low on effort, yet it yields high reward flavors.
A midday snack or a side dish that pairs virtually with everything, it is super easy to make. Since the oven does most of the heavy lifting, all you need is a chopping board and a tray!
Start by cubing the sweet potato, then tossing them in oil and salt. You can, of course, cut them in wedges, too.
Be cautious with your salt. The sauces already have some in them, and you don't want the sticky chili sweet potato to be excessively salty.
Toast the sweet potatoes in the oven till they are perfectly cooked through.
It takes around 20 to 25 minutes to toast the sweet potatoes. I always shift the tray to the top rack and turn on the broiler for the last 5 minutes to caramelize the sweet potatoes beautifully.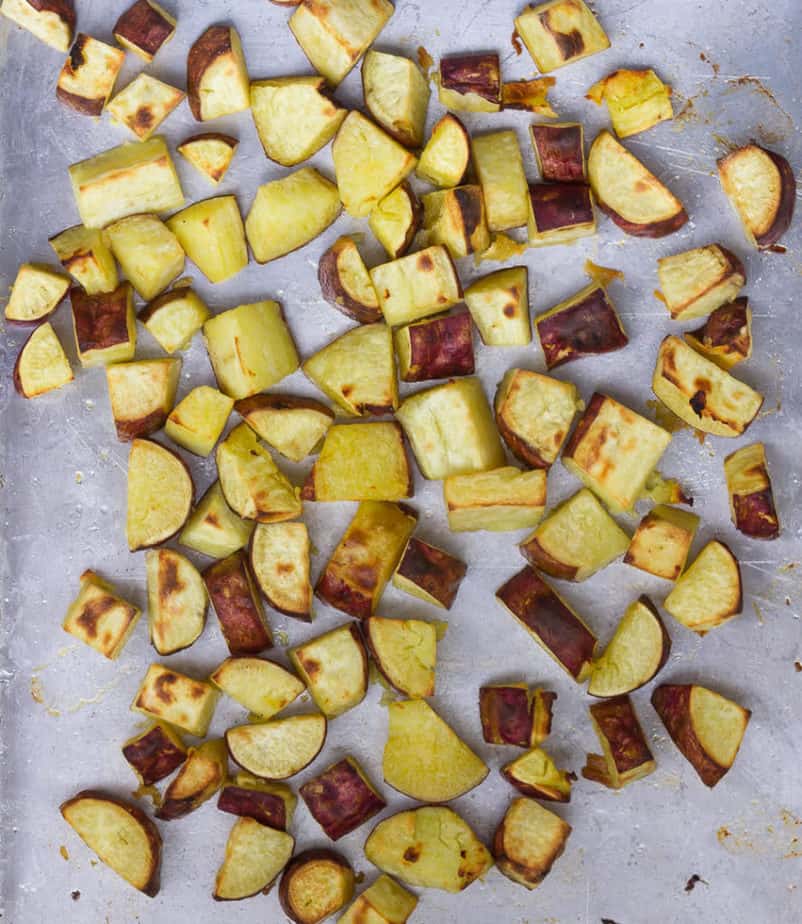 Prepare the sauce
While the sweet potato cubes toast, get the sauce ready.
Combine rice wine vinegar, sriracha, and soy sauce with some maple syrup.
I am partial to chili bean paste, so that went in next, but any homemade or store-bought chili will do.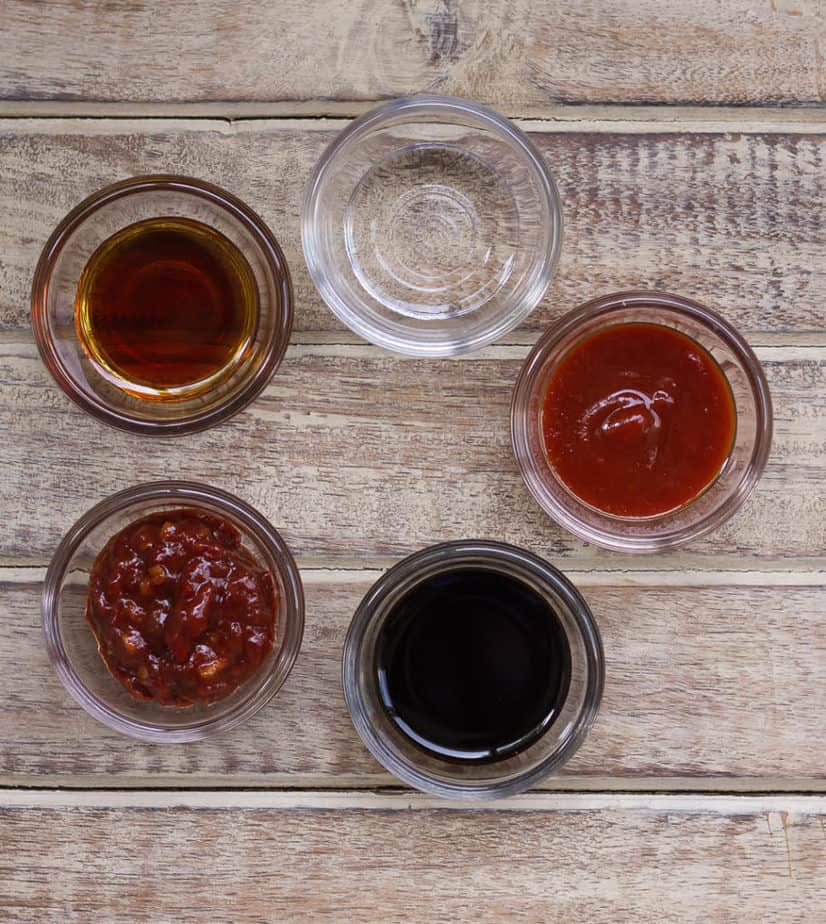 Pour the sauce on the crispy, golden cubes immediately after taking them out of the oven.
Keep your oven mittens at the ready and handle the tray carefully because it's going to be hot.
Mix everything, taste, and adjust. Then drizzle a bit of cold-pressed sesame oil or peanut oil.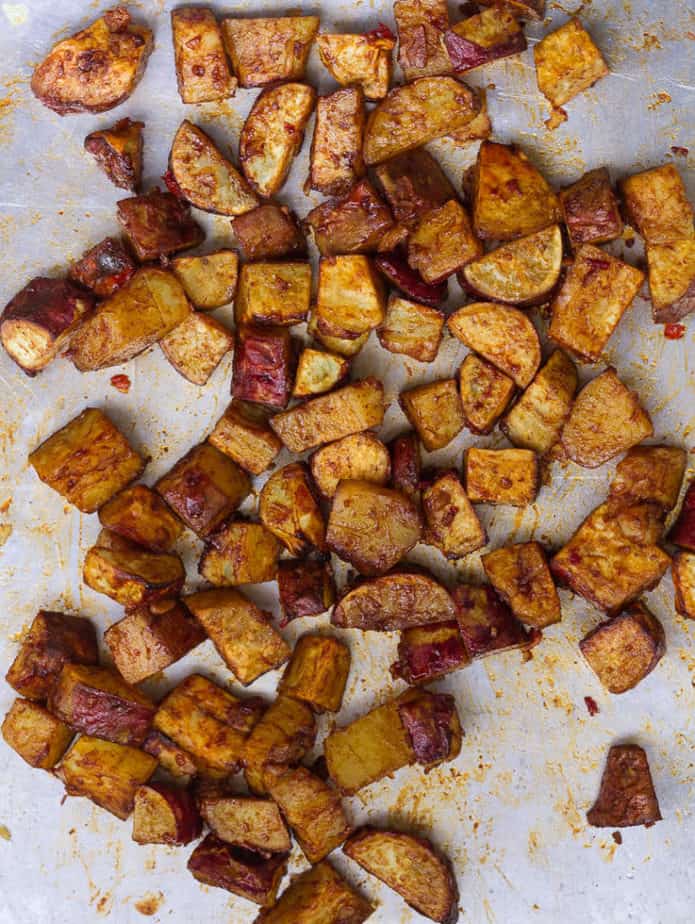 Right before you serve, grace it with chopped green onions and fresh red chilies.
Finish off with a handful of sesame seeds for a bit of crunch.
You'd think putting together polar opposites like maple syrup and sriracha will lead to chaos. But they balance out to create a die for experience for the taste buds. The typical spicy Asian flavor of the sauce compliments the sweetness of the potatoes expertly.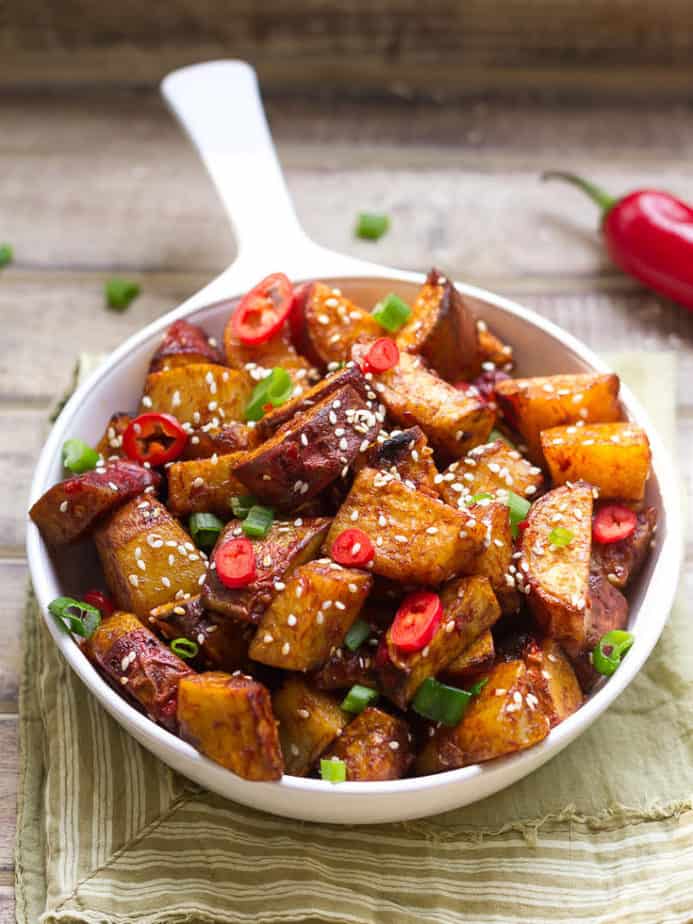 Variations of the sticky chili sweet potatoes
Both sriracha and chili bean turn up the volume on heat. If you don't want the same intensity level, mix-in any chili sauce that suits your palate in quantities you feel like.
If you enjoy a bracing punch of heat, try chili flakes or even fresh chilies.
I was all out of honey, which made maple syrup a necessity. But honey is an excellent choice to bring that sweet undernote.
In case you don't have sesame oil, try peanut oil as a finishing oil.
For more texture and crunch, top the dish with roasted crushed peanuts.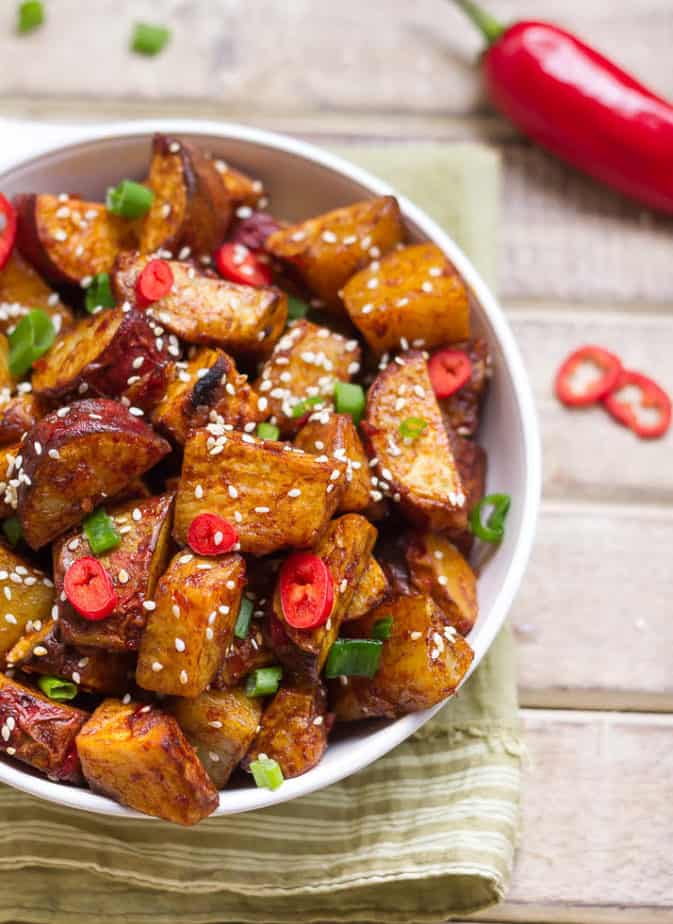 What other vegetables can you use for the recipe?
You can stick to the conventional path and try it with potatoes. Or switch things up a bit and try it with lotus stems.
Can I air fry sweet potatoes?
Yes! I knew roasting works because I've tried it before with my Sticky Sesame Cauliflower recipe to the great appreciation of my family. But air-frying or even frying the sweet potatoes or any other vegetable you are using is fine. 
Serving the sticky sweet chili sweet potatoes
Glazed with a dancing melody of savory and sweet, the delectable dish makes a super addictive appetizer and a crowd-pleaser. The trick is to eat it hot, and if you dig in right from the baking tray, I won't judge.
Chances are the sweet potatoes will vanish with the first helping. But in case there are some left, you can reheat them. The microwave does the job well. Though I do prefer a cast iron pan for this.
You could also reheat in your oven. Tossing the sauce-laced sticky chili sweet potatoes in the oven again makes them stickier and yummier.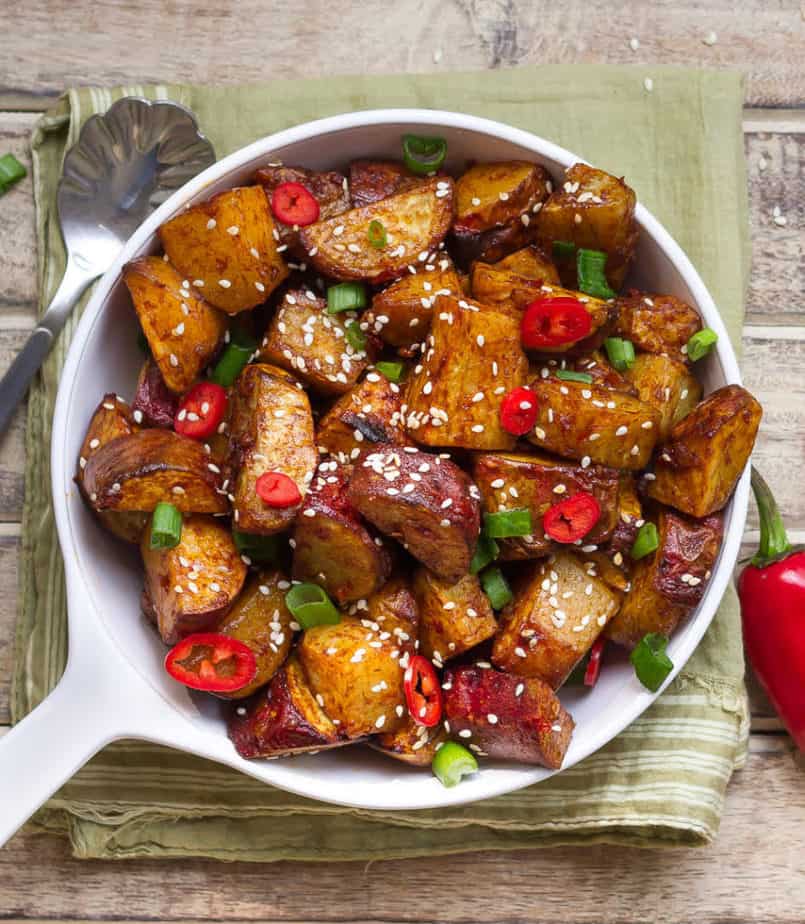 For more recipes that are better than takeout but just as quick – give Spicy Tofu Stir Fry and Raw Mango Rice a whirl.
I'd love to hear from you! Please tag me on Instagram @tashasartisanfoods, using the hashtag #tashasartisanfoods. You can also FOLLOW ME on INSTAGRAM, PINTEREST for more fabulous recipes! Do subscribe to Tasha's Artisan Foods so you'll never miss a recipe!
📖 Recipe
Print Recipe
Sticky Chilli Sweet Potatoes
Sticky Chili Sweet Potatoes - Glazed with a dancing melody of savory and sweet, the delectable dish makes a super addictive appetizer and a crowd-pleaser.
Ingredients
1

kg

Sweet potatoes, unpeeled, scrubbed well and cubed

2

tbsp

Peanut oil

1

tsp

Salt

1.5

tbsp

Sriracha sauce

1.5

tbsp

Soy sauce

1

tbsp

Rice wine vinegar

1

tbsp

Maple syrup

1.5

tbsp

Chilli bean sauce

You can use any chilli sauce you prefer

1

tbsp

Cold-pressed sesame oil or peanut oil

Green onions, Sesame seeds, Red chillis for garnish
Instructions
Preheat your oven to 220C.

Toss the cubed sweet potatoes with peanut oil and salt.

Spread in a single layer on a baking tray and roast in the oven for 20-25 minutes, until the sweet potatoes are cooked through and lightly browned on top.

I like to move the baking tray to the top rack and turn on the broiler for the last 5-10 minutes. Keep an eye on the veggies though, you don't want them to burn.

While the sweet potatoes are roasting, make the sauce.

Combine the sriracha sauce, rice wine vinegar, maple syrup, soy sauce, and chilli bean sauce in a small bowl. Taste and adjust for spicy/ sweet flavors.

As soon as your sweet potatoes are out of the oven, carefully pour the sauce on top and mix well. Watch your hands, the tray will be hot!

Taste and adjust for seasoning. Stir in the sesame oil or peanut oil for the finishing touch.

Transfer to a serving bowl, sprinkle with green onions, sesame seeds, and fresh chilli slices.