The royal Awadhi sheermal flavored generously with saffron and served piping hot is something I've meant to make for a while now. And a post about sheermal demands a homage to Jiggs Kalra.
Born Jaspal Inder Singh Kalra, he was the gastronome who put Indian cuisine on the international map. Given the moniker the 'czar of Indian cuisine,' he vehemently denied being a cook.
He simply lived for epicurean pleasures and warm-hearted khatirdari or what the world calls hospitality. His profound dedication to Indian cuisine inducted him into the International Food & Beverage Gourmet Hall of Fame. The first Asian to have the honor.
It was through his landmark cookbook Prashad: Cooking with Indian Masters, written long before gourmet writing erupted, that he acquainted the depth and breadth of Indian cuisine to every kitchen.
Meticulously researched with the help of some of the finest chefs in the nation, people use Prashad as an elementary course in Indian cooking. For me, it has been a bible for over one and a half decades.
The sheermal I made at home is an ode to the legacy Jiggs left behind. However, I will humbly accept that what I cooked was a compromise. I did reduce the amount of ghee he suggested!
But I get ahead of myself. For those who are new to Awadhi cuisine enjoyed by the nawabs, here's a quick history about sheermal.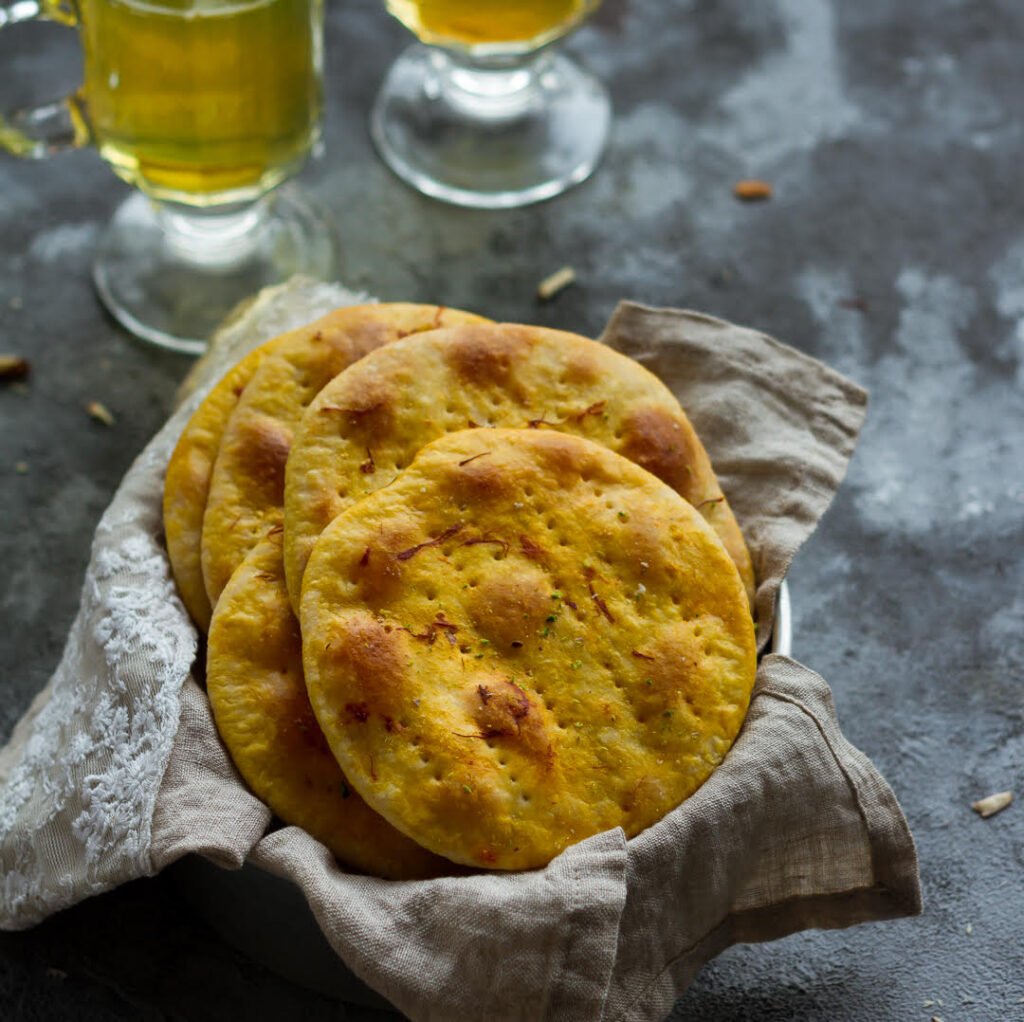 What is sheermal?
Sheermal is a flatbread with a tinge of sweetness. It is so flaky, fluffy, and crisp that you can't help go for second and third helpings.
The moniker takes its origins in ancient Farsi-Urdu. 'Sheer' means milk, and 'mal' means to rub. The second half of the name denotes the gentle coating of milk-soaked with saffron that's brushed on top.
The milk bread was introduced to India centuries ago by the Persians. Over the years, it seeped into Awadhi states that were ruled by the Mughals and who revered culinary art.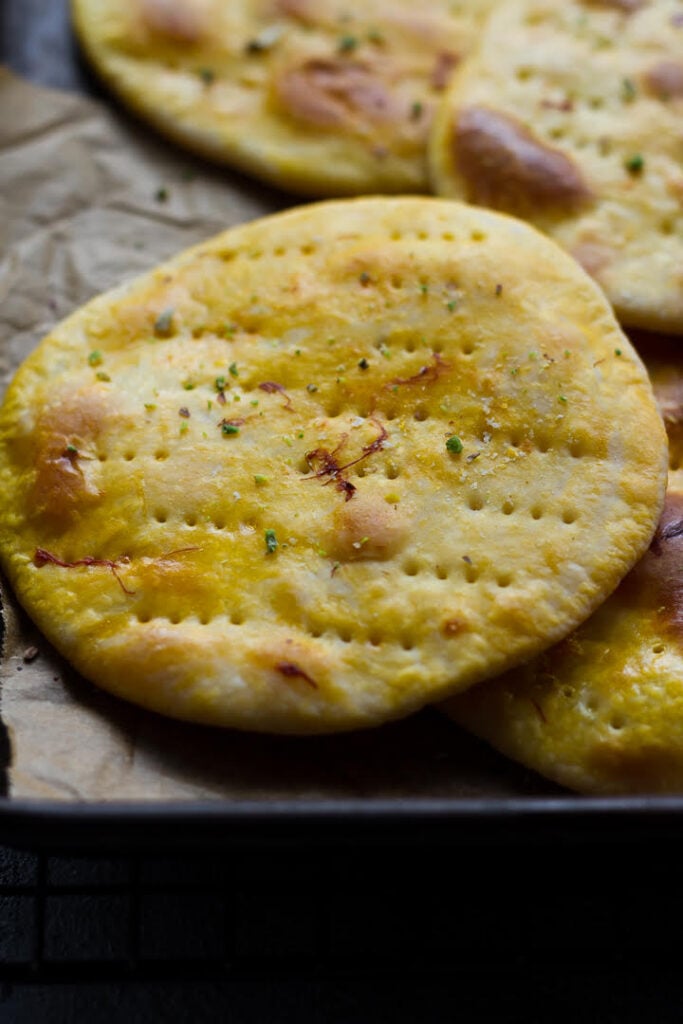 The historical recipe has varied over time, given rise to a common misconception that sheermal is same as Bakarkhani. The two are different. Bakarkhani is a Hyderabadi flatbread, far richer and made with more ingredients.
Sheermal contains no more than flour, salt, milk, and ghee and you'll find it commonly sold in the outdoor bazaars of Lucknow, the city of Nawabs.
How to make Sheermal?
Sheermal is a labor of love. It doesn't take technique, but it does ask for quality ingredients and copious amounts of ghee (clarified butter). It also demands a bit of patience, which is the most challenging part because the entire home is fragrant with saffron for the duration.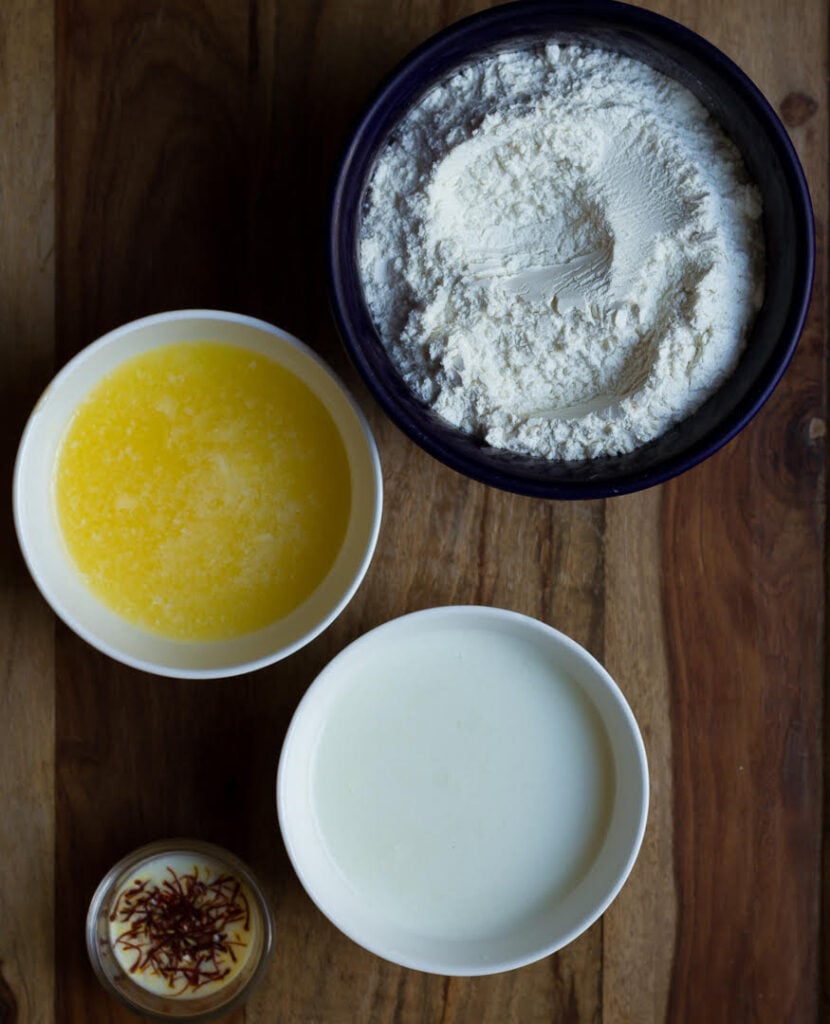 Start by mixing a few strands of saffron in milk and set it aside for a good while. It is essential to wait till the hue of the milk transforms into yellow-gold.
I can honestly say that I saw the beauty and flavor profile saffron brings to food for the first time because I let the milk sit. My photos barely do justice to the real thing.
In another bowl, mix warm milk with sugar and set it aside too. In a third bowl, sift all-purpose flour and salt. Stir in the milk dissolved with sugar and melted ghee next.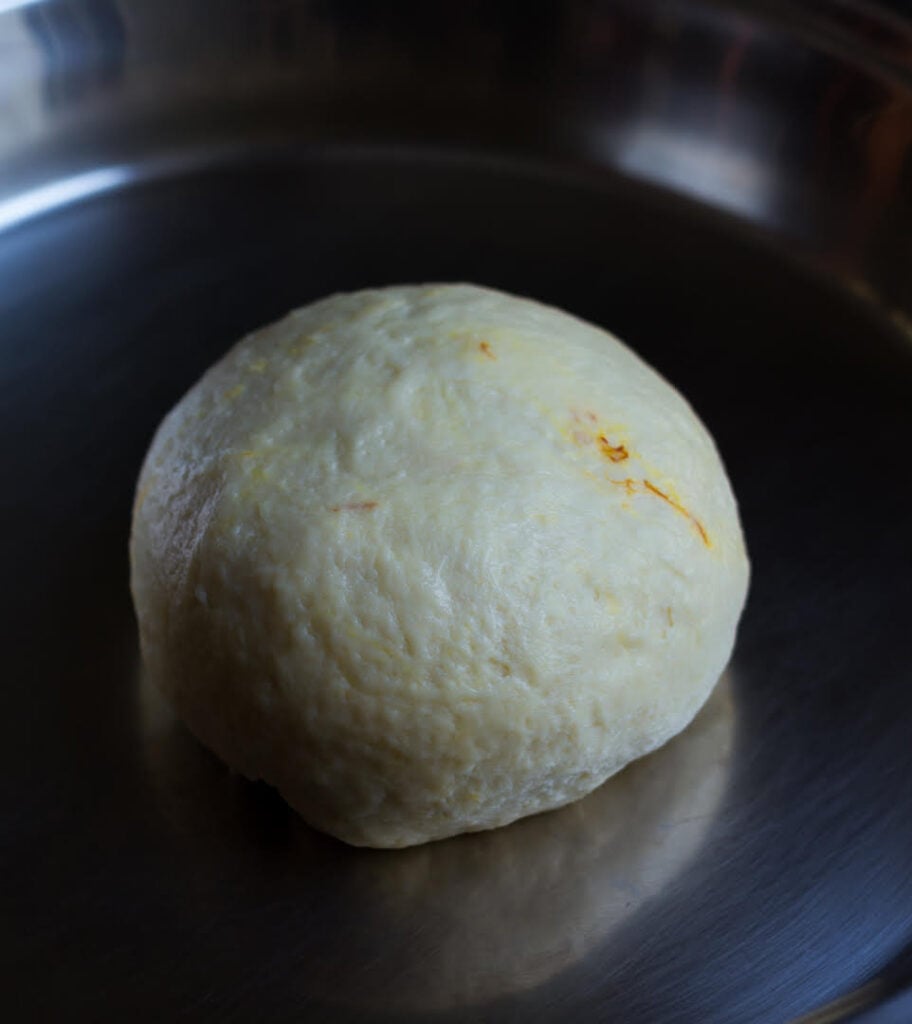 By now, the saffron-infused milk would have turned a deep yellow-golden. Stir a couple teaspoons of that in the mixture too. Don't use the whole milk + saffron mix. You'll need it later on.
Knead till you have a soft, smooth, and elastic dough. Cover it and keep it aside for 10-15 minutes. When the dough is rested, divide it equally into 8 balls. Cover and set aside again.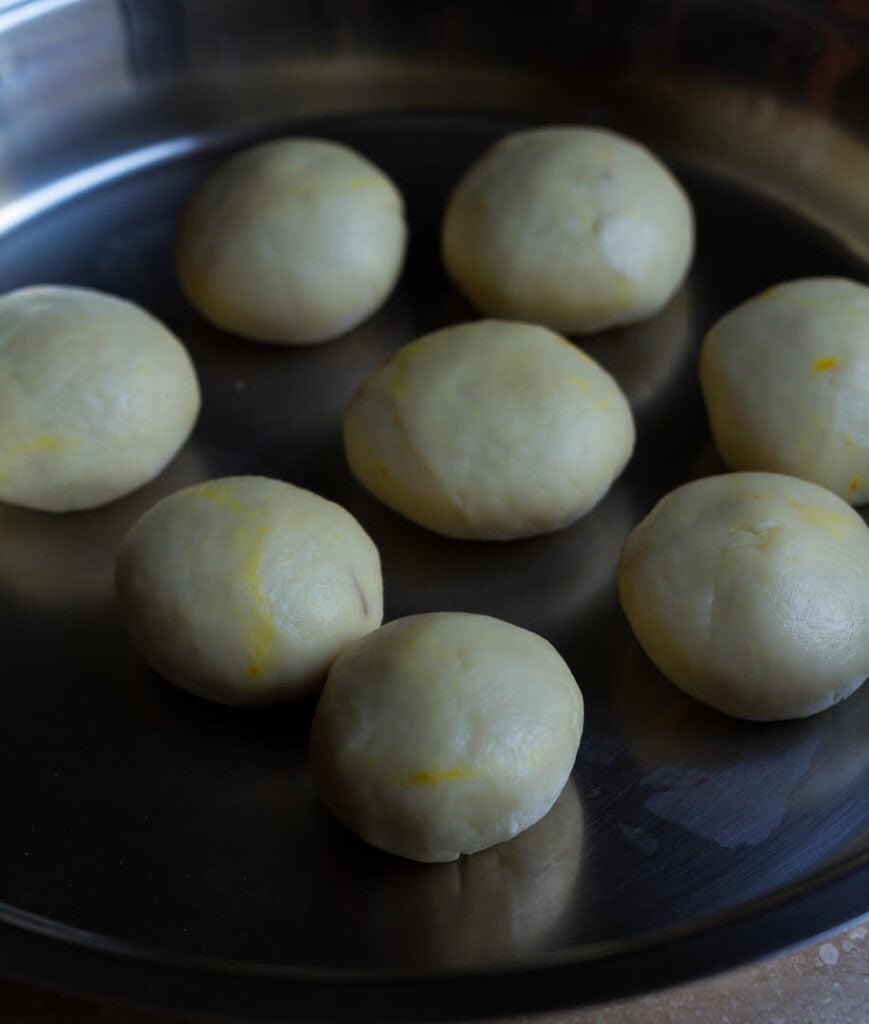 Quick note
Some sheermal recipes make use of a leavening agent like yeast or baking soda. I did not add any, yet the flatbread was pillowy soft with just a hint of crisp.
Baking the sheermal
Working with one dough ball at a time, roll them into 4 ½ to 5-inch discs. Use a fork to prick the entire surface. The perforations allow for more even heating when you bake the sheermal.
On a tray lined with parchment, place the discs and bake for five minutes. Take them out and then brush the top liberally with the saffron-infused milk. Bake again till you have a golden hue touched with shades of brown.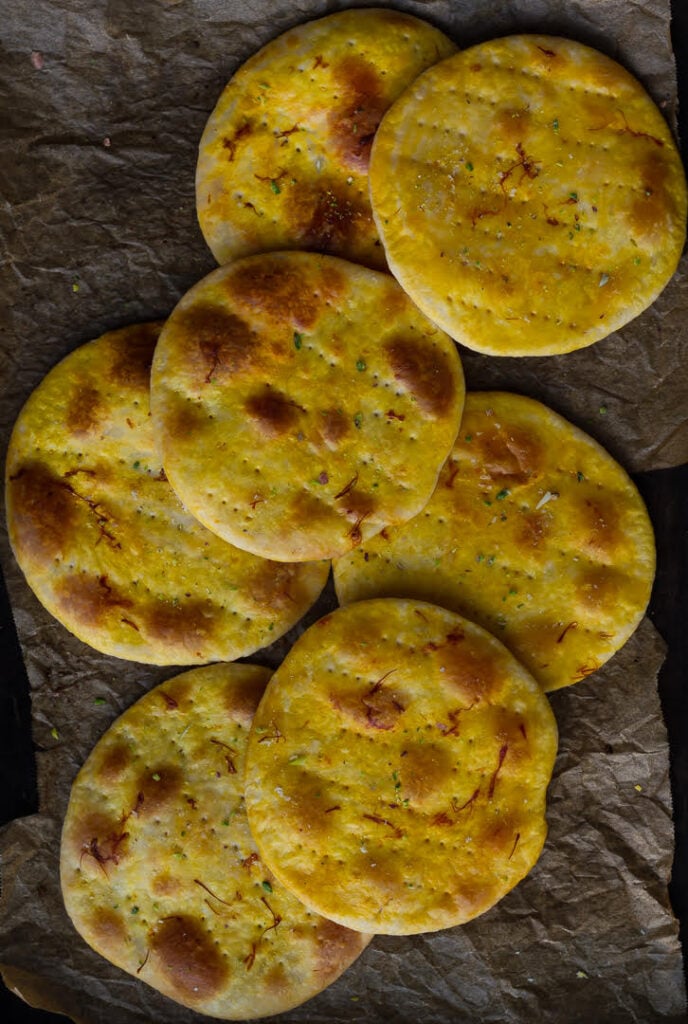 Serving the sheermal
Sheermal should be served immediately. As soon as it is out of the oven, smear it with ghee and dig in. Traditionally, the flatbread is enjoyed unabashedly with nihari – a spicy mutton soup.
You can pair it with any rich curry or even kebabs but I would recommend it as a tea snack, which is how I served it – with cups of sweet kahwa. The Kashmiri tea accompanied the sheermal flawlessly.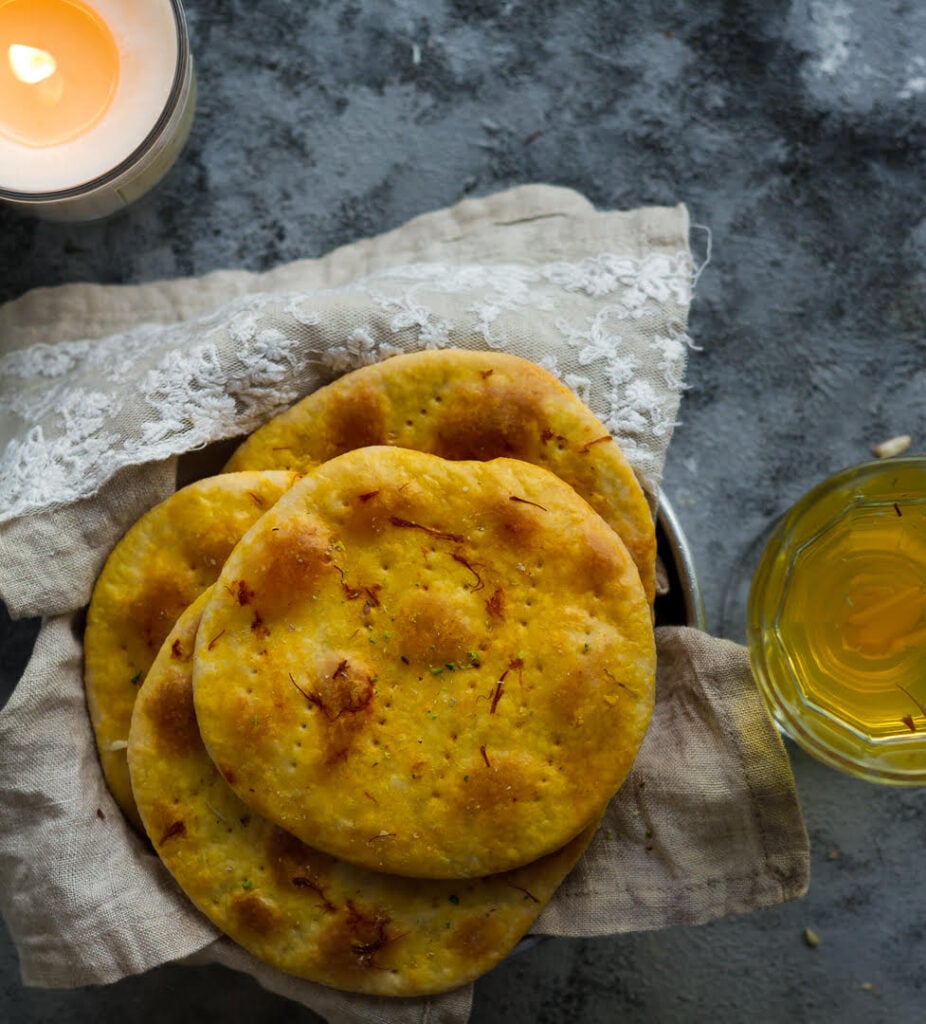 You can savor the taste of ghee and saffron in every bite. The bread is gorgeously flaky and decadent. It's soft yet crisp with just a tinge of sweetness.
I advise cooking it for an intimate Diwali get together or truly any festivities. Serve this rich bread as a snack or as part of the meal.
You can halve the recipe or double it easily, depending upon how many sheermal you want. Going by the speed with which these were eaten in my house, a double batch would be a great idea!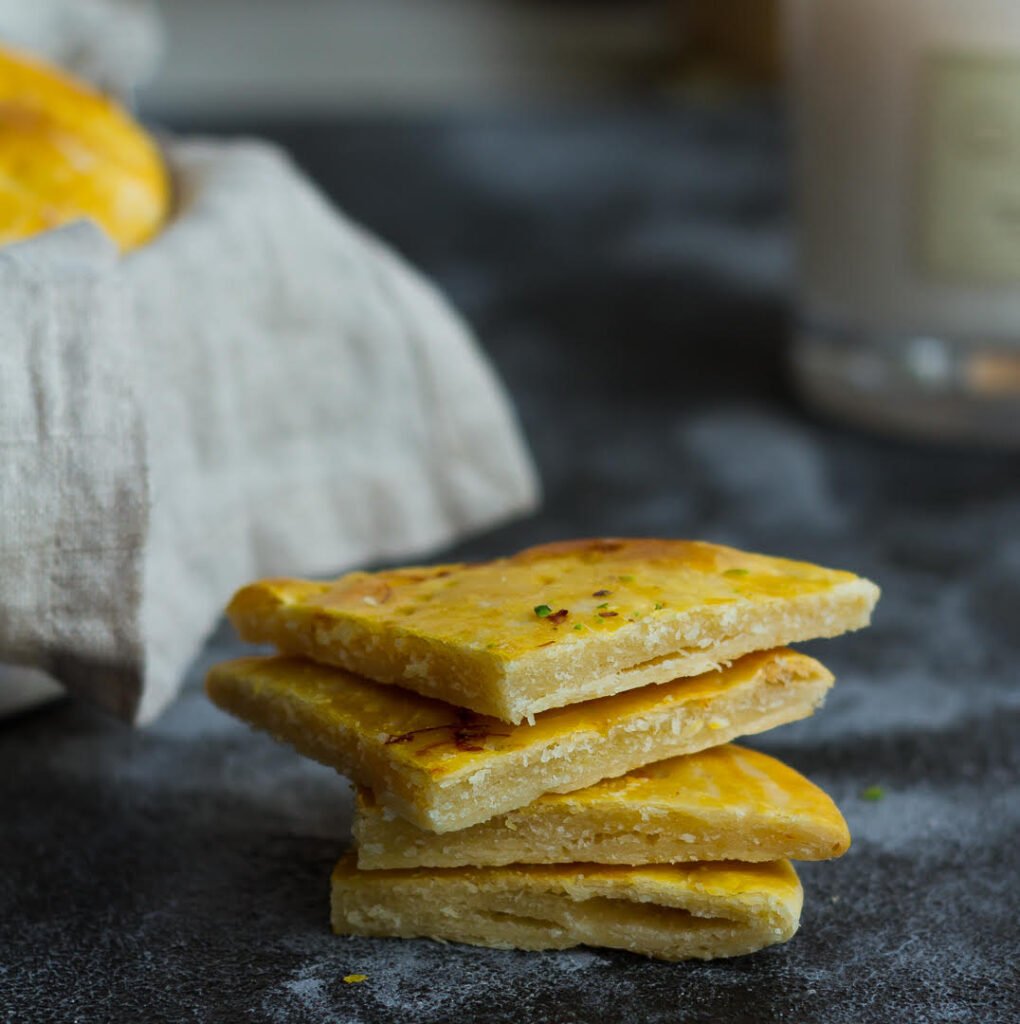 📖 Recipe
Print Recipe
Sheermal Recipe
Sheermal - Flaky, crisp, and very delicious, this rich, saffron and ghee- soaked flatbread is gorgeous for any festive table!
Ingredients
1 1/4

cup ( 250 ml)

Warm milk

2

tsp

Sugar

1

tsp

Saffron

2 1/2

cups ( 300 gms)

All-purpose flour

1

tsp

Salt

1/2

cup ( 115 gms)

Ghee, melted
Instructions
Take out 1/4 cup of milk and dissolve saffron in it. Set aside.

Dissolve sugar in the rest of the 1 cup of milk.

In a large bowl, combine flour and salt.

Make a well in the center and pour in the milk sugar mixture, 2 teaspoons of saffron milk, and melted ghee.

Start mixing gradually. Knead to make a soft dough.

Cover with a damp kitchen towel and set aside for 10-15 minutes.

Divide the dough into 8 equal-sized portions. Shape them into balls.

Cover with a damp kitchen towel for 10-15 minutes.

Preheat the oven to 180C. Grease a baking tray or line with parchment paper.

Working with one ball at a time, roll it out into a disc, about 4.5"-5" in diameter. These should not be rolled out thin.

Prick the entire surfavce with a fork.

Place carefully on the prepared tray and bake for 5 minutes. Take the tray out, brush the flatbreads with saffron-infused milk. Immediately return to the oven for another 6-7 minutes or until the breads are golden and done.

Smear with ghee as soon as you take them out of the oven and serve warm. Enjoy!
Notes
This recipe has been adapted from Mr. Jiggs Kalra's famous cookbook Prashad.