Murmura Chivda is a totally irresistible spicy puffed rice snack that's so easy to put together. The quick, short, and sweet murmura recipe is healthy, vegan, and if you don't use cornflakes, then gluten-free.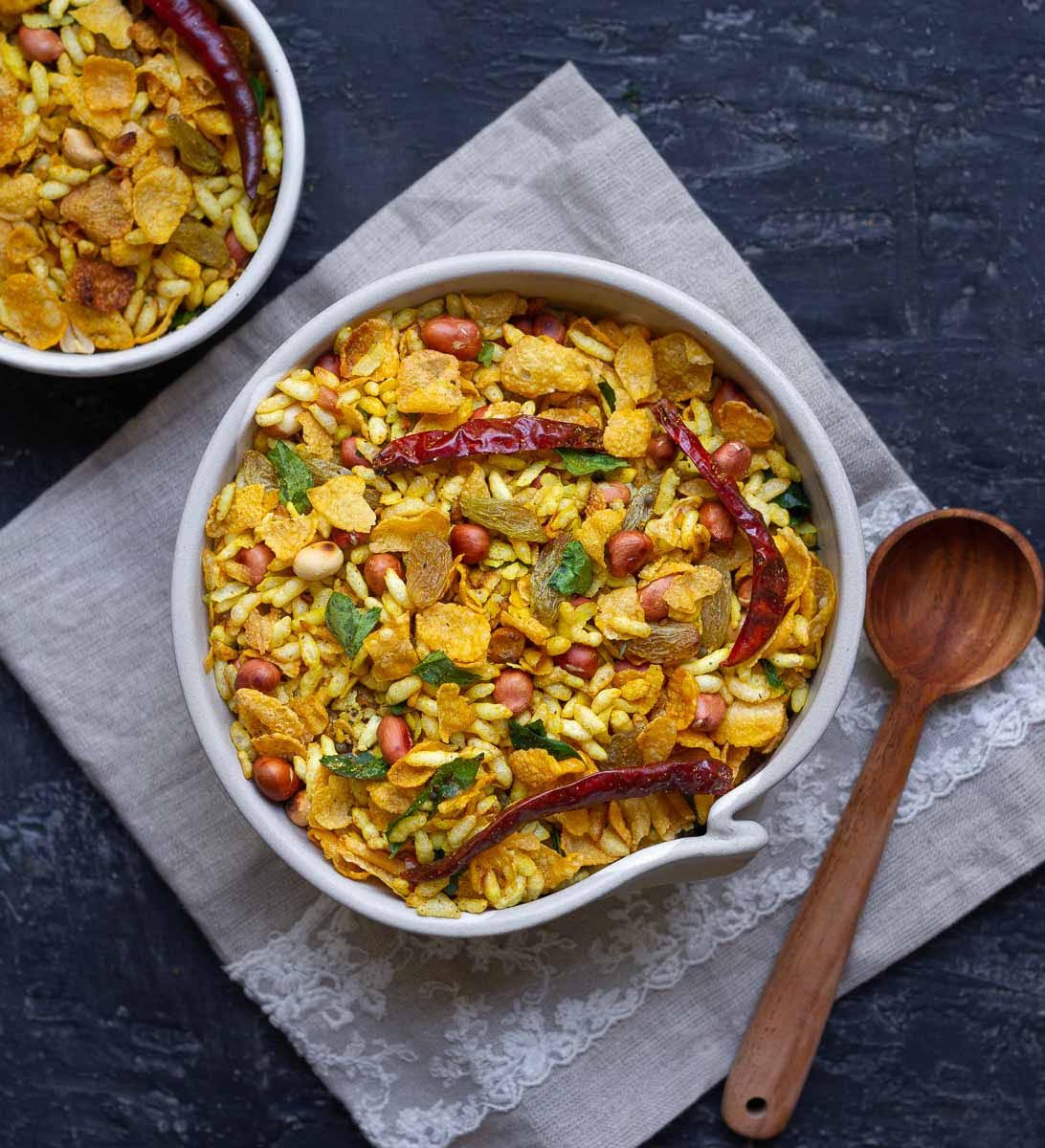 Well, yes, festivals are all about sweets, but this time I wanted to make something with a savory touch. And murmura fit the menu perfectly. It's a great Diwali recipe for when guests drop by suddenly, and you need some nibbles. I say make a huge batch (or many variations of this basic murmura chivda recipe) and use it as an anytime snack. Or pack it in jars as homemade Diwali favors.
Jump to:
WHY TRY MURMURA CHIVDA
Super crunchy
Finger-licking good
Gets made in a jiffy
Barely uses any oil as not deep-fried
FAQs
What is murmura?
Murmura, muri, or laiya is basically puffed rice. Taste-wise, it's a blank canvas, which makes it a staple in Indian pantry ingredients. Enter any Indian home, and you'll definitely find snacks with puffed rice.
What is chivda?
Chivda is essentially the Indian version of homemade trail mix or namkeen. It's a savory snack that's often found next to a cup of hot tea.
What is murmura chivda?
Murmura recipes have been handed down through generations and each house has its own variations. So, I don't know who created murmura chivda first and on what soil, but it is no doubt delicious enough to finish fist-to-mouth. It's a namkeen (trail mix) that contains puffed rice tempered with spices, textured with roasted peanuts, and tossed with other ingredients.
How do you store Indian puffed rice?
All puffed rice snacks, not just this murmura chivda, should be completely cool before you store them in an airtight container, so they don't get soggy and retain the crunch.
How To Make Murmura Chivda Or Easy Spicy Puffed Rice?
Step 1: Begin by heating the mustard oil.
Step 2: When it reaches the smoking point, add curry leaves, asafoetida (hing), mustard seeds (rai), cumin seeds (jeera), and dried red chilies.
Step 3: Once the seeds splutter, add murmura (puffed rice) and poha (flattened rice). Stir for 3-5 minutes until the puffed rice is crunchy.
Step 4: Mix in salt, turmeric powder (Haldi), coriander powder (dhania), red chili powder, and a little bit of sugar in this order.
Step 5: Combine thoroughly and continue to stir for 2 to 3 minutes.
Final step: Finish by combining cornflakes, roasted peanuts, and raisins. Stir for 2 minutes and you're done!
NOTES ON SPICY PUFFED RICE SNACK
From start to finish, this Murmura chivda recipe takes just 10 minutes if you keep all the ingredients ready and keep adding them when needed.
Roast the peanuts beforehand because that will take the longest.
Don't scroll on social media, have a chat, or read a book while sautéing the murmura. Stir constantly and on low heat.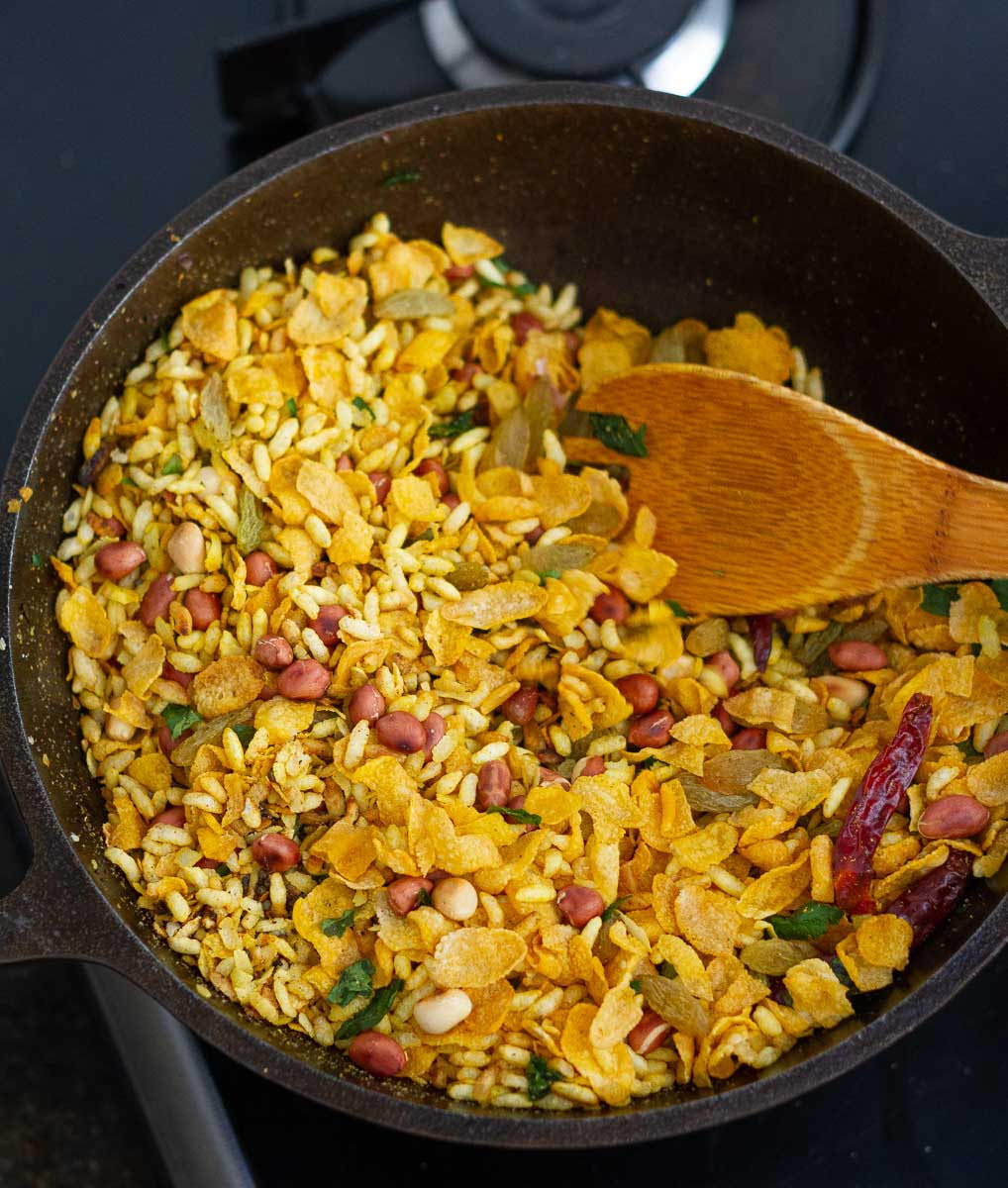 VARIATIONS
I have a soft spot for snacks with puffed rice as you can adapt them in delicious ways. It's okay to leave out or experiment with ingredients, and the murmura chivda will still be crunchy, delightful, and addictive. Whether you want spicy puffed rice or a slight hint of sweetness is between you and your love for heat.
Peanuts: Add more or less.
Raisins: They're a personal preference. You can skip them and use cashews instead.
Cornflakes: Again, it's up to you. Play around with other ingredients if you plan to omit cornflakes.
Spices: In our house, puffed rice snacks have always been low in salt and spicy. So, let your palate be the guide. Make the murmura as spicy or as mild as you wish.
More variations: Chana, sev, bondi - one can come up with so many variations for this puffed rice snack.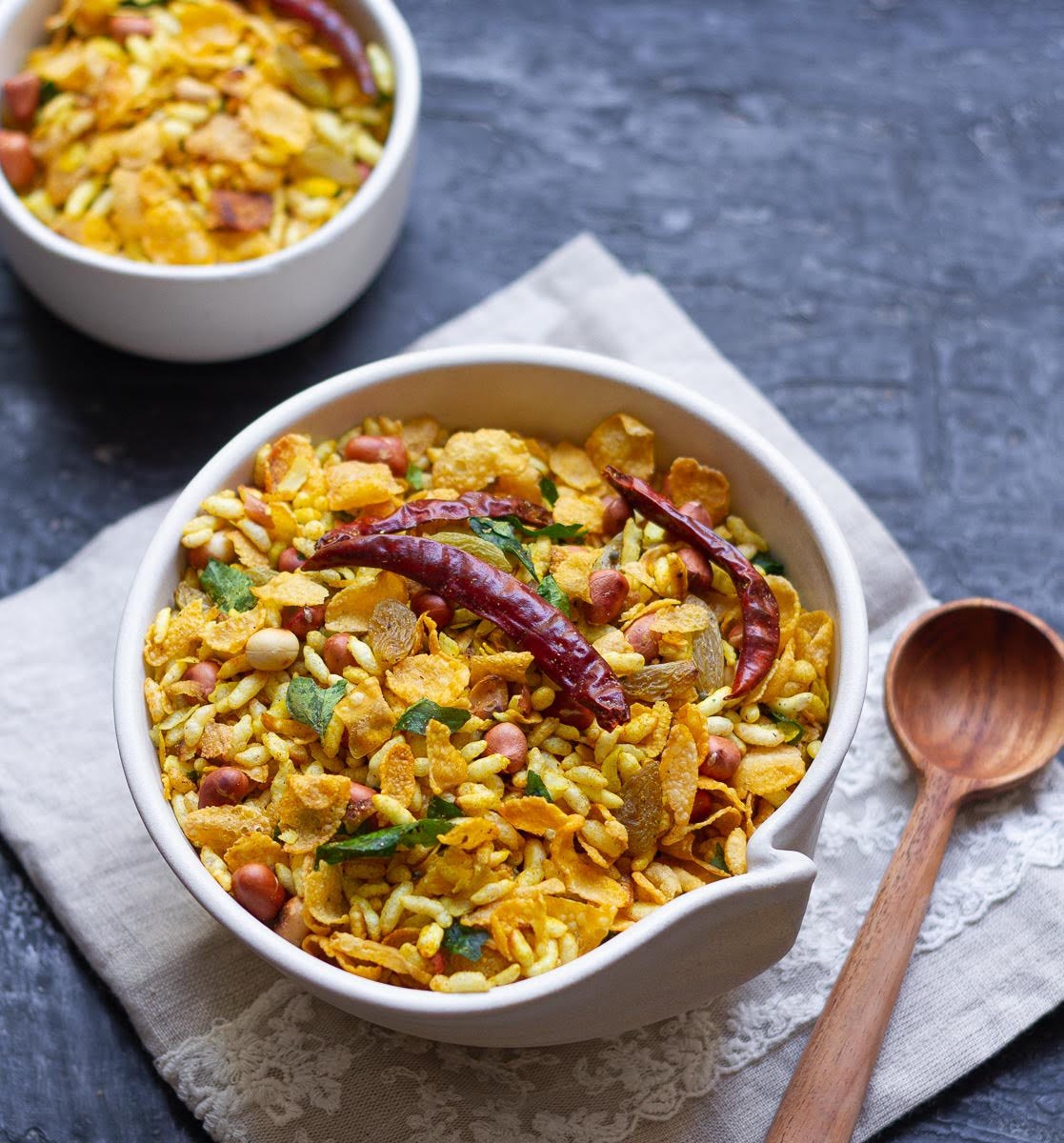 DIWALI SNACK RECIPES
Atta Biscuits | Eggless Wholewheat Cookies
SNACKS WITH PUFFED RICE
Peanut Butter Rice Crispy Bars
📖 Recipe
Print Recipe
Murmura Chivda (Easy Spicy Puffed Rice)
Murmura Chivda is a totally irresistible spicy puffed rice snack that's so easy to put together. The quick, short, and sweet murmura recipe is healthy, vegan, and if you don't use cornflakes, then gluten-free.
Ingredients
1

tbsp

Mustard oil

2

tsp

Mustard seeds

1/4

tsp

Asafoetida / hing

15-20

Curry leaves

5

Dried red chillies

2

cups / 50gms

Puffed rice/ murmura

1.5

cup / 107 gms

Poha / flattened rice

1.5

tsp

Salt

1

tsp

Turmeric/ haldi

1.5

tsp

Coriander powder/ dhania powder

1/2

tsp

Red chilli powder

You can add more if you prefer a spicier mix

1

tsp

Sugar

1.5

cups/ 72 gms

Cornflakes

1

cup/ 185 gms

Roasted peanuts

1/2

cup/ 70 gms

Raisins
Instructions
In a large wok or a heavy-bottomed pan, heat the mustard oil.

Once the oil is heated, add the mustard seeds, asafoetida / hing, red chillies, and curry leaves.

Stir for 30 seconds, then add murmura ( puffed rice) and poha ( flattened rice) cook for 3-5 minutes, stirring continuously.

Add salt, turmeric, coriander powder, red chilli powder, and sugar.

Give it a good stir for 2-3 minutes.

Now add the cornflakes, roasted peanuts, and raisins.

Taste and adjust for seasoning.

Keep stirring for another 2-3 minutes. Turn the heat off and let the mixture cool completely before transferring to an air-tight jar.