These cherry puff pastry tarts have an elegant, rustic beauty. With each creamy bite, you get a mouthful of summer rubies tucked inside deeply rich, buttery, shattering layers of pastry.
Think of the recipe as a cherry Danish with puff pastry, somewhat close to my strawberry tarts. And no, we're not making the pastry dough from scratch!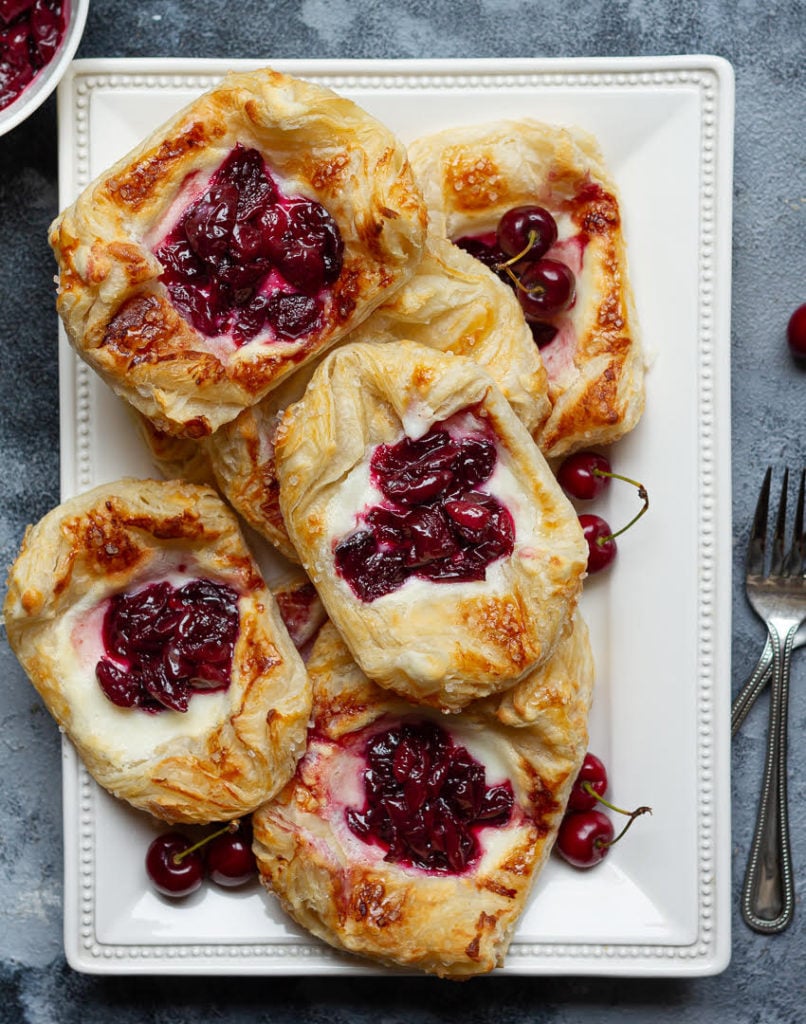 Jump to:
How to make cherry puff pastry tart
What is a Danish pastry?
A Danish is very similar to a puff pastry, where each morsel is accompanied by shards of pastry flying like confetti. Danish pastries are made with laminated dough, meaning butter is folded into the dough over and over again.
They are a staple of every bakery and breakfast spread in hotels (and one I always pick up when vacationing) all over the world. However, they are a specialty of Denmark, Norway, and Sweden, where they're called wienerbrød, meaning Viennese bread.
How to make cherry puff pastry tarts?
Every once in a while, I stumble upon a culinary trick that changes my life in the kitchen. Store-bought puff pastry was one such. And since there are only two ingredients in this quick weekday dessert – cherry and pastry – make them count. Buy the best puff pastry you can find in a bakery nearby.
Step 1: Begin with the compote. Cook pitted cherries in water with some sugar and vanilla extract for 15 to 20 minutes on low heat till the water evaporates and the fruit is soft and cooked through.
Step 2: Splash a teaspoon of lemon juice on the thickened compote and turn off the heat. As an option, you can add rum, whiskey, or brandy to it. I didn't. If you do, let the compote cool a bit before you whisk the booze in.
Step 3: While the compote cools completely, combine softened cream cheese with icing sugar and lemon juice. If you love that bright lemony flavor, include lemon zest too. Park the mixture in the fridge.
Step 4: Roll out the puff pastry into a 10 by 14-inch rectangle. Although, in hindsight, a square would have been ideal.
Step 5: Divide the rolled dough into 8 equal pieces and fold over the corners (about half an inch). You may need to wet the pastry slightly with water and press it down to make the folds stick.
Step 6: Spoon the cream cheese mixture right in the center of the cherry tart. Depending upon the size of your puff pastry, one and a half to 2 tablespoons should be enough. Don't spread it.
Step 7: Seat a spoon of the cherry compote right in the middle of the cream cheese. It's perfectly, perfectly, perfectly all right if the juices run wild. A cherry danish with puff pastry is meant to look rustic. Repeat the steps for all the other tarts.
Bake the cherry puff pastry
Step 8: Carefully brush half-inch border of the pastry (not loaded with cherries and cream cheese) with egg wash (1 egg beaten in little water).
Step 9: Sprinkle sugar (optional) and then, with a fork, press the edges.
Final step: Bake till paper-thin layers puff like magic, delicately crisp and golden. At the 15-minute mark, check the cherry puff pastry tarts for the compote filling. If (only if) you feel like adding more, spoon some in and bake for an additional 5 to 7 minutes.
Ways to serve this best cherry puff pastry tart recipe
Right out of the oven, the cherry puff pastry is, well, puffy, around the edges. It settles into the flaky, buttery layers as it cools, making it look very much like a Danish. Just a bit more rustic.
It's a fantastic (and quick) cherry dessert to have as-is. But I'm not going to judge if you enjoy it with a scoop of ice cream.
Yes, these cherry tarts are best the day they are made. So, eat them fresh. But my family and I love them cold, and since they keep well in the refrigerator, the recipe is right up our alley.
For those who love danishes and puff pastries warm, plonk them in a preheated oven for just a few minutes. Don't use a microwave, as it'll completely spoil the texture.
Ingredient alternatives for this easy cherry danish recipe
Puff pastry: store-bought pastry makes life so much easier. But by all means, use homemade pastry dough if you have a good recipe for it.
Fruit: this recipe works with any fruit. I've already tried it with strawberries. Plums, peaches, raspberries, or even ready-made pie filling (if you can get your hands on a good one) will do. You can even try a good quality jam.
Egg: if you want, you can add a yolk to the cream cheese mixture. It's up to you. Just remember to not use the whole egg, just the yolk.
All the reasons to try cherry puff pastry
Really, really low-effort recipe
Needs no equipment, just a whisk, and a bowl
Deliciously creamy, luscious dessert packed with a mouthful of cherries in lighter-than-air layers
4 quick cherry dessert
More quick weekday dessert
📖 Recipe
Print Recipe
Cherry Puff Pastry Tart
These cherry puff pastry tarts have an elegant, rustic beauty. With each creamy bite, you get a mouthful of summer rubies tucked inside deeply rich, buttery, shattering layers of pastry. 
Ingredients
500

gms

Puff pastry ( homemade or store-bought)
Cherry Compote
2/3

cup ( 150 gms)

Pitted cherries, halved

3

tbsp

Sugar

You can add more or less depending on how sweet or sour your cherries are

1/4

cup ( 60 gms)

Water

1/2

Vanilla bean

1-2

tsp

Lemon juice
Cream Cheese Filling
2/3

cup ( 150 gms)

Cream cheese, at room temperature

4

tbsp

Icing sugar

1

tsp

Lemon juice
Egg Wash
1

Egg

2

tbsp

Water

Sugar for topping, Optional
Instructions
Cherry Compote
Combine the cherries, water, and sugar in a small saucepan.

Cook over low-medium heat for 15-20 minutes, until the cherries are soft and cooked through.

Add the lemon juice and take the pan off the heat.

Taste and adjust for sweetness. Transfer to a small bowl and cool the sauce.
Cream Cheese Filling
Whisk together the cream cheese, icing sugar, and lemon juice in a small bowl, until smooth and creamy.

Taste and adjust for sweetness. Keep aside.
Assembly
Preheat your oven to 180 C. Line a baking tray with parchment paper.

Roll out the puff pastry on a lightly floured surface into a rectangle, roughly about 10" x 14".

Cut the pastry into 8 equal-sized rectangles.

Turn over about 1/2" of 4 corners of each pastry. Press it down slightly. You may need to use water to make the pastry stick.

Add 1.5 -2 tbsp of cream cheese mixture in the center of each pastry. Don't spread it out.

Now spoon the cherry sauce, about 1 tsp, on top of the cream cheese mixture.

Carefully brush the exposed pastry with the egg wash. Sprinkle some sugar if you like.

Press down the edges of each pastry with a fork.

Bake at 180 C for 20-25 minutes, until the cherry juices are bubbling and the pastry is golden brown.

You can also add another 1/2 - 1 tsp of the cherry compote to the pastry, 5 minutes before you take it out. This is an optional step.

Let cool for 5-10 minutes before serving. Enjoy!
Egg Wash
Beat together 1 egg and 2 tbsp of water in a small bowl.