The Cherry Cheesecake is a moreish journey so worth taking - lusciously creamy, with juicy mouthfuls of cherry bits mingling with the cream cheese tang, just perfectly sweetened!
After the Cinnamon Cheesecake, this is by far my favorite. It is rich, yet the fresh fruit cuts through it, creating pockets of succulent, jammy pockets. Maybe that's why it was half gone even before lunchtime, and I was all but ready to bake another one!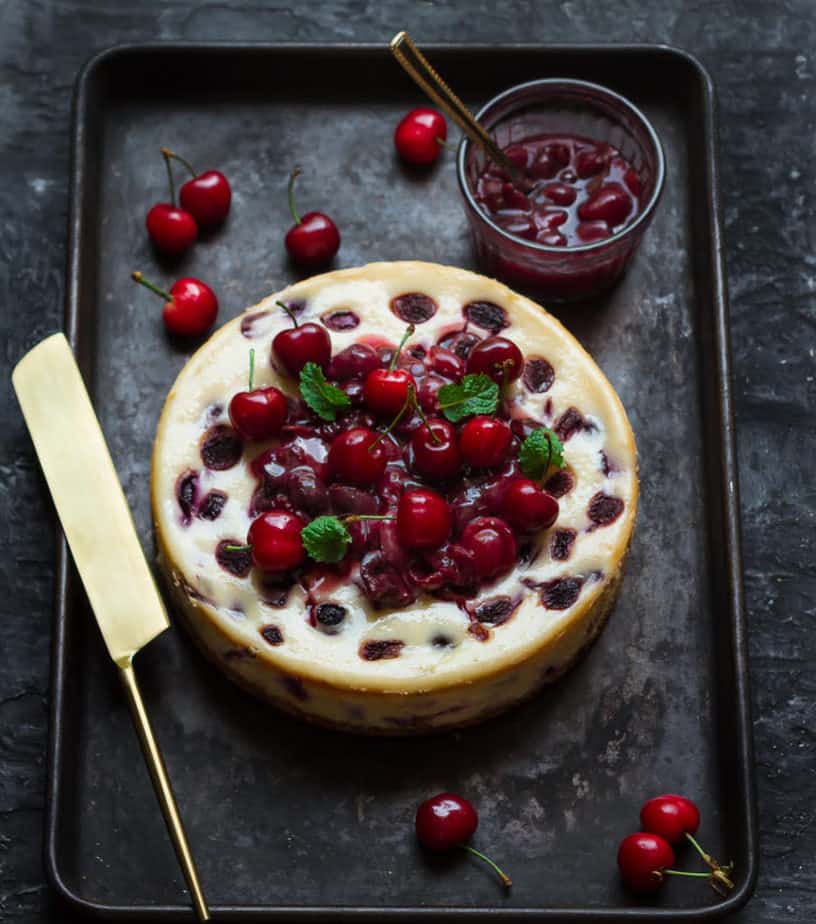 How to make cherry cheesecake?
Full disclosure, even after several attempts my head was a litany of "please cake-god, just don't let it crack". And that made me keep checking on the cake, needlessly.
And since cheesecakes don't like interference, this one cracked a tiny bit too.
But the recipe is too good not to share and the minute imperfections don't matter one whit. The decadent goodness hits just the right spot, tricking you into eating far more than you should!
Bake the cheesecake crust
Always start with the crust because while it bakes, you can prep the filling.
Crush Marie biscuits and combine them with melted butter using your hands till you have a damp, uniform crumb.
Press the crumbs on the base of a spring bottom pan. Pack them tightly.
Let the crust bake for ten minutes.
Make the cherry-cheese filling
Typically, a cheesecake means the fruit accompanies it. So, you have a sky-high silky-smooth base topped with gorgeous plump red cherries.
But this recipe has my own spin. I folded a heap of chopped cherries into the batter, and the experiment paid off brilliantly.
Using an electric beater, blend raw sugar with cream cheese. Ensure all your ingredients are room temperature to get the texture right.
One egg at a time, add in two eggs after the sugar-cheese mixture is smooth.
Throw in some all-purpose flour to bind it all and vanilla extract and mix till you have a thick, silky batter.
Now fold in pitted cherries chopped into half. To make sure the plump fruit doesn't sink, toss them with some flour.
Bake the cherry cheesecake
Remember to always line your cake pan to catch any leaks and avoid creating a mess in the oven.
Pour the batter on top of the baked crust.
Top with more cherry halves and bake at slightly lower than usual temperature.
In about 50 to 60 minutes, when the cheesecake center is still wobbly, and the hue is barely golden, the cake is done.
I highly recommend to chill overnight and then serve the next day.
Serving the cherry cheesecake
Without a blink, I would serve the cheesecake as is. It really needs no dressing up or accompaniment. But some more cherries never hurt anyone. So, I made a lovely cherry sauce.
How to make cherry sauce?
The process is very similar to a fruit compote. You chop the cherries, cook them in a splash of water and sugar on low heat.
I added a shot of balsamic vinegar. The acidity and sour taste lend more structure, and definition to the sauce. It potentiates flavors, allowing the sweetness of the cherries to stand out.
You can use lemon juice or even red wine, as I did for my chocolate hazelnut cheesecake, to the same effect.
When the fruit is cooked through, soft and bubbling in its juice, do a taste test. If it's too sweet, add a touch of lemon juice. If it's not sweet enough, sprinkle some sugar.
The sauce will be a bit watery. Stir in a slurry of cornstarch to thicken it. It will condense further as it cools.
Variations of the cherry cheesecake recipe
Fruit: As I said before, adding the cherries in the batter was a genius idea. I cannot describe the wonders it does for the cheesecake. You have to experience it for yourself.
If you don't have fresh cherries, try any seasonal fruit – apricots, plums, peaches, or berries. Cut them into bite-size pieces and fold them in.
Flour: You can easily substitute cornstarch for all-purpose flavor as a binding agent.
Biscuit base: Graham crackers are always a great choice for a cheesecake base. You can even bake with crushed gluten-free cookies.
Sugar: I prefer to bake with raw sugar, but regular will work. Keep in mind that the fruit is naturally sweet, and you're serving the cake with cherry sauce. So, the amount of sugar you will need to beat into the batter will be less than usual.
Eggless: I've baked quite a few eggless cheesecakes - saffron cardamom cheesecake, no-bake jamun cheesecake, cheesecake swirl brownie. Use any one of them for the recipe.
Vegan: For a completely vegan recipe, try my cherry lemon cheesecake.
Hop over to my Oreo cheesecake for tricks on how to make a velvety, crack-free cheesecake. But I still say don't let a crack or two bother you. This cherry cheesecake recipe yields a cake you devour straight up spoon-to-mouth!
If you make this cherry cheesecake, be sure to leave a comment and/or give this recipe a rating! I love getting to connect with you guys. You can also follow me on Instagram & Pinterest for more fabulous recipes.
📖 Recipe
Print Recipe
Cherry Cheesecake
The Cherry Cheesecake is a moreish journey so worth taking - lusciously creamy, with juicy mouthfuls of cherry bits mingling with the cream cheese tang, just perfectly sweetened!
Ingredients
Cheesecake Base
1

cup

Marie biscuits, crushed

1/3

cup

Butter, melted
Cheesecake Filling
500

gms

Cream cheese

3/4

cup

Sugar

2

Eggs, at room temperature

2

tsp

Vanilla extract

1/3

cup

All-purpose flour

1/4

cup

Cream

I use Amul cream

3/4

cup

Cherries, pitted and halved

Plus extra for topping

2

tsp

All-purpose flour
Cherry Sauce
1/2

cup

Cherries, pitted and halved

2

tsp

Sugar

2

tsp

Balsamic vinegar

4

tbsp

Water

1

tsp

Cornstarch + 2 tsp water
Instructions
Cheesecake Base
Preheat your oven to 180C. Cover the bottom and sides of your 8" springform pan with aluminium foil.

Combine the melted butter and crushed cookies in a small bowl. This mixture should have the consistency of wet sand.

Press it down evenly at the bottom of the pan. Bake for 10 minutes. Lower the oven temperature to 160C while you're preparing for the filling.
Cheesecake Filling
Beat the cream cheese and sugar in a large bowl with an electric mixer.

Add the eggs and vanilla extract. Beat until well incorporated.

Mix in cream, flour, and vanilla extract. Whisk well until smooth.

Toss the cherries withv2 tsp of flour and fold into the batter.

Pour into the prepared crust. Place some extra chopped cherries on top if you wish.

Carefully place in the oven and bake at 160C for 55-60 minutes. The top of the cake should look cooked and the center should be a bit wobbly. My cake took almost 55 minutes.

Turn off the heat and slightly crack the door open and allow it to cool for 30 minutes.

Let the cake cool on the countertop for another hour and then refrigerate for at least 10 hours for it to set completely. Remove carefully from the pan, place it on your serving plate.

Spoon over the cherry sauce and top with a couple of mint leaves.
Cherry Sauce
Combine pitted and chopped cherries, sugar, balsamic vinegar, and water in a small saucepan.

Cook on medium heat until the cherries are soft and cooked through.

Make a slurry with cornstarch and water, add to the simmering sauce. Let it come to a boil and thicken. If the sauce seems too thick, you can add more water.

Take it off the heat. Taste and adjust for sweetness. Cool completely.