When I make waffles, I make a stack of them. Always enough to have a few leftovers for the next day. For the lemon poppyseed waffles, I was requested (read: commanded) to make a whole bunch. 
Apparently, my home can gobble slice after slice of these light, crisp and lemony waffles without putting a dent in the appetite.
Lemon and poppyseed is a classic combination, ubiquitous in muffins, donuts, and cakes. I've experimented with it even in pancakes. And it did not disappoint in the waffles.
The seeds lent a nutty note and gorgeous crunchy texture to the waffles, a perfect counterpoint to the fresh summery flavor of lemon.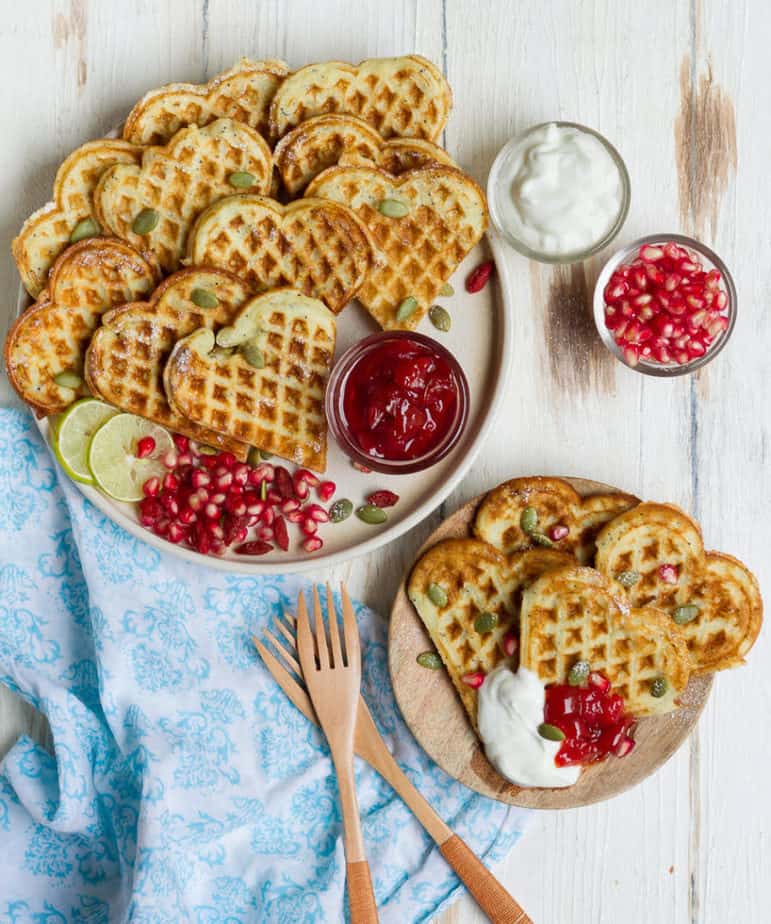 How to make lemon poppy seed waffles?
Begin by sifting all-purpose flour with baking powder, baking soda, and salt.
In a separate bowl, mix coconut milk with vinegar and set aside for a few minutes. Then whisk in coconut oil.
Pour the wet ingredients over dry and mix. Add a splash of milk if you feel the batter is too thick. You're gunning for soft-dropping consistency here.
Fold in the poppy seeds along with the lemon zest. I relish the aromatic punch of citrus flavor. So, I added some lemon juice too.
Ladle the batter on your greased and preheated waffle iron and cook till crispy golden!
Substitutes for ingredients in the waffle recipe
Flour: You can use whole wheat flour instead of all-purpose or use both of them in a 1:1 ratio. For gluten-free waffles, try buckwheat as I did for my apple cinnamon waffles and beetroot waffles.
Milk: If you don't have access to coconut milk, use what you have at hand. Any milk will work like a charm here.
Oil: Instead of coconut oil, you can try any vegetable oil or even butter. With butter, make sure it is melted.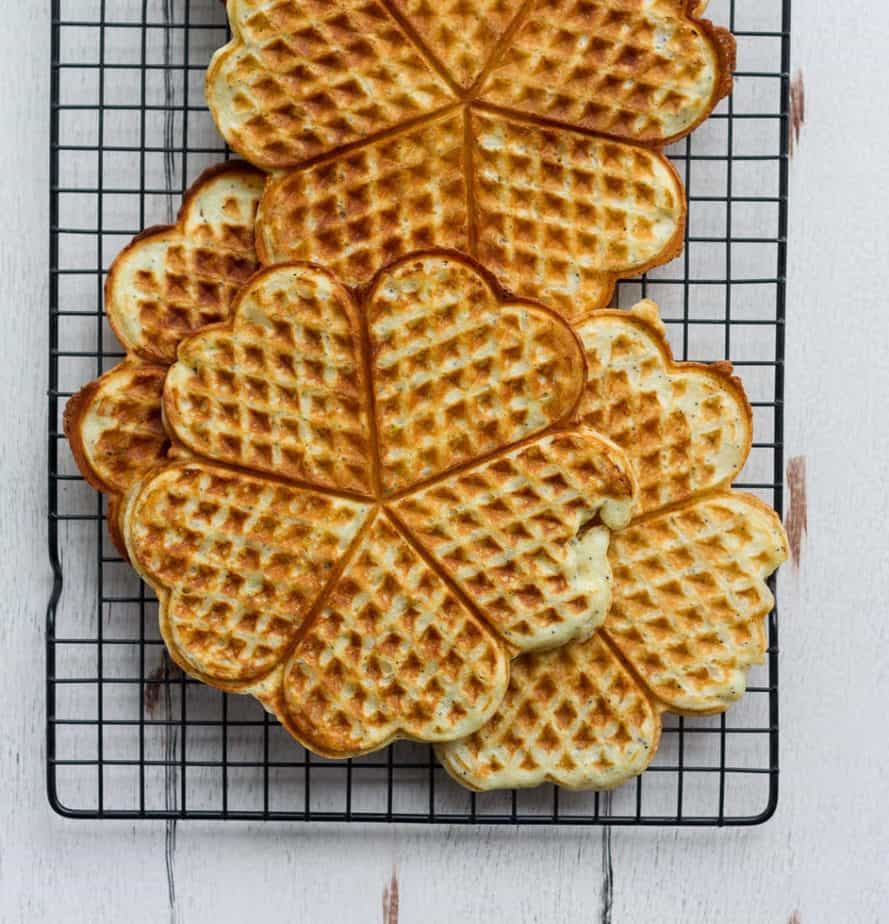 Sugar: I didn't add any sugar to the waffles because I served them with plum compote and no additional sweetness was necessary. But you can add a tablespoon or two of powdered sugar to the batter. 
Egg: Yes, you can incorporate an egg into the waffle batter. But remember to reduce the amount of milk and adjust the liquid ingredients accordingly to get the right consistency. 
Poppyseeds: In India, the smaller and milder tasting white poppyseeds are common. I got my hands on a bag of black poppyseeds thanks to my sister-in-law, who was visiting earlier this year from the US.
In case you're unable to find them, substitute them with:
Black sesame seeds: the flavor profile will change, but they'll impart the same texture and look to the waffles.
Chia seeds: they are flavorless, so you'll get to enjoy the citrusy burst along with a crunch in the waffles.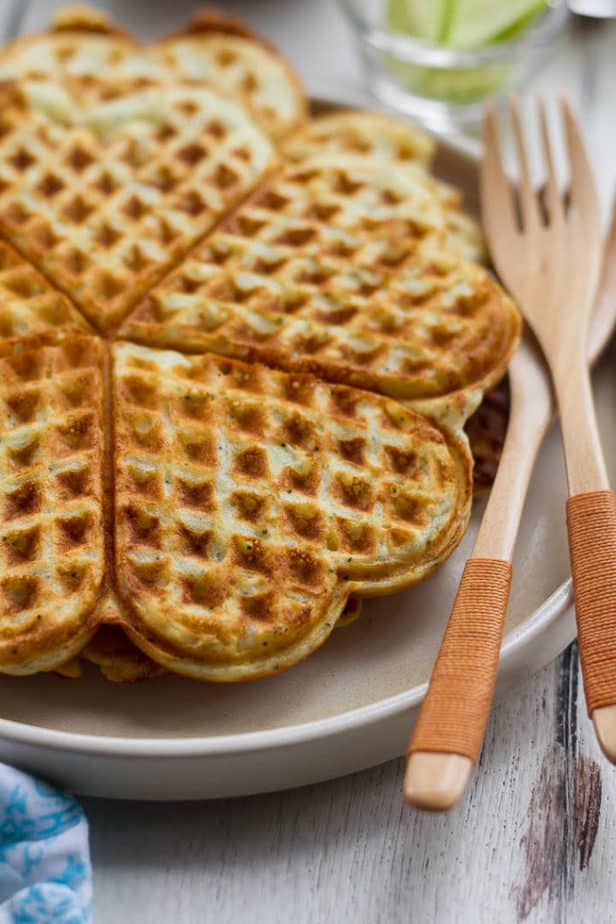 Serving the lemon poppyseed waffles
Typically, we'd drench our waffles in maple syrup or honey and serve them with fresh, diced fruits. But I had some plums leftover after baking a batch of plum & cardamom muffins. So, I quickly decided to make a compote.
How to make a fruit compote?
Pick any seasonal fruit you prefer and chop it.
Add it to a thick bottom saucepan with a splash of water, a vanilla bean, and raw sugar.
Let it cook on medium flame till the fruit is mushy and juices bubbling.
Taste and adjust for sweetness.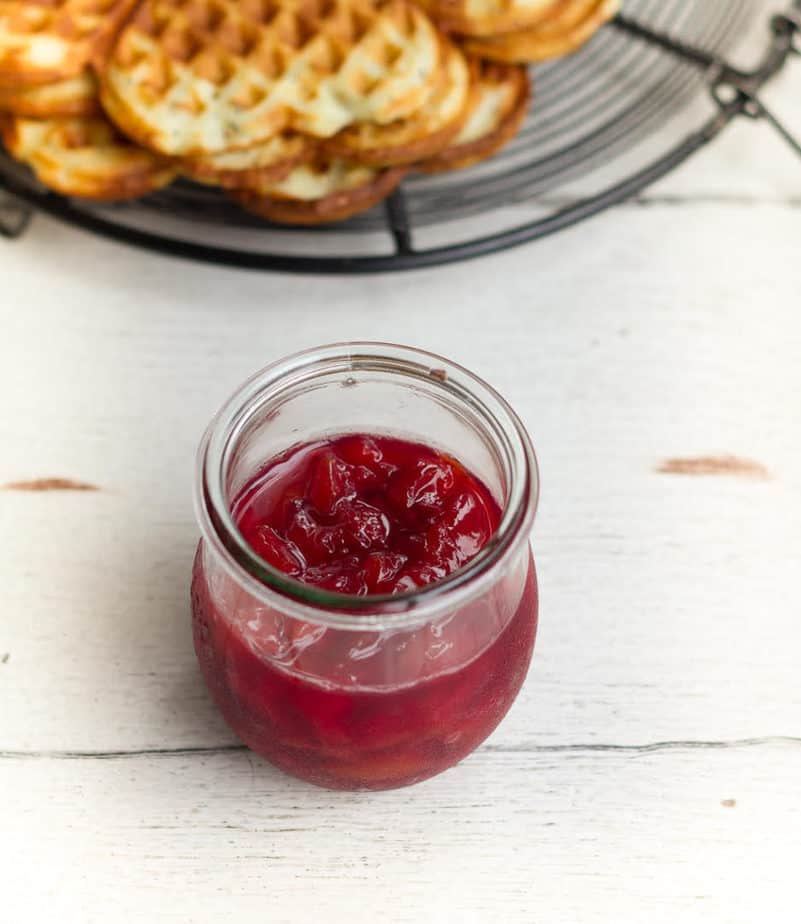 For a mango compote, hop here. For a gooseberry compote, go here.
Serve the waffles while they are still warm and crunchy with a dollop of fruit compote. Or you can relish them with a scoop of vanilla and take them from breakfast to dessert in half a second. 
The lemon poppyseed waffles keep well in the refrigerator for a day. Just remember to pop them in the oven or toaster to crisp them up.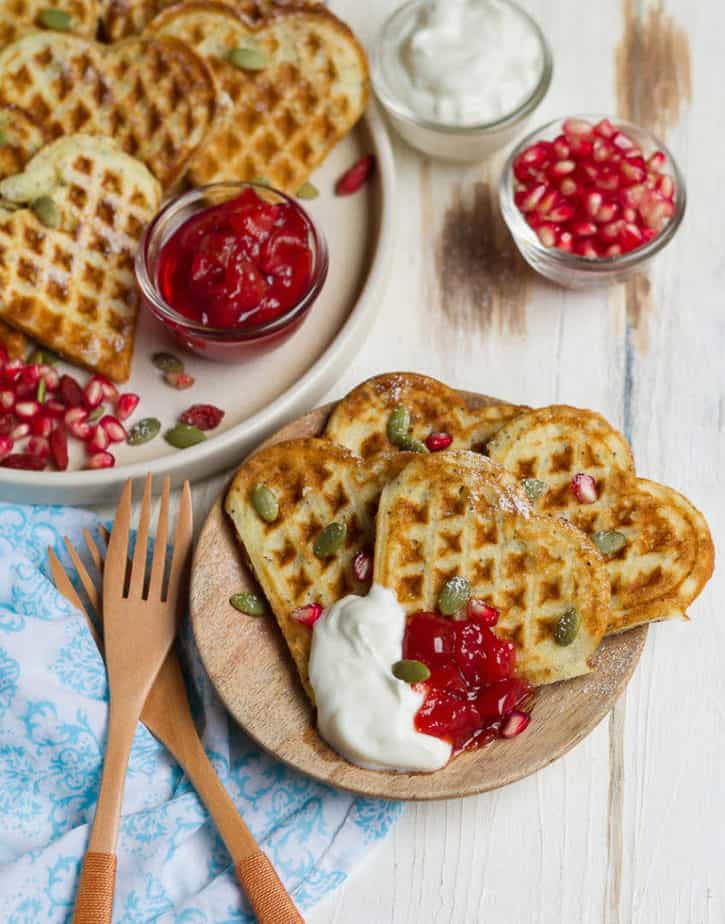 I'd love to hear from you! Please tag me on Instagram @tashasartisanfoods, using the hashtag #tashasartisanfoods. You can also follow me on INSTAGRAM, PINTEREST for more fabulous recipes! Do subscribe to Tasha's Artisan Foods so you'll never miss a recipe!
📖 Recipe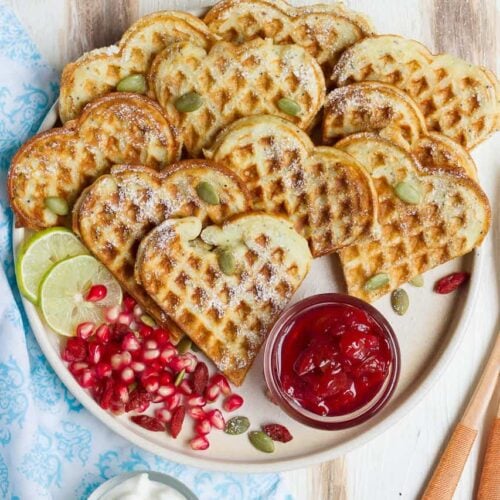 Print Recipe
Lemon Poppyseed Waffles
Lemon poppyseed waffles- lovely light, crisp, lemony waffles with a delicate crunch from poppyseeds. Perfect for everyday breakfast or weekend brunch!
Ingredients
1 1/4

cup

Coconut milk

You can use any milk you prefer

1

tbsp

Vinegar

Regular white vinegar or apple cider vinegar

1.5

cup

All -purpose flour

1.5

tsp

Baking powder

1/2

tsp

Baking soda

1/4

tsp

Salt

3

tbsp

Coconut oil

You can use any oil you prefer

1

tbsp

Lemon zest

1 - 2

tbsp

Lemon juice

2-3

tbsp

Poppyseeds
Instructions
Mix coconut milk with vinegar in a small bowl and let it sit for 5-6 minutes.

In the meanwhile, combine all the dry ingredients - flour, baking powder, baking soda, and salt.

Mix coconut oil and lemon juice in the milk and vinegar mixture. Pour into the dry ingredients.

Fold in the lemon zest and poppyseeds into the batter. Whisk until smooth and thick. The batter should have a soft dropping consistency, like a cake batter.

Preheat your waffle iron according to manufacturer's instructions.

Grease the waffle cavities well and pour a ladleful of batter in the cavity. Let the batter cook for 4-5 minutes, until golden and crisp.

Repeat with the rest of the batter. Serve warm. Enjoy!