Is it just me, or does everyone feel that Monday turns to Saturday without giving you a clue these days? COVID has undoubtedly made life hectic and the mind preoccupied. But I'm so grateful for all the good things, that right now, shortage of time doesn't seem to be an encumbrance.
Anyhoo, since the calendar says it is the weekend, I decided to make the perfect breakfast – apple cinnamon buckwheat waffles. They're fantastically easy to make, absolutely nourishing, and tasty to boot!
The juiciest apples have started trickling in the market, with autumn in the air, not that it is any less hot. It still is a sweltering inferno here. But the fresh apples make up for it.
In a bid to support the local businesses, I've been buying the juicy fruits in hordes. And that means I'm trying to use them wherever I can, apart from eating them as is. I've made a crumble cake, galette, muffins, and even chutney. So, of course, they had to go in the waffle batter.
How to Make Apple Cinnamon Buckwheat Waffles?
The recipe is vegan, and unlike most waffle recipes, you don't need to work hard on whipping eggs to get the batter right.
Start with mixing buckwheat flour, baking soda, baking powder, cinnamon powder, and salt. The buckwheat flour makes the waffles hearty with an amazing earthy flavor. The baking soda and powder give the waffles all the lift they need, making them deliciously fluffy.
For the wet ingredients, blend coconut oil, coconut milk, apples, and maple syrup. When the mixture is free of lumps, pour it into the dry ingredients. I keep the batter quite thick because that's what gives you those crunchy waffles. YOu can make a slightly thinner batter if that's what you prefer. Just add a splash more of the milk.
Pour the batter into your greased waffle iron and then cook till you have some golden bronzed goodness ready.
Topping the apple cinnamon buckwheat waffles:
I topped these beauties with thick, maple cinnamon coconut cream and sautéed cinnamon apples, and I'm telling you it was sublime!
The apples I bought were exceptionally sweet with succulent flesh and crisp and firm skin. Sautéing them made the crispy exterior just a tad soft and beautifully golden.
To sauté, stir diced apples in heated coconut oil, sprinkle a pinch of cinnamon powder, and throw in a few walnuts.
The finishing touch to these lovely fluffy waffles with a crunchy exterior and a kick of cinnamon apple flavor was the coconut cream. To make it, whisk coconut cream with cinnamon powder and maple syrup.
Serving the Apple Cinnamon Buckwheat Waffles
Next to pancakes, waffles are one of the most popular breakfasts with my kids. Needless to say, these went down with a lot of appreciative noises, even more than my apple braided bread and gluten-free mini pies.
I think it was the apples that did the trick. They get caramelized in the iron, imparting the buckwheat waffles a feel that indulgences all the senses. Paired with the cinnamon, the apple taste was out of this world.
I made a whole batch of apple waffles and froze them. So, on mornings when time is running away from us, all I need to do is pop a frozen waffle in the toaster and presto, a hot crunchy-edged waffle is ready in no time!
Variations of the waffle recipe:
This recipe uses buckwheat, but feel free to use any other flour you like. I often do a medley of waffles, some have whole wheat flour, and some a mixture of buckwheat and all-purpose flour. Really, any flour will do.
For the entire recipe, I used 2 medium-sized apples. You could certainly use more to get a stronger punch of apple flavor.
Those who need a substitute for maple syrup, honey, and sugar will work excellently. If you're looking for even less sweetness, try a ripe banana.
Coconut milk is not mandatory. Any milk you have at hand is fine. You can replace the coconut oil with melted butter or any neutral-tasting oil.
To give the apple cinnamon buckwheat waffles an oomph, try adding chocolate chips to the batter.
Lastly, for the topping, these waffles really don't need any garnishing. I wanted to go all the way. That's why I sautéed the apples and made the coconut cream. Anyone who is in the mood for something less fancy, try Greek yogurt, or just whipped cream.
A drizzle of maple syrup or a slathering of peanut butter would be a lovely accompaniment to the apple and cinnamon flavor in the waffles. Trust me, you'll even love these apple cinnamon buckwheat waffles plain.
I'd love to hear from you! Please tag me on Instagram @tashasartisanfoods, using the hashtag #tashasartisanfoods. You can also FOLLOW ME on INSTAGRAM, PINTEREST for more fabulous recipes! Do subscribe to Tasha's Artisan Foods so you'll never miss a recipe!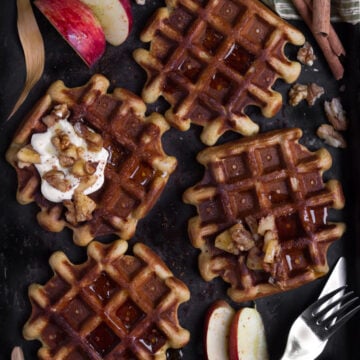 Print Recipe
Apple Cinnamon Buckwheat Waffles
Apple Cinnamon Buckwheat Waffles - fluffy waffles, with a crisp exterior, full of cinnamon apple flavor. Perfect Fall breakfast!
Ingredients
2

cups

Buckwheat flour

2

tsp

baking powder

1

tsp

baking soda

1

tsp

cinnamon powder

1/4

tsp

salt

1 1/4

cup

Coconut milk, you may need more

Or any other milk of your choice

2

Tbsp

Maple syrup/honey

2

Apples, coarsely chopped

4

Tbsp

oil

Coconut oil or any other vegetable oil

Extra oil for greasing the waffle iron
Sauteed Apples
1

Apple, diced

2

tsp

Coconut oil

or butter

1/2

tsp

cinnamon powder

2

tbsp

Walnuts, coarsely chopped
Coconut Cream
1/2

cup

Coconut cream, chilled

Chill the coconut cream can and use only the cream on top.

1

Tbsp

Maple syrup

1/2

tsp

cinnamon powder
Instructions
Waffles:
Preheat your waffle iron.

Combine buckwheat flour, baking soda, baking powder, cinnamon powder and salt in a large bowl.

Add the apples, oil, maple syrup and coconut milk in a blender and blend until smooth.

Pour over the dry ingredients and mix well. You are looking for a smooth thick batter. Add more milk if your batter is too thick.

Grease the waffle iron and drop 1/4 cup of batter in each cavity. Cook until golden and crisp. Repeat till all the batter gets used up.
Sauteed Apples:
Heat coconut oil in a pan and add the diced apples. Stir well for a couple minutes. Add the cinnamon powder and walnuts and cook for a further 3-4 minutes until the apples are golden and just slightly softened, yet crisp.
Coconut Cream:
Simply whisk together the chilled cream, maple syrup and cinnamon powder.