A classic, easy dessert with an old fashioned charm. This Saffron Cardamom Baked yogurt is pure bliss!
Yogurt is fabulously versatile. In my highly biased opinion, it deserves to be universally loved and lauded! I don't think there's any Indian household that does not use it in any and every way possible. Its an integral part of our everyday cuisine and that includes desserts, like this Saffron Cardamom Baked Yogurt!
Yogurt is a great ingredient to work with for desserts. With its natural slight tang, it accentuates other sweet flavours beautifully. After trying this creamy, plush Saffron Cardamom Baked Yogurt, I'll even go so far as to say yogurt may begin to rival ice cream in our house!
I kid you not! This entire batch was polished off before I knew it.
There's just something quintessentially Indian and comforting about this dessert. With the classic flavours of saffron and cardamom with a hint of honey, this baked yogurt has a wonderful old fashioned charm. So close to Mishti Doi we all adore.
How Can I Make Baked Yogurt
3 basic ingredients are all you need to make this delicate dessert- yogurt, condensed milk, and honey. I chose to flavour it with a little bit of cardamom and saffron. You can add anything you'd like to this... cinnamon, vanilla, citrus zest, rose, maybe even lavender!
Everything gets whisked a bowl. And then the mixture is poured into the ramekins.
It just needs 15 minutes to bake, in a water bath, after a 5-minute prep. Gentle baking in a water bath ensures the creamiest dessert. This is not a pudding you want to over bake. The oven should be turned off as soon as the tops are slightly set. It continues to set as it chills.
The scent of this dessert as it baked was sweet and aromatic; so good that I wish I could bottle it up! It is truly a foolproof recipe.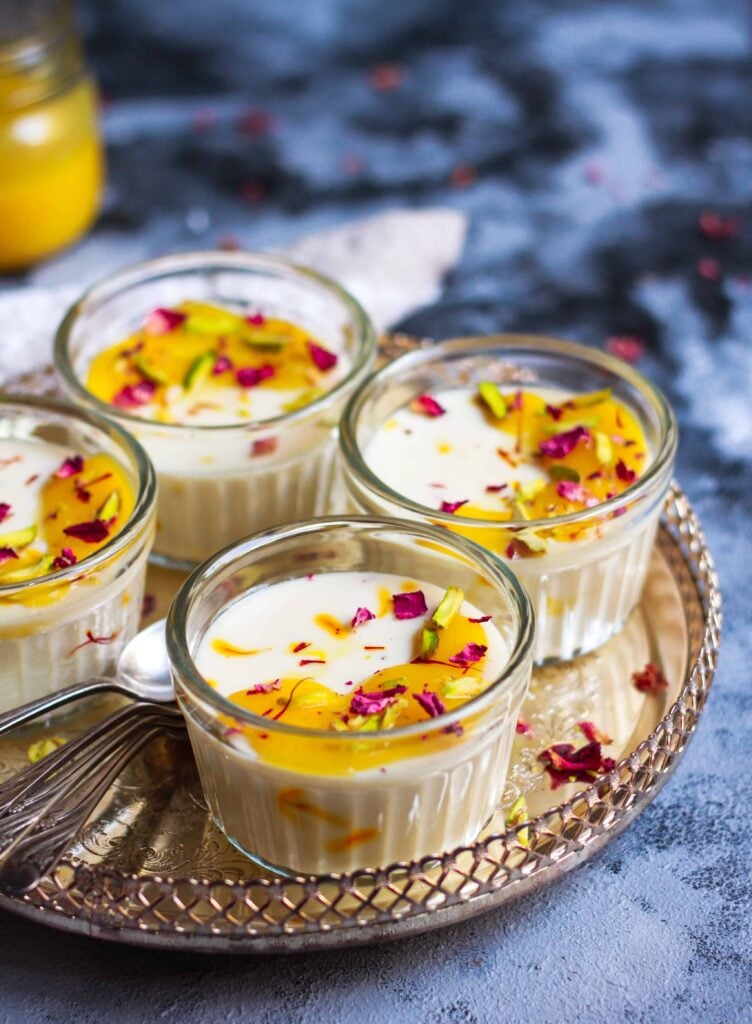 To top it off, I made a quick mango saffron compote which complimented the dish perfectly! Some slivers of pistachio, a sprinkling of dried rose petals, and some crushed saffron strands finished it off prettily.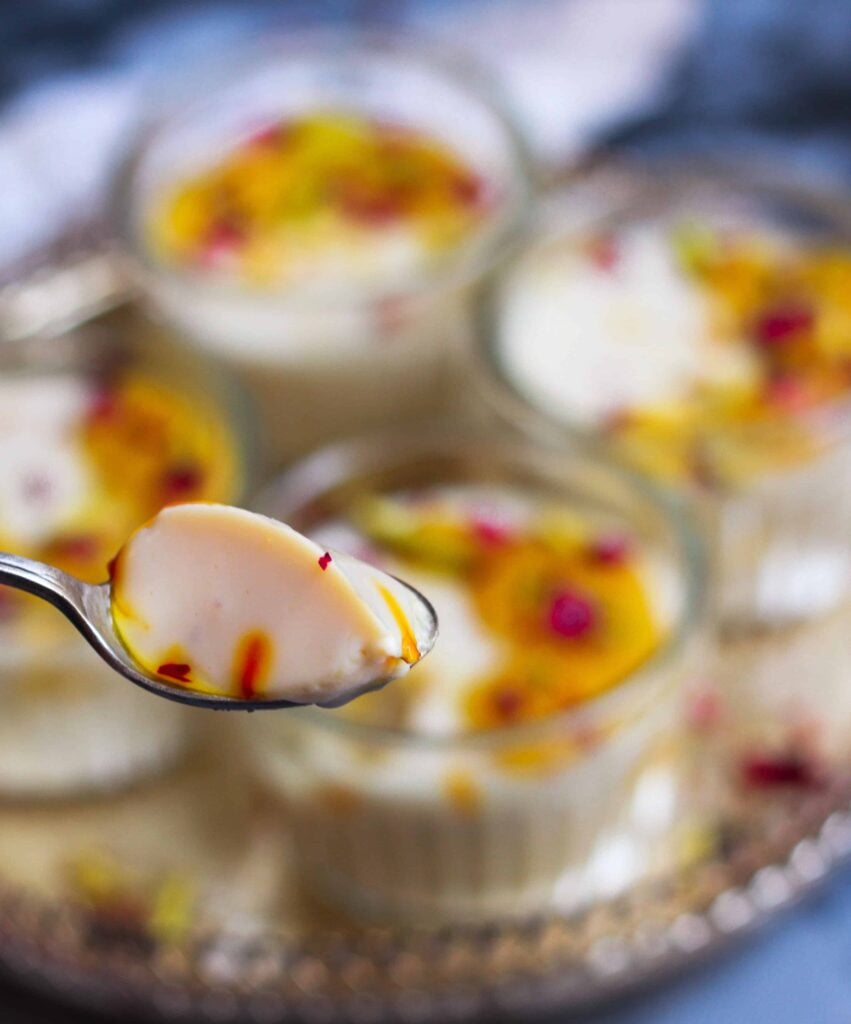 Saffron Cardamom Baked Yogurt demands to be savoured. It has a light, velvety smooth texture that you could get lost in! Though optional, mango compote makes it even more special. You can use a compote made with any fruit, or just simply top with fresh fruits and nuts.
I'd love to hear from you! Please tag me on Instagram @tashasartisanfoods, using the hashtag #tashasartisanfoods. You can also FOLLOW ME on INSTAGRAM, PINTEREST for more fabulous recipes!
Saffron Cardamom Baked Yogurt
A classic, easy dessert with an old fashioned charm. This creamy, plush, velvety smooth Saffron Cardamom Baked Yogurt is pure bliss!
Ingredients
Baked Yogurt
400

ml

Yogurt

Please use thick yogurt

150

ml

Condensed milk

1-2

tbsp

honey

1

tsp

Saffron strands

1

tsp

Green cardamom pods, seeds crushed
Mango Saffron Compote
1/2

Mango, diced

1/4

tsp

Saffron strands

1/2

cup

Water

Honey to taste
Instructions
Preheat your oven to 160 C. Keep a deep baking tray and 4 ramekins ready.

Combine the yogurt, condensed milk and honey in a bowl. Make sure the mixture is smooth. Taste and adjust for sweetness.

Whisk in saffron and cardamom.

Divide the mixture equally between the 4 ramekins. Place them in the baking pan. Pour hot water carefully in the pan. It should cover 1/4 of the pan. Loosely cover the pan with aluminum foil.

Place the baking tray in the oven and bake for 15 minutes or until the top of the yogurt seems slightly set. Switch off the oven. Leave the ramekins in the oven for another 10 minutes with the oven door open.

Refrigerate the yogurt pots until completely chilled. Top with the mango saffron compote, pistachio slivers, and rose petals. Enjoy!
Mango Saffron Compote
Combine mango, saffron, and water in a small saucepan. Cook on low heat till the mango is very soft and cooked through.

Cool and puree the mixture. Stir in honey according to taste.