After I made my ricotta mango cheesecake with saffron hints, I rued that I didn't add any cardamom. Since then, it's been on my mind.
With the festive season inching its way closer, I wanted to start creating dishes reminiscent of it, incorporating flavors we use liberally in our traditional sweets.
That's when I realized now was the perfect time to bake a cheesecake that delicately scents the air with saffron with each slice. To give it more depth, I added cardamom and topped it with notes of rosewater.
That's how the Saffron Cardamom Cheesecake was born. It's deliciously luscious, and the aromatic complexity weaved in the creamy cheese emphasizes the inherent flavors with every bite.
How to Make Saffron Cheesecake?
I made the cake eggless for two reasons. One, I've been inundated with requests for it after my no fuss, no frills burnt Basque cheesecake.
Two, a lot of people choose to make sweets at home during festivities, and they prefer it to be eggless. But you can use eggs if you're gunning for a typical cheesecake.
Make the cheesecake crust
The first step with any cheesecake is the base. Crush Marie biscuits and mix them with melted butter till you get that wet sandy uniformity.
Press the mixture on the base of a loose bottom pan. Pack it tightly and then bake.
You can use Graham crackers as substitutes for Marie biscuits as well.
Make the cheesecake filling
While the cheesecake crust bakes, with an electric beater mix cream cheese, cream, and raw sugar. I also drizzled some honey in the mixture to give the saffron cardamom cheesecake a mellow, floral sweetness.
Since I wasn't using eggs, I forgo all-purpose flour and used corn flour to bind the cake better. But after having a piece of the cake, I realized I could have used all-purpose flour without a hitch.
The last ingredients for the filling were rosewater, cardamom powder, and saffron-infused cream.
I ground the cardamom at home, and I thoroughly recommend it. Fresh cardamom powder has an unmatched aroma and taste. The bottled version is a pale and stale shadow of it.
For the saffron cream, add a few strands of the sunshine spice in cream. Let it rest till the cream soaks in the flavor and color.
The trick to a moist, dense, and rich cheesecake is not to overbeat the filling. The more you mix it, the more aerated it becomes, which is not what you want.
Bake the saffron cardamom cheesecake.
Once all the ingredients are mixed, pour the thick filling on the crust. I did it with fingers crossed and a prayer on the lips.
While I'm supremely confident with cheesecakes made with eggs, the only eggless version I've made is a no-bake jamun cheesecake. It made this my maiden voyage with eggless and baked cheesecake. So, some jitters were a given.
I used an 8-inch springform pan, and it took 90 minutes to bake. If you opt for a 9-inch pan, the baking time will be less, so keep an eye out.
Quick note:
Cheesecakes have a dangerous tendency to overheat, then they crack. To save yourself from this heart-breaking scenario, turn off the oven and crack the door open but leave the cake inside.
Though, I always feel the cracked ones have more character!
You should do this when the cheesecake has a slight wobble to it, and the center has a springy feel.
Also, as the cheesecake cools, it will sink. That's normal, so don't be frazzled.
Garnishing the saffron cardamom cheesecake
Cheesecake requires a lot of time to cool. To get it to room temperature, you need to leave it on the countertop. Once the cheesecake has evenly settled, you need to refrigerate it overnight. That's why I make cheesecakes a day ahead.
If you don't refrigerate the cake, it will fall apart the minute you cut it. With this saffron cardamom cheesecake, the rule just can't be ignored.
It has an incredibly creamy, almost a firm pudding-like texture that not sliding it in the fridge will utterly spoil it.
Because I love a firmer feel to my cheesecake, I froze it for a few hours. But if it's the creamier, softer texture you love, then the refrigerator will do the deed.
Right before serving the cheesecake, I flowered it with dried rose petals. But really, it doesn't need any garnish. If you do want to pretty it up, dust it with sugar.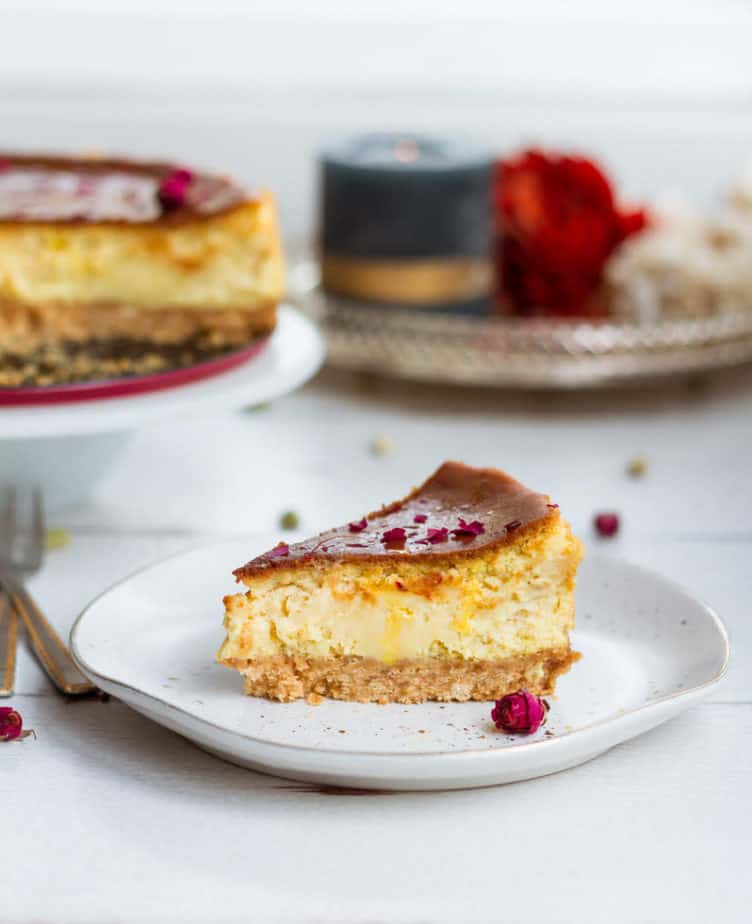 Variations of the cheesecake recipe
You can use any honey for the cake, even an infused honey with a flavor you fancy.
As I said before, eggs are completely okay, and all-purpose flour will work like a charm.
You can replace the cream with full fat, plain, Greek yogurt, or coconut yogurt. White sugar makes for an excellent substitute for raw sugar.
Cardamom is the kindly overlord in the cake, but you can easily adjust the spice flavors to suit your palate.
Serving the Saffron Cardamom Cheesecake
Most saffron cheesecakes have a bright yellow hue tinged with pale gold. Mine came out deep, rich mahogany on the top with a distinct saffron-shaded interior.
Irrespective of what colors you see in yours, it's fascinating taste will be out of this world. I barely got a tiny piece of the cheesecake – the one that told me that worry about the cake not holding together without egg was needless.
The souls at home devoured the rest of the cake because, apparently, they didn't even need to chew. "It just melted in our mouths."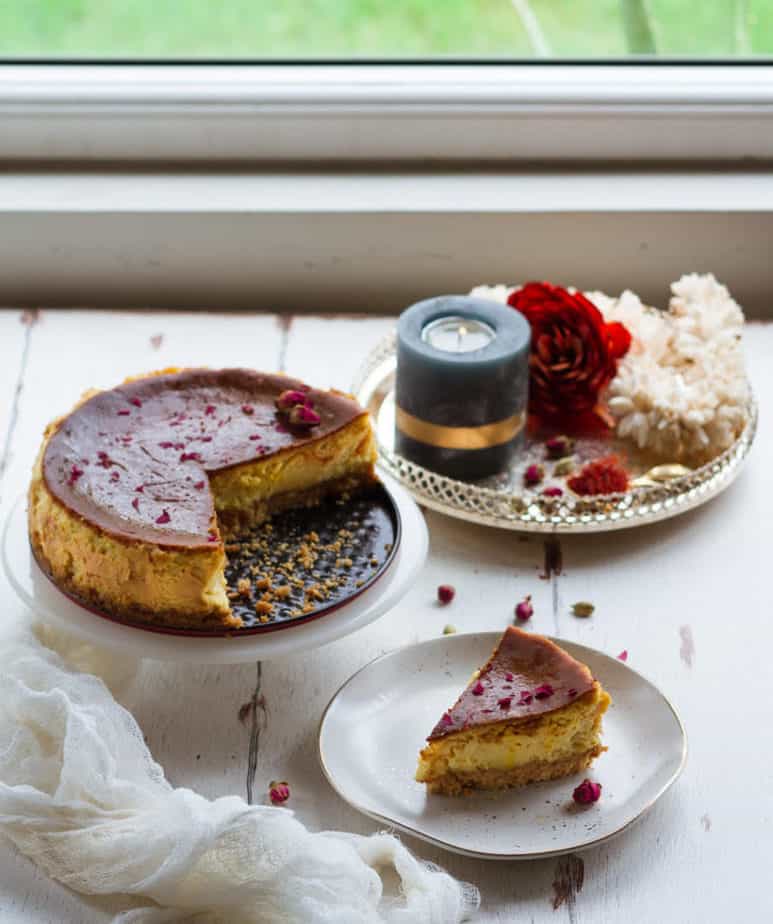 I'd love to hear from you! Please tag me on Instagram @tashasartisanfoods, using the hashtag #tashasartisanfoods. You can also FOLLOW ME on INSTAGRAM, PINTEREST for more fabulous recipes! Do subscribe to Tasha's Artisan Foods so you'll never miss a recipe!
📖 Recipe
Print Recipe
Saffron Cardamom Cheesecake
Saffron Cardamom Cheesecake - deliciously luscious, and the aromatic complexity weaved in the creamy cheese emphasizes the inherent flavors with every bite. 
Ingredients
Cheesecake Base
1.5

cup

Crushed Marie biscuits

You can use Graham crackers too

1/3

cup

Melted butter
Cheesecake Filling
1

tbsp

Cream, slightly warm

1.5

tsp

Saffron strands

500

gms

Cream cheese

3/4

cup

Raw sugar

You can use regular white sugar

1/2

cup

Honey

1/3

cup

Cream

2

tbsp heaped

Cornflour

1.5

tsp

Cardamom powder

1

tsp

Rosewater
Instructions
Cheesecake Base
Preheat your oven to 180C. Cover the bottom and sides of your 8" springform pan with aluminium foil.

Combine the melted butter and crushed cookies in a small bowl. This mixture should have the consistency of wet sand.

Press it down evenly at the bottom of the pan. Bake for 10 minutes. Lower the oven temperature to 160C while you're preparing for the filling.
Cheesecake Filling
Stir in saffron into the warm cream. Let this sit for 5 -10 minutes.

Beat the cream cheese, raw sugar and honey in a large bowl with an electric mixer.

Add the saffron-infused cream, cream, cornflour, cardamom powder, and rosewater. Whisk well until smooth.

Pour into the prepared crust. Carefully place in the oven and bake at 160C for about 90 minutes. The top of the cake should look cooked and the center should be a bit wobbly.

Keep an eye on it as all ovens are different. Mine took 90 minutes to bake. If you use a bigger size pan, the bake time will be faster.

Turn off the heat and slightly crack the door open and allow it to cool for 30 minutes.

Let the cake cool on the countertop for another hour and then refrigerate for at least 10 hours for it to set completely. Remove carefully from the pan, place it on your serving plate.

Sprinkle with some dried rose petals and serve. Enjoy!